Thu 10/22
CARMEN.maquia

Established in 1970 by National Medal of Arts recipient Tina Ramirez and under the artistic direction of Eduardo Vilaro since 2009, New York-based Ballet Hispanico premiered its production of Gustavo Ramírez Sansano's edgy
CARMEN.maquia
to ovations in 2014. With a title that marries Bizet's groundbreaking opera
Carmen
and the dynamics of tauromaquia (bullfighting), the full-length narrative employs a melange of movement styles, an orchestral score and Picasso-inspired sets and costumes to reimagine the ill-fated romance of gypsy temptress Carmen and her tortured suitor Don José.
$29-$110, 7:30pm Thu, Lila Cockrell Theatre, 200 E. Market St, (210) 226-2891, artssa.org.
— Bryan Rindfuss


Thu 10/22
Lionel Richie


Even with complimentary dessert and champagne, even if they agreed to play "All Night Long (All Night)," few artists could sell tickets for a grand apiece. But Lionel Richie – whose string of 100 million-plus-selling hits began in the late '70s (with ballads he composed to perform with Motown's the Commodores such as "Easy" and "Three Times a Lady"), continued into the '80s (with the likes of the Diana Ross duet "Endless Love" and "Say You, Say Me") and even includes a couple of country-music-chart-toppers ("Deep River Woman" performed with Alabama and "Lady," which Richie penned and produced for Kenny Rogers) — seems not to be governed by the same rules as mere mortal musicians. In the new millennium, for example, as the UK's Independent pointed out in 2013, Richie (who appropriately enough co-wrote 1985's "We Are the World" with Michael Jackson) is one of the very few topics on which Iranians and Iraqis seem to agree. Plus, the venue's website doesn't say as much, but we assume the $1,000 ticket comes with a complimentary personalized bust sculpting courtesy of the lady in the "Hello" video.
$85-$1,000, 8pm Thu, Tobin Center for the Performing Arts, 100 Auditorium Circle, (210) 223-8624, tobincenter.org.
— Jeremy Martin
Thu 10/22 - Sun 10/25
Rachel Feinstein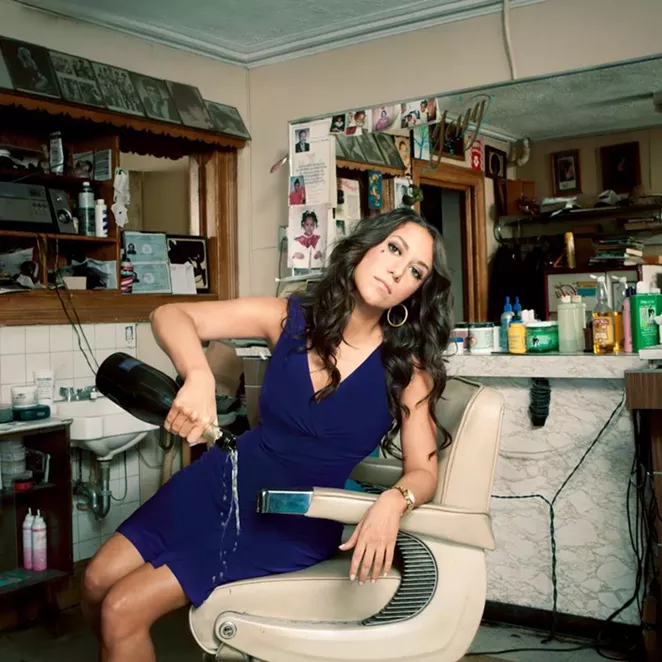 As herself, Rachel Feinstein describes her habit of throwing handfuls of change at men post-coitus and impersonates her mom criticizing her dirty talk, but when she's playing characters such as world's oldest hip-hop critic Ice Cold Rhoda things get really crazy. Her Comedy Central special even includes a reassurance that it's OK to feel weird during one of her jokes — the gist of which we won't explain here for fear of directing unwanted search-engine traffic to our website, and we can say in all honesty that's never happened to us before.
$16, 8pm Thu, 8pm & 10:15pm Fri-Sat, 8pm Sun, Laugh Out Loud Comedy Club, 618 NW Loop 410, (210) 541-8805, lolsanantonio.com.
— Jeremy Martin
Fri 10/23
Tease-O-Vision 2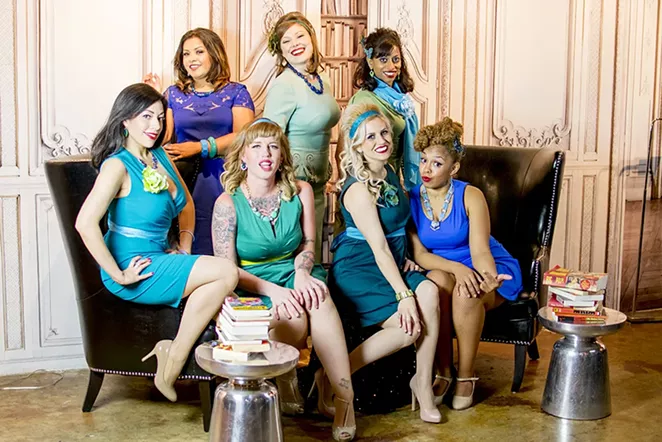 As San Antonio's longest-running troupe and a perennial favorite in our annual readers' poll, Stars and Garters sets a high standard for burlesque in the Alamo City. Billed as a "burlesque tribute to television's greatest moments," the second installment of the sexy septet's
Tease-O-Vision
promises anything but a rerun. Emceed by local comic Larry Garza, the evening features naughty numbers (inspired by
Mad Men
,
Law & Order
,
Empire
,
Cake Boss
and
Unbreakable Kimmy Schmidt
, among other series), variety acts and special guests — including members of Comedia-A-Go-Go and "aerial-tease soloist" Teddy Bare.
$17-$25, 8pm Fri, Brick, 108 Blue Star, (210) 262-8653, starsandgartersburlesque.com.
— BR


Fri 10/23 - Sat 10/24
Luminaria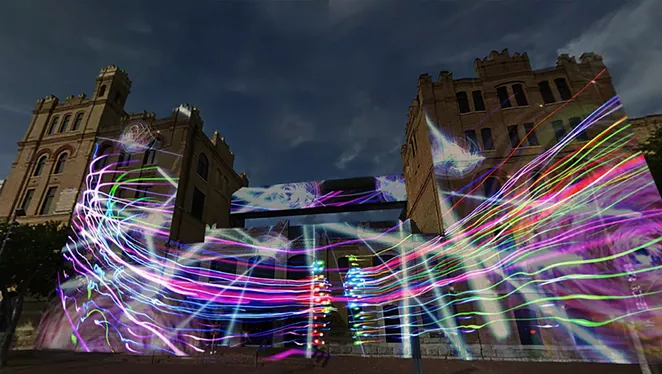 Indoor Highlights


William Basinski


With a jaw cut from granite and a roster of unkempt, leonine haircuts, a subway-stop look at William Basinski might not give the impression that he's in the one-name club of American art music. Most people record to tape, using the black plastic strips to document their work on other instruments. Basinski plays the tape itself, manipulating his reels to create new work from old sounds. A Basinski joint is a long and gorgeous thing, with meaning and emotional resonance coming from the repetition of his tape loops and piano tinkering.

Free, 8pm Fri-Sat, San Antonio Museum of Art Auditorium, (210) 978-8100, luminariasa.org. — Matt Stieb Ronnie Cramer

Denver-based artist, musician and filmmaker Ronnie Cramer is an all-arts lifer. Active for 30-plus years in various mediums, he has been especially lauded for his experimental, independent film work. For Luminaria 2015, Cramer will unveil an animated video composition entitled simply

SA

, which is comprised of more than 4,000 individual watercolor paintings and acts as a virtual tour of the city.

Free, 11pm Fri-Sat, San Antonio Museum of Art Auditorium, (210) 978-8100, luminariasa.org. — James Courtney Unofficial Luminaria Experimental Music Showcase

This Friday, as an exciting and unofficial nod to the all-arts buffet that is Luminaria, dig this doozy of an experimental music showcase. A local/regional affair, the free show features six of the most interesting and inventive experimental musicians in South Texas — true boundary-pushers. We are especially excited to catch the sets from Lazy Comet's Leonard Orozco (psych-drone), James Woodard and Mario Trejo of Grasshopper Lies Heavy (guitar loops, synth, organ) and Marcus Rubio's More Eaze collaborating with ATX's Amulets (atmospheric drone mixing electronic and acoustic sound).

Free, 7:30pm Fri, The Ten Eleven, 1011 Avenue B, (210) 320-9080, theteneleven.com. — JC



Due to expected severe weather, Luminaria has cancelled and/or postponed a number of outdoor events and exhibitions. Indoor Luminaria events will go on as planned. For a list of Luminaria cancellations, click

here

.

Click

here

for the

Current

's full story on Luminaria.

Fri 10/23 - Sat 10/24
The Music of Queen & The Music of Led Zeppelin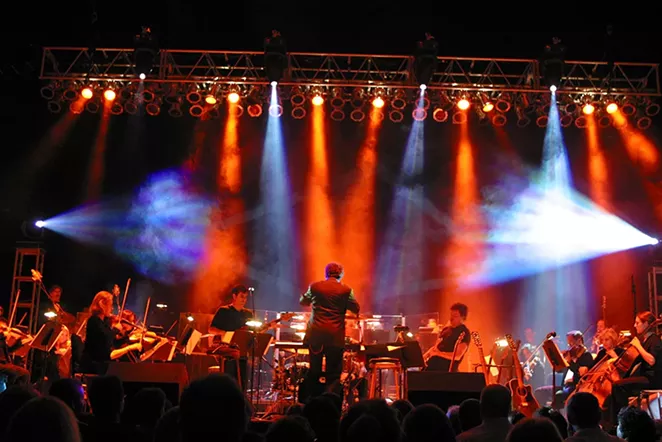 It is becoming increasingly common, thankfully, for popular music to be considered alongside its ostensibly more-refined predecessor in classical music. Really, classical music was the popular music of its heyday, before musical technology and new ways of thinking about composition allowed for music to explode out into the multitude of sub-categories that we are so familiar with today. This weekend, in a best-of-both-worlds kind of scenario, The San Antonio Symphony, accompanied by a full rock band and led by arranger/conductor Brent Havens, presents the music of Queen and Led Zeppelin in two shows that are not to be missed. As two classic rock bands with massive sounds and stage shows, it's hard to imagine bands better suited to the classical treatment. Whether you're a rock fan with classical curiosities or a classical music fan with a bit of a wild streak, these two shows, reimagining some of the finest and most beloved songs in recent music history, provide unique crossover opportunities.
$25-$65, 8pm Fri (Queen), 8pm Sat (Led Zeppelin), The Majestic Theatre, 224 E. Houston St., (210) 226-3333, sasymphony.org.
— JC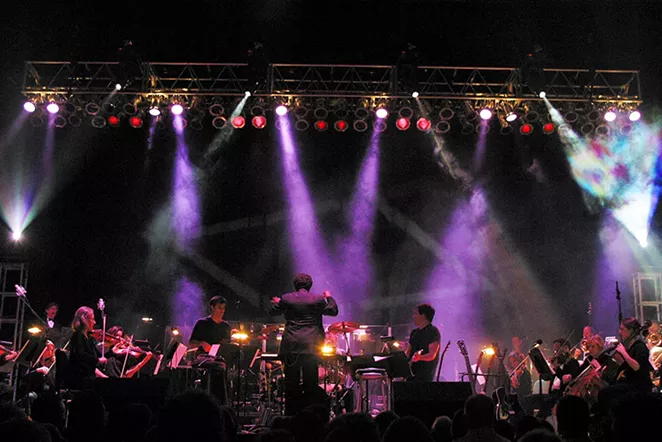 The Music of Led Zeppelin
Sat 10/24 - Sun 10/25
MuertosFest

La Villita presents Día de los Muertos, otherwise known as MuertosFest, a two-day celebration of culture and commemoration of our dearly departed. Featuring an altar-building contest, workshops, live music and poetry, and tons of art vendors, MuertosFest offers a little something for everyone. Family-friendly and free to the public, this festival comes a tad bit earlier than the actual Día de los Muertos, but gives us all the spirit and spectacle of that hallowed Mexican holiday. Musically, we're looking forward to catching Girl in a Coma, Los Nahuatlatos and Suger Skulls in action.
Free, 10am-11pm Sat, noon-10pm Sun, La Villita, 418 Villita St., (210) 207-8614, muertosfest.com.
— JC
Sat 10/24
Tejano Music Awards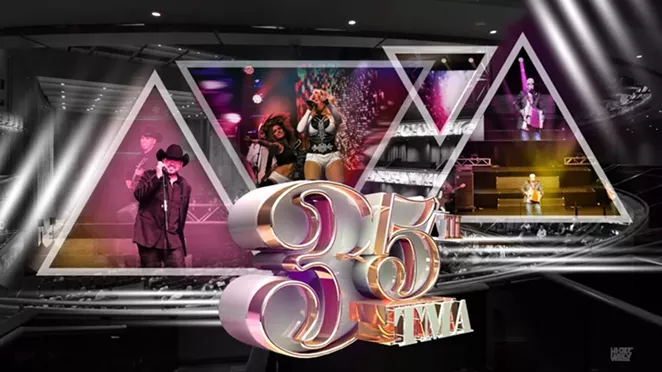 This year marks the 35th anniversary of the Tejano Music Awards. Held in San Antonio since its 1980 inception, the ceremony boasts an attendance of 90,000 to its assorted events and fiestas. The 11 categories presented at this year's award ceremony include Song of the Year; Male/Female Vocalist of the Year; Entertainer of the Year; Album of the Year (Conjunto, Norteño and Tejano) and Best New Male/Female/Group Artist. Performers for this year's show include Shelly Lares, one-time bandleader of Selena's widower Chris Perez and heir apparent to the dearly departed's crown; Emilio Navaira, who may be the most popular performer to gringo viewers with his 1995 crossover country hit "It's Not the End of the World," and my personal favorite Da Krazy Pimpz, whose chafa-ass video for "Cumbia De Los Pimpz" makes any Insane Clown Posse video look like a multimillion-dollar Hype Williams joint. Look for hometown maestro Flaco Jiménez and bajo extraordinaire Max Baca to take home Best Conjunto Album of the Year with
Legends & Legacies
as well as a special tribute to the late great Queen of Tejano, Selena Quintanilla.
$28-100 Red Carpet 5:15pm, Pre-show 6:30pm, Award Ceremony 7pm, Tobin Center for the Performing Arts, 100 Auditorium Circle, tejanomusicawards.com.
— D.T. Buffkin
Sun 10/25
Aki Matsuri 2015: Imagine Japan

In cute-crazed Japan, mascots go beyond sports to represent (and soften the images of) everything from the nuclear industry to the Self-Defense Forces. Born to promote Kumamoto's bullet train, the rosy-cheeked bear Kumamon has raked in billions of yen by endorsing airlines, snacks and cellphone cases. Having previously "lectured" at Harvard and walked the red carpet at Cannes, Kumamon lands in SA as guest of honor at Imagine Japan — a kid-friendly event with food booths, karaoke, martial-arts demos, a cosplay fashion show and live music by Austin-based video-game tribute band The Returners.
$1, 11am-6pm, Japanese Team Garden, 3853 N.
St. Mary's St., (210) 207-3050, jas-sa.org.
— BR

Sun 10/25
San Antonio Zombie Walk


If predictable, half-baked and dreaded "sexy" costumes have sucked the creepy fun out of your Halloween festivities, look no further than the San Antonio Zombie Walk. Modeled after similar events that have haunted public spaces and fought for Guinness World Records since the early 2000s, this blood-soaked gathering unites undead of all walks — nurses, mariachis, clowns, toddlers, dogs, you name it — in a moaning, brain-thirsty crawl through downtown. Bring a camera: The BYOB (bring your own blood) affair typically culminates with winning photo ops on the hallowed ground of The Alamo.
Free, 5pm, Tower of the Americas, 739 E. César Chávez Blvd., sanantoniozombiewalk.com.
— BR