Thu 10/28 - Fri 10/30
Cirque de los Muertos


Founded by Artist Foundation grant winner Julia Langenberg, Aerial Horizon is a company dedicated to bridging the gap "between the jaw-dropping stunts of contemporary circus and the emotive power of aerial dance." Having recently drawn inspiration from the McNay's Miró exhibition and collaborated with Opera San Antonio on "airborne arias and aerial bartending," the troupe is poised to put a dramatic spin on Day of the Dead with its
Cirque de los Muertos
. Directed by Langenberg, the "celebration from beyond this world" showcases acts incorporating silks, lyra, rope, trapeze and cyr wheel.
$20-$25, 8pm Thu-Fri, Brick, 108 Blue Star, (210) 908-7816, aerial-horizon.com.
— Bryan Rindfuss
Thu 10/29
Get the Hell Out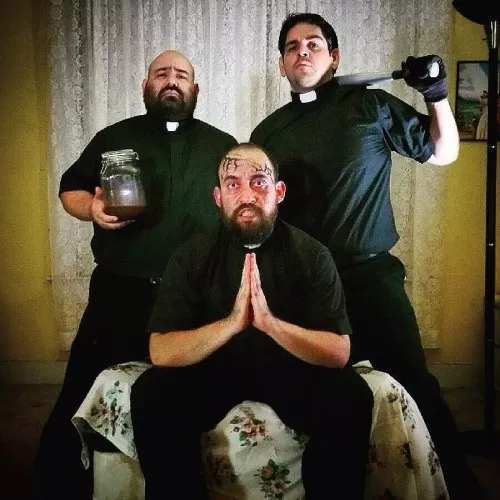 The 2012 film
Blood Cousins
, which tells the story of four cousins who confront a terrible secret from their family's past was described as "visceral … unflinching and dark" by critic John Townsend, seems like a hell of a weird choice for a feature-length debut for local standup, sketch, and podcast collective Comedia A Go-Go. But CAGG has been combining scares and laughs for years now: Their gore-riffic live-action-roleplaying riff
L.A.R.P.
was chosen by Robert "Rebel Without a Crew" Rodriguez to win Fantastic Fest's Bloodshots 48-hour horror film competition in 2007. Their latest short
Get the Hell Out
, featuring freelance exorcists, looks to be a similarly smart mixture of blood and guts and belly laughs. Catch this and several like-minded CAGG shorts for free, followed by a Q&A with some of the filmmakers. Someone should ask how they made that spinal column look so real.
Free, 7pm Thu, Guadalupe Theater, 1301 Guadalupe St., (210) 271-3151, guadalupeculturalarts.org.
— Jeremy Martin
Fri 10/30
Reptar


Ah, indie rock: a fickle musical vessel for paradoxically expressing, at once, universal themes of love and alienation, and for insisting that you're special. I'm not even sure what the term means, but I know that it applies perfectly to Athens, Georgia five-piece Reptar. (Yes, the band is named after that Rugrats character.) Two albums deep in a career that started in 2009, Reptar is wildly fun, cheekily emotive and admirably gifted at being catchy without being cheesy. The band's most recent effort,
Lurid Glow
, is dynamic, twee-leaning, alt-rockish goodness from start to finish. Live, Reptar roars.
$12, 7pm Fri, Paper Tiger, 2410 N. St. Mary's St., papertigersa.com.
— James Courtney


Fri 11/30
Paul Rodriguez and the Latin Kings of Comedy


Paul Rodriguez is the current, reigning Godfather of Latino comedy. He broke into standup after a career in the U.S. Air Force (including a stop here in SA at Lackland AFB). After starring in the first television show about a Mexican-American family on mainstream American television (
a.k.a. Pablo
), he has gone on to star in numerous feature films including
Beverly Hills Chihuahua
,
A Cinderella Story
,
Ali
,
Rat Race
,
Bloodwork
,
Chasing Papi
and many others. "It was never really my goal to be a movie star or a television star," Rodriguez told the
San Antonio Current
. "I did all these things to build a name for myself so people will buy a ticket to come see me. I'm a comedian and stand-up is what I love to do." In 2002, Rodriguez was part of The Original Latin Kings of Comedy tour, which brought Latino humor to the forefront. Now, over a decade later, he's back on tour with the next generation of Latino talent. Co-starring with Rodriguez are comedians Alex Reymundo and Manny Maldonado. "I wanted to put together something with this tour that was new and funny but still kind of like what we did before," he said. "This time around there's this new batch of young, up-and-coming comics that I found. My role right now at my age is to do what my good friend Rodney Dangerfield did and that's to introduce the next who's who of stand-ups."
$29.50-$49.50, 8pm Fri, The Majestic Theatre, 224 E. Houston St., (210) 226-3333, majesticempire.com.
— Eric Moreno

Fri 10/30
"Forever Stained in Sunshine"


New York-based artist Erin Hinz describes her latest paintings as "joyful acts of disobedience about what it means to be a female right here, right now." Sun-soaked, surreal and rendered in a girly palette, these works dissect and rebuild the human form in curious and disquieting ways. Evoking sensations of staring up at the sky or down into the ocean, Hinz's playfully titled canvases (
Mermaid Pinch
,
Sparkle Motion in Liquid Form!
) suspend reconfigured bodies in dreamlike environments inhabited by flora, fauna, bubbles and clouds. According to Hinz, it's "a place where men can only dream of going."
Free, 6-9pm Fri, Sala Diaz, 517 Stieren St., (972) 900-0047, saladiazart.org.
— BR
Fri 10/30
POSTPONED: Patricia Vonne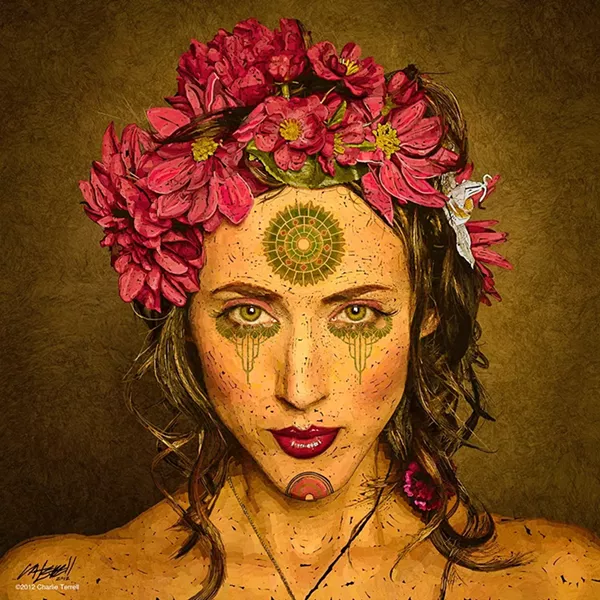 San Anto chanteuse Patricia Vonne returns to her hometown with works from her latest,
Viva Bandolera
. Like Vonne's career, the evening is a multimedia event, with a post-performance screening of Vonne's
Sin City
-inspired short film
Zorro Girl
and a midnight showing of her brother Robert Rodriguez's cult gore-fest
From Dusk Till Dawn
.
$15, 10pm Fri, Guadalupe Theater, 1301 Guadalupe St., (210) 271-3151, guadalupeculturalarts.org.
— Matt Stieb
Sat 10/31
Night of the Creeps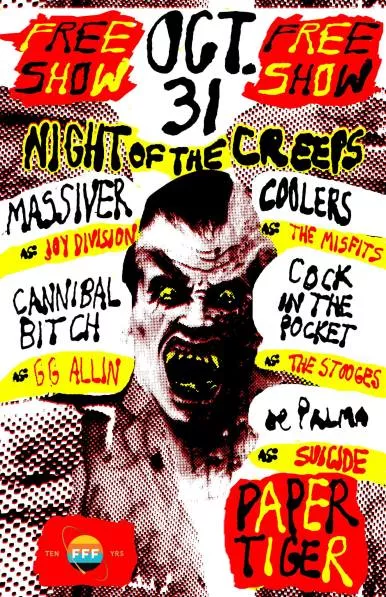 Usually with these Halloween cover-a-thons, one band doesn't get the memo, drops in a choice out of left field and disrupts the aesthetic hex of the evening. For Paper Tiger's first trick-or-treat, the venue gathers seven San Anto bands interpreting the dark music of their choice. Thank Mictecacihuatl for Paper Tiger's affiliation with Transmission Events, for the Best Dressed patron wins two free tickets to Fun Fun Fun Fest next weekend. With Massiver as Joy Division, Coolers as The Misfits, Cannibal Bitch as GG Allin, De Palma as Suicide, Cock in the Pocket as The Stooges, The Bolos (with special guest) as The Cramps and Sex Piss as Sex Pistols.
Free, 8pm Sat, Paper Tiger, 2410 N. St. Mary's St., papertigersa.com.
— MS
Sat 10/31
Stevie Wonder

The pop-soul superstar is currently on tour pimping his impeccable 1976 album
Songs in the Key of Life
. But the 65-year-old boy Wonder wouldn't be an American icon, or even a halfway decent performer, if he didn't pull out "Superstition" on Halloween night. My apologies to the piano bar players who have to tread on the tune while Stevie's in town.
$27.50-$147.50, 8pm Sat, AT&T Center, 1 AT&T Center Pkwy, (210) 444-5000, attcenter.com.
— MS
Sat 10/31
Hopsin

Before he dropped the badass contemporary hip-hop parody track "No Words" earlier this month, LA rapper Hopsin was mostly known as a kind of forerunner to Tyler, the Creator's growling, horrorcore style. Part gangster rap, part shock-value shit-show, Hopsin's catalog, which stretches back to 2001, is hamstringed by its inconsistency and reputation as narrowly niched. However, when it comes to the best rappers to catch on Halloween night, Hopsin has to be at the top of that list. And, when he really hits his mark, Hopsin's got lyrical chops and twisted imagination enough to best most any rapper.
$25, 8pm Sat, Alamo City Music Hall, 1305 E. Houston St., alamocitymusichall.com.
— JC
Sun 11/1 - Mon 11/2
Día de los Muertos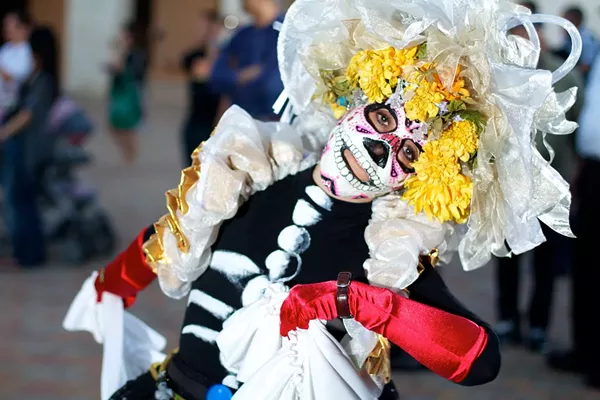 Offering a reflective counterpoint to the ghosts, goblins and zombies that haunt Halloween, the pre-Columbian tradition of Día de los Muertos pokes fun at death with folkloric fanfare while celebrating the dearly departed with altars both reverent and whimsical. An increasingly popular observance in the Alamo City, Día de los Muertos takes shape this year in everything from readings and exhibits to concerts and fireworks. Moonlighting as Carnaval de los Muertos, the drummers and dancers of
URBAN-15
's Carnaval de San Anto rise to the occasion by parading through Hemisfair Park dressed as skeletal characters reminiscent of La Catrina and others made famous by iconic Mexican illustrator José Guadalupe Posada (
free, 7:30pm Sun, Instituto Cultural de México, 600 Hemisfair Plaza
). Music and poetry combine in the heart of the West Side courtesy of the
Esperanza
's kid-friendly affair featuring performances by Los Olvidados, Las Tesoros de San Antonio and Azul, and readings of literary ofrendas and calavera poems to be enjoyed with tamales, pan de muerto and hot chocolate (
free, 3-9pm Sun, 816 S. Colorado St.
). Touted as the "biggest and oldest Día de los Muertos celebration in San Antonio,"
Centro Cultural Aztlán
's "Altares y Ofrendas" exhibit rounds up dozens of local artists for an eclectic installation of altars (adorned with marigolds, incense, keepsakes and food favored by lost loved ones), an "Avenida de los Artesanos" stocked with handcrafted wares, and a performance by Carnaval de los Muertos (
$3 suggested donation, 6-9pm Mon, 1800 Fredericksburg Road
). Encouraging attendees to "pray for the dead" and "fight like hell for the living," Texas smoke shop
Planet K
rings in the holiday with a car and bicycle show, food trucks and face painting in Woodlawn Lake before lighting up the sky with fireworks (
free, 6-9pm Mon, 1103 Cincinnati Ave.
).
— BR