Thu 11/5
Bomba Estéreo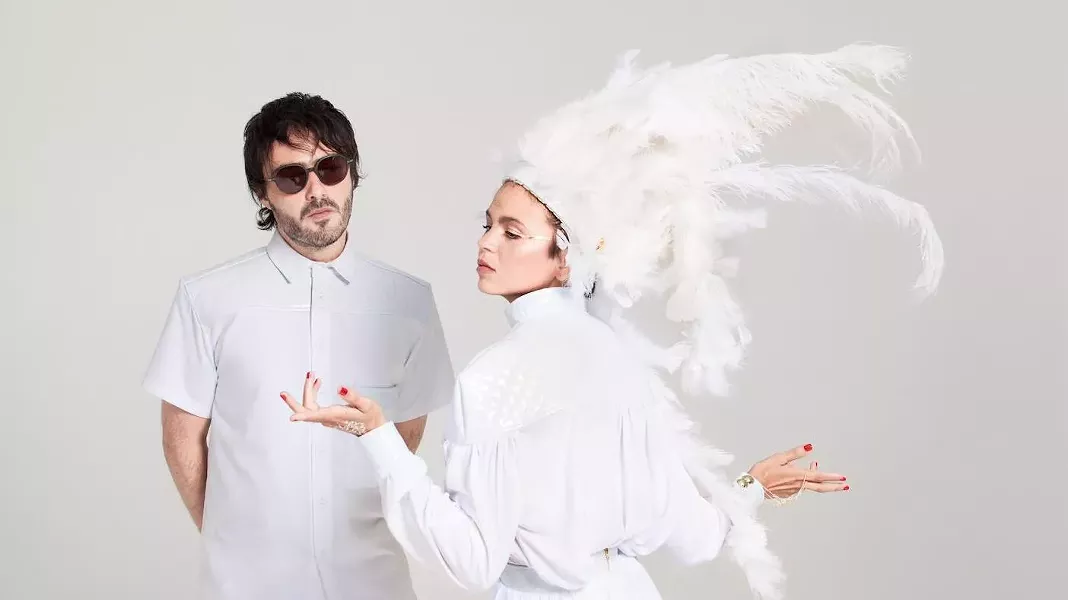 In their first decade together, Bogotá's Bomba Estéreo has perfected an infectious fusion of Afro-Colombian folk music and trippy electronica, nabbed the title of "Best New Band in the World" (courtesy of MTV Iggy) and emerged as a mainstay on the American festival circuit. Seemingly without trying, they've also remixed the tired concept of the "party band" — thanks in no small part to the wild synergy of vocalist Liliana Saumet and founder/bassist/keyboardist Simón Mejía. The Texas-bred Pachanga Latino Music Festival brings the quartet to town on the heels of this summer's beach-party soundtrack
Amanecer
.
$20, 7pm Thu, Paper Tiger, 2410 N. St. Mary's St., papertigersa.com.
— Bryan Rindfuss


Thu 11/5
Puscifer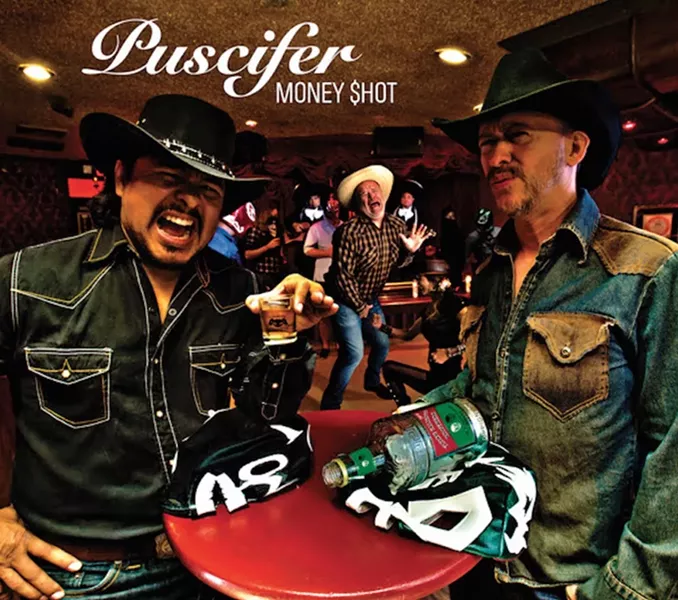 If there's one thing Maynard James Keenan is not particularly
keen on
(other than that pun) it's people bringing up his legendary alt-metal act Tool when he's trying to talk about his sophomoric comedy-rock troupe Puscifer, and with good reason. Though tracks on albums such as
"V" Is for Vagina
and
Conditions of My Parole
share a clear musical kinship to his previous heavy hitting bands Tool and maybe especially A Perfect Circle, Puscifer's raucous stage show — featuring a cast of characters like Major Douche and Peter Merkin — seems more heavily influenced by Keenan's time with performance art weirdos Green Jellÿ. The video for "Money Shot," the title track for Puscifer's latest, features
luchador
masks and all the seriousness you might expect from a band that started life in a
Mr. Show
sketch.
$34.50-$375, 7:30pm Thu, Tobin Center for the Performing Arts, 100 Auditorium Circle, (210) 223-8624, tobincenter.org.

— Jeremy Martin

Thu 11/5 - Sun 11/8
Fashion Week San Antonio Highlights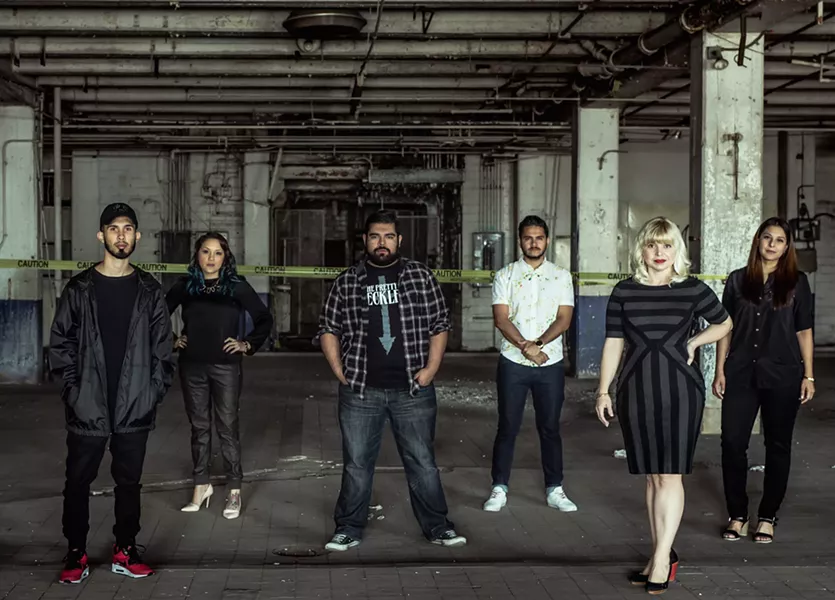 Moda Next designers Christian Alonzo, Tessa Guerra, Joey Ramirez, Bruno Horwath, Blanquita Sullivan and Valerie Perez
Moda Next: Fashion's Forthcoming
Fashion Week San Antonio producer Tony Harris created the Moda Next showcase back in 2012 as an emerging designer competition. Today, with support from the City of San Antonio and the Department for Culture & Creative Development, the program exists as an incubator for local talent, providing not only a platform during FWSA, but also mentoring and business support throughout the year.
Harris promises this will be the best Moda Next yet, with returning designers Joey Ramirez, Valerie Perez, Christian Alonzo, Blanquita Sullivan and Bruno Horwath tearing up the runway with a "more secure and confident" aesthetic. Tessa Guerra, owner of the Pearl's Roo & Me, also joins the lineup with her line of children's clothes.
"It's always about showing what's next, showing what's cutting-edge, showing what's fashion-forward. These emerging designers are exactly what that is. Fashion Week is really centered around the young talent and what they have to show," says Harris.
$25-$35, 7pm Thu, Showspace, 101 S. Santa Rosa St., (210) 784-1105, fashionsa.org.
Anthony Ryan

Reality television junkies may have already noticed a familiar face lurking in The Anthill, the new Stone Oak boutique owned by none other than
Project Runway All Stars
winner and
Project Runway
contestant Anthony Ryan Auld. Known for his definitive shapes and bold fabric selections, the fan favorite saw the Alamo City as the perfect spot to finally set down roots after his whirlwind competition experience; now, he's ready to wow his new hometown audiences with his premiere FWSA presentation, "The Darkness and the Light." "A new world. A new chance. A different adventure ... One never knows what danger lies lurking in the wood," teases Ryan of the upcoming collection.
$25-$55, 7pm Fri, Showspace, 101 S. Santa Rosa St., (210) 784-1105, fashionsa.org.
Samantha Plasencia
In San Antonio, the name Samantha Plasencia is synonymous with fashion. From her first place win at University of the Incarnate Word's Cutting Edge Fiesta fashion show, to the Moda Next showcase, to a stint on
Project Runway
, to numerous showings at FWSA, her "urban chic with a bit of edge" looks have consistently been in line with the fashion world at large.
Constantly evolving, her upcoming collection combines her signature streetwear aesthetic with experiments in non-fabric materials for waterproofing and sustainability. Expect to see more men's designs this time around: "I got inspired for this line by a lot of hip-hop artists that are taking fashion to a more simplistic yet still cool look," Plasencia explains.
$25-$55, 8pm Fri, Showspace, 101 S. Santa Rosa St., (210) 784-1105, fashionsa.org.
— Murphi Cook
Thu 11/6 - Sat 11/7
Muertitos Fest


Although it typically falls in line with Día de los Muertos itself and the array of local events it inspires, the 2015 edition of nonprofit arts program SAY Sí's Muertitos Fest stretches the celebration through November 7. Following the theme "Tree of Life – Storytelling & Rituals," the family-focused affair takes shape in three distinct components: a "Noche en Oaxaca" fundraiser with an exhibit of artwork, altars and trees of life created by students and featured artists Kathy Sosa and Veronica Prida, mezcal cocktails and "re-interpreted Mexican delicacies" from Viva Vegeria! (
$35-$40, 7-10:30pm Thu
); a First Friday fiesta with hands-on art activities, artisan vendors and live music and dance performances on two stages (
free, 6-10pm Fri
); and a Family Day with folk-art workshops, face painting and performances in the Black Box Theatre (
free, noon-4pm Sat
).
Prices vary, 7-10:30pm Thu, 6-10pm Fri, noon-4pm Sat, SAY Sí, 1518 S. Alamo St., (210) 212-8666, says.org.
— BR
Thu 11/5 - Sun 11/8
The Phantom of the Opera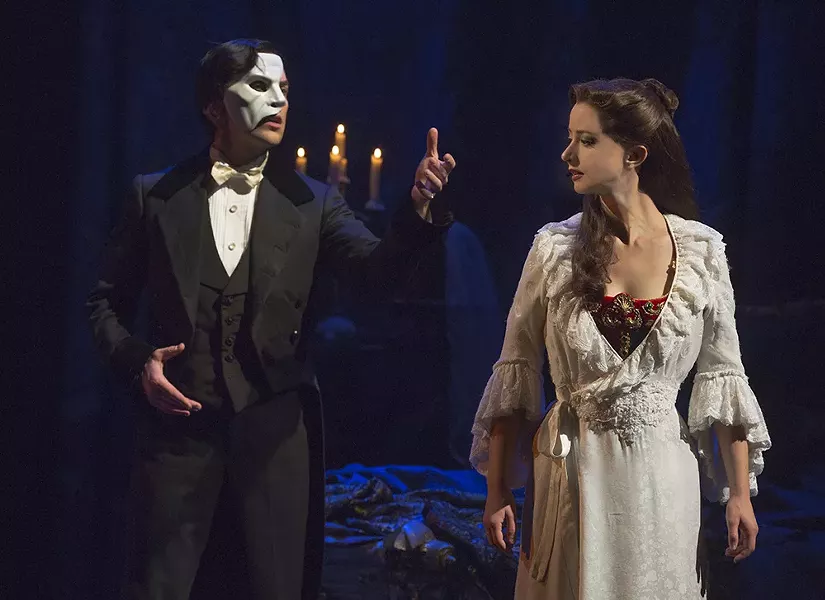 Based on the classic novel
Le Fantôme de l'Opéra
by Gaston Leroux,
The Phantom of the Opera
follows a disfigured musical genius who haunts a Paris opera house and obsesses over a beautiful Soprano named Christine. It's been 27 years since Andrew Lloyd Webber first unleashed this iconic half-masked phantom onto Broadway audiences, and now — more than 10,000 shows later — Cameron Mackintosh reimagines the original staging and design for a new generation in one of the largest productions to tour North America.
$39-$154, 2pm & 7:30pm Thu, 8pm Fri, 2pm & 8pm Sat, 2pm & 7:30pm Sun, The Majestic Theatre, 224 E. Houston St., (210) 226-3333, majesticempire.com.
— MC
Fri 11/6 - Sun 11/8
Medea

For lovers of classical theater and the morbidly curious alike, The Classic Theatre presents the truly twisted yet strangely empowering
Medea
. Written by Euripedes, the Greek tragedy centers on the myth of Medea and Jason, wherein the former, scorned by the latter, exacts revenge by murdering her own children and "the other woman." Cheery shit, right? In context, the actions taken by Medea reveal a deeply individualistic spirit and a kind of deliriously powerful sense of self-worth that proclaims: My life and liberty are more important than anything, even my kids.
$10-$25, 8pm Fri-Sat, 3pm Sun, The Classic Theatre, 1924 Fredericksburg Road, (210) 589-8450, classictheatre.org.
— James Courtney
Fri 11/7
Día de los Muertos Ball


Day of the Dead gets a dragtastic twist via local hairstylist Rene Roberts' annual Día de los Muertos Ball. Drawing inspiration from Walter Hill's dystopian cult classic
The Warriors
and its lawless armies of the night, this year's BYOB affair encourages attendees to "come in skeleton face" for a wild evening uniting drag performers (Tencha La Jefa, Taryn Taylor, Sweet Savage and Sasha Andrews, to name a few), spoken-word artist Anthony the Poet and the SA Street Dance and Drum Co. To sweeten the deal, the adults-only outing promises free food and Dos Equis beer.
$35, 6pm-midnight (show at 9pm) Fri, Guadalupe Theater, 1301 Guadalupe St., (210) 324-2662, sanantoniodiadelosmuertosball.com.
— BR
First Friday Highlights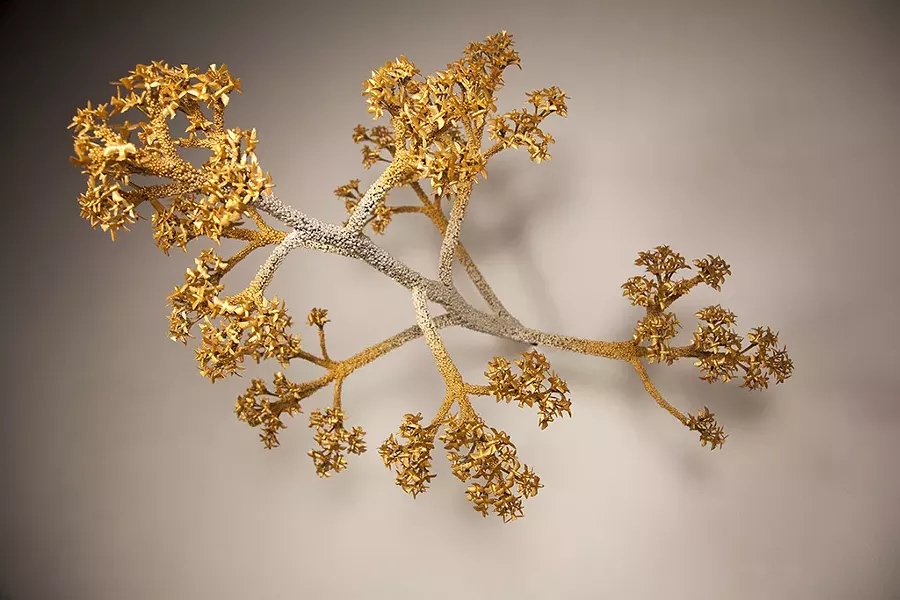 Alyssa Danna, 100 Year Chandelier

"How Handsomely You Dwell"
Comprised of assemblages built from objects found in thrift shops and garage sales, UTSA grad student Alyssa Danna's MFA thesis exhibition reflects the artist's aim to "beautify in a subversively complex way."
Free, 6-9pm Thu-Fri, Terminal 136, 136 Blue Star, (210) 458-4391, art.utsa.edu.
"Retro Pro"
R Gallery's latest combines a retrospective of artists who exhibited at The Peep Hole Art Gallery between 1996 and 2002 with a selection of progressive new works. The First Friday reception features live music from New Orleans-based DiNola and SA's own Twenty Dollar Temple.
Free, 6-11pm Fri, R Gallery, 725 S. Presa St., (210) 862-8875, facebook.com/rgallerystx.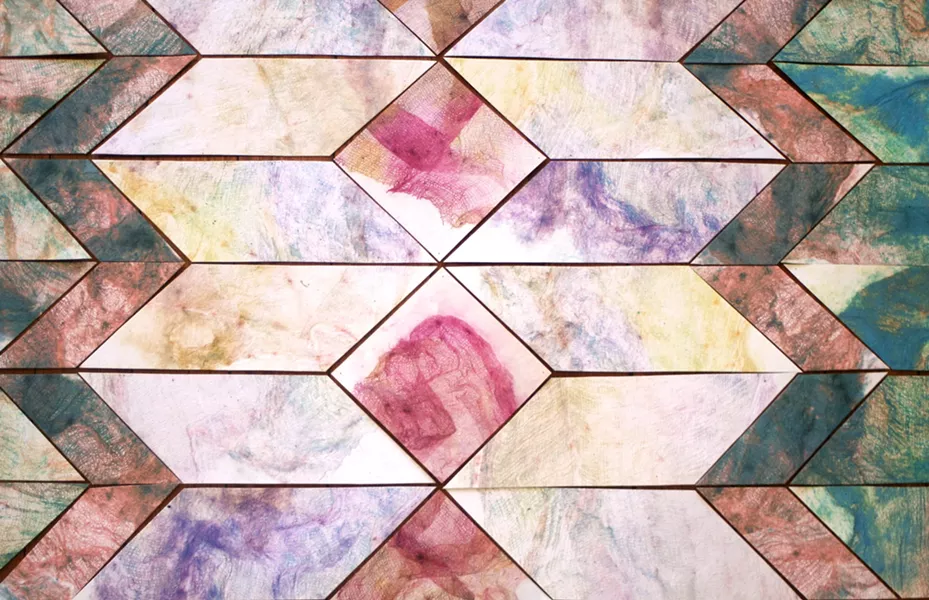 Casey Galloway, The Quilt (detail)
"Tactile Memory"

In her exhibition "Tactile Memory," Casey Galloway (co-owner of Wool Tree Yarn and interim fiber coordinator at the Southwest School of Art) brings together the processes of papermaking, weaving, crocheting, dyeing and embroidery to examine "lost memories and internal change."
Free, 6-9pm Thu-Fri, Hello Studio, 1420 S. Alamo St., Suite 106, (210) 291-8640,
hellostudiosa.com
.
— BR
Sat 11/7
Heartless Bastards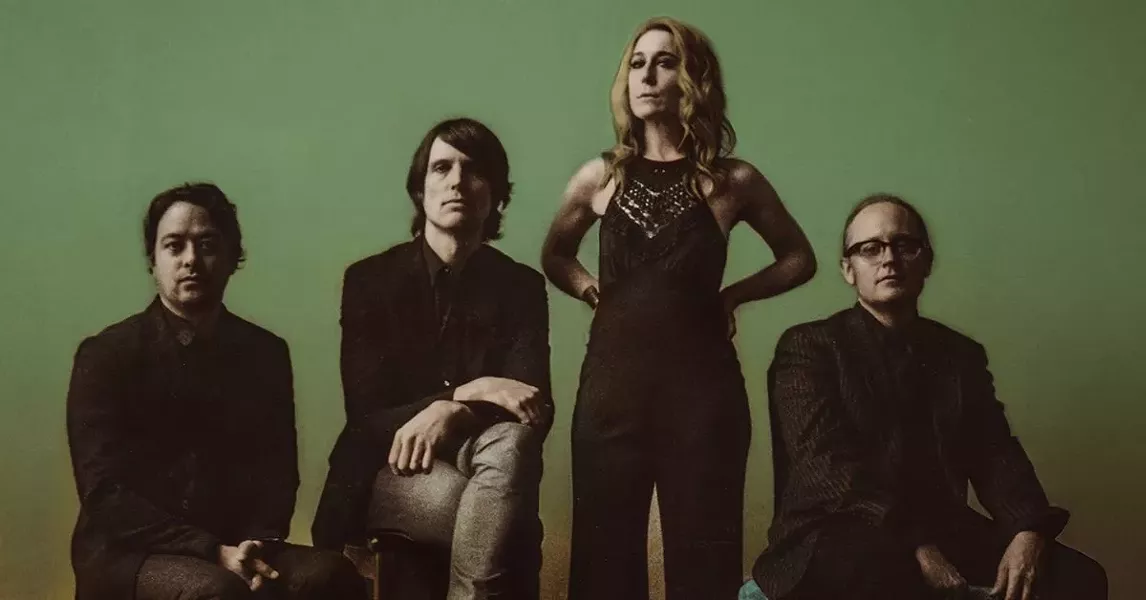 I am always reticent of groups that fall under the umbrella of what people call "Americana." Usually because it's a bunch of white, Dylan disciples who sublimate their love for Neil Young and The Band with weak-kneed, naïve and, frankly, poorly-crafted attempts at classic American folk songs — too much coffee shop and not enough cotton gin; a touch too much Wilco or Union Station (there's nothing wrong with Allison Krauss, but there's only one), and not enough Charlie Feathers or Bill Monroe. As the blues, rock 'n' roll, hillbilly music, rhythm and blues, and country-western have been distilled through several decades of city dwellers and suburban latchkey YouTubers, it seems that high and lonesome, pure-prairie pining is harder and harder to come by. The Heartless Bastards have nestled that high and lonesome into their bosoms right next to their love of a vast, drawling, distorted guitar drive. Much like San Antonio's Wild Blood, they take their knowledge of folk music and rather than duplicate the fingerpicking, three-part harmonies and fiddle licks, they incorporate the inevitable — expansive rock without a lot of roll. It is honest, straight and sincere, and as their craft, they have mastered it.
$15-$70, 8pm Sat, Sam's Burger Joint, 330 E. Grayson St., samsburgerjoint.com.
— D.T. Buffkin


Sun 11/8
Women on the Verge of a Nervous Breakdown


Spain's Pedro Almodóvar was known for low-budget, impudent, often gay-themed films when this candy-colored comedy marked his international art-house breakthrough — and it wasn't bad for the careers of Carmen Maura or Antonio Banderas either. Maura's heroine, reeling from being dumped by her boyfriend, mixes with several characters in crazy cross-purpose plotlines that include Shiite terrorist hijackings and spiked gazpacho before she gets her groove back. The McNay screens the Oscar-nominated gem in conjunction with its Spanish-themed This Is Not a Film Series.
$15-$20, 2pm Sun, McNay Art Museum, 6000 N. New Braunfels Ave., (210) 824-5368, mcnayart.org.
— Michael Barrett