Thursday, December 3
Santa and the Ice Cream Bunny


Remember when you were a kid and you first started to question the Santa Claus mythos: whether it was really plausible that one man could deliver all those toys in one night, or live year-round at the North Pole, or whether, if Santa's sleigh got stuck in the sand on a Florida beach and he were abandoned by his flying reindeer, he could actually summon a magical fire engine piloted by the Ice Cream Bunny to help him out? Relive that insane holiday tradition shared by only you and filmmaker R. Winer in the only appropriate way – accompanied by the live sarcastic commentary of the RiffTrax crew (featuring who else but former members of the Mystery Science Theater 3000 ensemble), who'll be adding an additional layer of commentary on top of that already offered in the film by Huck Finn and Tom Sawyer. (Did we mention this film is insane?).
$12.50, 7pm, Thu., Dec. 3, Santikos Palladium Imax, 17703 W I-10, (210) 496-2221, fathomevents.com

Thursday, December 3 - Monday, December 21
A Christmas Carol


The Playhouse presents the world premiere of Tony Ciaravino and Tim Hedgepeth's theatrical adaptation of Charles Dickens' 19th-century tale surrounding the transformation of bitter, old miser Ebenezer Scrooge.
$12-$30, check the theater for showtimes, The Playhouse, 800 W. Ashby Pl., (210) 733-7258, theplayhousesa.org

Friday, December 4 - Sunday, December 13
San Antonio Symphony: The Nutcracker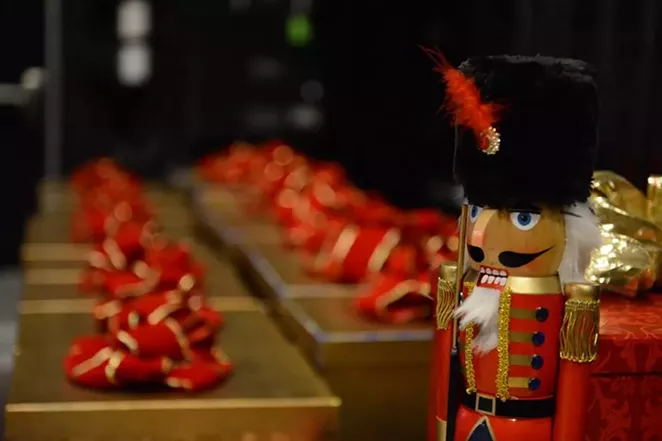 San Antonio Symphony joins Ballet San Antonio for performances of The Nutcracker, our city's only rendition with a live orchestra. This enduring classic realizes Tchaikovsky's original vision — exquisite choreography,
sets
and costumes — accompanied by the San Antonio Symphony.
$29 and up, check the San Antonio Symphony for performance showtimes, Tobin Center for the Performing Arts, 100 Auditorium Circle, sasymphony.org
Friday, December 4
Photos with Santa and His Sexy Elves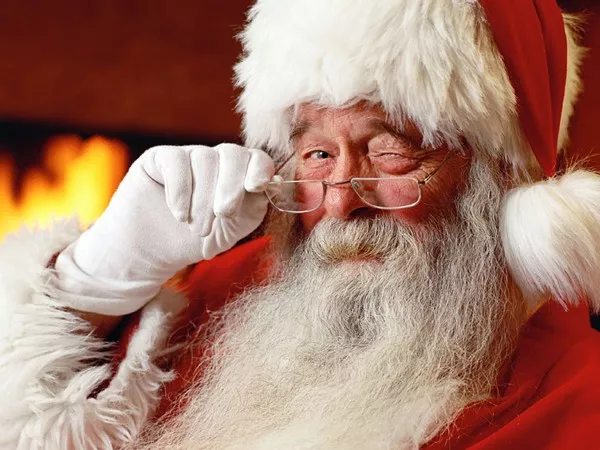 Get your holiday shopping and cards in one fell swoop this First Friday at The Sexology Institute and Boutique (727 S. Alamo St., 210-487-0371) as they host Santa and his sexy elves for an adult photo shoot. Lap-sitting and picture-taking for all members of the naughty list are in order.
Free admission, 8pm - 10pm, Fri., Dec. 4, The Sexology Institute and Boutique, 727 S. Alamo St., (210) 487-0371, sexologyinstitute.com
Friday, December 4
"Bad Santa" Pub Run


Join in on the Bad Santa theme as the runners go from Pat O'Brien's and try to stumble-run their drunk selves all the way to Bonham Exchange with nine (9!) stops at downtown bars in between. Don't be too naughty and beer responsibly.
Free,
7pm
, Dec. 4, Pat O'Brien's, 121 Alamo, (210) 220-1076,
facebook.com

Friday, December 4
Ford Caroling Nights with Santa


Get your photo with Santa on the River Walk and take in the Christmas lights along the river.
Free, 6pm, Dec. 4, Arneson River Theatre, 110 Broadway, (210) 227-4262, facebook.com

Friday, December 4 - Sunday, December 6
Hecho a Mano


Amid the season of store-bought wares and impersonal gift cards, the Guadalupe rises to the occasion with a holiday market that champions all things handmade. A dependable solution for those question marks on your Yuletide list, Hecho a Mano runs the gamut from candles and trinkets to folk art and fine jewelry crafted by 20-plus artists and artisans selected by a panel of jurors. After tempting early birds with a Friday preview ($15), the 29th annual event takes over Galería Guadalupe for a festive weekend of eclectic shopping and browsing. Bring two canned goods for free admission.
$15 (Friday opening reception), 6pm - 9pm, Fri. Dec. 4, $2 or 2 canned goods, 12pm - 6pm, Sat., Dec 5 and Sun., Dec. 6, Galería Guadalupe, 723 S Brazos, (210) 271-3151,
guadalupeculturalarts.org
Saturday, December 5
Winterfest Helotes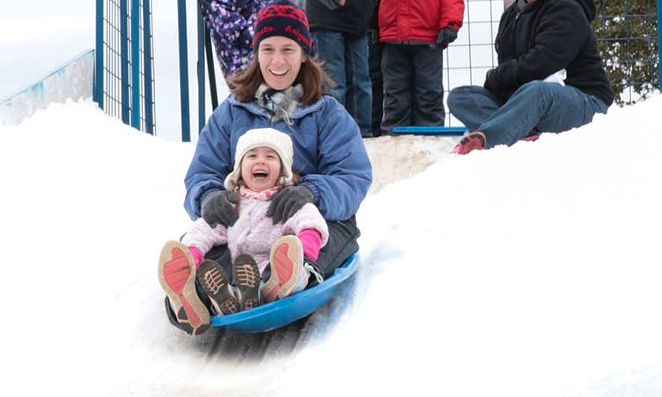 Enjoy snow sledding, horse carriage rides, pony rides, photos with Santa, Carnival Rides and more.
Free, 10am Dec. 5, Cornyval Grounds, 12210 Leslie, (210) 548-6448, winterfesthelotes.com
Saturday, December 5
Winter Wonderland Kick-Off at The DoSeum


The DoSeum is transformed into a magical winter wonderland and will play host to periodic public programs beginning on December 5, including a reverse Santa's engineering workshop and a multicultural holiday celebration.
$16-$20, 11am, Dec. 5, The DoSeum, 2800 Broadway, (210) 212-4453, facebook.com
Saturday, December 5
Winter Wonderland at Travis Park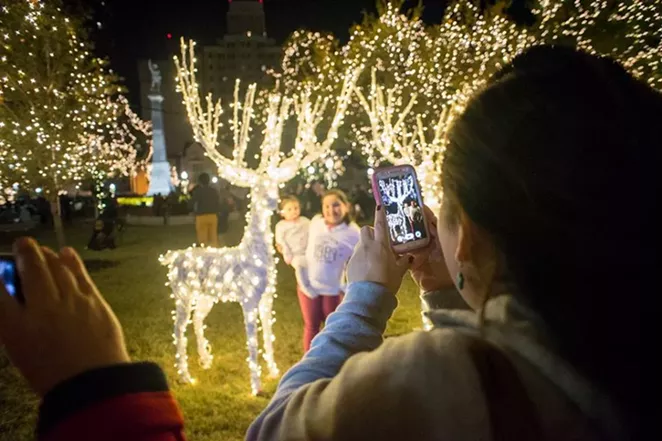 Experience Travis Park like you've never seen it before and enjoy a magical holiday event. San Antonio's EPIC FIRST 4-story Snow Mountain Slide, take selfies with Santa, play in a 2-story snow dome, compete with friends in our Santa Sumo Suits, take a carriage ride, enjoy the award-winning Travis Park Christmas lights, food trucks, games and a live performance by the Magik Theatre at
6:00pm.
Free, 12pm, Dec. 5, Travis Park, 301 E Travis, (210) 207-7819, eventbrite.com

Saturday, December 5
Noel de Papel Art Fair & Merienda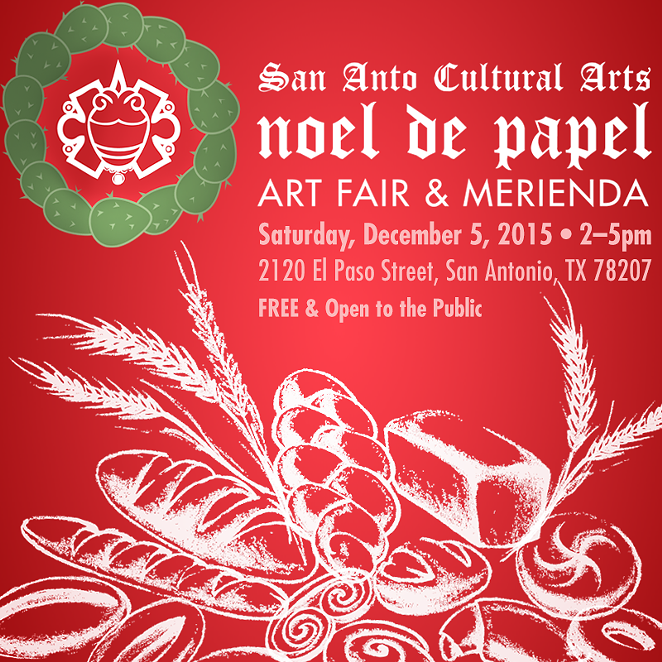 San Anto Cultural Arts' inaugural Yuletide market combines an exhibition and sale of diverse works on paper, a light holiday merienda with tamales galore and a performance by the talented young musicians of Mariachi Milagro.
Free, 2pm - 5pm, Sat., Dec. 5, San Anto Cultural Arts, 2120 El Paso St., (210) 226-7466, facebook.com
Saturday, December 5
Museum Reach River of Lights and Inaugural Deck the River Contest


Enjoy the holiday spirit of the Museum Reach section of the River Walk and remember to check out the competing displays at El Tropicano Riverwalk Hotel, Paramour, The River House Apartment Homes, San Antonio Museum of Art, Wyndham Garden Riverwalk and VFW Post 76.
Free, 6pm, Dec. 5, Museum Reach, 510 Brooklyn, (866) 345-7272, facebook.com

Saturday, December 5
Silver Bells in the City


Join as we light our beautiful Christmas Tree, the Façades of San Fernando Cathedral and Bexar County Courthouse. Performances by Mariachi Corazon de San Antonio,Rachel Yvonne Cruz and The Swinging Holiday set with the Tony Romero Quartet. Photo ops with Cinderella, Belle, Elsa and Buddy the Elf. Free, 4pm - 9pm, Sat., Dec. 5, Main Plaza, 115 N. Main Avenue,
mainplaza.org
Saturday, December 5
Pastie Pops Christmas Burrr-lesque Show


The Pastie Pops Burlesque Revue is turning five. Join all of the Pops including Vixy Van Hellen, Betty Cash, and Jasper St. James. Since it's an anniversary and Christmas show, the Pops have invited past performers to make the show even better, including Olympia DeWinter and Madame SinClaire.
$10-$40, 9pm, Sat., Dec. 5, The Uptown Studio, 700 Fredericksburg, pastiepops.com
Sunday, December 6
Big Holiday Market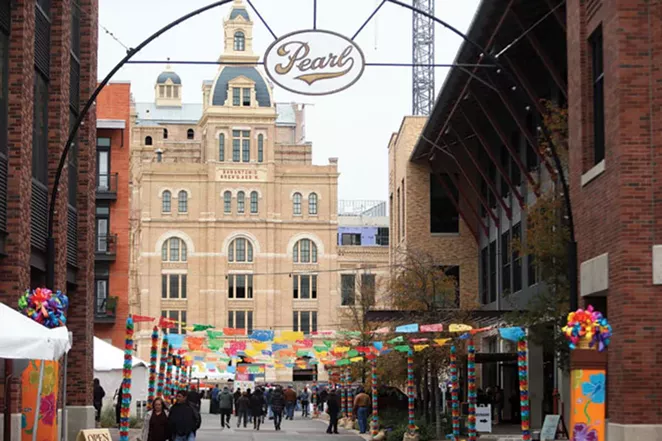 Pearl expands its weekly Farmers Market by adding an artisans gift market, special entertainment and a morning visit from Santa.
Free, 10am - 2pm, Sun., Dec. 6, Pearl, 200 E Grayson, atpearl.com