Thu 12/10
!!!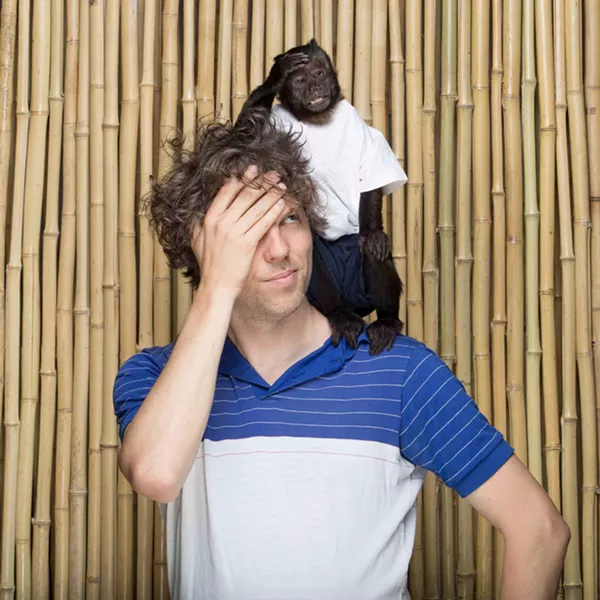 There was a point not so long ago when it seemed dance-punk might break the skin of the mainstream and take over the airwaves. Both an anomaly and a survivor of that millennial craze, New York via California outfit !!! (commonly pronounced "Chk Chk Chk") has carved its own niche with a party-minded hybrid informed by funk, disco and an absurdist sense of humor and style (think Talking Heads, LCD Soundsystem, Hot Chip). Arguably
best known for the 2003 indie-house epic "Me and Giuliani Down by the School Yard (A True Story)," !!! lands at Paper Tiger in support of their sixth studio album,
As If
.
$15, 8pm Thu, Paper Tiger, 2410 N. St. Mary's St., papertigersa.com.
— Erik Casarez




Thu 12/10
"Extraordinary"


The latest offering from Susan Heard's Cinnabar, "Extraordinary" is a multi-artist exhibit with an eye for repurposing everyday objects. Interpreted literally, the exhibit title is quite fitting: With familiar materials, participating artists created pieces that challenge conventions. Among the featured artists are Kevin Box (who creates metal sculptures reminiscent of folded paper), Ernesto Ibañez (who makes nails resemble animal fur), Javier Vanegas (who crafts copies of controversial paintings from sex-service adverts) and Dörte Weber (who sees urban landscapes with a weaver's eye).
Free, 6:30-9pm Thu, Cinnabar, 1420 S. Alamo St. #147, (210) 557-6073, cinnabarart.com.
— James Courtney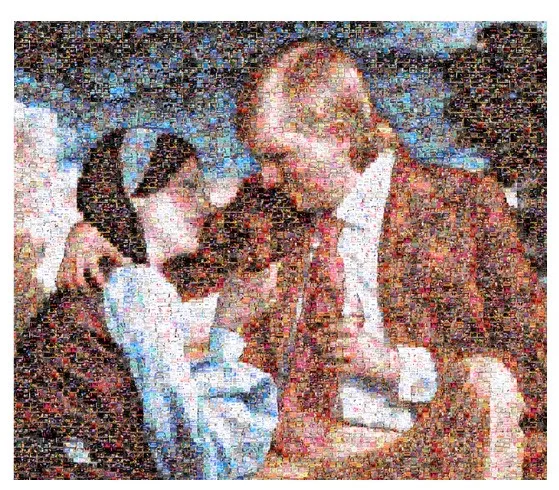 Javier Vanegas, VIP John Currin Rippowam
Fri 12/11
Spurs vs. Lakers


For better or worse, Spurs fans are intimately familiar with the genius of Kobe Bryant's game. During his prime with the Lakers, Bryant tormented Tim Duncan and company, often with Phil Jackson smiling smugly on the sideline. Whether paired with Shaquille O'Neal or Andrew Bynum, some of Bryant's best games came against the Spurs, often in the playoffs. Duncan triumphed in 2003, doing his part to help end that Lakers dynasty, and unlike Bryant, his franchise remains a contender. In fitting fashion, Bryant's impending exit effectively opens the door for San Antonio native Jordan Clarkson, one of the most talented young guards in the league. Clarkson has already dropped 30 points in a game, recently recorded his first double-double of the season, and should be looking to show out for his hometown fans.
$105-$318, 8:30pm Fri, AT&T Center, One AT&T Center Pkwy., (210) 444-5000, attcenter.com.
— M. Solis

Fri 12/11
Gary Wilson & The Blind Dates


In short, Gary Wilson is strange and sincere. A life-long musician of multiple instruments, student of John Cage, home recording prodigy and performance artist, Wilson has experienced a career almost as peculiar as his romantically charged electronic lounge jams and as unpredictable as his mock teen idol shows — performances that include throwing sacks of flour, splashing paint, duct-taping a mannequin to his back or covering himself with a bed sheet and crying — all of which is just part of what he describes as "Gary Wilson Music." You couldn't call it anything else with much conviction. Although, it's fair to say his particular brand of outsider pop music has influenced an impressive lineup of artists from the highly evident Ariel Pink to more surprising musicians like Earl Sweatshirt of rap collective Odd Future.
$8-$10, 8:30pm Fri, K23 Gallery, 702 Fredericksburg Road, (210) 776-5635, facebook.com/k23gallery.
— Denise De Glopper

Click
here
to read our interview with Wilson.

Fri 12/11 - Sun 12/13
OPEN Downtown Pop-Up Shops


Quickly establishing themselves as highlights on SA's Yuletide calendar, the Center City Development Office's OPEN: Downtown Pop-Up Shops return to activate underutilized storefronts on Houston and Travis streets. After kicking off Friday with a Progressive Opening Party and Gift Market soundtracked by Ghostpizza Empire (
5-7pm Fri
), the collab between property owners, businesses and artists continues daily through December 19, tempting browsers with everything from handcrafted soaps and chocolates to fresh flowers and plus-size apparel.
Free, 11am-7pm Fri-Sun, 140 E. Houston St. (Suite 40 & 41), 231 E. Houston St., 115 E. Travis St. (Suite 109), opensanantonio.com.
— Bryan Rindfuss
Sat 12/12
Queer the Cheer


Devised by local artist/educator/musician Ernesto Olivo and a handful of collaborators from varied backgrounds, the SA Queer Collective is designed to "emphasize and promote" the diverse talents of the Alamo City's LGBTQA community. Initiated in 2013, the collective's inaugural Cheer the Queer attracted 200-plus shoppers with its winning mix of handmade wares, tamales and beer. For its third incarnation, the holiday market aims to create a "unique and safe space" to showcase LGBT, queer and ally artists, crafters, makers, musicians and performers.
Free, (beer, wine and food available by donation), 4-11pm Sat, Southwest Workers Union, 1416 E. Commerce St., facebook.com/saqcollective.
— BR
Sat 12/12
"La Permanent Virgen"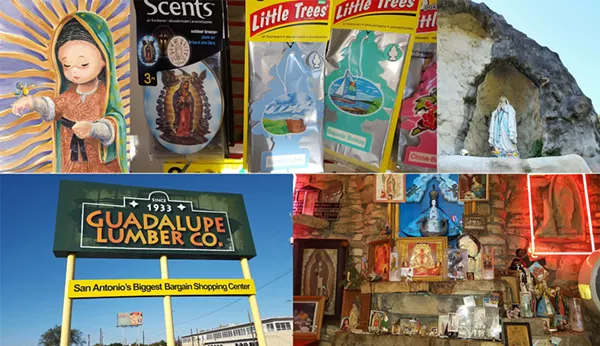 Although typically celebrated with feasts and pilgrimages to Mexico's Basilica of Our Lady of Guadalupe (where the Virgin Mary allegedly appeared to Juan Diego circa 1531), Our Lady of Guadalupe Day gets a quirky twist this year via Marisela Barrera's "La Permanent Virgen." Part scavenger hunt, part progressive exhibition and part selfie challenge (#SAvirgen), the concept uses the Chicana artist's reverence for Mexico's patron saint as a thread connecting diverse representations of la Virgen at 12 local sites: Guadalupe Lumber (1547 S. Zarzamora St.); the Little Church of Miracles (Haven for Hope Way at I-10); The Phantom Room (2114 N. St. Mary's St.); Ray's Drive Inn (822 SW 19th St.); Gilbert Durán's Studio 911 (911 S. St. Mary's St.); Jesse Treviño's
La Veladora
at Guadalupe Cultural Arts Center (1301 Guadalupe St.); San Jacinto Senior Housing Development (1512 El Paso St.); Our Lady of Lourdes Grotto at Our Lady of the Lake University (411 SW 24th St.); O'Reilly Auto Parts (100 S. Zarzamora St.); Esperanza Peace and Justice Center (during
Noche Azul de Esperanza
, 922 San Pedro Ave.); Galeria E.V.A. (during the
Día de la Virgen Mujeres Plática
, 3412 S. Flores St.); and Marisela Barerra's left arm (location varies).
— BR
Sat 12/12
Wild Child


Active since 2010, Wild Child is a seven-piece indie-pop outfit from Austin, led by principal songwriters and vocalists Kelsey Wilson and Alexander Beggins. The young group writes expansive and endearingly catchy songs that become even more extravagantly effusive with the huge arrangements they receive, especially live: ukulele (played by Beggins), violin (played by Wilson), trumpet and cello complement more expected indie-rock instruments. The sugary sound of the music is tempered by often bitingly sarcastic lyrics and heady, jazzy passages that somehow work quite well in the context of pure pop.
$15, 8pm Sat, Paper Tiger, 2410 N. St. Mary's St., papertigersa.com.
— JC


Sat 12/12 - Sun 12/13
Nerdtacular


Billed as "the nerdiest convention you'll ever attend," Nerdtacular is a bit hard on itself. It would be far nerdier to attend, say, a conference on the economic trends of post-Civil War America. From where we are sitting, Nerdtacular, a two-day affair celebrating comics, games, toons, pop culture, vintage fashion, arts and crafts, just sounds like a whole lot of fun. There's even a Christmas song karaoke contest, live music and photo ops with a Grinch Santa and/or a Darth Vader Claus. With over 100 vendors in participation, and spanning two full days, it also seems like a great time to snap up some one-of-a-kind presents for yourself and your favorite nerds. On Sunday, after a day or two at Nerdtacular, cap off your geeky weekend by staying in your
Star Wars
attire and heading on down to the
San Antonio Wookiee Walk
, which departs from the Tower of the Americas at 6 p.m. What a time to be alive!
Free, 10am-9pm Sat, noon-6pm Sat-Sun, Wonderland of The Americas, 4522 Fredericksburg Road, (210) 785-3500, wonderlandamericas.com.
— James Courtney
Sun 12/13
Dead Kennedys Matinee Show


Songwriting weirdo Jello Biafra has been out of the picture since the band's 2001 revival, but Dead Kennedys still pack enough fury and nostalgia to sell out a Saturday night Korova gig and book an encore set the next day. A defining San Francisco hardcore outfit, Dead Kennedys tear through caterwauling guitar and a seething deadpan on staples like "Holiday in Cambodia" and "Kill the Poor." Celebrating The Korova's sixth anniversary, the venue couldn't have picked a more perfect house band for the bash. Happy birthday, you droogs. With Sniper 66, Ironhead Division, FatMD, Bent Gents.
$20-$25, 3pm Sun, The Korova, 107 E. Martin St., (210) 226-5070,
thekorova.com.
— Matt Stieb