Thu 2/11 - Sun 2/14
"Made in Germany"


Andreas Gurksy, Ratingen Schwimmbad (Swimming Pool)
Organized by the McNay's René Paul Barilleaux, "Made in Germany" highlights German works from the Rubell Family Collection. The Rubells, who boast one of the world's largest private collections of contemporary art, have long focused on German work, but this is the first presentation of their German holdings. The exhibit, which features paintings, sculptures, photographs and works on paper, collects pieces from such notables as Anselm Kiefer, Sigmar Polke, Katarina Fritsch and Bernd Becher.
$15-$20, 10am-9pm Thu, 10am-4pm Fri, 10am-5pm Sat, noon-5pm Sun, McNay Art Museum, 6000 N. New Braunfels Ave., (210) 824-5368, mcnayart.org. Through April 24.
— James Courtney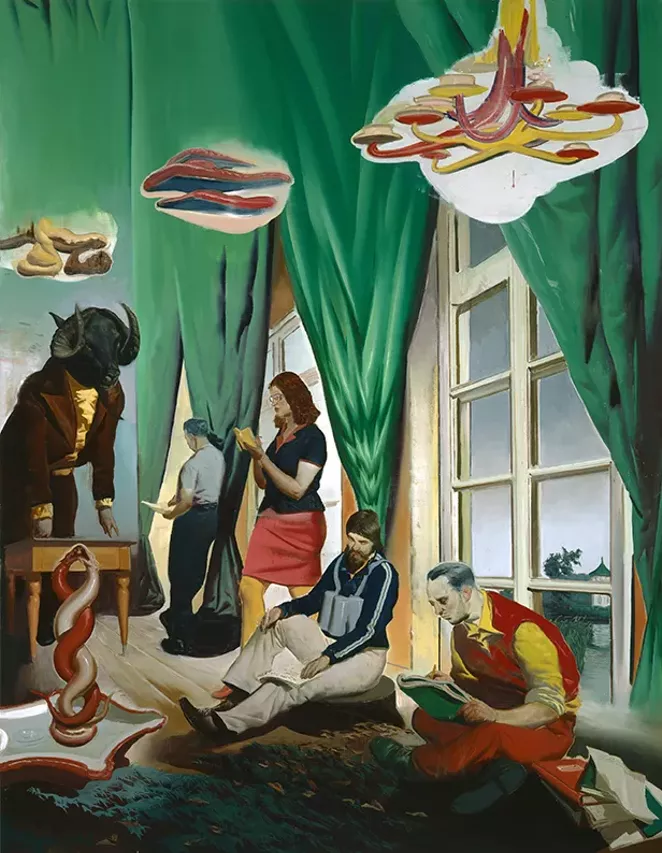 Thu 2/11
"Texas Draws"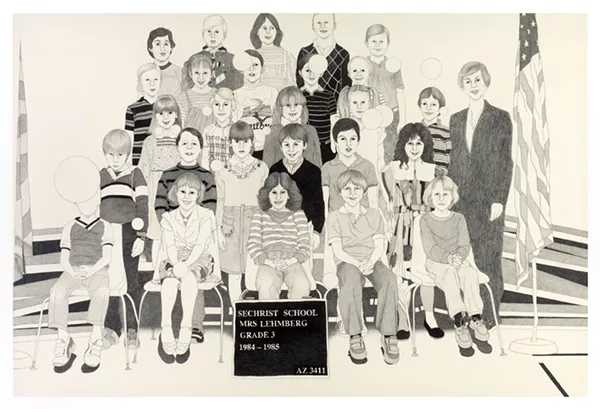 It's time again for the Southwest School of Art's biannual exhibition series "Texas Draws." Thursday night, you're invited to celebrate the opening of the fourth installment in the series dedicated to Texas artists who "extend the traditional definition of drawing and apply both traditional and non-traditional approaches to this time-honored discipline." While the exhibition focuses exclusively on drawing, its strength is the incredible range of concerns and approaches encompassed therein. Categories of focus include medium, scale, dimension and abstraction.
Free, 5:30-7:30pm, Southwest School of Art, 1201 Navarro St., (210) 734-9673, swschool.org. Through April 24.
— JC
Thu 2/11 - Sun 2/14
The Amish Project

AtticRep tackles the path to forgiveness in the wake of unspeakable tragedy in
The Amish Project
. Inspired by the 2006 killing of five girls in an Amish schoolhouse in Pennsylvania, the one-woman show explores the aftermath and leaves its star to navigate through seven characters, including the gunman and several of his victims. Though Jessica Dickey's play is based in truth, the characters are fictional in an effort to balance sensitivity with her mission to create compelling theater. David Connelly directs Sarah Gise in the San Antonio premiere.
$18-$28, 8pm Thu-Sat, 2:30pm Sun, Tobin Center for the Performing Arts, 100 Auditorium Circle, (210) 224-1848, atticrep.org.

— Murphi Cook

Fri 2/12
Fiesta Mexico Americana!


In a musical landscape littered with "genreless" artists, Los Lobos stand out as fusionist pioneers with an undying love of experimentation. Rising out of '70s-era East LA with a repertoire that blurred blues, roots and Mexican folkloric sounds, the group scored a Grammy before their major label debut (1984's
How Will the Wolf Survive?
) and reached the masses in 1987 with a chart-topping cover of Ritchie Valens' classic "La Bamba." Touted by critics for their surreal 1992 album
Kiko
, the six-piece return to the Alamo City as part of a creative collaboration with Ballet Folklórico Mexicano.
$29-$110, 7:30pm, The Majestic Theatre, 224 E. Houston St., (210) 226-2891, artssa.org.

— Bryan Rindfuss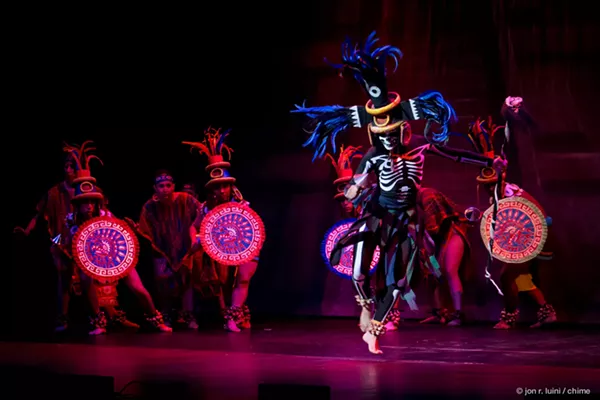 Fri 2/12 - Sun 2/14
The Seagull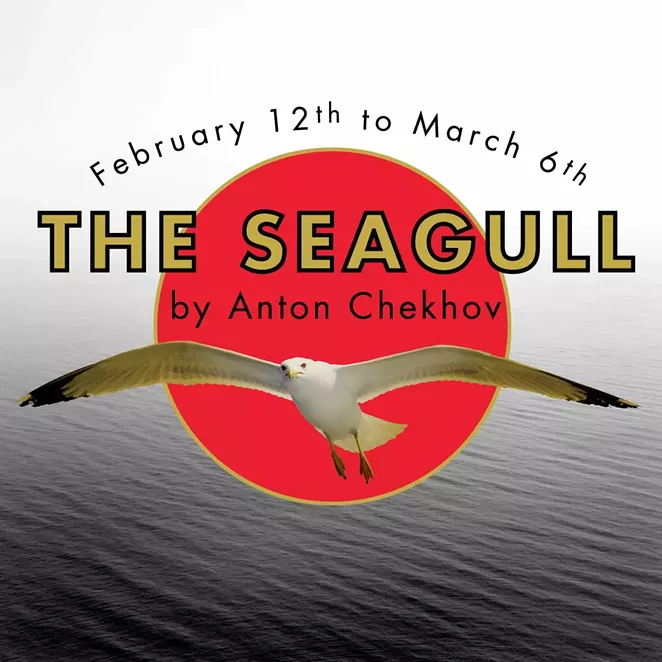 With unrequited love, frustrating relationships and interrupted romance among its hallmarks, Anton Chekhov's
The Seagull
might be the perfect anti-Valentine's Day offering. Set on a lakeside Russian estate, the 19th-century tragicomedy weaves a tangled web crawling with the likes of playwright Konstantin, his neurotic mother Arkadina, her younger lover Trigorin and aspiring actress Nina. Once summed up by critic Charles Isherwood as "a play about misfired loves and misbegotten lives,"
The Seagull
lands at The Classic Theatre in a production directed by Allan S. Ross.
$10-$25, 8pm Fri-Sat, 3pm Sun, The Classic Theatre, 1924 Fredericksburg Road, (210) 589-8450, classictheatre.org.
— BR


Fri 2/12 - Sun 2/14
International Music Festival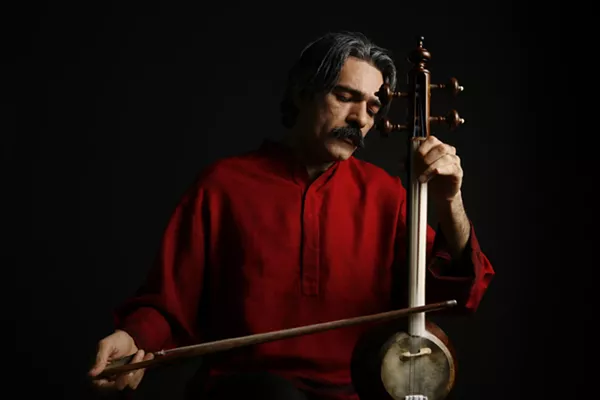 Entering its 18th season with an eclectic bang, local nonprofit Musical Bridges Around the World showcases a "brilliant parade of exceptionally talented artists" during its International Music Festival, an entirely free celebration spread across two weekends. Now in its third year, the decidedly diverse festival kicks off with
Jazz Invocation
, a program uniting saxophonist/flutist/composer Charles Lloyd, guitarists Bill Frisell and Greg Leisz, drummer Eric Harland and bassist Reuben Rogers (
7:30pm Fri, Laurie Auditorium, One Trinity Pl.
). Saturday's
Persian Impressions
brings together members of the Silk Road Ensemble — including Indian tablaist Sandeep Das, Iranian kamancheh player Kayhan Kalhor (pictured) and cellist Mike Block — for "an authentic fusion of music inspired by their cultural roots" (
7:30pm Sat, Charline McCombs Empire Theatre, 226 N. St. Mary's St.
).
L'historie du Soldat (The Soldier's Story)
adds movement to the musical mix as Avant Chamber Ballet Dallas brings Stravinsky's cautionary tale to life onstage with accompaniment from pianist Baya Kakouberi, clarinetist Julian Milkis and violinist Gary Levinson (
3pm Sun, Carver Community Cultural Center, 226 N. Hackberry St.
).
Visit musicalbridges.org for the full schedule.
— BR


Sat 2/13
Asian Festival

Set to follow China's lunar New Year, the Institute of Texan Cultures celebrates the year of the Monkey with the 29th Annual Asian Festival. With dozens of organizations in the lineup, the kid-friendly fest includes two stages for entertainment, plus plenty of food and a station stocked with Asian beers and sake. Expect to be immersed in the cultures of the Indian subcontinent, the Southeast Asian Peninsula and the island nations of the Pacific. As festival director Jo Ann Andera puts it: "There's no better way to understand a culture than to experience it for yourself."
$5-$10, 10am-5pm, Institute of Texan Cultures, 801 E. Cesar E. Chavez Blvd., (210) 458-2224, texancultures.com.
— MC
Sat 2/13
Va-Va-Valentine

Forget the predictable jewelry, pink Champagne and heart-shaped boxes of chocolate — the Pastie Pops have something bigger and better to unwrap this Valentine's eve. Billed as a "burlesque and variety show filled with love, glitter and lots of skin,"
Va-Va-Valentine
sees the troupe welcoming an array of special guests for a sultry season opener in the cozy confines of The Overtime. Hosted by the suggestively named Camille Toe and Lucy Lips, the evening brings Maxxy Rad, Femme Lee Jules and Lady Snow into the fold along with Burlesque Hall of Famer Miss Ruby Joule, "the gem you'd love to polish."
$20-$50, 8pm, The Overtime Theater, 1203 Camden St. (210) 557-7562, pastiepops.com.
— BR


Sat 2/13
Love Letters Celebration and Carnival

Step right up for this second annual AtticRep benefit featuring carnival games, death-defying aerial acts performed by Aerial Horizon, food and libations (including boozy snow cones), love letters read passionately by professional actors and music by DJ Agosto Cuellar.
$175 per person or $300 for three tickets (with the promo code LOVETRIANGLE at atticrep.org), 7pm-midnight Sat, Brick, 108 Blue Star, (210) 602-8986, atticrep.org.

Sat 2/13 - Sun 2/14
"Corita Kent and the Language of Pop"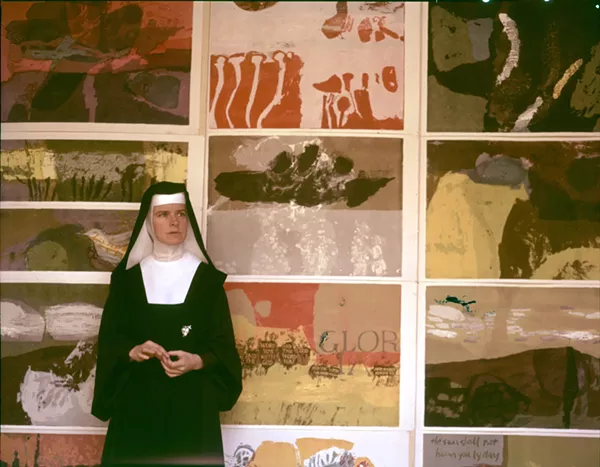 Corita Kent at an exhibition in 1964
Corita Kent was a Roman Catholic nun, the beloved art director at Immaculate Heart College in Los Angeles and a prolific pop artist. Her works in printmaking, in particular, offer multiple entry points as they fuse issues of faith and social activism. An exquisite new exhibit of more than 60 pieces of Kent's often overlooked work opens Saturday at SAMA. The exhibit, which rightly places Kent alongside contemporaries like Andy Warhol and Roy Lichtenstein, is a fine starting point for more serious consideration of this important artist.
$15-$20, 10am-5pm Sat-Sun, San Antonio Museum of Art, 200 W. Jones Ave., (210) 978-8100, samuseum.org. Through May 8.
— JC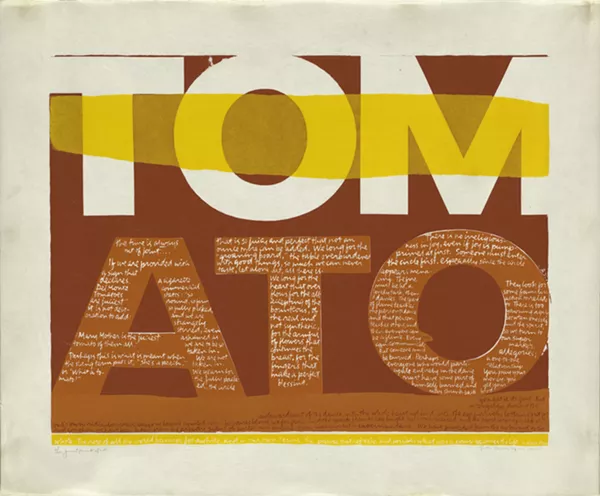 Corita Kent, The Juiciest Tomato of All