<!———————StartFragment———————>
Atanarjuat: The Fast Runner

Tue 3/29

Curated by actor and artist Michael Horse, the Briscoe's Native Film Series continues with a screening of Zacharias Kunuk's Canadian epic Atanarjuat:
The Fast Runner.
Considered the first feature film ever to be written, directed
and acted entirely in Inuktitut, the 2001 release is set in the ancient
past and surrounds a tribal chief's son who plots revenge against the
man who steals the heart of the woman he was to marry.
Free, 5:30pm, Tue, Briscoe Western Art Musuem, 210 W. Market St.,
(210) 299- 4499,
briscoemuseum.org

<!———————EndFragment———————>
Patterns, Bodies, and Beasts

Thu 3/31
Patterns, Bodies, and Beasts
is an MFA Thesis exhibition showcasing Brittany Ham and Kaela Puente. Brittany Ham creates paintings ranging from pop culture and the internet combining the best features of man creating new bodily forms that become a blank canvas for the abstract. Kaela Puente creates narrative vignettes on utilitarian based forms that explore the relationship between nature and culture highlighting the disregard towards nature for the pursuit of materiality
. Free, 6-9pm, Thu, UTSA Terminal 136, 136 Bluestar, (210)458- 4391,
art.utsa.edu
Mitch Webb and The Swindles

Fri 4/1
Mitch Webb is a gifted songwriter straight from the fertile roots music
melting pot of San Antonio. Webb pulled together the finest the Alamo
city has to offer when he made his latest cd " The Lonely Kind." Backed
by a Grammy award winning player Joe Reyes and produced by Ronnie
Morales.
Free, 8pm, Fri, Beethoven Maennerchor, 422 Pereida, (210) 222- 1521
,
www.facebook.com


Free Teen Night: Art After Dark

Fri 4/1


Teens will be taking over the museum after hours! This event is for high school students only, which will include a night of art making, special tours, music by local high school bands, selfies and sweets. Register online at mcnayart.org/teennight or call to secure your spot.
Free, 7pm, Fri, Mcnay Art Museum, 6000 N. New Braunfels Ave.
,
www.mcnayart.org
"Bailando con Mi Misma"

Fri 4/1
Come out and enjoy the opening reception of Bailando con Mi Misma, "Dancing With My Self" highlighting contemporary figurative artist Barbara Felix in a solo exhibition. Felix's current work incorporates self-portraiture and use of quick gestural line that captures fleeting moments in relationships through dance. RSVP on Facebook and indulge in art, Latin style hors d'oeuvres, and live Flamenco dance performances.
Free, 5:30pm, Fri, Debra Benditz Art Studios, 237 W.Travis St. Suite 103, (512) 588- 2606
,
www.facebook.com
Band Together SA

Sat 4/2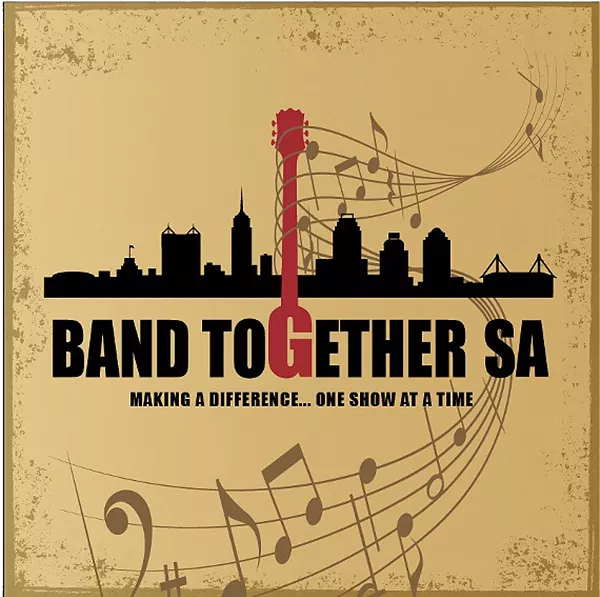 Band Together SA is hosting their 1st Music Festival. Live music, food trucks, raffle prizes, and hands-on activities. Proceeds will benefit local nonprofit ChildSafe helping to restore hope, dignity and trust to children who have been traumatized by abuse and neglect.

Free, 12pm, Sat, The Point Park and Eats, 24188 Boerne Stage Rd.,
(210) 251- 3388
,
www.facebook.com/BandTogetherSA
Catherine Chagra: Dirty Darlings

Sat 4/2


Come out and meet Catherine Chagra representing her book,
Dirty Darlings,
telling the story of her two sisters, Cindy and Christa who were the darling daughters of Jimmy Chagra, the biggest pot dealer in the history of the U.S. and a kingpin of Las Vegas casinos in the 1970's. After their father was arrested and his millions had disappeared, they were left penniless but with the help of their principled mother before her tragic death, and haunted by the shadow of their father, they courageously fought to pick up the shattered pieces of their lives.
Free, 11am, Sat, The Twig, 306 Pearl Parway, (210) 826-6411,
thetwig.com
San Antonio Book Festival

Sat 4/2


Join the fourth annual San Antonio Book Festival at the Central Library for an all-day festival full of books and literary culture! A lineup of more than 80 national and regional authors will be represented.
Free, 10am, Sat, Central Library, 600 Soledad, (210) 207- 2500,
saplf.org

Siclovia

Sun 4/3


The YMCA of Greater San Antonio welcomes another family and fun-filled Síclovía where everyone can enjoy a safe, fun place to walk, bike, jog, and participate in exercise classes. Síclovía opens the road to pedestrians, bicyclists, runners, and skateboarders creating an opportunity for communities to engage with neighborhoods, businesses and each other.
Free, 11am, Sun, Roosevelt Park, 300 Roosevelt, (210) 918- 1681,
ymcasatx.org/siclovia
First Sundays for Families: Face in the Museum

4/3


Explore the wonders and diversity of the human face in art across the museum's collection through art activities including drawings, clay and more. Every face reflects the artists, their subjects and the viewers.
Free, 11am, Sun, San Antonio Museum of Art, 200 West Jones Ave.,
(210) 978- 8100
,
samuseum.org