Thu 4/14
Mr./Miss Gay Fiesta for Life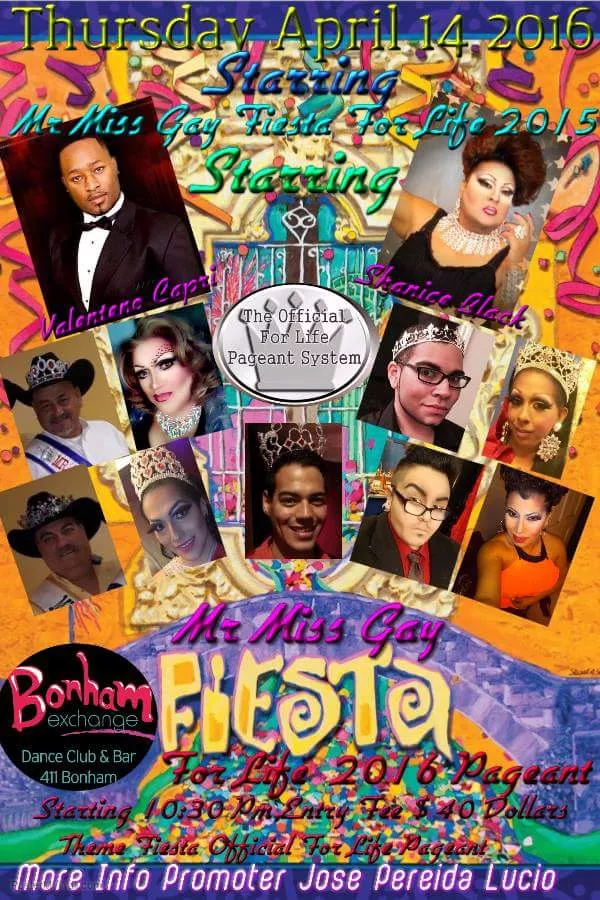 From the Coronation of the Queen of the Order of the Alamo (April 20 at the Majestic) to Cornyation, the spooftacular spectacle it inspired (April 19-21 at the Empire), Fiesta loves over-the-top pageantry almost as much as the drag community, which famously crowns queens year-round. Hosted by the nonprofit For Life Pageant System and starring Valentino Capri and Shanice Black, the 2016 edition of Mr./Miss Gay Fiesta for Life judges aspiring royalty in categories ranging from High-Fashion Cowgirl and Urban Cowboy to Evening Gown and Onstage Q&A.
Free ($40 to compete), 10:30pm Thu, Bonham Exchange, 411 Bonham St., (210) 271-3811, bonhamexchange.com.
— Bryan Rindfuss
Fri 4/15
Adore Delano

Competing on the seventh season of
American Idol
, Daniel Noriega made it into the top 16 contestants, but not without a few insults from Simon Cowell. Five years later, Norigea re-entered the reality arena, competing as Adore Delano on
RuPaul's Drag Race
. Since sashaying away from season six, Delano has emerged as
Drag Race
's best-selling export based on her
Billboard
-charting debut
Till Death Do Us Party
. While the stacked
RuPaul's Drag Race
: Battle of the Seasons 2016 Extravaganza Tour (featuring Delano alongside Sharon Needles, Ginger Minj, Alaska Thunderfuck, Courtney Act and a dozen other queens) only comes as close as Austin, Delano is set to hold court at the Aztec hot on the heels of her sophomore effort
After Party
.
$18-$20, 10pm Fri, Aztec Theatre, 104 N. St. Mary's St., (210) 812-4355, theaztectheatre.com.
— Marco Aquino


Fri 4/15 - Sat 4/16
Fiesta Oyster Bake


Oyster Bake, the holy grail of all things shellfish. The St. Mary's University event turns 100 this year with 100,000 oysters — fried, baked or freshly shucked — and fare foods, including chalupas, chicken on a stick, turkey legs and Hot Cheetos with Cheese (no way those are on-plan...). The two-day festival also includes performances by former Styx frontman Dennis DeYounge, Kevin Fowler, Bobby Pulido, The Heroine, Kyle Park, Chevelle and Houston's Chamillionaire.
$25-$35, 5-11pm Fri, 11am-11pm Sat, St. Mary's University, One Camino Santa Maria, (210) 436-3324, oysterbake.com.

— Jessica Elizarraras
Fri 4/15 - Sat 4/16
Night in Pinche San Antonio

Haters gonna hate, and local sketch comedy troupe Comedia A Go-Go is taking center stage to let all you
pendejos
know why you should skip the bank account-sucking celebration known as Fiesta this year during their third annual "unofficial anti-Fiesta" event. We're pretty sure the comedy team won't find anything wrong with getting a day off from work for Battle of Flowers, but there's still plenty for them to mock about the 11-day party that features pooch parades, overpriced gorditas and traffic that'll make you wish you were in Austin during rush hour. But, man, those funnel cakes.
$16, 8pm & 10:15pm Fri-Sat, Laugh Out Loud Comedy Club, 618 NW Loop 410, (210) 541-8805, lolsanantonio.com.
– Kiko Martínez
Sat 4/16
Anything for Selena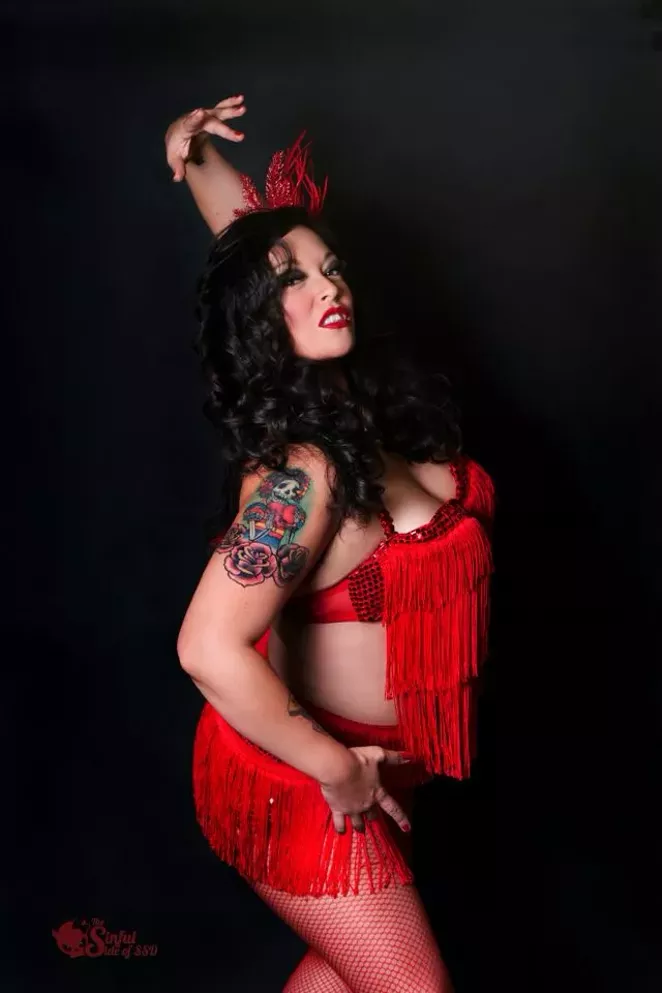 Twenty-one years after her death, the influence of Selena Quintanilla-Pérez runs deeper than ever. Living on through everything from murals to the Austin-based tribute Bidi Bidi Banda, the undisputed Queen of Tejano provides the creative spark for the Pastie Pops' latest —
Anything for Selena
. Celebrating "the legend of Selena with a wink and a smile," the evening of burlesque, boylesque, drag, live music and comedy rallies the talents of Jasper St. James, Chola Magnolia, Foxxy Blue Orchid and co. as they channel the Texan icon's midriff-baring style and "shake their bidi bidi bom boms."
$20-$50, 8pm Sat, The Overtime Theater, 1203 Camden St., (210) 557-7562, anythingforselena.brownpapertickets.com.
— BR

Sat 4/16
Soul Shot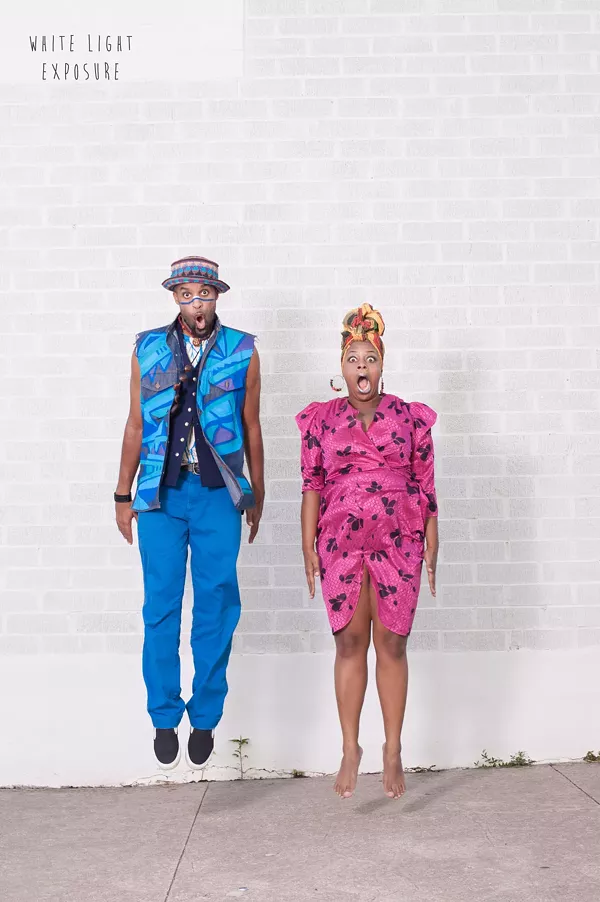 Bounding down I-35 to bring its soulful, thoughtful, high-energy hip-hop show to SATX from its home in ATX, Riders Against the Storm (pictured), a husband-and-wife duo, come highly lauded, having received the Austin Music Award for Best Hip-Hop Act three years in a row. Saturday's show, billed as "Soul Shot," also features exciting local neo-soul/hip-hop/R&B band The Foreign Arm, which, as something of a super-group, showcases the talents of lead vocalist/guitarist Nicholas Blevins, rapper/singer Andrea "Vocab" Sanderson, bassist/singer George Garza (of Pop Pistol) and violinist Darien Thomas, among others.
$7-$10, 8pm Sat, Paper Tiger, 2410 N. St. Mary's St., papertigersa.com.
— James Courtney


Sat 4/16
FiEGGsta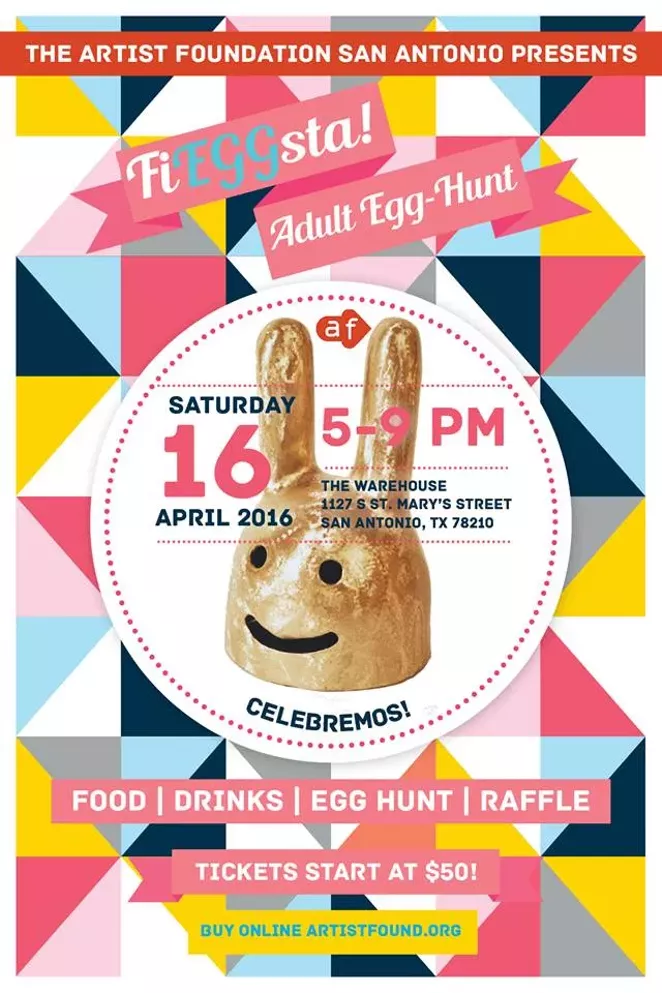 Easter may have come and gone but a limited number of extra-special eggs are still hiding out there thanks to the Artist Foundation of San Antonio, a grant-giving nonprofit that's awarded more than half a million dollars to area artists working in disciplines ranging from literary and visual arts to music composition and costume design. Billed as "Fiesta's unofficial adult egg hunt," the inaugural fundraiser packs some serious swag into cascarones ($20 in advance, $25 at the event) and boasts a raffle with "eggcellent" odds — $100 for a strong chance to win a small-scale work of art by the likes of Fernando Andrade, Kristy Perez, Ray Santisteban, Leigh Anne Lester, Franco Mondini-Ruiz or Sara Frantz, to name a few. In addition to guaranteeing "2,000 hoots and a holler," the festive function features "yummy noshes" from Frank Hot Dogs and "fuel for fun" from Ranger Creek Brewery.
$50-$75, 5-9pm Sat, The Warehouse, 1127 S. St. Mary's St., artistfound.org/fieggsta.
— BR
Sat 4/16
Latinx III


For the organizers of Latinx, Henry Rodriguez and Katalya Bustos, there's more to LGBTQ nightlife than just fun. The ability to express yourself freely and feel safe, welcomed and supported in an inclusive environment — like the one Latinx provides specifically with queer and trans people of color in mind — is part of living a good life. For its third installment, Latinx, a "celebration of art, experience and pain," moves down St. Mary's from Phantom Room to La Botánica. Chapter three promises music from Puppy Butt, Ben Aqua, Polly Anna and Bitter Teen, plus visuals by Miguel Puga of Trajectory Creative.
$5, 9:30pm-2am Sat, La Botánica, 2911 N. St. Mary's St., (210) 716-0702, latinx.club
.
— JC

Sat 4/16 - Sun 4/17
Fiesta Arts Fair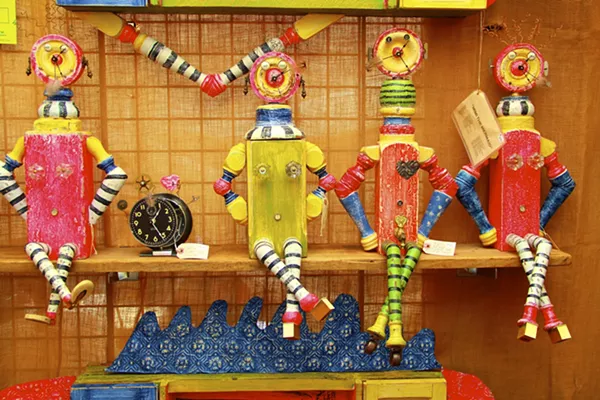 Fiesta is upon us once again, dear readers. Let us rejoice! Each year, one of our favorite occasions for said civic-minded joyousness is the Fiesta Arts Fair, hosted by the Southwest School of Art. Now in its 42nd year, Fiesta Arts Fair is, at base, a massive art showcase, with artists and artisans from all over the country showing/selling their work. The sprawling two-day affair also features live music — by DeZavala Mariachi Los Paisanos, Deer Vibes, Los Texmaniacs, Bekah Kelso, George Gaytan and more — plenty of food and margaritas, and creative activities for the kiddos.
$5-$16, 10am-6pm Sat, 11am-5pm Sun, Southwest School of Art, 300 Augusta St., (210) 224-1848, swschool.org/fiestaartsfair.
— JC

Sun 4/17
A Day in Old Mexico and Charreada


For the last six decades, the Asociación de Charros de San Antonio has championed
charrería
(often described as Mexican rodeo), competing throughout the year and attracting a diverse crowd each April with its beloved Fiesta event A Day in Old Mexico. Of the 10 official
suertes
(competitive roping and riding events performed in period costumes), the all-female
escaramuza
easily stands out as a fan favorite. Created during the 1950s and officially added to the
charreada
mix in 1992, the choreographed skirmish showcases a team of young ladies demonstrating precision skills while riding sidesaddle in colorful dresses named after Pancho Villa's legendary companion Adelita.
$5-$15, 1-6pm Sun, Charro Ranch, 6126 Padre Drive, (210) 396-9752, sacharros.org.
— BR