Thu 4/21 - Fri 4/22
Fiesta Gartenfest

Jonathan Alonzo, Fiesta San Antonio Commission
Gemütlichkeit, a German term that translates as "a space or state of friendliness, warmth and good cheer," is the ideal name for the atmosphere of Gartenfest, an official Fiesta event hosted by the Beethoven Maennerchor — Texas' oldest active singing society, founded in 1867 — in its endlessly pleasant beer garden. Combining live music, some seriously great grub and folk dance performances of the German variety, the three-day shindig fits right in with the Maennerchor's mission to "preserve German song, music and language."
$3-$5, 5pm-midnight Thu-Fri, Beethoven Halle und Garten, 422 Pereida St., (210) 222-1521, beethovenmaennerchor.com.
— James Courtney

Thu 4/21
PACfest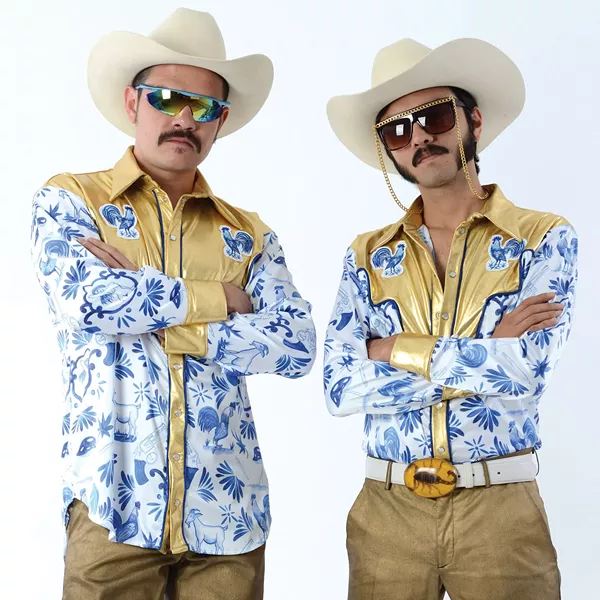 Palo Alto College's PACfest is one of the largest official Fiesta events south of Highway 90. Throughout the campus' sprawling grounds, you're invited to enjoy puro Fiesta staples like festival fare, cold brews and close company you didn't choose. PACfest, however, also boasts plenty of activities for the kiddos and an impressive roster of live music acts, including nuevo-tejano heartthrob AJ Castillo, Guadalajara-based cumbiatrónica purveyors Los Master Plus (pictured) and San Anto hip-hop duo Chisme. Fans of grilled beef will no doubt enjoy the Fiesta Grilldown, a carne asada cook-off of epic proportions.
$5, noon-10pm Thu, Palo Alto College, 1400 W. Villaret Blvd., (210) 486-3000, alamo.edu/pac/pacfest.
— JC
Thu 4/22
Fiesta Cornyation


Wayne D. Beers and his husband Michael Bobo — the dynamic duo of W.D. Deli — preside over Cornyation's Court of Our Mad, Mad, Mad World, complete with outrageous drag queens, city celebs and other bizarre, costumed characters parodying politicos and mocking newsmakers.
$15-$40, 7:30pm & 10pm Thu, Charline McCombs Empire Theatre, 226 N. St. Mary's St., (210) 226-3333, fiestacornyation.org.
— Rudy Arispe
Fri 4/22
Battle of Flowers Parade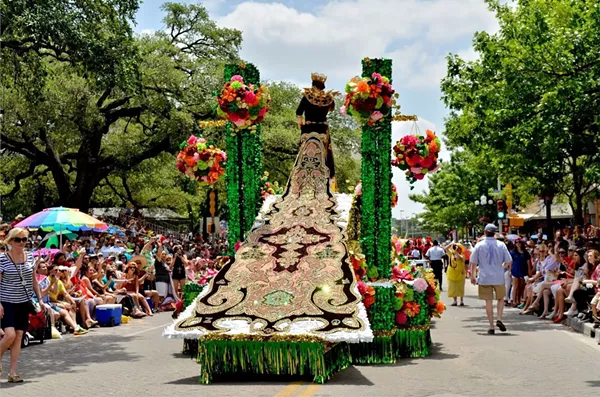 Credit Jonathan Alonzo, Fiesta San Antonio Commission
As we celebrate Fiesta's 125th anniversary, let's raise a glass to Ellen Maury Slayden (1860–1926), society editor of the San Antonio Express, wife of Congressman James L. Slayden and the creative mind behind a pivotal 1891 parade that entailed participants pelting one another with flowers in salute to the heroes of the battles of the Alamo and San Jacinto. Not only did Slayden's unconventional "Battle of Flowers" idea flourish into what's now billed as the nation's second-largest day parade, it laid the very foundation for Fiesta as we know it today. Proudly produced exclusively by women, her Alamo City hallmark Battle of Flowers Parade rises to the landmark occasion by gathering horse-drawn carriages, marching bands, cheerleading squads, uniformed cavalcades and Fiesta royalty atop elaborately decorated floats under the celebratory banner of "Texas Traditions … 125 Years!"
$12-$30, 12:20-4pm Fri, parade route runs from Broadway at E. Grayson St. to N. Santa Rosa Ave. at W. Travis St., battleofflowers.org.
— Bryan Rindfuss
Fri 4/22
Selena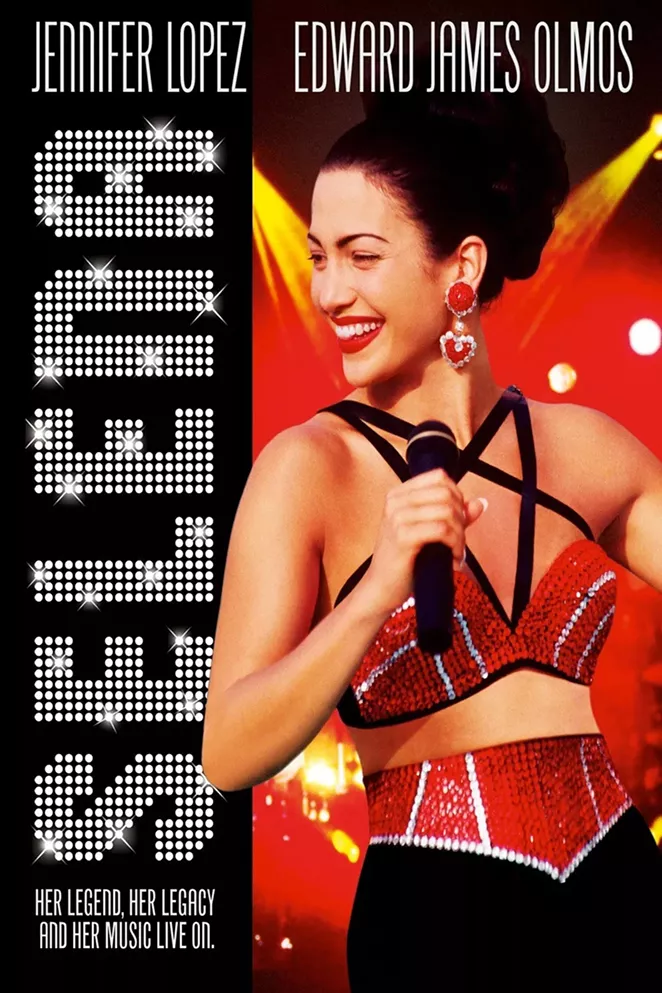 Jennifer Lopez is no Selena, but the singer/actress did a hell of a job portraying the late Queen of Tejano in writer/director Gregory Nava's 1997 biopic, which played a crucial role in spreading Selena's legacy — and launching J. Lo's career. For many, watching the movie has become an integral part of coping with Selena's untimely death and celebrating her life. Friday, in a well-timed move — Fiesta and Selena go together like bean and cheese — The Playhouse hosts a free screening of the flick. So dig out the bodysuits, bustiers and dancing boots, and get those singing voices and Kleenex ready.
Free, 6pm Fri, The Playhouse, 800 W. Ashby Pl., (210) 733-7258, theplayhousesa.org.
— JC
Fri 4/22
Bon Qui Qui
Former Oakland Raiders cheerleader and
MADtv
alum Anjelah Johnson is known for her stand-up comedy routine based in a nail salon (not to mention a series of Taco Cabana ads), but her biggest break may be opening for ex-King Burger cashier Bon Qui Qui on the "Gold Plated Dreams" Tour. The very attitude that made Ms. QQ such a nightmare as a fast-food employee on
MADtv
translates to instant icon status in novelty hip-hop, and the best joke about should-be hit singles "No Boyfren" and "I'ma Cut You" is that they're probably catchier and cleverer than anything Iggy Azalea's got left.
$35, 8pm Fri, The Majestic Theatre, 224 E. Houston St., (210) 226-3333, majesticempire.com.
— Jeremy Martin
Sat 4/23
Fiesta Flambeau Parade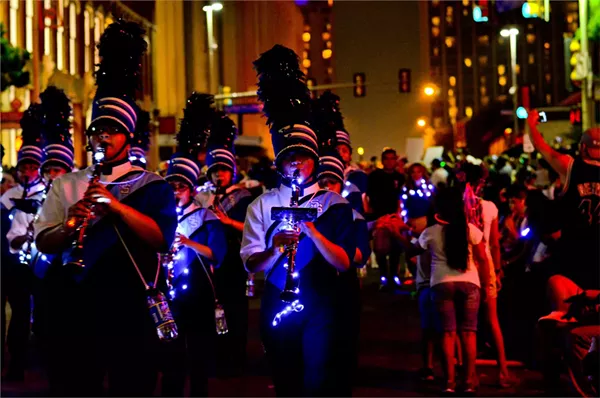 Credit Jonathan Alonzo, Fiesta San Antonio Commission
Drawing inspiration from the night parades of Mardis Gras, civil engineer and onetime city manager Reynolds Andricks devised the Fiesta Flambeau Parade in 1948 and served as its director through the 1980s. Since its early days as a fairly modest procession of torch brigades, military bands and social clubs, the Flambeau has grown into "the largest illuminated night parade in the nation," attracting a Downtown crowd of 700,000 and reaching 1.5 million television viewers. Led by the University of Texas Longhorn Band and grand marshaled by tejano singer-songwriter Patsy Torres and honoree Ricardo Romo (photographer, art collector and president of University of Texas at San Antonio), this year's Flambeau wraps up Fiesta's 125th year with a resonant theme of "Long Live Texas."
$15-$30, vanguard at 6:40pm, parade at 7:15pm Sat, parade route runs from Broadway at E. Grayson St. to N. Santa Rosa Ave. at W. Travis St., fiestaflambeauparade.org.
— BR

Sat 4/23
Har Mar Superstar


Sean Tillmann of Har Mar Superstar doesn't fit the part of the sensual soul singer: He rocks a Ron Jeremy haircut and named his project after a mall near his childhood home. But, when Har Mar channels the purring icons of Memphis and Detroit, he hits the R&B sweet spot on career highlight "Lady, You Shot Me," named after Sam Cooke's reported last words. On his new record
Best Summer Ever
, the irony of his early career has mostly evaporated. But he's still tongue-in-cheek on live staples like "Tall Boy," an ode to the 16-ounce beverage just frothing with double-entendres. Also on the bill: Neil Z and Butcher Bear and the Blades.
$15, 8pm Sat, Paper Tiger, 2410 N. St. Mary's St., papertigersa.com.
— Matt Stieb

Sat 4/23
King William Fair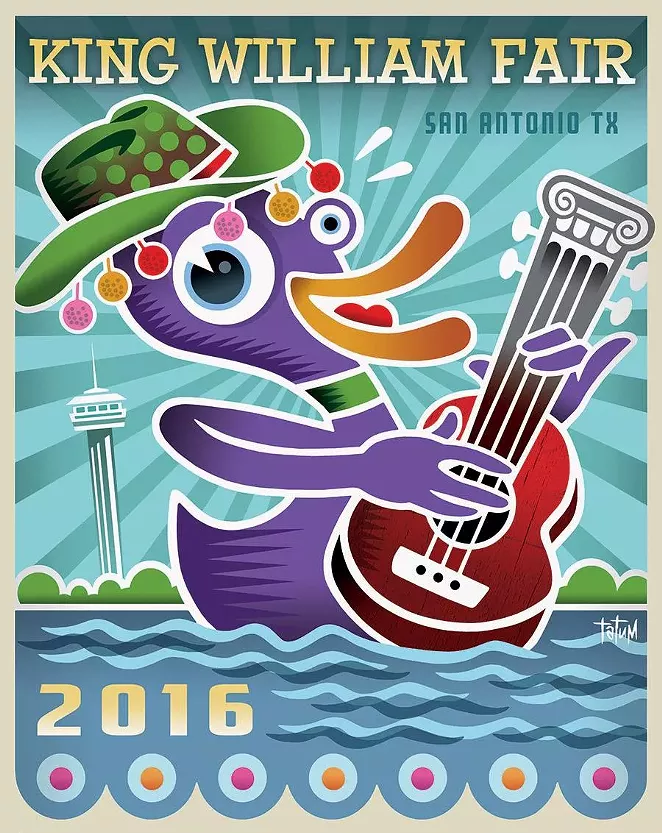 King William Fair, which started out small and quirky in 1968 and now attracts tens of thousands of revelers each year, is the main fundraiser of the King William Association, which seeks to "preserve and protect the oldest historic district in Texas and promote the unique cultural heritage of San Antonio." Poised to be the biggest ever, this year's fair boasts tons of great food, arts and crafts vendors, a notoriously funky parade and the ever-popular Kid's Kingdom, a swell outdoor play area for the wee ones. The Fiesta favorite also features live music from such SA mainstays as The Krayolas, Los #3 Dinners and Regency Jazz Band.
$10, 9am-6pm Sat, King William Historic District, (210) 271-3247, kwfair.org.
— JC
Sun 4/24
Power Trip & Antwon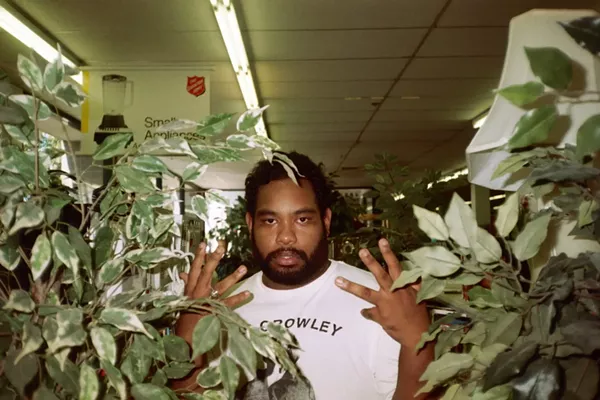 If you hate brunch — its Sunday-consuming hours and hungover company — consider indulging in Paper Tiger's afternoon special of thrash and hip-hop. From Dallas, Power Trip is a heaving quartet capable of speed metal's breakneck shredding and thrash's ill-tempered snarl. Rooted in hardcore (he lives with Trash Talk's Lee Spielman and fronted the Philadelphia punk band Leather), Antwon (pictured) is rap's poet laureate of sex and depression, finding countless (and often hilarious) topics for his bass-rattling, Biggie-like voice. With his new EP
Double Ecstasy
, Antwon finds a welcome home on the progressive Anticon label.
$10, 1pm Sun, Paper Tiger, 2410 N. St. Mary's St., papertigersa.com.
— MS