Bring Your Own Meat Monday with Kings HWY Brew & Q

Monday 4/25


"Bring Your Own Meat Monday" at The Mix starts at 6pm and kicks off the Mix's grand re-opening week.
Emilio from King's Hwy Brew & Q will smoke a couple briskets. Complementary sandwiches and potato salad will be served as well. Additionally, The Mix will provide chicken, hamburgers, sausages and snacks from the grill.
Free, 6pm, Mon, The Mix, 2423 N. St Mary's St.,
(210) 735-1313.
An Evening of Literary and Wine samplings
<!————————EndFragment————————>
Tue 4/26



Come out and sip some wine, nibble cheeses and finger food, and listen to local writers read from a rich buffet of international writers. Enjoy a preview of the summer installment of Jim La Villa-Havelin's yearlong literary trip around the world. Indulge in literary tastings of each of the international novels that La Villa-Havelin will feature in the last four stops of his literary tour.
Free, 6:30pm, Tue, Gemini Ink, 1111 Navarro St.,
(210) 734-9673,
geminiink.org

<!————————StartFragment————————>
Adult Coloring
<!————————EndFragment————————>
Tue 4/26


Join special guests Clare Burch, Peter Licalzi,and Brenna Dominguez from the local publishing company Blue Star Coloring. Come learn how Blue Star was started and talk about the popularity of Adult Coloring. Adults who color are shown to benefit from the soothing, calming effects they have on the mind, body and soul while stimulating their creative senses.
Free, 5:30pm, Tue, Tobin Library, 4134 Harry Wurzbach, (210) 207-9040
mysapl.org

Lecture: Rodin's Beethoven by Olivia Matis

Tue 4/26


Musée Rodin Los Angeles
Auguste Rodin, French (1840-1917), Study for Torso of the Walking Man, 1878-1879
Explore the Beethoven inspired and artistic vision of Rodin's sculptural creations with former Iris & B. Gerald Cantor Foundation fellow and musicologist, Olivia Mattis, PhD. She will examine the relationship between the visual and the auditory arts as is present in the works of Rodin.
<!—————EndFragment—————>
Free, 6pm, Tue, San Antonio Museum of Art, 200 W. Jones Ave.,
(210) 978- 8100,
samuseum.org
Live at Ocho- Bombasta

Wed 4/27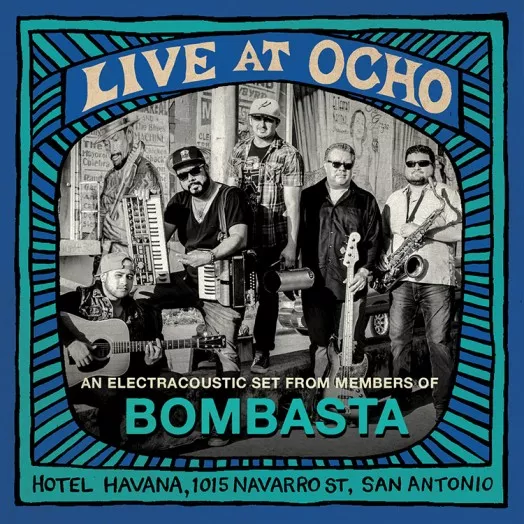 Enjoy a special performance by Texas Latin favorite Bombasta for
Live at Ocho
from 7-9pm with extended happy hour! Highly energetic and full of Cumbia funk be prepared for an entertaining night by this "Barrio Big Band."
Free, 7pm, Wed, Ocho at the Havana Hotel, 1015 Navarro St.,
(210) 222- 2008
,
havanasanantonio.com
Kidnapped innocence - Book Launch Party

Thu 4/28


Come out and share a toast with author Rebeca Gomez Galindo as she releases her new book,
Kidnapped Innocence
! Enjoy champagne, cake and music with an exclusive meet and greet and autographed copy of this amazing coming of age story where suspense and a love defy moral taboos leading to an unexpected ending.
Free, 6:30pm, Thu, Hemisfair Plaza, 600 Hemisfair Park, (210) 296- 6352,
www.facebook.com
<!—————EndFragment—————>
Fight Club

<!—————EndFragment—————>Thu 4/28


A depressed man (Edward Norton) suffering from insomnia meets a strange soap salesman named Tyler Durden (Brad Pitt) and soon finds himself living in his run- down house after his apartment is destroyed. The two men form an underground fight club with strict rules but when Marla (Helena Bonham Carter) captures Tyler's attention it prompts a spiral of downward events.
Free,7pm, Thu, Santikos Bijou, 4522 Fredericksburg Rd.,
(210) 734- 4552,
santikos.com
<!————StartFragment————>
FredStock Music Festival


<!————EndFragment————>
Fri 4/29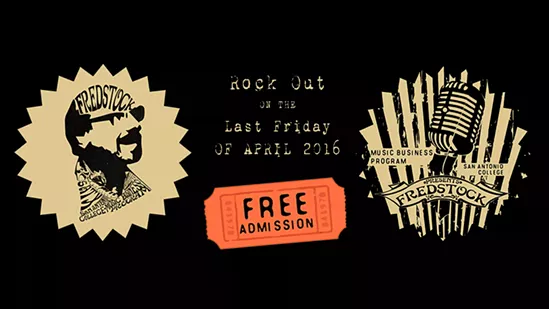 The San Antonio College Music Business Program will be hosting its annual Fredstock Festival with an array of food trucks, arts and crafts and a superb lineup of Blues and Punk Rock music.
Free, 5pm, Fri, San Antonio College, 1819 N. Maine Ave., (210) 486- 1380,
fredstocksatx.com

Hemisfair FitFest

Sat 4/30


The Hemisfair Coalition is hosting its first annual FitFest with fitness providers and vendors from around town for a morning of free fitness and nutritional education. There will be free fitness classes, nutrition and wellness vendors providing information, coffee and healthy food trucks available for lunch.
Free, 9am, Sat, Hemisfair Park, 434 S. Alamo,
(210) 260-5678,
facebook.com/events
<!———StartFragment———>
Pizza and Pinups: Art and Music Showcase
<!———EndFragment———>
Sat 4/30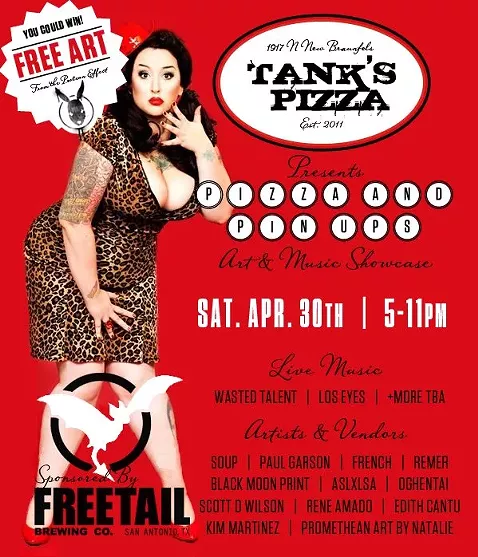 Come out and fill your appetite with pizza, pin- ups, art and music highlighting local artists and musicians from and near the San Antonio area. Enjoy some tasty food, home grown sounds and visual masterpieces offered by some of the area's very unique group of up and coming artists. B.Y.O.B and participate in a free art raffle by The Protean Effect and enjoy this Freetail sponsored family-friendly event.
Free, 5pm, Sat, Tank's Pizza, 1917 New Braunfels,
(210) 223- 8265,
facebook.com/events
Mariachi Damas de Jalisco celebrate Cinco De Mayo

Sun 5/1

In celebration of Cinco de Mayo the King William Association welcomes everyone of all ages to see San Antonio's all female mariachi group, Damas de Jalisco perform. These talented ladies will be entertaining and bringing the beauty and culture of Mexico at the Gazebo in King William Park. Feel free to bring your own chair, blanket and snacks and be one of the first 100 to arrive and get a free paleta!
Free, 5:30pm, Sun, Gazebo at King William Park, 131 King William, (210) 824- 1556,
kingwilliamculturalartsdistrict.com