Thu 5/5

"
SET
"
Organized by artists Joey Fauerso and Liz Rodda, "SET" wraps an array of video works and live music into a traveling series supported by Texas State University. Before jetting off for New York, Indiana and Mexico City, the experimental endeavor premieres at Artpace with musician/composer/producer Paul Fauerso (father of Joey and founder of the Bay Area band The Loading Zone) and Grammy-winning guitarist/producer Joe Reyes (of Buttercup and Mitch Webb & The Swindles) soundtracking short silent films by Cheryl Donegan (New York), Duncan Ganley (London), Luz Maria Sánchez (Mexico City) and many more.
Free, 6-7:30pm Thu, Artpace, 445 N. Main Ave., (210) 212-4900, artpace.org.
— Bryan Rindfuss

Thu 5/5 - Fri 5/6

"
Pageant Wounds
"
&
"
Accessories of Modern Men
"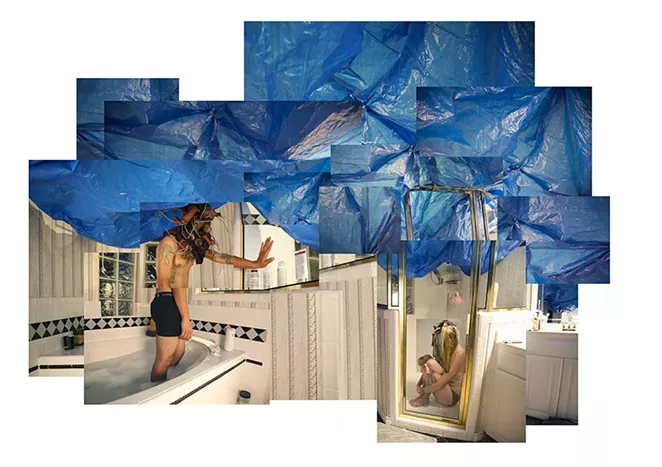 Kallie Pfeiffer, Shroud of the Tempest
This First Thursday and Friday, local aesthetes will want to be on hand at UTSA's Terminal 136 for a promising duo of MFA thesis exhibitions. The artists exhibiting, Kallie Pfeiffer and Justin Korver, offer up their own visions of the human condition and the social construction of reality in exhibits respectively titled "Pageant Wounds" and "Accessories of Modern Men." Pfeiffer's photographic installations, which delve into the delicacy of existence, contrast well with Korver's multimedia ruminations on contemporary manhood as expressed by the objects that accompany it.
Free, 6-9pm Thu-Fri, Terminal 136, 136 Blue Star, (210) 458-4391, art.utsa.edu.
— James Courtney

Justin Korver, Target Composition II
Thu 5/5 - Tue 5/10
Children's International Puppet Festival




Co-presented by the Tobin and the Children's Fine Art Series, this second annual event brings together six companies for a week of shows linked by puppetry and imaginative journeys into the unknown. Billed as a "cosmic adventure about celebrating differences," New Orleans-based Lightwire Theater's
Moon Mouse
combines a storyline about a mouse — who naturally believes the moon is made of cheese — and an eclectic musical score (
6pm Wed-Thu
). Lunar inspiration continues in Montreal-based Le Théâtre des Petites Âmes'
Pekka
, a tale of a tiny turtle in search of an elusive moon (
10am, 12:15pm & 2:30pm Sat
). Likened to a theatrical version of Pixar's
WALL-E
, Australian puppeteer Tim Watts' "micro-epic puppet show"
The Adventure of Alvin Sputnik
sends its brave protagonist to the depths of the ocean to find an alternate habitat amid rising sea levels (
6:30pm Fri, 1pm & 4pm Sat
). An "aquatic ode that draws on timeless myths," L'Illusion Théâtre of Montreal's
Ondin
sees a young boy transformed into a marine creature navigating strange waters (
11am, 2pm & 4pm Sun, 5pm Mon, 6pm Tue
). Brought to life by the shadow puppetry and digital projections of Austin's Sandbank Shadow Factory,
Walter Weirdbeard
follows a crew of disgruntled pirates who find a treasure chest filled with musty old books (
6pm Fri, 11am, 1:15pm & 3:30pm Sat, 1:25pm, 3pm, 4:35pm Sun
). Led by "wacky paleontologist" Dr. Dino Sawyer, Kansas City-based Paul Mesner Puppets'
The Dinosaur Show
conjures prehistoric beasties via puppetry, a shadow spectacle and audience interaction (
12:15pm, 2:30pm & 4:15pm Sun, 5pm Mon, 6pm Tue
).
$12 per show, $54 for a festival pass, Tobin Center for the Performing Arts, 100 Auditorium Circle, (210) 223-8624, tobincenter.org.
— BR


Fri 5/6
"
Hindsight
"
Ana Fernandez, Spurs House
In a simple yet brilliant move, R Gallery is looking back at the recent past to tease the future. In a new exhibit aptly titled "Hindsight," curator Rigoberto Luna has selected works from 16 male and 16 female artists who've shown in the space over the past year. The works on display are thus representative of a superb year for the gallery that
San Antonio Current
readers voted their favorite back in 2013. Featuring artists like Ana Fernandez, Justin Parr, Jenelle Esparza, Ed Saavedra and other familiar names, the group show gives platform to a variety of different voices, experiences and styles.
Free, 6-11pm Fri, R Gallery, 725 S. Presa St., (210) 862-8875, facebook.com/rgallerystx.
— JC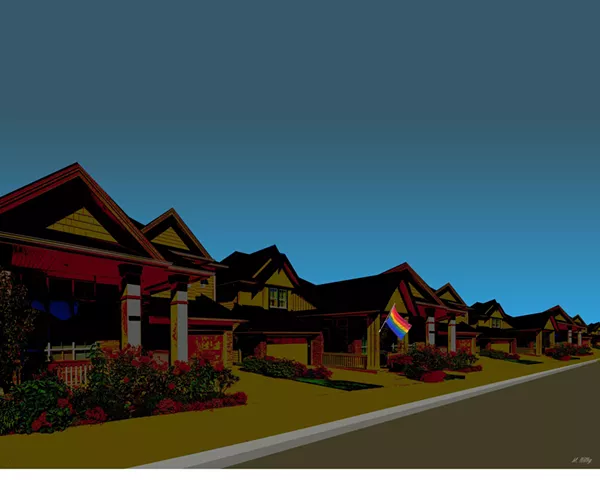 Michelle Wilby Friesenhahn, There Goes the Neighborhood
Fri 5/6
"Accumulated Erosions"


Karen Mahaffy, Study for Parenthetical Loss
Local contemporary artist Karen Mahaffy's "Accumulated Erosions" comprises new mixed-media, video and installation-based works that "draw on the phenomenological aspects of time, accumulation and loss." On view in the Southwest School of Art's Santikos Building through July 3, Mahaffy's solo show opens in tandem with three other exhibitions: Austin-based Mona Marshall's "Three Stories About Water" (an exhibition of paintings and drawings divided into the sections
Heat
,
Subterrain
and
Meander
), Anthony Rundblade's mythology-inspired "Echoes from a Bear Cave," and BFA degree student Lauri Garcia Jones' photographic series "Some of My Closest Friends Call Me Mom."
Free, 5:30-7:30pm Fri, Southwest School of Art, 300 Augusta St., (210) 224-1848, swschool.org.
Fri 5/6 - Sat 5/7
Rob Schneider

Let's try and forget that earlier this year former
Saturday Night Live
actor and anti-vaccine quack Rob Schneider lent his voice to the title polar bear in
Norm of the North
— one of the worst animated films in recent memory — and also starred in Adam Sandler's equally God-awful Netflix comedy
The Ridiculous 6
late last year. Hell, besides the "makin' copies" dude he played during his four-year
SNL
run, a cameo in a 1996 episode of
Seinfeld
and his role in
Home Alone 2
, let's forget most of his career. But stand-up is a different art form, so maybe he'll surprise us. You can do it!
$27.50-$35, 8pm & 10:15pm Fri-Sat, Laugh Out Loud Comedy Club, 618 NW Loop 410, (210) 541-8805, lolsanantonio.com.
— Kiko Martínez

Fri 5/6 - Sun 5/8
A Chorus Line

In 1975,
A Chorus Line
marked a turning point for Broadway — it's one of the first shows to broach homosexuality — and paved the way for other groundbreakers like
Rent
. Set at a dance audition, the musical spotlights the individuality of dancers vying to become part of a homogeneous chorus. This contrast demonstrates that even the background players have struggles and dreams, and the show as a whole is a cathartic experience for the audience and performers alike. Tim Hedgepeth directs The Playhouse's production, with a reception following Friday's opening night performance.
$12-$30, 8pm Fri-Sat, 3pm Sun, The Playhouse, 800 W. Ashby Pl., (210) 733-7258, theplayhousesa.org.
— Kelly Merka Nelson
Sat 5/7
Paseo por el Westside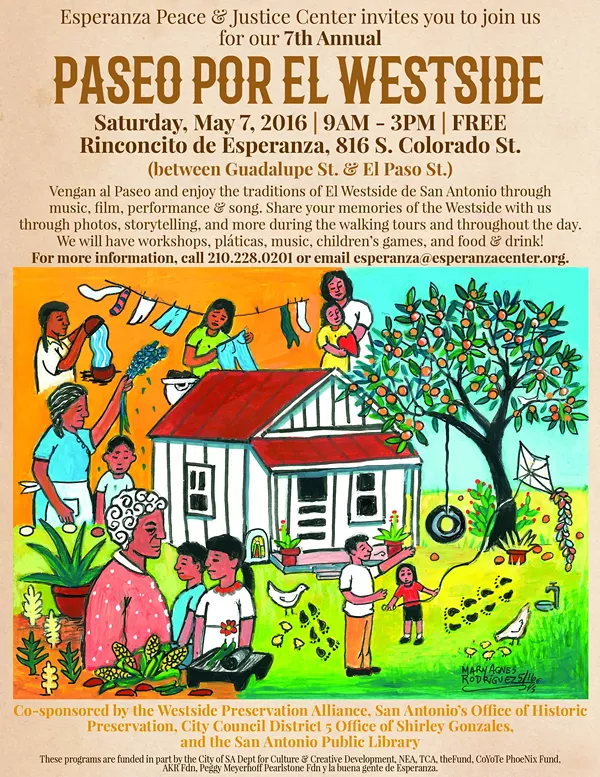 Presented in partnership with the Westside Preservation Alliance, the City of San Antonio Office of Historic Preservation, the San Antonio Public Library and Councilwoman Shirley Gonzales, the Esperanza Peace and Justice Center's annual Paseo por el Westside celebrates the neighborhood's history, culture, people and architecture through walking tours, workshops, performances and presentations. Highlights from the National Historic Preservation Month event include tours of the neighborhood (
9am & 11am
) and San Fernando Cemetery No. 1 (
10am
); sessions shedding light on the names of different types of pan dulce (
10am & 11am
), making cascarones and old-school ball-and-cup games (
10am-noon
), ways to cook various chiles (
10:30-11:30am & 1:30-2pm
), uses for medicinal plants (
10:30am
) and ancestry/genealogy (
10:30am with Sylvia Reyna and 11:30am with Donna Guerra
); plus performances by the likes of community-based preservationists Conjunto Heritage Taller (
noon
), Esperanza-organized ranchera supergroup Las Tesoros de San Antonio (
12:15pm
), "Mexican musical memory" promoters Grupo Tayer (
10am, 1pm & 2:15pm
) and beloved local singer-songwriter Azul Barrientos (
2pm
).
Free, 9am-3pm, Rinconcito de Esperanza, 816 S. Colorado St., (210) 228-0201, esperanzacenter.org.
— BR
Sat 5/7
Classical Music Kegger

Pianos face grim prospects in their final years — humid garages, demolition by teenagers, the Craigslist unknown. With his Classical Music Kegger series, Austin composer Nathan Felix offers a more productive retirement, refurbishing the instruments for his lush compositions and for donation to low-income schools. Writing for six pianos, Felix adopts the style of Steve Reich, with overlapping lines of polyrhythm and harmonic texture. After
a first kegger in Austin, he teams up with the Chamber Orchestra of San Antonio at the former A. Grona Mattress Factory.
Free with RSVP, 7:30pm Sat, The Mattress Factory, 1903 S. St. Mary's St., electrochestral.com.
— Matt Stieb

Sat 5/7 - Sun 5/8
Cyber City Con

With the added bonus of Free Comic Book Day on May 7 (
freecomicbookday.com
), this weekend beckons area nerds with Cyber City Con, a celebration of all things robotic. Organized by the masterminds behind Alamo City Comic Con, Cyber City Con invites guests to explore the cybernetic nuts and bolts that make up this stellar fandom while browsing for comics, toys and rare collectibles from local vendors or attending panels featuring artists and voice actors (from
Transformers
and
Evangelion
, among others). The fun starts with a "Cyber de Mayo" kickoff party on May 5.
$15-$125, 10am-7pm Sat, 11am-6pm Sun, Marriott Plaza, 555 S. Alamo St., (210) 229-1000, cybercitycon.com.
— Solomon White