Thu 5/26
The Crowd

As part of the Get Reel film series, which ties into their current exhibition "Coney Island: Visions of an American Dreamland, 1861-2008," the McNay screens director King Vidor's 1928 silent film that follows the turbulent relationship between a couple (James Murray and Eleanor Boardman) who decide to marry at the end of their first date at Coney Island. The film was nominated for two Oscars (Best Picture and Best Director) at the first-ever Academy Awards ceremony. It was one of the first 25 films selected for preservation in the U.S. National Film Registry by the Library of Congress in 1989.
Free, 7pm Thu, McNay Art Museum, 6000 N. New Braunfels Ave., (210) 824-5368, mcnayart.org.
Fri 5/26
FLUX featuring Celestial Trax

A creative collision of club music and street art, the local collective RAHK is possibly known best for its Downtown alley party Dream City Beneath but comes together regularly for FLUX. Organized by William C. Burkholder and artist Deleted (of Laws Crew), the club night has hosted regional, national and international guests since its inception in 2014. Specializing in experimental dance music with nods to grime and jungle, London-bred, New York-based outfit
Celestial Trax
headlines the latest edition with support from DJs PuppyButt, I/O, Rad Envelope and Espre, visuals by JDS Lasers and performances by rising local vogue troupe
House of Kenzo
.
$5, 9pm-2am Fri, Web House, 320 Blanco Road, facebook.com.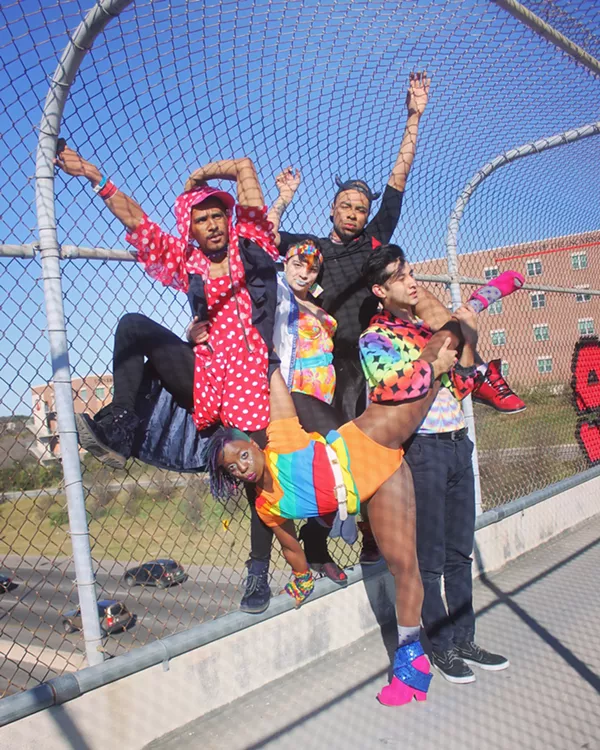 House of Kenzo photographed by Wayne Holtz
Fri 5/27
"Stylez"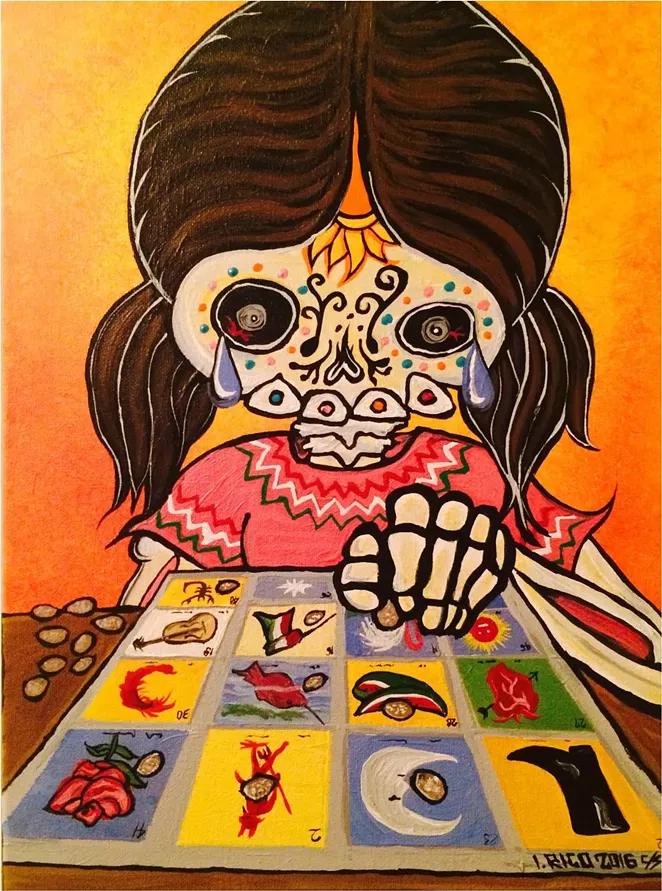 Israel Rico, La Chapusera
International Academy of Music and the Arts unveils a group exhibit encompassing multiple styles and forms of expression, including Chicano pop art (Israel Rico), three-dimensional paintings (Karen Faye) and "Eurovintage" (Angela Swensen) and Western-inspired works (Clyde D. Lewis).
Free, 6-9pm Fri, International Academy of Music and the Arts, 1627 Broadway, (210) 669-4277, iamacoffeehouse.com.
Fri 5/27 - Sun 5/29
A Wolverine Walks into a Bar...


Writer and performer Jaston Williams, best known for his work with Joe Sears on a popular series of off-kilter comedies set in mythical Tuna, Texas, returns to The Classic to reprise his latest collection of monologues. Subtitled
Conversations Over Ice
, his curiously named
A Wolverine Walks into a Bar...
nods to San Antonio stories and conversations in bars, where "tongues tend to loosen and the memories bubble up." Back by popular demand for two weekends only, this expanded version adds new characters to a mix that includes a gun-toting Mary Kay saleswoman and an aging Auntie Mame clone.
$20, 8pm Fri-Sat, 3pm Sun, The Classic Theatre of San Antonio, 1924 Fredericksburg Road, (210) 589-8450, classictheatre.org.

Sat 5/28
TPY: Texas BBQ

A hub for Alamo City aerosol artists, The Paint Yard (TPY) puts a decidedly urban spin on Memorial Day weekend with TPY: Texas BBQ, an all-ages event sponsored by Pabst Blue Ribbon and innovative German spray paint brand Montana Cans. Anything but a backyard barbecue, the celebration brings 40-plus vendors (Black Moon Print, Broseph and San Antonio Battles Everybody among them) and dozens of aerosol artists to the retailer/gallery/gathering place's new location on the fringes of Southtown. Besides street art in the making, attendees can expect to find food trucks, body-painters, b-boy battles and DJ beats.
$5, 3-11pm Sat, The Paint Yard, 1216 Hoefgen St.,
tpy-urbancolors.com.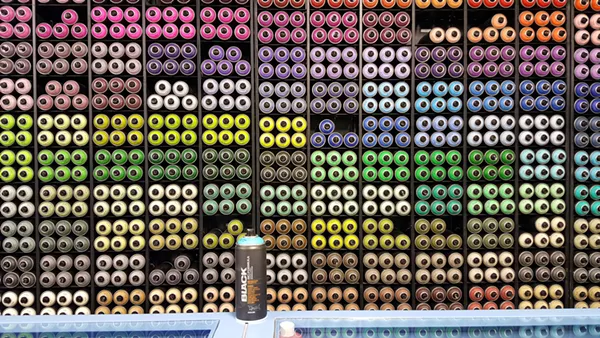 Sat 5/28
An Evening with Jack DeJohnette and Savion Glover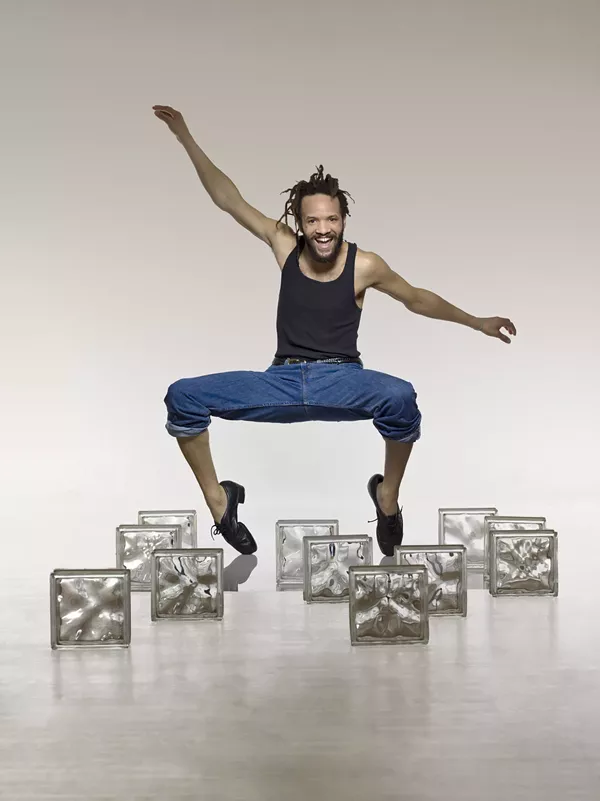 In this swirling duet, drummer Jack DeJohnette and tap dancer Savion Glover cross disciplines in the pursuit of rhythm. Glover, known for his Tony-winning choreography for the '96 musical
Bring in 'da Noise, Bring in 'da Funk
, has more rhythmic talent in one foot than most drummers can muster from an entire kit. The 42-year-old Newark native is so creatively gifted that he can be recorded in audio alone, foregoing the typical tapper medium of video; in 2009, Glover teamed with DeJohnette and a combo of jazz legends to track a live album at the Blue Note. Meanwhile, Jack DeJohnette's avant-garde and funk attack has put him in the one-name club among jazz nerds — to describe the 73-year-old's career is to outline a highlight reel of jazz since 1969. Alone, the artists' solos grab you by the collar and let go only when they've had their say. Together, one can only imagine the athletic showcase from these masters of their forms.
$35, 8pm Sat, Carver Community Cultural Center, Jo Long Theatre, 226 N. Hackberry St., (210) 207-7211, thecarver.org.
Sat 5/28
Golden Dawn Arkestra


In the noisy sea of interchangeable garage bands and laptop projects, Austin-based Afro-psych outfit Golden Dawn Arkestra is exactly as advertised: otherworldly. The 13-piece band, replete with horns, dancers and percussionists in interstellar attire, stages a multisensory spectacle using video projections, dance and a sound fusing Ethiopian jazz, Sly Stone-styled funk and new-wave disco.
$12, 8pm Sat, Paper Tiger, 2410 N. St. Mary's St., papertigersa.com.

Sun 5/29
The Great Love Drop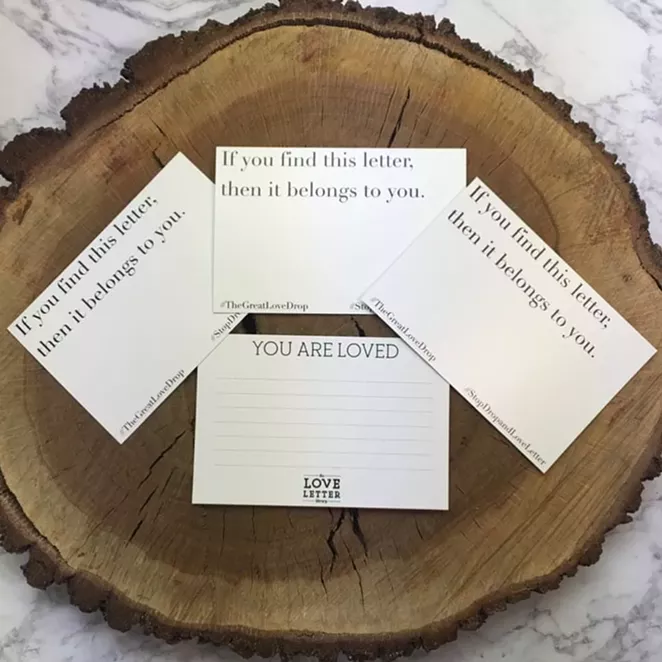 A collection of love letters and journals written by people from all over the world, the locally based Love Letter Library pops up on the lawn in front of The Twig to take part in the worldwide initiative The Great Love Drop. In addition to providing supplies for 500 love letters for attendees to write and drop in the San Antonio area, the pet-friendly event promises gluten-free pastries from Real Crumbles Bakery and free yoga classes (plus a photo booth) presented by Mobile Om.
Free, 10am-1pm Sun, The Twig Book Shop, 306 Pearl Pkwy, Suite 106, (210) 826-6411, theloveletterlibrary.com.
Sun 5/29
River City Rockfest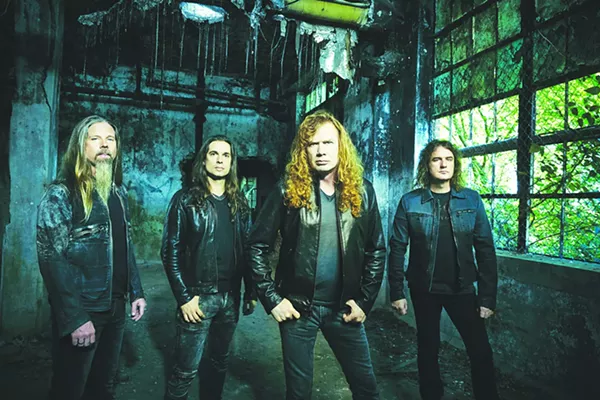 If Dimebag is prominently displayed in your bedroom (particularly when a blacklight is on), there are pot leaves on your tailgate or the guttural "Wah-ah-ah-ah" of Disturbed's "Down with the Sickness" doesn't spontaneously make you nauseous, then you're probably well aware of the annual catharsis of teenage angst, blue-collar frustrations and synchronized homoeroticism of predominantly male mosh pits (these are not negative things, people) that make up Bud Light's annual River City Rockfest. Awash in waves of body odor, dirt weed and water-beer, this year's festival will feature numerous metal and metal-ish acts (Disturbed, Scorpions, Megadeth, Bullet for My Valentine and Sevendust among them), plus several local groups, including modern post-everything rockers Donella Drive and Lynnwood King, pulling double-duty with his soul-rock group The Revival and good-time sing-a-longhairs The Heroine.
$65.50-$229, noon-11pm Sun, AT&T Center, One AT&T Center Pkwy., (210) 444-5000, rivercityrockfest.com.

Mon 5/30
Échale Latino Music Estyles


Mariachi Flor de Toloache
Returning to its post under Highway 281, the Pearl's Échale block party promises a wild and all-female tip-off to the summer. New York ensemble Mariachi Flor de Toloache brings a bilingual mélange of soul, cumbia and traditional mariachi, with bright instrumentals and arresting group choruses. Girl in a Coma's Nina Diaz fronts her five-piece alt-pop band with the confidence of two years of solo performance. San Antonio's Mariachi Las Alteñas proves the booming power of a mariachi in the big band setting. And Chulita Vinyl Club, one of South Texas' premier spinning collectives, provides the house blend.
Free, noon-6pm Mon, parking lot under Hwy. 281 (north of Pearl Pkwy.), atpearl.com.