Thursday 6/9-Sunday 6/10
To close out its 10th anniversary season, AtticRep presents the world premiere of
14
, an innovative production directed by Roberto Prestigiacomo. Incorporating theater, aerial choreography, dance and digital video mapping, the collaborative performance explores a young person's coming of age in a post-9/11 world. While today's children may have grown up in a world marred by terrorism and instability,
14
offers a hopeful vision of a girl's journey through life, seeking fulfillment and happiness despite obstacles that might arise in her path.
$18-$28, 8pm, Thu-Sat, 2:30pm, Sun, Tobin Center for the Performing Arts, 100 Auditorium Circle, (210) 223-8624, atticrep.org.
—
Kelly Merka Nelson
Fri 6/10
"Laughter & Forgetting"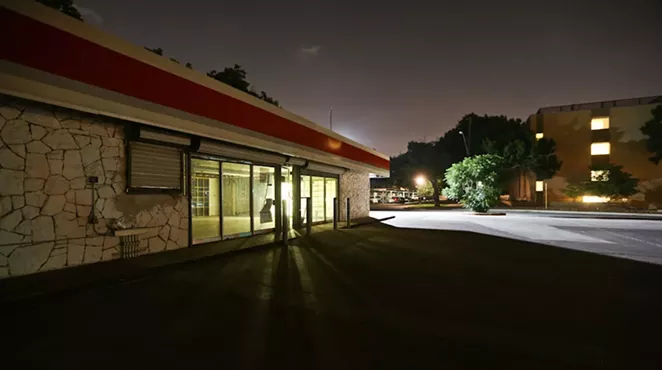 When the English translation of Czech-born French writer Milan Kundera's
The Book of Laughter and Forgetting
was published in 1980,
The New York Times
described it as brilliant, original and strange. The same could be said for visual artist/gardener/gallery owner Justin Parr and his ever-intriguing projects, which run the gamut from next week's Hot Wells Harvest Feast (a chef-driven fundraiser uniting more than 30 Texas restaurants and bars at Lone Star Brewery) to an ambitious video installation (digitally animating thousands of photographs) commissioned for Houston's George Bush Intercontinental Airport. Known far and wide for his viral sticker shaped like a TV (broadcasting "I OWN YOU, Turn It Off!"), Parr nods mysteriously to Kundera with "Laughter & Forgetting," a one-night-only solo show staged in a former Sunglo/Citgo gas station in Southtown. With "hail storms, calcium sulfate, crystal clusters, erased portraits, red lasers, circle dancing, sod, [the untranslatable Czech word]
litost
and pyramids" among its potential threads, the site-specific installation of photographs, video and crystals (plus a surprise element one might associate with golf courses) calls for guests to arrive in "comfortable shoes that can be easily removed."
Free, 7-10pm Fri, 1203 S. Alamo St., justinparr.com
.
— BR
Fri 6/10
"Los de Abajo: Garbage As an Artistic Source"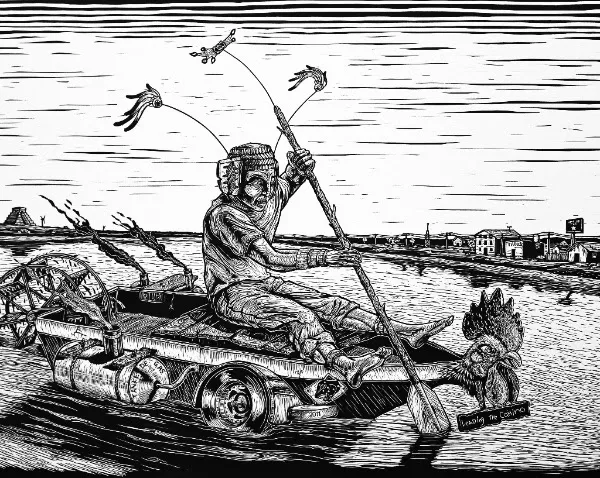 Trash is culture. When archaeologists excavate important sites, the trash of bygone civilizations, right alongside their ceremonial implements, teach us who these people were, what they valued and how they lived. In a riff on this concept, as well as themes of marginalization, redemption and transformation, "Los de Abajo" (literally "those from below"), a new exhibition curated by Andrei Renteria, finds artists John Atkins, Jason Martinez Gonzalez and Juan de Dios Mora using trash to create sublime and thought provoking works of art.
Free, 6-8pm Fri, Galería Guadalupe, 723 S. Brazos St., (210) 271-3151, guadalupeculturalarts.org.
— James Courtney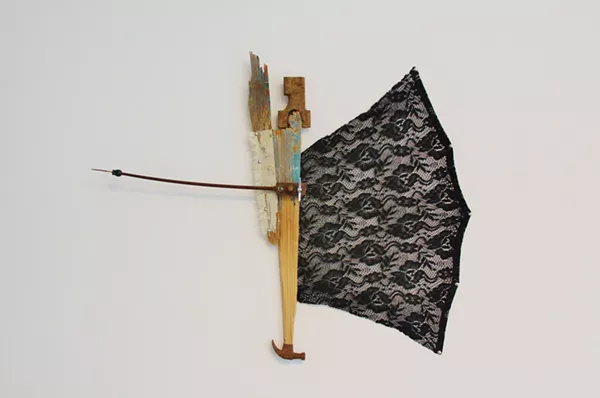 Fri 6/10 - Sat 6/11
The Naked Magic Show

Inspired by the Steven Soderbergh film
Magic Mike
, Aussie magicians Mike Tyler and Christopher Wayne decided to add a bit of guy candy to their illusion show. Billed as "the funniest, cheekiest and naughtiest magic show ever," the resulting production puts a fresh perspective on some of the oldest tricks in the book — no sleeves or pants required. But don't expect full nudity throughout their 18-and-up show: Tyler and Wayne take their craft seriously, teasing audiences with equal parts slight of hand, comedy and sexual innuendo.
$35-$50, 8pm Fri, 7pm & 10pm Sat, Charline McCombs Empire Theatre, 226 N. St. Mary's St., (210) 226-3333, majesticempire.com.
— Marco Aquino

Fri 6/10 - Sun 6/12
Texas Folklife Festival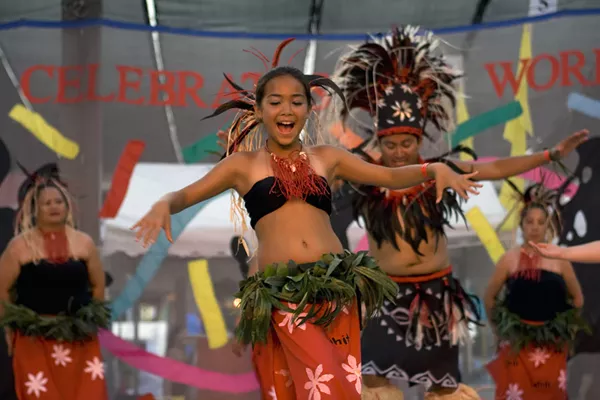 Modeled after the inaugural Smithsonian Folklife Festival in 1968 and founded by Institute of Texan Cultures exhibits director O.T. Baker in 1972, the Texas Folklife Festival serves as a reminder of the Lone Star State's rich cultural history and extensive roots worldwide. From hosting organizations like the Turkish American Association of San Antonio and the Scottish Society Highland Dancers, festival officials have taken pleasure in knowing their event at the Institute of Texan Cultures continues to be a melting pot for an assortment of food, music, dance and arts from around the globe. "The number of ethnic groups in Texas always seems to be a hidden secret for some people when they visit," said Jo Ann Andera, the festival's director for the last 35 years. "I think we work really hard to give people a voice and invite new groups whenever we can find them." While there's always room for new participants each year, there's no denying the importance of the festival's longtime contributors. After combing through the list of 250 organizations and 60-plus artisans, we selected 10 to highlight this year, including several that have participated every year since 1972. Click
here
to read the full story.
$5-$12 (free for kids under 5), 5-11pm Fri, 11am-11pm Sat, noon-7pm Sun, Institute of Texan Cultures, 801 E. César E. Chávez Blvd., (210) 458-2224, texancultures.com. —
Michael Marks and Kiko Martínez


Sat 6/11
Zine Night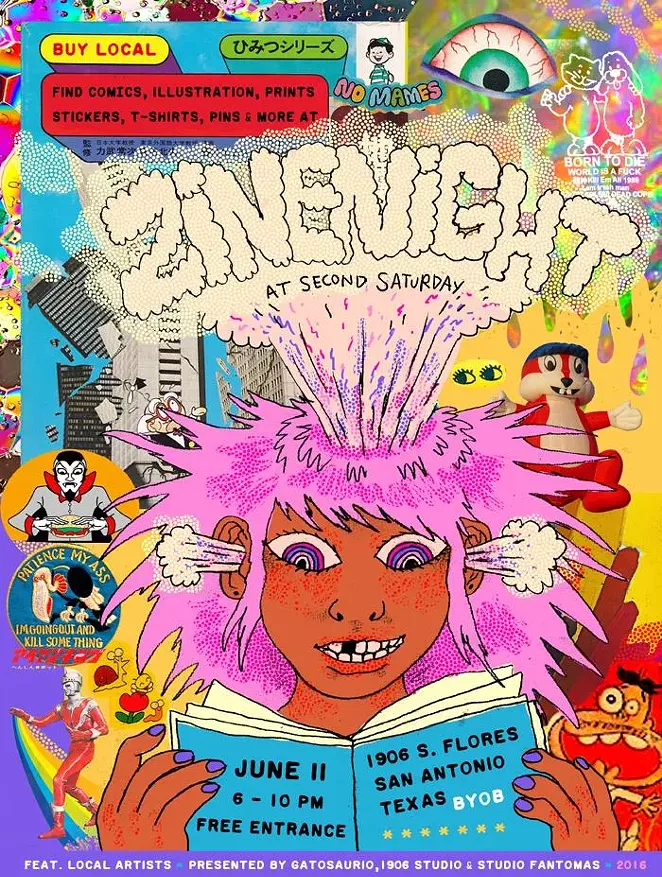 Launched in Mexico City in 2006 and now based in San Antonio, the online label Gatosaurio traffics in limited-edition graphic novels, stickers, zines, comics and apparel designed by Inés Estrada (aka Inechi), a self-taught illustrator and cartoonist whose work has appeared in
Vice
and
The New York Times
. With years of experience creating and self-publishing zines (not to mention organizing zine festivals like Mexico City's Zin Amigos), Estrada brings her DIY expertise to the South Flores/Lone Star arts district for a Second Saturday Zine Night presented by Gatosaurio. In addition to freshly printed Gatosaurio T-shirts featuring knife-wielding kittens and lazy, booze-guzzling bears, expect to find zines, comics, illustrations, prints, pins and stickers galore from 20-plus artists and titles, including
St. Sucia
,
Saytown Review
, King William Design, Louie Chavez and Angela Fox.
Free, 6-10pm Sat, 1906 Studio & Studio Fantomas, 1906 S. Flores St., gatosaurio.com.
— BR
Sat 6/11 - Sun 6/12
"Highest Heaven"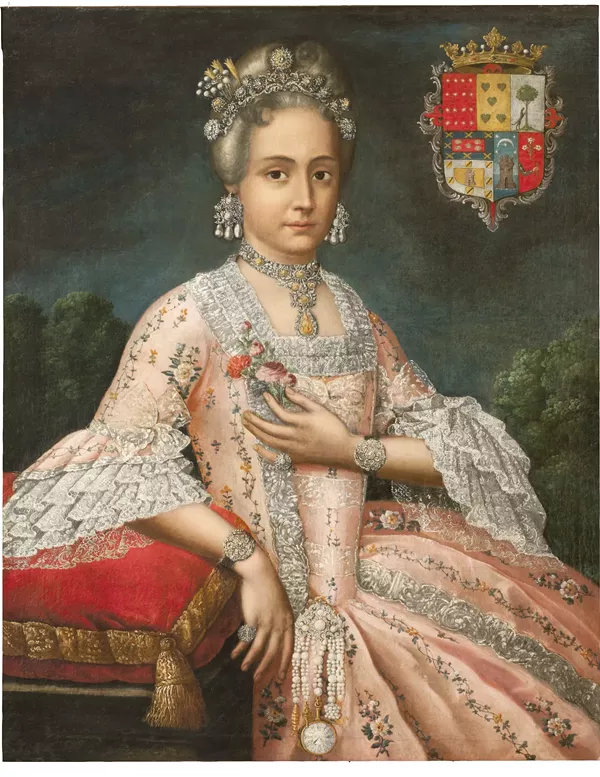 Attributed to Cristóbal Lozano (Peruvian, 1705-1776), Rosa de Salazar y Gabiño, Countess of Monteblanco and Montemar, 1764-1771
In colonial South America, as in other colonized regions around the world, art was a powerful means of propaganda, a devious device employing pathos and the subtle (sometimes not so subtle) appropriation of indigenous culture to win over the hearts and minds of occupied populations. In the San Antonio Museum of Art's new exhibition "Highest Heaven: Spanish and Portuguese Colonial Art from the Collection of Roberta and Richard Huber," on view through September 4, viewers can experience more than 100 18th-century colonial paintings, sculpture, furniture, ivories and silverworks.
$15-$20, 10am-5pm Sat-Sun, San Antonio Museum of Art, 200 W. Jones Ave., (210) 978-8100, samuseum.org.
Through September 4.
— JC
Sun 6/12
Jane Lynch: See Jane Sing

"I am gay. No one can ever know this." Interviewed for the web series It Got Better, comedic actress extraordinaire Jane Lynch (
Glee
,
The 40-Year-Old Virgin
,
Party Down
) recalls writing these words in her journal at the age of 14, then immediately ripping the page out and stuffing it in a trash can four blocks away from her house. Lynch's 2011 memoir
Happy Accidents
chronicles her decades-long journey from a mortified teenager to an A-list actress who, as Slate puts it, "excels at portraying ... full-throttle, sexed-up, hyper-confident female wack jobs" — such as her breakout role in Christopher Guest's 2000 comedy
Best in Show
, where she played Christy Cummings, publisher of
American Bitch
, a magazine focusing on "the issues of lesbian pure-bred dog owners." But for definitive proof that "it gets better," it's hard to beat the immediate highs of Lynch's touring
See Jane Sing
, which showcases our favorite children's choir antagonist as a cabaret act with a subversive streak. Accompanied onstage by the Tony Guerrero Quintet,
Glee
vocal arranger Tim Davis and The Office's Kate Flannery, Lynch delivers an evening
The New York Times
describes as "free-form goofiness" with a "sly, sexual subtext." It doesn't get much better than that.
$35-$75, 8pm Sun, Charline McCombs Empire Theatre, 226 N. St. Mary's St., 226 N. St. Mary's St., (210) 226-3333,
majesticempire.com
.
— Jeremy Martin