Thursday 6/16

Dave Chappelle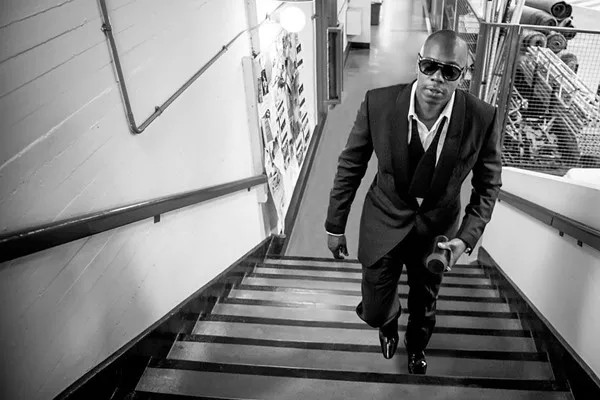 Any smoker will tell you there's nothing more annoying than a habitual cigarette-bummer. That Dave Chappelle has made hitting people up for smokes a fixture in his act post-whatever-the-hell-actually-happened-with-Chappelle's Show and still draws a crowd willing to watch him work for up to five hours at a time isn't so much proof that he's one of our greatest living comics as it is that he's some kind of wizard. As for the remaining shows in Chappelle's stint at the Aztec, anyone brazen enough to arrive with a cell phone "will be required to place it in a locked pouch."
$63, 7pm, 10pm, Aztec Theatre, 104 N St Mary's St, (210)-812-4355, www.theaztectheatre.com.

Thursday 6/16



Vigil to Honor Lives of Orlando Shooting Victims

To honor the lives of our 49 brothers and sisters fatally shot in Orlando, Florida, Pride Center San Antonio hosts a vigil with presentations by Robert Salcido, (Pride Center San Antonio), Mayor Ivy Taylor, poet/author Elizabeth Rodriguez, Councilman Roberto Trevino, poet/author Joe Reyes-Boitel, Rabbi Mara Nathan (Temple Beth-El), poet/author Polly Anna Rocha, Kiran Bains (City of San Antonio, Office of Diversity and Inclusion) Deborah Myers and Nikki Valdez (Dignity San Antonio), poet/author Dino Foxx, Angeles Valenciano (National Diversity Council), members of Metropolitan Community Church and Muslim Children Education and Civic Center. Community members are encouraged to attend to show support and compassion for the victims, their families and all those affected by this senseless act of violence. Grief counselors will be available onsite. Attendees should prepare for warm weather; a limited supply of water will be available. Lawn chairs are encouraged for those who do not wish to stand for long periods of a time.
Free, 7pm, Crockett Park, 1300 N Main Ave.

Thursday 6/16

Hip-Hop Showcase

One of our favorite parts of Local Music Week — perhaps the best time all year to discover your next favorite local musical act — is the showcases, which often bring together performers who represent the best of their particular genre in Saytown. This year's LMW Hip-Hop Showcase, hosted by Mad One, one of the hardest-working local emcees in the game, certainly provides a variable buffet of local hip-hop talent. Boasting more than 15 artists, including perennial must-sees like Chisme, Apaso, Amaze and Worldwide, the showcase provides a fine chance to reacquaint yourself on the state of the scene.
$3, 9pm-2am, Phantom Room, 2106 N St Mary's St.



Friday 6/17

Nocturna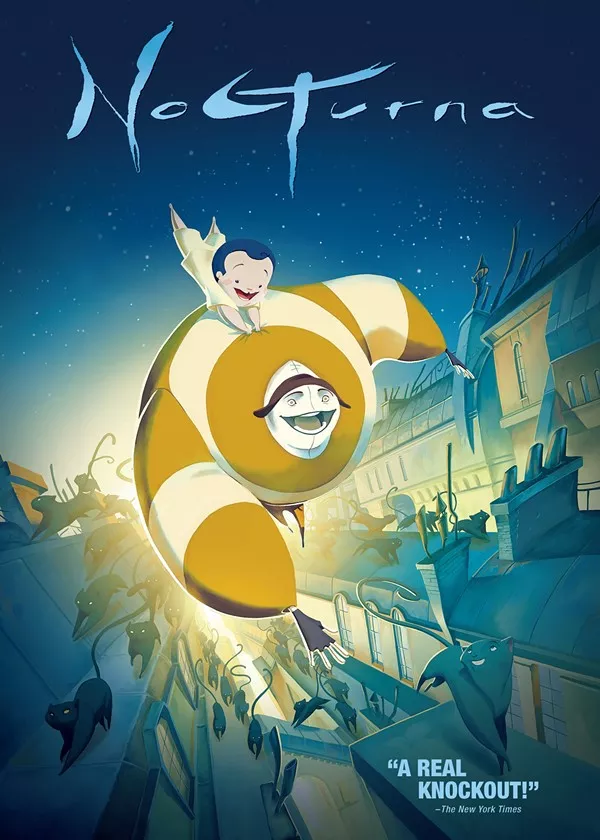 Likely to resonate with viewers who suffer from insomnia and/or nyctophobia (fear of night or darkness), Adrià García and Víctor Maldonado's animated fantasy
Nocturna
follows orphan Tim as he ventures into a secret world to find out why stars are vanishing from the sky. Accompanied by his kitty Tobermory and the Cat Shepherd (a hulking creature who watches over the world's felines), he discovers a surreal cast of characters working to create the experience of sleep — tossing, turning and bedhead included. SAMA screens the Spanish-French film as part of its outdoor Family Flicks series.
Free, 8pm, San Antonio Museum of Art, info@samuseum.org, (210) 978-8100.

Andy Kindler

Friday 6/17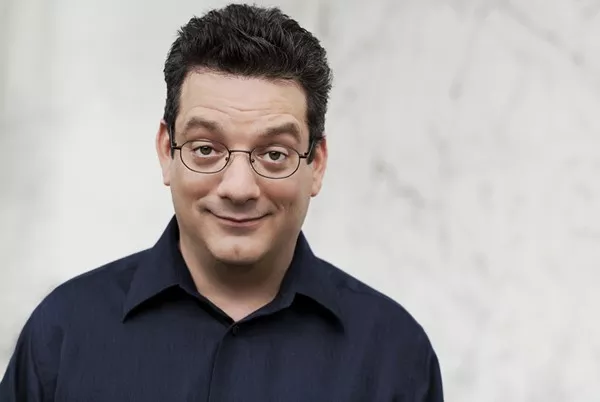 Comic Andy Kindler has played recurring roles on Everybody Loves Raymond, Bob's Burgers and Maron, but he's at least as famous for calling Louis C.K. pretentious and claiming he'll pay $1 million to anyone offering proof Whoopi Goldberg is funny. But whether you agree with Kindler's assessments or not, there's real joy (a feeling Kindler in his schtick seems incapable of even acknowledging) in hearing his unending complaints. Comics themselves apparently love the punishment enough to make his hilariously hateful "State of the Industry" address an annual tradition at Montreal's Just For Laughs Festival.
$16, Fri. 8pm, 10:15pm, Sat. 8pm, 10:15pm, Sun. 7pm, Laugh Out Loud Comedy Club, 618 NW Loop 410 #312

Saturday 6/18

The Liquid Sunshine Experience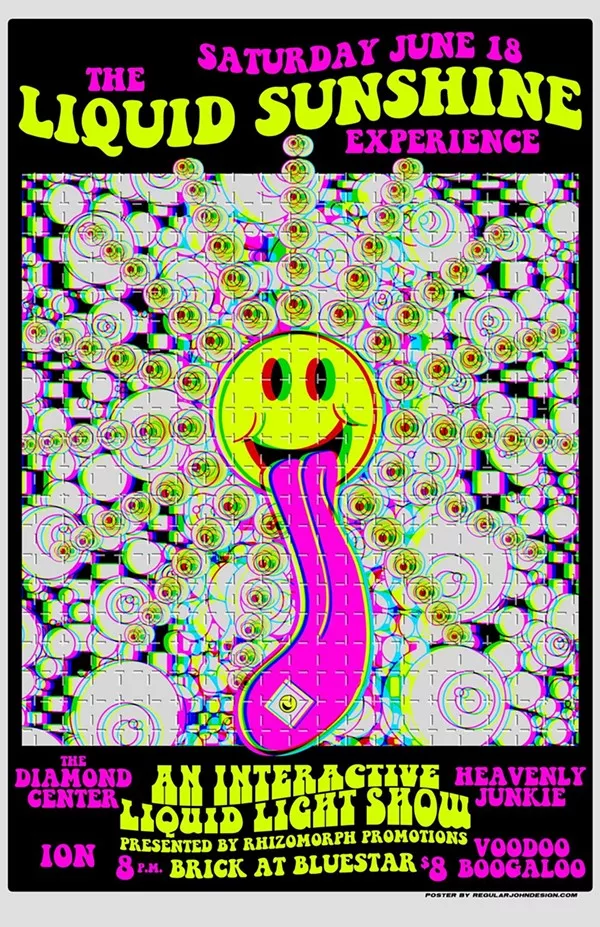 The Liquid Sunshine Experience is called an experience because that's the best way to describe it. Part lysergic concert, part community-manipulated light show — allowing audience members to manipulate visuals as bands perform — the onslaught of stimulation, heightened through participation, should make for a one-of-a-kind experience indeed. The event will begin with a chanting ceremony led by Krishna Monks SATX and feature music by acid-pop tribe Voodoo Boogaloo, ATX psych act The Diamond Center, electro-pop outfit Heavenlyjunkie and more.
$8, 8pm, Brick, 108 Blue Star.
Saturday 6/18

Lonely Horse, Femina-X, Mandala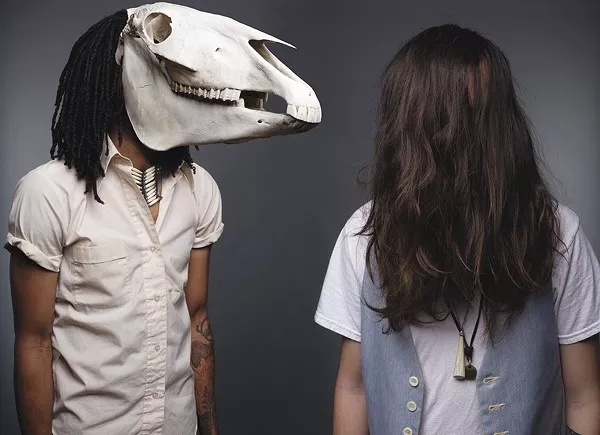 It's official: Lonely Horse is back! On hiatus after some nasty business bullshit with their label, the most ponderously punishing desert-rock duo you ever heard is now back to perform its return set at the loudest bookstore in Texas. What's more, the boys are back with a vengeance, with (according to lead man Nick Long) new music to debut, a new album in the works and an international tour impending. As gnarly as it should be to see the musically emotive duo exorcise lingering demons, the other locals in this wild bill, Femina-X and Mandala, are no slouches either.
$5, 8pm-11:45pm, Imagine Books and Records, 8373 Culebra Rd #201b, (210)-236-7668.


Saturday 6/18

Cumbia Fest

The cumbia beat serves as the many-faced god of music: when properly applied, the stutter-step triplet is an assassin on the dance floor and can mold to any genre. To invoke this deity of a rhythm, Cumbia Fest rallies three masters of the form. El Rebelde del Accordeón, Celso Piña (pictured) is a pioneer of cross-cultural cumbia, fusing ska, reggae and hip-hop styles. Together since childhood, Coahuila's Grupo Massore forays with a casual grace into pop and funk. At 69, saxophonist Fito Olivares is a fixture of tejano and cumbia in the Valley, gaining his energy from the play between rhythms.
$20, 7pm-2am, San Antonio Event Center, 8111 Meadow Leaf Dr.


✖
Friday 6/17

A Classy Broad
A week after Hillary Clinton broke through the metaphorical glass ceiling and became the first woman in U.S. history to secure a major political party nomination to become POTUS, San Antonio gets a chance to see its own homegrown story of female empowerment and inspiration in the form of a documentary film on Marcia Nasatir, one of the first women to find success as an executive at a major Hollywood studio during the 1970s. Originally from San Antonio, Nasatir, who is now 90 years old and lives in Santa Monica, California, attended Thomas Jefferson High School and went on to graduate from Northwestern University's Medill School of Journalism in 1947. During a time when women were rarely seen in leadership roles in Hollywood, Nasatir became the first female vice president of production at United Artists in 1974. She worked behind the scenes on a number of Oscar-winning films, including
Rocky
,
One Flew Over the Cuckoo's Nest
and
Apocalypse Now
and later as an executive producer on
The Big Chill
. The energetic nonagenarian will be in attendance for a Q&A following the Texas premiere of
A Classy Broad
.
$10, 6:30pm, Thomas Jefferson High School, 723 Donaldson Ave

Saturday 6/18

Summer Solstice Film Festival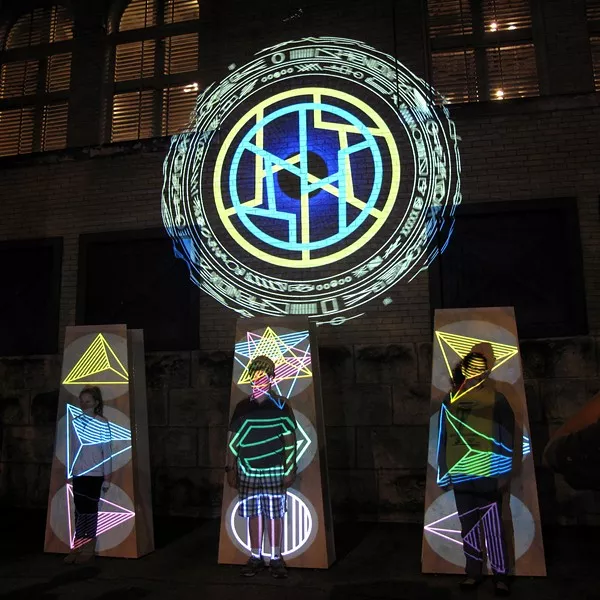 This second annual summer film festival will make you work for your movies. Once on the host farm, visitors will be given a map and invited to participate in a scavenger hunt where they'll search for short artist-made films set up in viewing spaces like chicken coops and tool sheds. If cinema tracking isn't for you, kick back in the main field and watch a series of feature-length art films, create spin art or help paint a hip-hop mural.
Free, 4pm-midnight, Habitable Spaces, 3050 FM1104, Kingsbury, TX,
habitablespaces.org.