Tue 6/21
Far OUT: A Very Gay Fiesta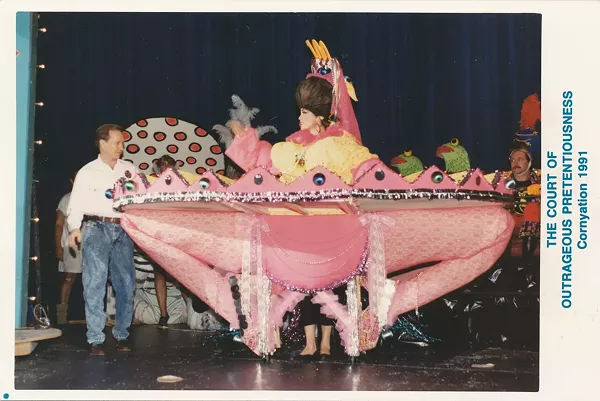 As an associate professor at Trinity University, Amy Stone teaches students about social movements, gender and sexuality, among other subjects. Three years in the making, her hotly anticipated book
Let the Queens Be Unleashed: Fifty Years of Fiesta Cornyation
explores the evolution of the spooftacular pageant and HIV/AIDS charity benefit via oral histories and more than 100 photographs. In conjunction with San Antonio Public Library's Pride month programming, Stone leads a talk examining "the dynamics of Fiesta and the way that gay and lesbian visibility is part of a transformation of the festival."
Free, 6:30-7:30pm Tue, Central Library Auditorium, 600 Soledad St., (210) 207-2500
,
mysapl.org
.
Wed 6/22
Live at Ocho
Join Austin-based musician and producer Adrian Queseda (formerly of Grupo Fantasma) and his Echocentrics collaborators as they take you on a kaleidoscopic journey through songs from their latest release,
Echo Hotel
. Psychedelic, cinematic and soulful, the album combines songs in Portuguese, Spanish and English.
Free, 8-10pm Wed, Hotel Havanna, 1015 Navarro St., (210) 222-2008, havanasanantonio.com.
Thu 6/23
Ella Mac




The Mix takes a breather from hard-rocking fare for an evening of jazzy vocals and R&B vibes courtesy of vocalist Gabriella Macias and her band Ella Mac.
Free, 10pm Thu, The Mix, 2423 N.St Mary's St., (210) 735- 1313,
themix-sa.do210.com
.
Fri 6/24
"Mi Casa, Your Casa"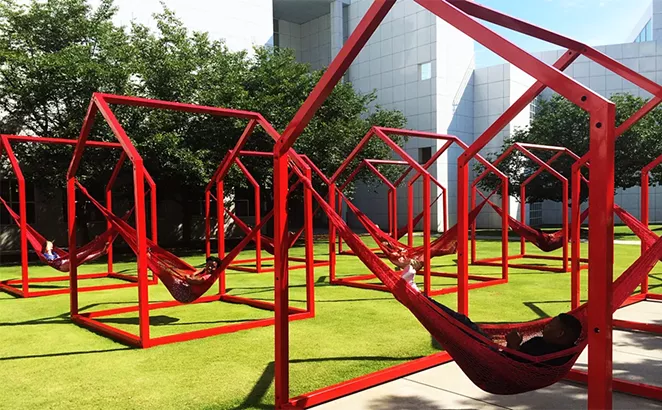 Celebrate the opening of the San Antonio Museum of Art's new installation during a community event with music, art activities and performances for the entire family. Created by contemporary Mexican designers Hector Esrawe and Ignacio Cadena, the artwork features a set of three-dimensional house frames fitted with hammocks so visitors can relax, interact and enjoy the exhibit. "Mi Casa, Your Casa" can be seen through August 21. Please keep siestas to a minimum.
Free, 6-9pm Fri, San Antonio Museum of Art, 200 W. Jones Ave., (210) 978-8100, samuseum.org.
Sat 6/25
Freetail Art Collective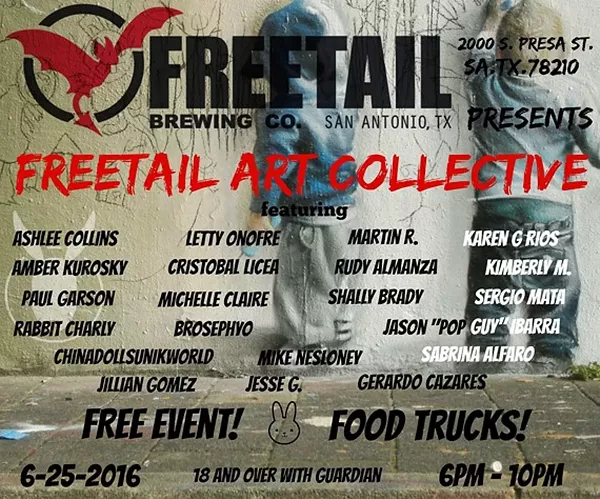 Freetail Taproom hosts a free event with live painting and a display of works by local artists (Amber Kurosky, Ashlee Collins, Broseph, Cristobal Licea, Gerardo Cazares and Jason "Pop Guy" Ibarra, to name a few), plus food truck fare to help soak up the suds.
Free, 6-10pm Sat, Freetail Taproom, 2000 S. Presa St., (210) 625-6000
,
facebook.com.
Sat 6/25
Thrash Bash Skate Video Night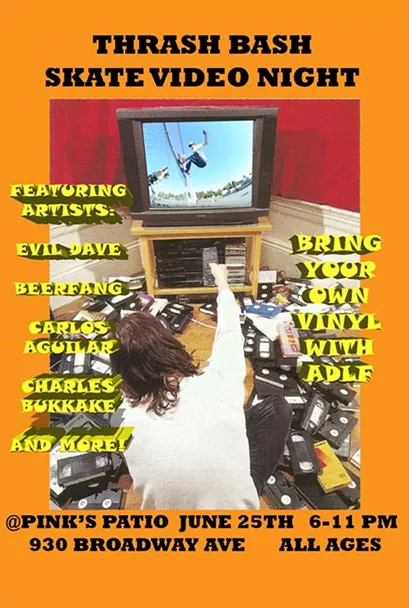 Pink's Patio screens classic and contemporary skateboard videos at this free, all-ages event featuring skateboard-related art on display and Bring Your Own Vinyl (BYOV) sets with DJ ADLF.
Free, 6-11pm Sat, Pink's Patio, 930 Broadway, (210) 739- 4597
,
facebook.com/pinkspatio
.
Sat 6/25
Coraline

Slab Cinema revisits the imaginative and adventurous journey of
Coraline
with a free outdoor screening at Woodlawn Lake. While exploring her new home, Coraline (voiced by Dakota Fanning) discovers a secret door leading to an alternate world inhabited by the Other Mother (voiced by Teri Hatcher) and a mysterious, parallel family.
Free, 8pm Sat, Woodlawn Lake, 1103 Cincinnati Ave., (210) 207-7275, slabcinema.com
.
Sat 6/25
100 Things to Do in San Antonio Before You Die
On Saturday, author and blogger Denise Richter (
sanantoniotourist.net
) visits The Twig to sign copies of her new book celebrating the importance of everything from barbacoa and margaritas to The River Walk and the Alamo City's green spaces.
Free, 10am-noon Sat, The Twig, 306 Pearl Pkwy. Ste. 106, (210) 826- 6411,
thetwig.com
.
Sat 6/25
First Decade at Deco


Centro Cultural Aztlan celebrates its 10th year in the Deco District with a family-friendly festival filled with art in all flavors. Billed as "El Gran Dia de los Artistas," the free event features live music, belly dancing, visual art, poetry readings and much more. Free, 3-10pm Sat, Centro Cultural Aztlan, 1800 Fredericksburg Road, (210) 432- 1896, centroaztlan.org.


Sat 6/25
"Acceleration: A Conversation on Position"<!———EndFragment———>

With paintings facing each other along the length of URBAN-15's Long Hall Gallery and an overhead sound installation creating "an ambient Doppler effect," artists Kim Bishop and Luis Valderas' collaborative exhibition "Acceleration: A Conversation on Position" intends to evoke the experience of running through corn fields.
Free, 6-9pm Sat, URBAN-15, 2500 S. Presa St., (210) 736-1500,
urban15.org
.