Thu 6/23
Desert Migration
In obvservance of the 35th anniversary of the first reported cases of AIDS, the San Antonio AIDS Foundation hosts a community screening of
Desert Migration
, a 2015 documentary that sheds light on living and aging with HIV/AIDS through the everyday experiences of long-term survivors who "migrated" to the accepting desert oasis of Palm Springs, California. The first feature-length film from Australian director Daniel F. Cardone (himself a 21-year survivor), the 2015 release pieces together one day in the occasionally intersecting lives of 13 gay men as they "work, eat, sleep, love, recuperate and grieve." Benefiting SAAF, the event kicks off with a reception (cash bar) and culminates with a Q&A and panel discussion between the filmmaker, Dr. Barbara Saatkamp Taylor, local long-term survivors and SAAF CEO Cynthia Nelson.
$30, 6:30-9pm Thu, Santikos Bijou, Fredericksburg Road, (210) 734-4552, sanantonioaids.org.
— Bryan Rindfuss


Thu 6/23
"
Dreamers and Realists
"
Alejandro Augustine Padilla, Our Shame Bearer
Artist/curator Jesse Amado describes the six members of "Dreamers and Realists" as "artists who approach reality as dreamers," but is quick to point
out that, "they are dreamers and realists, not either/or." Thus, the work in this
group show (which unites Amado with Andrés Ferrandis, Cisco Jímenez, Nicole
Franchy, Kaela Puente and Alejandro Augustine Padilla) falls somewhere in the realm of magical realism, wherein skepticism is withheld and all that can be observed exists on one endless plane. Exploring questions of relativity, the
exhibition unveiling features a special performance by Daniela Riojas.
Free,
6-8pm Thu, Ruiz-Healy Art, 201 E. Olmos Drive, (210) 804-2219, ruizhealyart.com.
— James Courtney

Thu 6/23 - Sun 6/26
Ben Gleib

"Paul's height is six feet. He's an assistant at a butcher shop, and wears size nine shoes. What does he weigh?"Answer: meat. Get it? So, they're not all
Jeopardy!
-worthy brain busters, but these are the kind of random questions
stand-up, podcaster and actor Ben Gleib asks contestants as the host of
Id!otest
, a game show based on a popular app, which is currently in its third season on GSN. Aside from making people feel like total morons on TV, Gleib has also exhibited his comedic prowess on shows like
Chelsea Lately
and
The Real Wedding Crashers
.
$16, 8pm Thu, 8pm & 10:15pm Fri-Sat, 7pm Sun, Laugh Out Loud Comedy Club, 618 NW Loop 410, (210) 541-8805
,
lolsanantonio.com.
— Kiko Martínez
Fri 6/24

Derrick Barry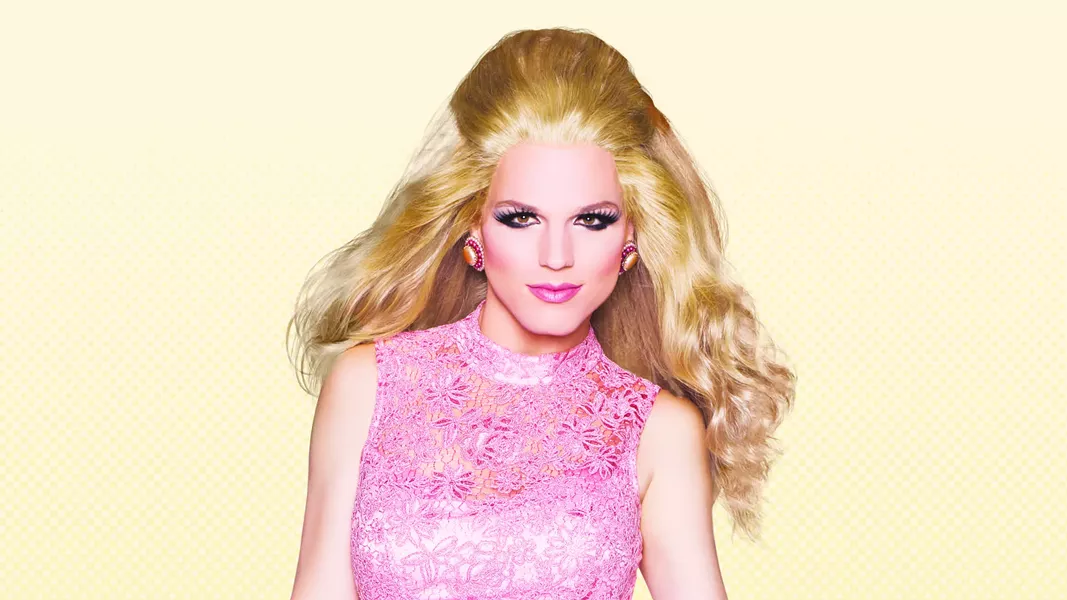 Already seasoned by the reality competition shows
America's Got Talent
and
The Next Best Thing
, polyamorous Britney Spears impersonator Derrick
Barry took his career to the next level on the eighth season of
RuPaul's Drag
Race
. Challenged by the show and fellow competitors to expand his drag repertoire beyond Britney, Barry made it into the top five but inevitably got the boot after losing a lip sync battle with eventual winner Bob the Drag Queen. A budding actor with high-profile projects in the works, the California blonde lands at the Aztec courtesy of Rey Lopez Entertainment
. $18-$20, 10pm Fri, Aztec Theatre, 104 N. St. Mary's St., (210) 812-4355, theaztectheatre.com
.
— Marco Aquino


Fri 6/24
Baby Bangs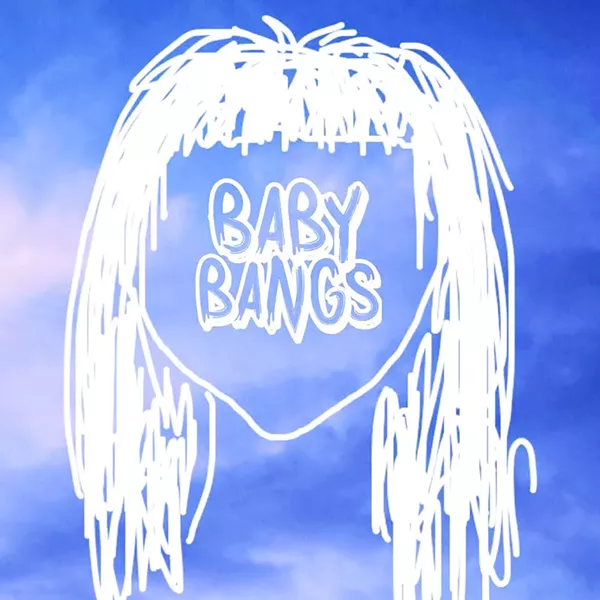 Elena Lopez has long established her chops as a top songwriting and
(especially) exquisite vocal force in the local scene with her indie-pop
group Octahedron. From rocking Youth Orchestras of San Antonio-backed
cover shows at the Tobin to gigging at a venue near you, she's been hard at
work. Her side project Baby Bangs, a grungy-sunny, pop-punk affair in which
she's supported by Freebies drummer Dane Rousey, gives her a chance to
vent some spleen and yell. If you've ever wanted to see your lust for solid, '90s
revival-nodding fuzz-punk satiated in a hookah lounge, this is your chance.
$3-$5, 8pm Fri, Vapure Lounge, 5431 Grissom Road, (210) 455- 8568, vapuresa.com
.
— JC
Fri 6/24
"
Mi Casa, Your Casa
"
Celebrate the opening of SAMA's latest summer offering during a community event with music, art activities and performances. Created by contemporary Mexican designers Hector Esrawe and Ignacio Cadena, the outdoor installation comprises a set of three-dimensional house frames fitted with hammocks so visitors can relax, interact and experience the exhibit. Aiming to explore "how engagement with art and design can be extended beyond the museum's walls," the playful project draws inspiration from the home as well as Latin American street markets. Please keep siestas to a minimum.
Free, 6-9pm Fri, San Antonio Museum of Art, 200 W. Jones Ave., (210) 978-8100, samuseum.org.
— Kiko Martínez
Fri 6/24
Sharam


Back in 2006, Washington DC-based house heroes and Yoshitoshi Recordings founders Ali "Dubfire" Shirazinia and Sharam Tayebi shocked dance music fans across the globe by pulling the plug on their Grammy-winning collaboration Deep Dish. Making deep, progressive marks on tracks by both underground artists and music icons (from Madonna to The Rolling Stones), not to mention two studio albums (1998's excellent
Junk Science
seems to stand the test of time better than its 2005 follow-up
George Is On
), the tech-house innovators launched solo endeavors while their cultish following struggled to dissect the distinct Deep Dish sound by comparing and contrasting two previously unconsidered sides of one coin.
Based in no small part on his remix of Eddie Murphy's campy single "Party All the Time" (released in the wake of the Deep Dish divorce), Sharam got pegged by the music blog Resident Advisor as the one "gunning for the pop charts" while Dubfire mined deeper territories suited for "underground dance floors." Seven years after their admittedly bitter breakup, the Iranian-American duo announced they'd be burying the hatchet to "finish the story properly" with a new single ("Quincy"), a reunion show at Miami's Winter Music Conference in 2014 and a headlining set at Ultra Music Festival the following year. "A lot of time had passed, and we let it go, and started to forget why we were angry at each other at the beginning," Sharam told the
Miami New Times
in 2015.
While a third Deep Dish album is reportedly in the works, Sharam and Dubfire continue to produce and tour as solo artists. A rare treat for Alamo City house heads, Sharam lands at Jack Rabbit on June 24 in support of
Retroactive
, an introspective sophomore LP that traverses "from early '80s Giorgio Moroder-inspired disco to futuristic, dark and hypnotic clubby affairs."
Also on the bill:
Shwann, CompleteJ and James Aguirre.
$8-$15, 10pm-2am Fri, Jack Rabbit, 6322 San Pedro Ave., (210) 202-8989, realmusiceventstx.com.
— BR

Sat 6/25
First Decade at Deco

To celebrate 10 years in the Deco District, the hard-working folks at Centro Cultural Aztlan are throwing a mini-festival billed as "El Gran Día de los
Artistas." True to form for the nonprofit, the event goes beyond visual art to
highlight local poets, dancers, musicians and performers. Bringing together
more than 30 participating local artists and artisans, the daylong "explosion of
creativity" includes live music (by Los Nahuatlatos, La Chichada, Ghost Tracks
and Liza Ybarra), a performance by URBAN-15, pottery demos, readings,
belly dancing and an appearance by Chencho the Magic Clown.
Free, 3-10pm Sat, Centro Cultural Aztlan, 1800 Fredericksburg Road, (210) 432-1896, centroaztlan.org. — JC

Sunday 6/26
Alan Cumming Sings Sappy Songs
Readers may recognize actor and singer Alan Cumming from one of several
Hollywood blockbusters (
X-Men
,
Spy Kids
,
GoldenEye
), or perhaps as Eli Gold
from the CBS drama
The Good Wife
. He is a Tony-winning stage actor (for his
role in the 1998 revival of
Cabaret
) and a
New York Times
best-selling author (for the 2015 memoir
Not My Fathers Son
). Since premiering his latest cabaret show in New York, Cumming has been wowing live audiences through his interpretations of standards and pop songs ranging from Annie Lennox's "Why" to the Steven Sondheim mashup "No One Is Alive While I'm Around."
$35-$95, 7:30pm Sun, The Majestic Theatre, 224 E. Houston St., (210)226-3333,
majesticempire.com
.
— MA


Sun 6/26
Big Gay Burlesque Show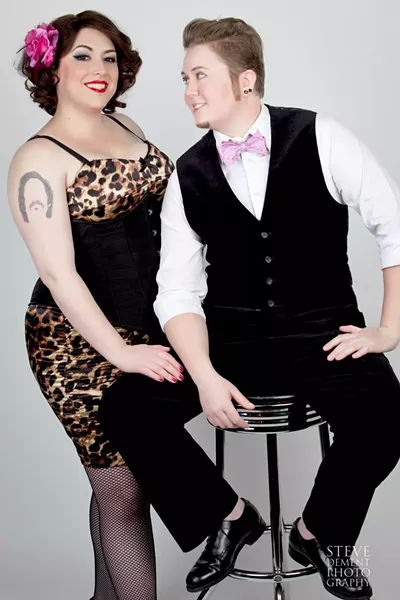 Queertini Time photographed by Steve Dement
Doubling as an LGBT Pride celebration and fundraiser for the fifth annual San Antonio Burlesque Festival (set for September 16 and 17 at the Woodlawn Theatre), the Pastie Pops' amusingly titled
Big Gay Burlesque Show
brings together local and regional queer performers and allies for an evening of classic tease, boylesque, drag, comedy and cabaret. Emceed by multitalented glam bear queen Foxxy Blue Orchid (aka Dino Foxx) in the intimate confines of The Overtime, the event sees Pastie Pops mainstays (Jasper St. James, Vixy Van Hellen, Elle Du Jour and Vesper Voltaire among them) sharing the stage with array of SABF award winners, including San Antonio's own Chola Magnolia and Stephan, Austin-based gender-bending duo Queertini Time and the plus-size troupe Fat Bottom Cabaret.
$20-$50, 7pm Sun, The Overtime Theater, 1203 Camden St., (210) 557—7562,
biggayburlesqueshow.brownpapertickets.com
.
— BR