Thu 6/30
Art in the Garden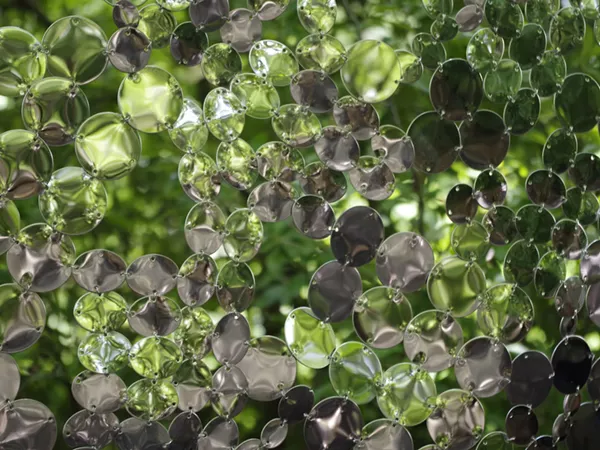 Alyson Shotz, Scattering Screen
For the latest incarnation of Art in the Garden — a long-running collaboration between Blue Star Contemporary and the San Antonio Botanical Garden that enhances the grounds with outdoor installations — Blue Star has brought in Brooklyn-based artist Alyson Shotz and her project
Scattering Screen
, "a large-scale freestanding steel sculpture, which will interact with viewers and its natural surroundings." Like tiny funhouse mirrors, the reflective and colored circles that make up the sculpture call us to fresh perspectives and novel ways of seeing and being in the Garden.
Free, 5:30pm-7:30pm Thu, San Antonio Botanical Garden, 555 Funston Pl., (210) 536-1400, bluestarart.org;
sabot.org.
— James Courtney
Thu 7/1 - Fri 7/2
First Thursday & Friday Highlights


An installation view of Megan Solis' solo show "Christina Is a Coward"
With renovations in the works, Blue Star Contemporary won't rejoin First Friday festivities in Southtown until August 4, when it opens shows by Thomas Cummins and Kirsten Reynolds in a satellite space at 112 Blue Star. But thanks to an array of galleries in and around the Blue Star Arts Complex, July's First Friday packs a punch with artful investigations into everything from race and class to escapism and analog technology. Associate director of Olmos Park's Ruiz-Healy Art, Alana Coates steps in as guest curator of local artist Megan Solis' "Christina Is a Coward." Hosted in Hello Studio's newly expanded space, the solo show sees the recent UTSA grad using failed relationships and "superficial high school tropes" as creative points of departure for absurdist collage, assemblage and performance works (
free, 6-10pm Thu-Fri, Hello Studio, 1420 S. Alamo St., (210) 291-8640, hellostudiosa.com
). At the other end of the complex, Houston-based Melinda Laszczynski unveils her "Party Tricks" at UTSA's Terminal 136. Employing thick layers of paint, shiny surfaces, wigs, hosiery and inflatables, her mixed-media exhibition aims to be "simultaneously seductive and discomforting" (
free, 6-9pm Thu-Fri, Terminal 136, 136 Blue Star, (210) 458-4352, art.utsa.edu
). Across the tracks, the creative youth development program SAY Sí opens the latest chapter of Stories Seldom Told, an exhibition series dedicated to issues the student-artists feel aren't being addressed in their everyday lives. "CORP/US" represents a three-month study of ways "young people are affected by corporate entities" (
free, 6-10pm Fri, SAY Sí, 1518 S. Alamo St., (210) 212-8666, saysi.org
). And up the road at R Gallery, multidisciplinary artist Louie Chavez reactivates his street-smart art space Plazmo Contemporary as a pop-up. Addressing modifications to the atmosphere and surface topography, "Terraforms" unites pop surrealist Sergio Mata, fashion designer Angie Riojas, musician/video artist Ryan McNight, illustrator Adriana Mendez, graphic artist Justo Cisneros and zinester Blair Wilson (
free, 6pm-midnight Fri, R Gallery, 725 S. Presa St., (210) 862-8875, facebook.com/rgallerystx
).
— B­ryan Rindfuss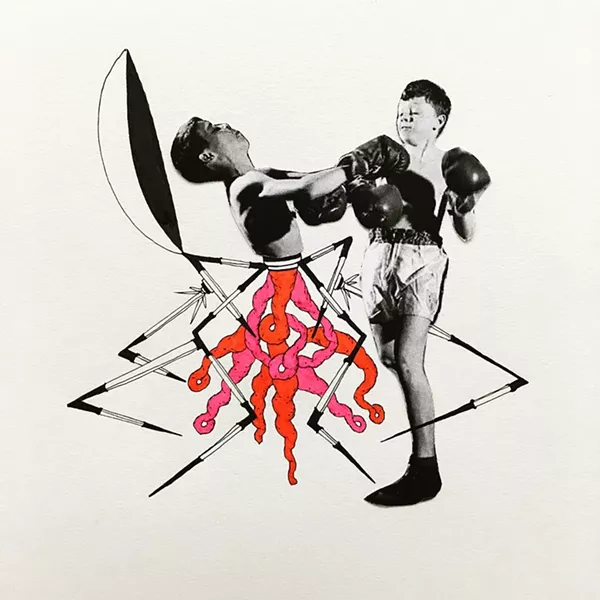 A piece by Justo Cisneros featured in "Terraforms"
Thu 6/30 - Sat 7/2
Asking for Change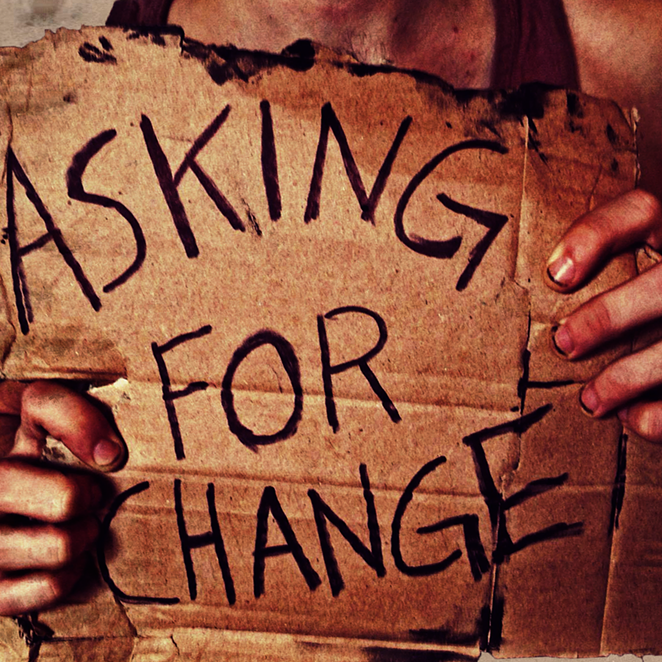 Courtesy Jump-Start Performance Co.
As the inaugural artist in Jump-Start's new INKUBATOR program, choreographer, dancer and director Stephan Gaeth developed a short piece he originally created in 2014 for the performance company's 8x8 series (an assortment of eight-minute works staged in an eight-foot cube). Employing six performers to represent different sectors of the homeless population, his movement-based project
Asking for Change
seeks to offer "a glimpse into the unspoken cycle of our society's attitudes toward our 'invisible' neighbors." Following Thursday's opening night performance, community members active in issues related to homelessness will be on hand for a dialogue with the cast and audience.
$10-$12, 8pm Thu-Sat, Jump-Start Performance Co., 710 Fredericksburg Road, (210) 227-5867, jump-start.org.
— BR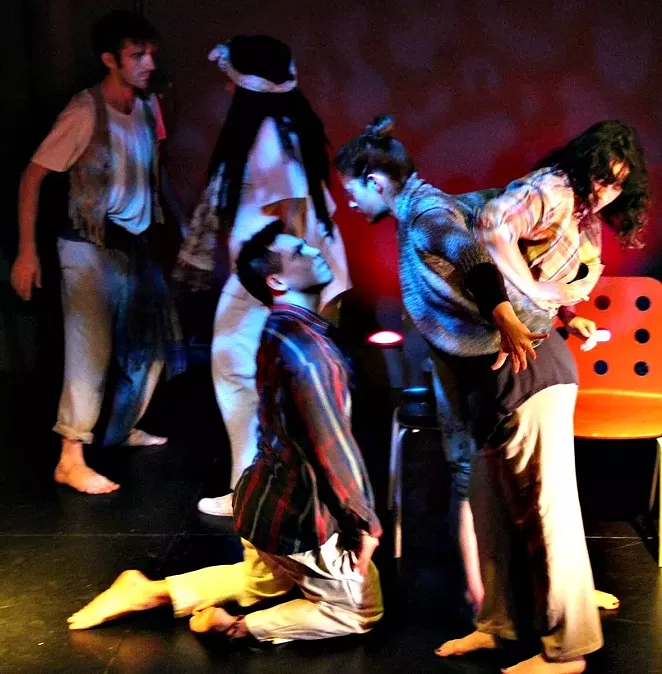 Courtesy Jump-Start Performance Co.
Fri 7/1
Troller, Filthy, Calico Club, Moze Pray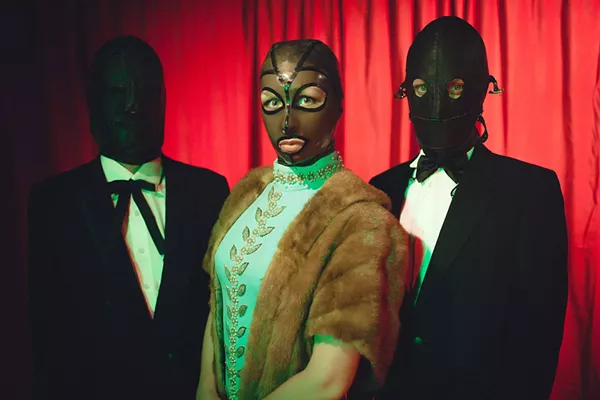 I think we've already pretty well established the fact that K23 consistently means quality in terms of far-out music to consume the kaleidoscopic night by. This show finds the trippy little rock and roll hut hosting four dark, heavy and experimental electronic acts. The ridiculously good bill features Austin's Troller (pictured), repping
Holodeck Records
with its evil-electro scream chants to vanishing, and San Anto's Calico Club, with its synth-driven schizo-disco, Filthy, with its electro/post-punk hybridism, and Moze Pray, with a decidedly femme-power take on death-dance/drone. Put on some shiny shit and pick your poison.
$5, 9pm Fri, K23, 702 Fredericksburg Road, (210) 776-5635, k23gallery.wix.com/k23tx.
— JC


Fri 7/1 - Sat /2
Black: A Comedy of Bubonic Proportions

Courtesy The Overtime Theater
The Overtime puts a new twist on black humor with its latest production, a slapstick comedy set during the peak of the bubonic plague. Between the Black Death and the Hundred Years' War, the characters of
Black
don't have much room to maneuver if they want to live, and an untimely death at Castle Binbury further complicates matters. As the men of the castle prepare to leave for war, the lady of the house tries to cover up her husband's passing with an elaborate ruse. Could such a harebrained plan really work? Lives, and worse – reputations – are at stake!
$10-$15, 8pm Fri-Sat, The Overtime Theater, 1203 Camden St., (210) 557-7562, theovertimetheater.org.
— Kelly Merka Nelson
Sat 7/2
Cilantro Boombox

Cilantro Boombox photographed by Misty McLendon
Imagine the Woodstock Santana band dosed with mescaline instead of acid and you've got a pretty solid foundation for the relentless funk of Cilantro Boombox. On their self-titled debut, the Austin octet shreds into the ether on long-form jam material, but can turn on a dime for strands of psychedelic disco-funk. Led by bassist Félix Pacheco and saxophonist Joe Woullard, the band's mold of Latin rock, Afro-Cuban rhythm and street brass has made Cilantro Boombox a nimble asset on the bill, opening for Cafe Tacuba and Willie Nelson in recent years. With Los De Esta Noche and DJ Steven Lee Moya.
$5, 9pm Sat, Hi-Tones, 621 E. Dewey Pl., hitonessa.com.

— Matt Stieb

Sat 7/2
Pride Bigger Than Texas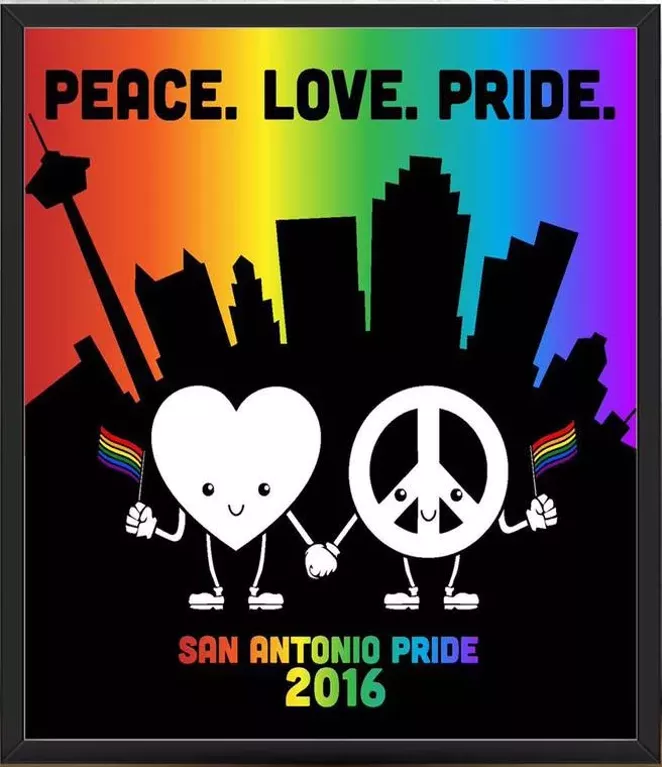 Pride Bigger Than Texas 2016 poster design by Ian Wardzinski
What was once a modest gathering in a parking lot has grown into Pride Bigger Than Texas, a vibrant celebration encompassing a festival, parade and after party on the Main Strip. Commencing with a tribute to the Orlando shooting victims, this year's festival includes a mass wedding, a gay newlywed game and entertainment from dance-pop diva Kristine W. and Pride Championship Westling. Preceded by a one-mile Rainbow Dash and the Krystal Kelly Running of the Queens High Heel Race, the 2016 Pride Parade is grand marshaled by Judge Ron Rangel and Judge Genie Wright.
Festival: $10, 11am-7pm Sat, Crockett Park, 1300 N. Main Ave. Parade: free, 9pm Sat, N. Main Ave. at Dewey Pl., pridesanantonio.org.
— Marco Aquino

Sat 7/2 - Sun 7/3
Mike Epps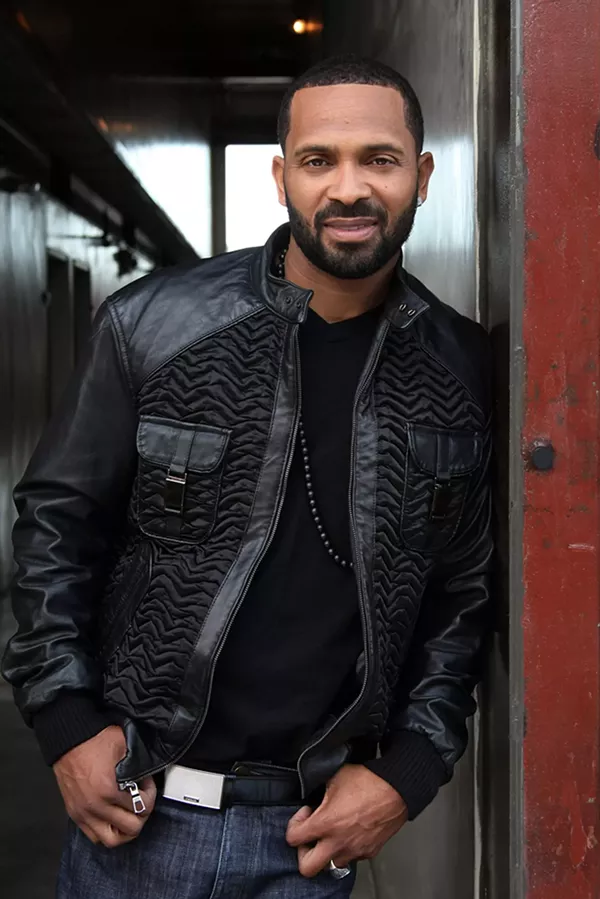 Photo courtesy Laugh Out Loud Comedy Club
"Y'all think I'm going to hell for that one?" Mike Epps asks the audience after a particularly over-the-top bit in his special
Underrated … Never Faded & X-Rated
. The response sounds like a unanimous "Yes." Whether he's raging against trade school commercials or admitting that people still call him Day-Day (his character in
Next Friday
), Epps is at his best when he's telling his profane version of the truth. If he goes to hell for that, he'll be dragging delighted audiences along with him, riffing on how sweaty his balls are the whole way down.
$35-$50, 7:30pm & 10:15pm Sat, 7pm & 9:30pm Sun, Laugh Out Loud Comedy Club, 618 NW Loop 410, (210) 541-8805, lolsanantonio.com.
— Jeremy Martin
Sun 7/3
New Edition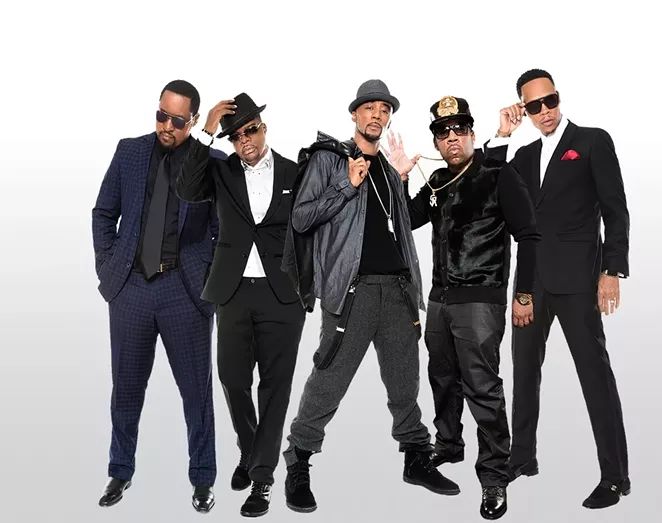 Photo courtesy Tobin Center for the Performing Arts
Let's just rip the band aid off right now: There's no Bobby Brown. The widower of the divine Ms. Houston is not touring with the ensemble that helped define the new jack swing sound also heard in groups such as New Edition offshoot Bell Biv DeVoe, Tony! Toni! Toné! and Boyz II Men. Ricky Bell, Michael Bivins and Ronnie DeVoe will be in attendance, however, and that means that not only can we expect to be serenaded with "Candy Girl" and "Cool it Now" but maybe a little "She's Dope" and surely some "Poison." BBD is in the house!
$49.50-$129.50, 8pm Sun, Tobin Center for the Performing Arts, 100 Auditorium Circle, (210) 223-8624, tobincenter.org.
— Travis Buffkin

Sun 7/3
Lone Star Beer Texas Heritage Festival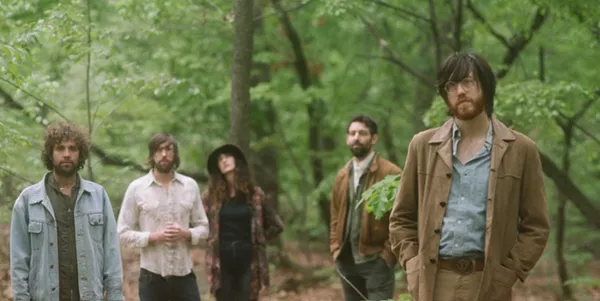 Photo courtesy Okkervil River
For the second annual Lone Star Beer Texas Heritage Festival, said National Beer of Texas and Feeding Texas (fka Texas Food Bank Network) once again join forces to bring us a sweet lineup of music. Proceeds will benefit Feeding Texas' mission to combat hunger in the Lone Star State through raising awareness and providing food relief, with the goal being ultimate food security for all. But, with tickets priced at just ten bucks a pop and a tremendous bill of performers, you don't exactly have to be a full-fledged philanthropist to get behind this cause. This year's performers include two acts with highly-anticipated albums on the way, Okkervil River and Shovels & Rope, one act with a recently released solo foray, Matthew Logan Vasquez of Delta Spirit, and one of Saytown's most beloved homegrown originals, Girl in a Coma.
$10, 8pm Sun, Aztec Theater, 104 N. St. Mary's St.,
(210) 812-4355,
feedingtexas.org/heritagefestival.
— James Courtney
Click
here
for our full preview of Lone Star Beer Texas Heritage Festival.