Whether you call it Lone Star, SoFlo, Southtown The Arts District (STAD), or maybe — and quite likely — none of the above, that up-and-coming enclave around South Flores Street and Lone Star Boulevard comes to life in living color on Second Saturday — First Friday's irreverent little sibling. Following: nine shows worth checking out this weekend, including one wild card that further blurs Second Saturday's geographic stomping grounds.
Sat 7/9
"BEARS BEARS BEARS"




Citing the discovery of a bear statue "fashioned some 15,000 to 20,000 years ago," director Oana R. Ghiocel's 2015 documentary
The Bear Cult
reminds viewers that "the lion was not always king." Admittedly concerned by "ecosystems and the histories we are writing," environmentally focused local artist Carol Cunningham charts a creative exploration into bears as a creature that inadvertently connects "powerful gods and celestial beings" with nighttime protectors and plush commodities. Focusing on 20th-century interpretations of the genus Ursus, Cunningham's "BEARS BEARS BEARS" takes shape in a window-oriented installation encompassing audio and visual works enhanced with living pine trees.
Free, 3-6pm Sat, Clamp Light Artist Studios and Gallery, 1704 Blanco Road, Suite 104, (620) 218-1568, clamplightsa.com.
Sat 7/9
Brian Phillips




Blurring lines between carpentry and collage, Austin-based artist Brian Phillips' signature woodcut works conjure jigsaw puzzles and crazy quilts built with bits of upcycled trim, floorboards, rulers, paintbrush handles and — in the case of his piece
Hoosiers
— a gymnasium floor. In keeping with his mantra "One man's junk pile is another man's art supplies," Phillips' latest promises "layers and layers of paint drips, scrapes, nail holes and repurposed items," not to mention "special collaborations" with Bobby Dixon and Tim Kerr.
Free, 7-11pm Sat, Dorćol Distilling Co., 1902 S. Flores St., (210) 229-0607, dorcolspirits.com.
Sat 7/9
"Cancerian"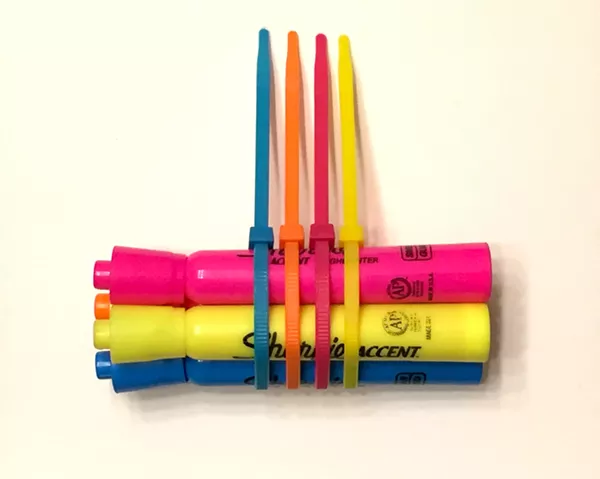 Norbert Clyde Martinez, Jr.
Born in Houston and raised in San Antonio, multidisciplinary artist and educator Norbert Clyde Martinez, Jr. draws creative inspiration from familial rituals, archetypal images, religion and mythology. Curated by Nina Hassele and co-presented by R Space and Contemporary Art Month, Martinez's solo show "Cancerian" showcases work that "simultaneously espouses clarity of ritual and mythology through pattern recognition and, at times, through coercion of media exploration."
Free, 7-10pm Sat, R Space, 110 E. Lachapelle, (210) 793-8899, facebook.com.
Sat 7/9
"CARNALISMX COLLABORATIVE"


Uniting seven queer artists from Texas, Mexico, Canada and the Pacific Northwest, the group show "CARNALISMX COLLABORATIVE" brings together distinct perspectives from the within the LGBTQ community via sculptural, digital, and musical works by Xicanx poet/musician Polly Anna Rocha, sculptor/fiber artist Leticia R-Z, multimedia artist Jose Villalobos, video/print/performance artist Steven Hector Gonzalez, artist/musician/dreamcaster Peggy Sisouvong, comic artist/illustrator/storyteller Ronnie Rene Ritchie and interdisciplinary artist/curator Michael Martinez.
Free, 7-10pm Sat, Freight Gallery & Studios, 1913 S. Flores St., (210) 331-4382, facebook.com
.
Sat 7/9
"Cascarones"


In the world of Enrique Martinez's vivid paintings and drawings, our contemporary fears, confusions, contradictions and obsessions are mutated into Burroughsian nightmares that seem to seethe and squirm before our eyes. In works that are bursting with radical, often grotesque, always-colorful images, Martinez tinkers with a "universe in which all victories are pyrrhic" and our tangled mess of a society knows no redress and expects no redemption. With his solo show "Cascarones," Martinez strives to depict the way in which our basest instincts seem to have run amok with our political, cultural and social existences.
Free, 7-10pm Sat, Studio Fantomas, 1906 S. Flores St., (210) 978-6663, facebook.com/studiofantomas201.
Sat 7/9
"Make or Break"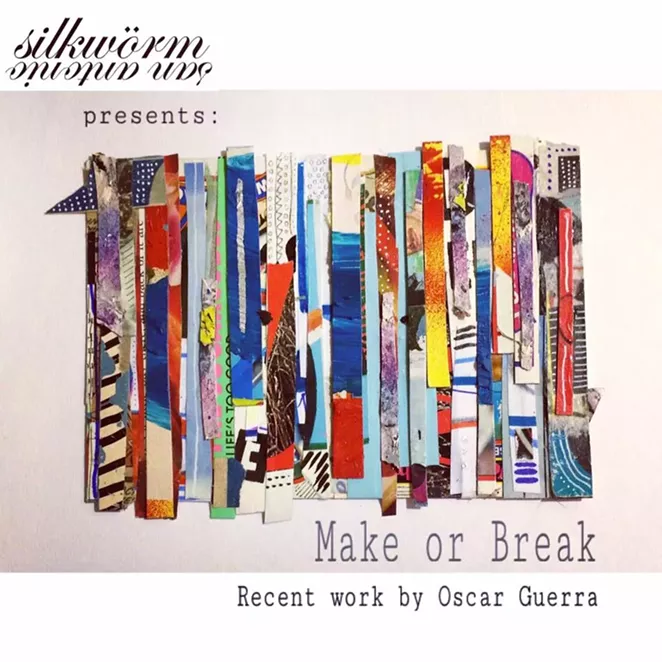 Known for poppy, abstract paintings and bold collages incorporating found objects, Austin-based artist Oscar Guerra takes over Silkwörm Studio and Gallery with an exhibition of recent works.
Free, 7-11pm Sat, Silkwörm Studio and Gallery, 1906 S. Flores St., facebook.com.
Sat 7/9
"The Visualization of Music"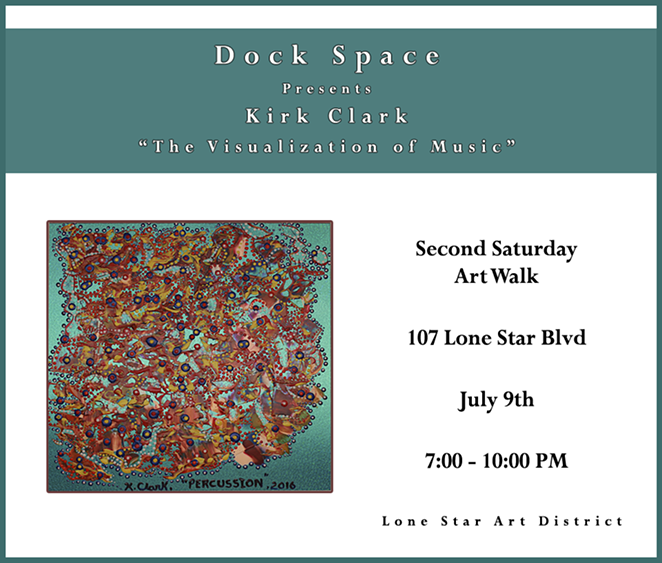 Bill FitzGibbons' gallery Dock Space hosts an exhibition for Kirk Clark, a McAllen native known for paintings, drawings, totemic sculptures, monoprints and poetry written in the ancient Chinese style of Bagua.
Free, 7-10pm Sat, Dock Space, 107 Lone Star Blvd.
Sat 7/9
"Three Hail Marys, Two Our Fathers"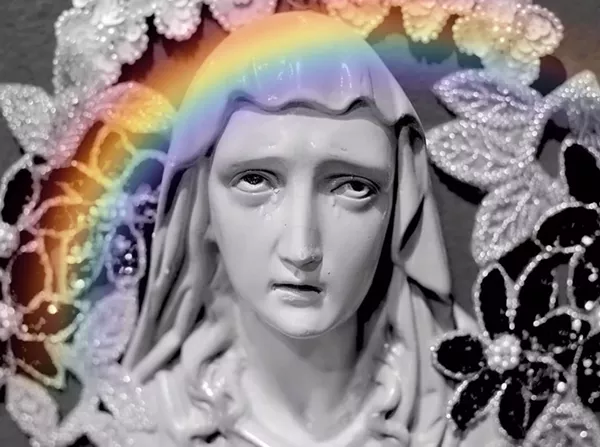 Picking up in the sacred/profane space occupied by her MFA thesis exhibition at the University of Arizona Museum of Art, artist and printmaker Lisette Chavez's latest plumbs the depths of the religious psyche at precisely the spot where universal sanctity meets personal neurosis. Combining objects, icons, trinkets and other curiosities to create a shrine-like space, Chavez states that her intention is to "convey the unease between purity, seduction and evil." From blinged-out religious relics to ritualistic drawings, her "Three Hail Marys, Two Our Fathers" calls us to reimagine our spiritual landscaping.
Free, 7-10pm Sat, Provenance Gallery, 1906 S. Flores St., (210) 216-8362, facebook.com/provenancegallery.
Sat 7/9
"White Hot"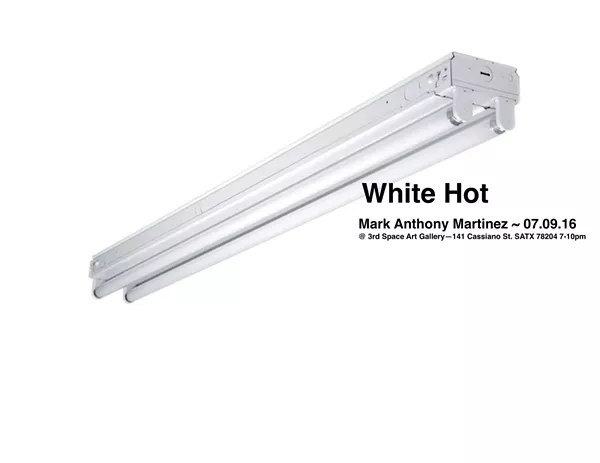 Local artist Mark Anthony Martinez unveils a time-sensitive installation addressing race-based oppression.
Free, 7-10pm Sat, 3rd Space Art Gallery, 141 Cassiano St., (210) 422-7134, facebook.com/3rdspaceartgallery.