Tue 7/19
The Two Tens


Comprised of Adam Bones and Rikki Styxx, the L.A.-based duo The Two Tens brings a lethal dose of pulsating garage punk to the Mix as part of their Hashtag Volume Tour. Local Chicana punk quartet/Girl in a Coma spinoff FEA round out the bill.
Free, doors at 8pm Tue, The Mix, 2423 N. St. Mary's St., (210) 735-1313, themix-sa.com
.
Wed 7/20
Free Art Classes

Cortez Branch Library invites veterans, seniors, job seekers and aspiring artists to tap into their creative side with a free art class. Led by Ukwanni Warumbe, Wednesday's class sheds light on stress-relieving painting techniques that will "help free the mind and immerse you into a freeing atmosphere of creativity." Space is limited, sign up at the Cortez Learn Center.
Free (materials provided), 2:30pm-3:30pm Wed, Cortez Branch Library Meeting Room, 2803 Hunter Blvd., (210) 207-9130,
mysapl.org
.
Fri 7/22
Janet Kaplan & Tim Z. Hernandez<!——EndFragment——>

Enjoy a special evening with poet Janet Kaplan and novelist Tim Z. Hernandez on the Viva Tacoland patio. Part of the Gemini Ink Writers Conference, the open-air reading also features presentations by local poets Wendy Barker and Bryce Milligan, a book signing, live music, and food and drinks available for purchase.
Free, 7pm Fri, Viva Tacoland, 103 W. Grayson St., (210) 223-8406
,
geminiink.org.
Fri 7/22
The Force Awakens


Slab Cinema hosts a free outdoor screening of director J. J. Abrams'
Star Wars: The Force Awakens
. The seventh installment in the Star Wars franchise, the 2015 film picks up 30 years after the defeat of the Galactic Empire as a new threat arises from the evil Kylo Ren (Adam Driver) and the First Order. With the help of Rey (Daisy Ridley), Han Solo (Harrison Ford) and the Resistance set out to locate Luke Skywalker (Mark Hamill), the last of the Jedi Knights.
Free, 8pm Friday, Nature Trailhead Park, 250 Viesca St., slabcinema.com.
Sat 7/23
Book Signing with Jenn Mendiola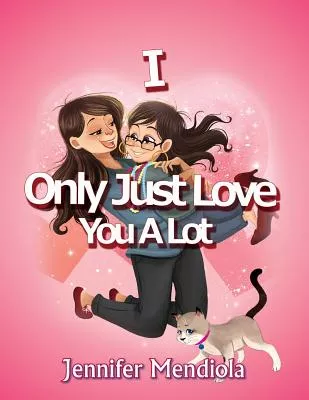 UTSA grad Jennifer Mendiola visits the Twig for a sit-and-sign event in support of
I Only Just Love You a Lot
, a self-published children's book about the dynamic between young Izabella, her mother and the new family pet. Event proceeds benefit
Operation Freeze 'Em
— a GoFundMe campaign for Mendiola's friend Rae Ann Reyna.
Free, 11am Sat, The Twig, 306 Pearl Parkway Suite 106, (210) 824-2611, thetwig.com.
<!——EndFragment——>
Sat 7/23
Briscoe Blast! National Day of the Cowboy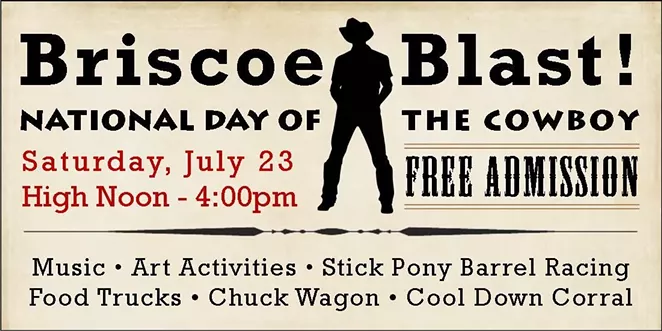 Dust off your cowboy boots and join the Briscoe Western Art Museum in celebrating National Day of the Cowboy with their second annual Briscoe Blast! Attendees can enjoy live music, museum tours and art-making activities alongside local organizations such as San Anto Cultural Arts, The Lullwood Group, Make San Antonio and the San Antonio Public Library.
Free, noon-4pm Sat, The Briscoe Western Art Museum, 210 W. Market St., (210) 299-4499
,
briscoemuseum.org.
Sat 7/23
"All School Exhibition"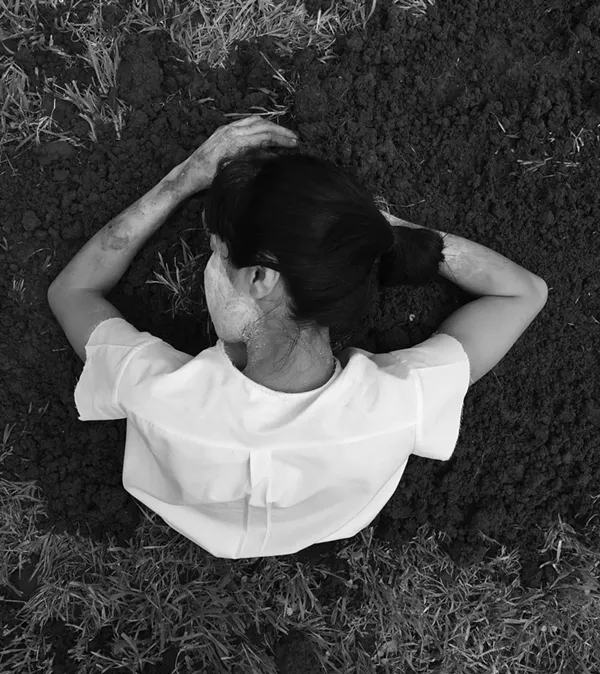 Lauri Garcia Jones, Untitled [detail], 2015, video still
Currently serving as deputy director of exhibitions at the Taubman Museum of Art in Roanoke, Virginia, Amy Moorefield acts as juror for the 2016 edition of the Southwest School of Art's "All School Exhibition," which showcases recent works by students and studio artists who have participated in SSA workshops, classes and programs.
Free, 2-4pm Sat, Southwest School of Art, 1201 Navarro St., (210) 224-1848, swschool.org.
Sat 7/23
Closing reception: "Three Hail Marys, Two Our Fathers"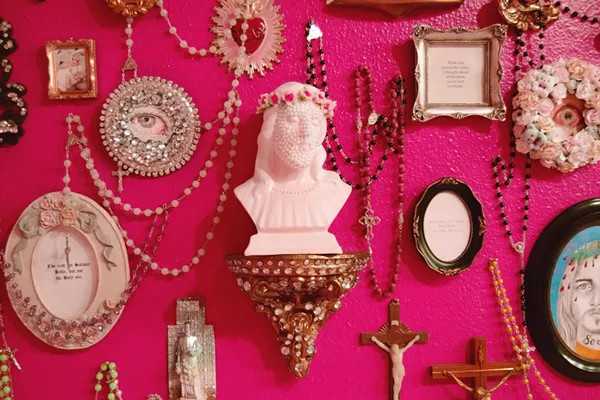 Provenance Gallery gives art lovers one last chance to view artist Lisette Chavez's installation of blinged-out religious relics and ritualistic drawings and celebrates the release of her new zine
Men Who Look Like Satan
.
Free, 5-8pm Sat, Provenance Gallery, 1906 S. Flores St., (210) 216-8362, facebook.com.
Sun 7/24
Free Family Day: Summer Spectacular!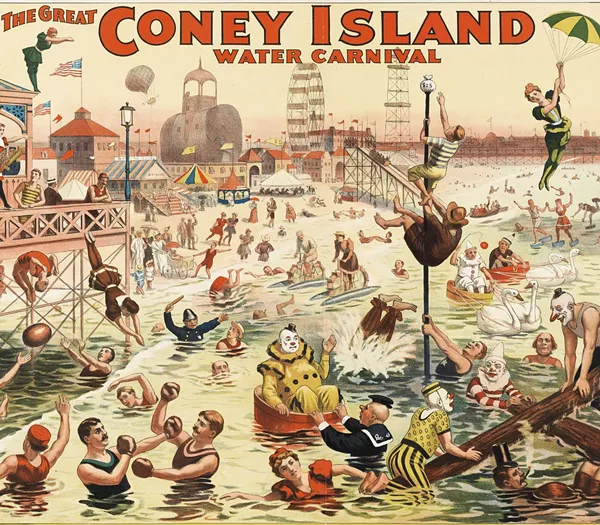 The McNay opens its doors for a vintage-inspired family day featuring circus performers, artsy activities and free admission to "Coney Island: Visions of an American Dreamland, 1861–2008."
Free, 1-4pm Sun, McNay Art Museum, 6000 N. New Braunfels Ave., (210) 824-5368, mcnayart.org.
Sun 7/24

Deco Fiesta

Local artisans, vendors, musicians, performers, youth-oriented organizations and local Tejano heroes Little Joe y La Familia come together for a festival celebrating the "cultural, economic and social vitality of the Deco District."
Free, noon-10pm Sun, Network for Young Artists, 1800 Fredericksburg Road, (210) 226-5611, decofiesta.org.