Thu 8/4 - Fri 8/5
"Cordova's Cabinet of Curiosities"

As an independent curator, Ruben C. Cordova made a memorable statement in 2015 by staging a four-venue retrospective compiling nearly all 150 large-scale paintings in late Chicano artist Mel Casas' epic
Humanscapes
series. Host to the earliest portion (dubbed "Sex and Cinema with Mel Casas, 1965-1968"), Justin Parr and Ed Saavedra's FL!GHT Gallery now opens the doors to "Cordova's Cabinet of Curiosities," an exhibition and sale of works the art historian, photographer and educator collected over several decades. In addition to paintings, photographs, memorabilia and Día de los Muertos objects, the items up for grabs include "rare and not-so-rare" Mexican, U.S. and Belgian posters for such films as
Blade Runner
,
Goldfinger
and
Creature from the Black Lagoon
.
Free, 7-10pm Thu-Fri, FL!GHT Gallery, 134 Blue Star, (210) 872-2586, facebook.com/flightsa.
Thu 8/4 - Fri 8/5
"Broken Lens" & "Splitsplice"




Kirsten Reynolds, Detail of Splitsplice
Despite a temporary closure for a facelift that entails a new front staircase, large glass doors and an extended awning, this is turning out to be a big summer for Blue Star Contemporary, which recently received a $100,000 grant from The Andy Warhol Foundation for the Visual Arts to support exhibitions over the next two years. Operating out of a satellite space formerly occupied by Joan Grona Gallery, BSC welcomes August with a pair of shows conceptually grounded in architecture. The culmination of Thomas Cummins' experience as a Blue Star Contemporary Berlin Resident at Künstlerhaus Bethanien, "Broken Lens" sees the local artist exploring "how individuals begin to define themselves throughout surrounding social structures" via photographs created through a broken camera lens. Marking New Hampshire-based sculptor and printmaker Kirsten Reynolds' first solo show in Texas, "Splitsplice" throws an odd wrench in the works through a site-specific installation of "remnants from architectural structures of unknown origin."
Free, 6-9pm Thu-Fri, 112 Blue Star, (210) 227-6960, bluestarart.org.


Thomas Cummins, Detail of Berlin-Gesundbrunnen & Volkspark Humboldthain
Thu 8/4 - Fri 8/5



"The Impermanence of Flowers Makes Them More Beautiful"
Inspired by proverbs, calligraphy and her own poems, artist Mayuko Ono Gray's latest series of graphite drawings intertwines Japanese characters with images of people, animals and objects.
Free, 6-9pm Thu-Fri, noon-5pm Sun, Terminal 136, 136 Blue Star, (210) 458-4391, art.utsa.edu.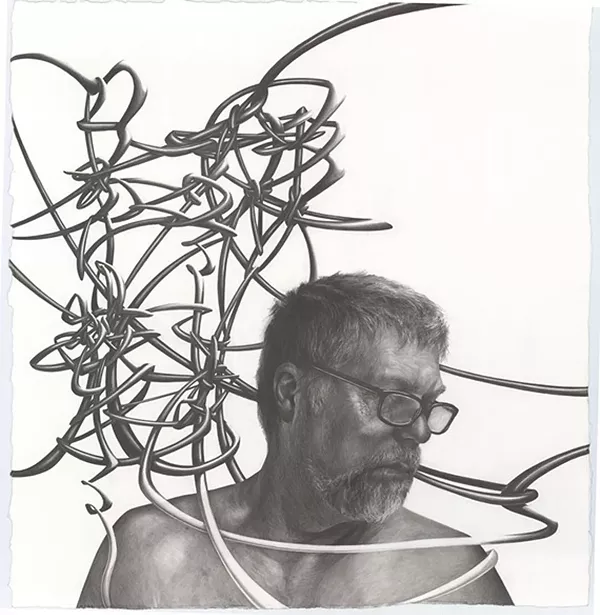 Thu 8/4 - Fri 8/5
"Christina Is a Coward" & Disappointments Are Revealed at Samantha and Rebecca's Slumber Party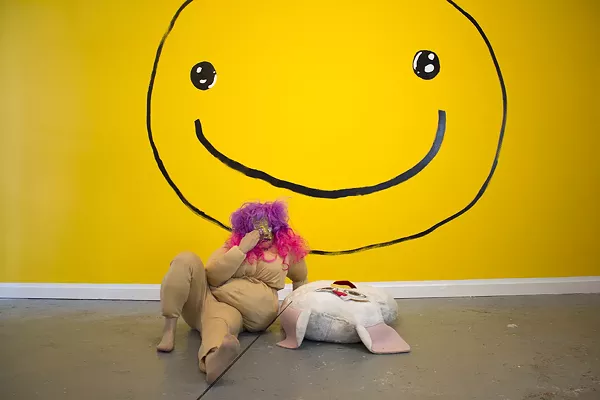 San Antonio artist Megan Solis, who just graduated in May with a Bachelor's of Fine Arts from the University of Texas at San Antonio, is the present resident at Hello Studio in the Blue Star Arts Complex. Her current exhibition — which continues in the vein of her recent sugary/grotesque, highly-personal inquiries into the manifold nature of dissatisfaction, fear, and anxiety — is entitled "Christina Is a Coward." Through a blend of performance, collage and assemblage of objects, Solis explores social anxiety, the transformative possibilities of failed relationships, and the hollow, performative nature of happiness and the pursuit of happiness. To augment the experience of the physical exhibition (curated by Alana Coates), Solis planned an accompanying trio of in-gallery performances, the last of which you can still catch. Solis told the Current that this last performance (titled
Disappointments Are Revealed at Samantha and Rebecca's Slumber Party
) will "finalize the failure and disconnection of romantic relationships by creating a ritual of them." If you didn't catch the first performances, no need to fret. Solis explained that the pieces are only loosely linked and that the sense of "confusion and even revulsion to the performances" is as welcome as empathy for the characters therein. If this all sounds new, but totally badass to you, plan to attend a closing reception/viewing for the show on Thursday and the final performance on Friday night. Following the receptions, the exhibition remains on view by appointment through August 15.
Free, 6-9pm Thu-Fri (performance at 8:30pm Fri), Hello Studio, 1420 S Alamo St, (210) 291-8640, hellostudiosa.com.


Megan Solis, We Are Just Peachy, Thanks
Fri 8/5
"Birds of a Feather"


Alex Rubio curates new works by Ashley Perez, a multimedia artist, UTSA grad and SAY Sí alum who now runs the nonprofit's middle school and high school visual arts programs.
Free, 7-10pm Fri, Rubio Gallery South, Southtown Flats, 111 Probandt St., (210) 793-8899, facebook.com.
Fri 8/5
Closing reception: "Terraforms"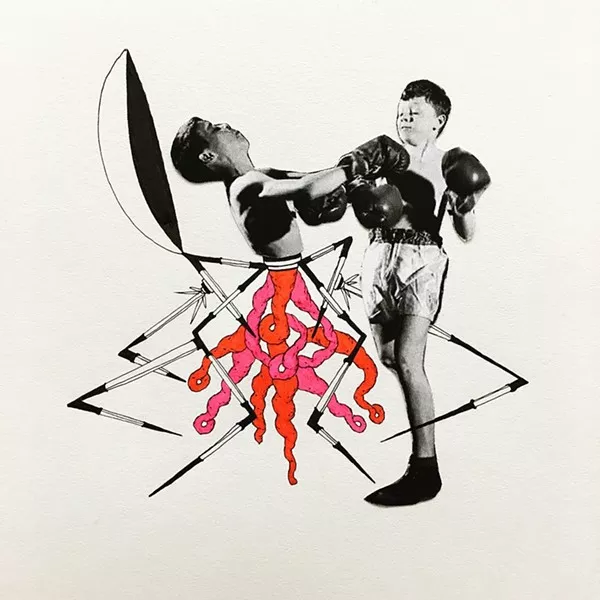 Multidisciplinary artist Louie Chavez reactivates his street-smart art space Plazmo Contemporary as a pop-up at R Gallery. Addressing modifications to the atmosphere and surface topography, "Terraforms" unites pop surrealist Sergio Mata, fashion designer Angie Riojas, musician/video artist Ryan McNight, illustrator Adriana Mendez, graphic artist Justo Cisneros and zinester Blair Wilson.
Free, 7-11pm Fri, R Gallery, 725 S. Presa St., (210) 862-8875, facebook.com/rgallerystx.