Thu 8/11
Kim Chi


Although
RuPaul's Drag Race
is praised for bringing drag to the masses, it is not without critics who say the show often rewards the use of racial stereotypes among its contestants. Refusing to give into such antics, season eight's Kim Chi described herself as a "7-foot-tall, live action anime character," preferring to draw from contemporary Asian culture instead. Along with her elaborate makeup and high-fashion looks, her embrace of the terms "fat, fem, and Asian" endeared her to audiences around the world and earned her a spot in the top three. While her message of self-love resonated with viewers, she still raised more than a few eyebrows when she confessed to being a virgin and that her mother doesn't know she's gay.
$10-$25, 10:30pm & midnight Thu, Heat Nightclub, 1500 N. Main Ave., (210) 227-2600, reylopezentertainment.com.
— Marco Aquino




Thu 8/11
Clint Black

Clint Black What's that godawful bumper sticker say — I wasn't born in Texas but I got here fast as I could? For guitarist Clint Black, his parents made sure of it, moving from his birth state of New Jersey to the Lone Star state before his first birthday. For Black, nurture trumps nature — the twangy hits of boozy details of his 1989 debut
Killin' Time
are as East Texas country as any Jerry Jeff or Robison brother. Three decades into his career, Black is still trucking on with a lick-heavy sound and a good-times attitude, one interspersed with the occasional jealous-again drinking-on-the-porch tune.
$34.50-$59.50,7:30pm, Tobin Center for the Performing Arts, 100 Auditorium Circle, (210) 223-8624, tobincenter.org.
— Matt Stieb

Thu 8/11 - Sun 8/14
B.I.G. Salsa Festival

For its fifth year, the Baile International Grand festival celebrates the great pan-American music of salsa — the collaboration of Cuban and Puerto Rican rhythms and the funk and jazz of New York. Over 30 industry talents
y sus orquestas
come ripping through the Grand Hyatt this weekend, among them bandleaders Ray De La Paz and Jimmy Bosch, holdovers from the band of Fania deity Ray Barretto. Closing out the bash on Sunday, '80s star and full-bodied baritone Tito Nieves performs, one of a handful of major salsa stars to sound as good as he does in English as in Spanish.
$30-$280, 6pm-2am Thu, 10am-2am Fri, 8am-2am Sat, 8am-2am Sun, Grand Hyatt San Antonio, 600 E. Market St., (210) 224-1234, bigsalsafestival.com.
— MS

"Evaporándome Lentamente" & "El Color de la Obra"


Galería Guadalupe showcases an installation of repurposed materials embroidered with Spanish-language sayings (Daniela Cavazos Madrigal's "Evaporándome Lentamente") and a series of photographs and sculptures referencing the history of cotton manufacturing along the U.S.-Mexico border (Jenelle Esparza's "El Color de la Obra").
Free, 6-9pm Fri, Galería Guadalupe, 723 S. Brazos St., (210) 271-3151, guadalupeculturalarts.org.




Fri 8/12 - Sat 8/13
Ghostbears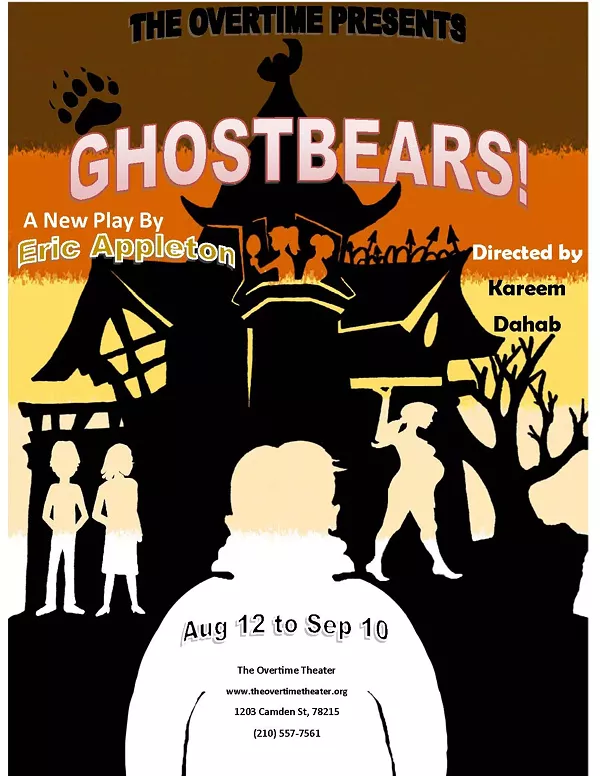 While it champions Texas-bred productions, the wild and wacky Overtime Theater also stages offbeat works concocted by like-minded playwrights from across the nation. Given his track record fusing Goth culture, Netflix fandom and David Attenborough-inspired nature docs (
Among the Squirrels
), not to mention setting a Greek myth in a 1950s-era Arizona diner (
Iphigenia in Kingman
), it's safe to say Wisconsin-based gay playwright Eric Appleton is a promising fit for San Antonio's "theater for the people." Set in his home state, Appleton's new offering
Ghostbears
follows Ted Meriwether, a "burly, bearded" guy who ditches his condo and buys an old house in the middle of "rural nowhere" after getting dumped by his longtime boyfriend. Beyond the distractions of a pregnant pizza delivery girl and a potential new bear boyfriend, Meriwether's newfound country life gets disrupted when paranormal investigators barge into his purportedly haunted house in search of an axe-wielding ghost and a "devil baby." Kareem Dahab directs Robert Cardoza Jr., Sylvie Flournoy and Jonathan Schell in the world premiere.
$10-$15, 8pm Fri-Sat, The Overtime Theater, 1203 Camden St., (210) 557-7562, theovertimetheater.org.
— Bryan Rindfuss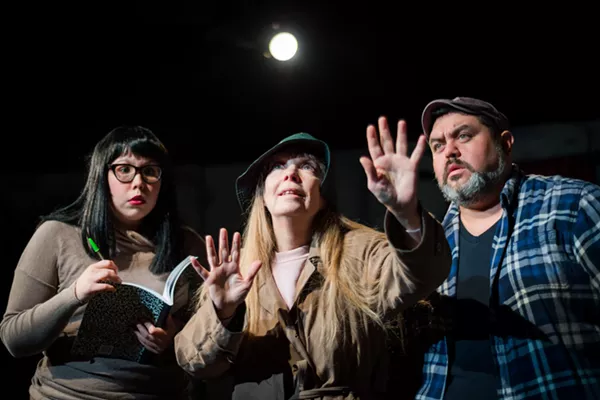 Courtesy of The Overtime Theater
Fri 8/12 - Sun 8/14
Carlos Mencia


Courtesy of Carlos Mencia
The first time the
Current
interviewed stand-up comedian Carlos Mencia was in 2010, a year after
Southpark
aired an episode featuring an animated version of the former
Mind of Mencia
star being beaten to death for stealing jokes — a charge he's had to defend for more than a decade. "If somebody doesn't want to like me, they're going to find an excuse not to like me," he told us at the time. During our 2014 interview, Mencia opened up to us about how depressed he became because of those allegations. "I would think things like, 'Man, I could get a gun right now and go to a comedy club and shoot all the comedians.'" During our most recent interview last year, Mencia told us he had "evolved as a human being and a comedian" and had "gotten funnier." We haven't had a chance to jump on the phone with Mencia in 2016, but with an upcoming stand-up special airing on Comedy Central this December called
New Territories
, it seems he's ready to share a fresh perspective on his life and career.
$25-$45, 7:30pm & 10:15pm Fri, 7pm, 9:15pm & 11:30pm Sat, 7pm Sun, Laugh Out Loud Comedy Club, 618 NW Loop 410, (210) 541-8805, lolsanantonio.com.
– Kiko Martínez
Fri 8/12 - Sat 8/13
Evita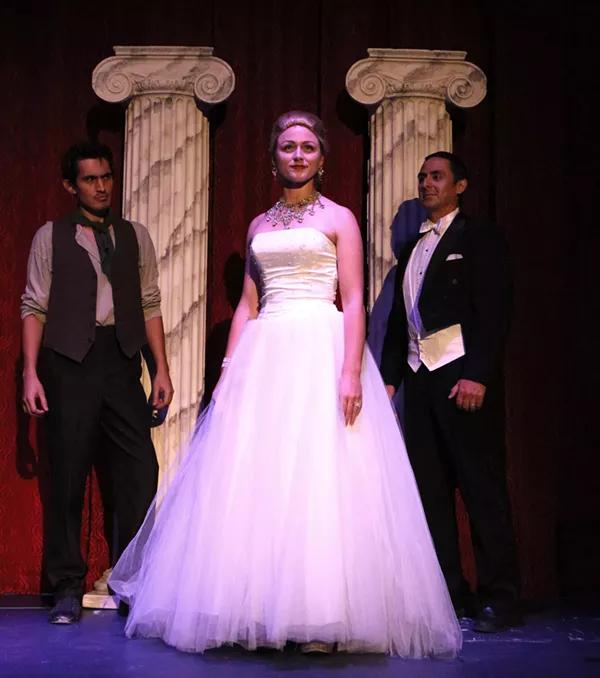 Courtesy of Woodlawn Theatre
The Woodlawn brings Andrew Lloyd Webber's award-winning musical
Evita
to its stage under the direction of Christopher Rodriguez and Josh Pepper. Controversially immortalized in a film starring Madonna in the title role,
Evita
chronicles the life of the charismatic first lady of Argentina, Eva Perón, who rose from childhood poverty to become a powerful voice for change in Argentine politics. The musical follows her trajectory from a young starlet in Buenos Aires to a Vice Presidential candidate, underpinning her story with a score inflected by jazz, pop and Latin music. If you can afford to have "Don't Cry for Me, Argentina" in your head for the next week (which isn't really such a bad thing), this production is definitely worth checking out.
$17-$26, 7:30pm Fri-Sat, 3pm Sun, Woodlawn Theatre, 1920 Fredericksburg Road., (210) 267-8388, woodlawntheatre.org.
— Kelly Merka Nelson

Sat 8/13
"Gravelmouth Presents: Ed Saavedra"


After quoting George Orwell's 1984 antagonist on the future ("…imagine a boot stamping on a human face — forever"), Nixon aide and Watergate co-conspirator John Ehrlichman on the war on drugs ("… by getting the public to associate the hippies with marijuana and blacks with heroin, and then criminalizing both heavily, we could disrupt those communities"), and Justice Sonia Sotomayor on Utah v. Strieff ("We must not pretend that the countless people who are routinely targeted by police are 'isolated'"), Ed Saavedra gets to the personal root of his latest artist's statement: "As an adult, I had been mistreated by law enforcement many times, but never dreamed I would be the victim of gratuitous violence while face down on the ground with arms and legs outstretched." Exploring police misconduct in a variety of contexts since 2003 (via
Still Life with Bacon
, a large-scale painting of two male sheriff's deputies with large breasts attending a Confederate family reunion), Saavedra accepted curator/gallery owner David "Shek" Vega's invitation to expand on the theme for an exhibition of works created over the last five years. Combining the traditional with the unexpected (from silkscreen and wood to coasters, targets and even a shower curtain), the timely solo show portrays cop cars as predatory beasts with menacing teeth while employing text, audio and less-obvious devices to directly reference Charles Kinsey, Alton Sterling, Eric Garner and Marquise Jones, among others.
Free, 7-10pm Sat, Gravelmouth, 1906 S. Flores St., gravelmouthgallery.com.
— BR


Sat 8/13
"Son Tus Niños También: Trans Kids Back To School"


It's back-to-school time once again, and parents are rushing to gather school supplies, uniforms and/or tuition for the coming school year. Additionally, some parents and guardians are having to take extra precautions this time around to ensure their transgender child is able to navigate school halls and bathrooms safely and affirmingly in light of transphobic rhetoric that attempts to dominate the transgender conversation. To assist in the daunting and otherwise scary transition, the Esperanza Peace and Justice Center will host "Son Tus Niños También: Trans Kids Back to School," a plática, parent panel and workshop for parents of trans students, their children and teachers. Part of the Esperanza's Queer Corazones Series, the workshop will include speakers ranging from legal experts to school administrators to counselors in an attempt to encompass the legal, operational and social concerns that arise when trans students return to school. Former City Councilwoman Patti Radle, current president of the board of trustees of San Antonio Independent School District, will take part in the discussion. The parent panel will include Elinor Goodwin, Dustin Metzler, Marlo Bearden, Belinda Treviño and Lori Ann Castillo. Advocacy and acceptance will be among the themes discussed throughout the event. Allies are welcome.
Free, 6-9pm Sat, Esperanza Peace and Justice Center, 922 San Pedro Ave., (210) 228-0201, esperanzacenter.org.

— Polly Anna Rocha

Sat 8/13
"Momento"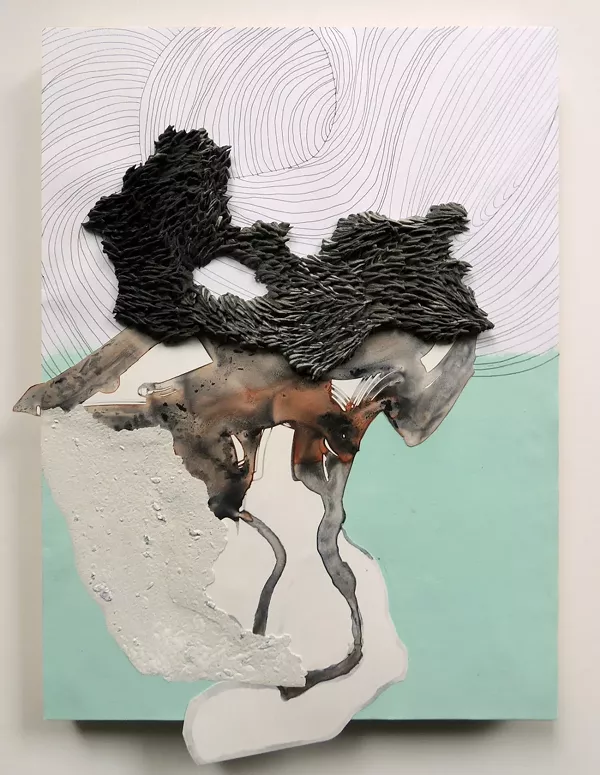 Andrea Reyes, Momento No. 6
After hosting Lisette Chavez's stunning "Three Hail Marys, Two Our Fathers" show in July, Provenance Gallery will feature abstract painter Andrea Reyes' new show "Momento" for the month of August. Born in Piedras Negras, Mexico, and now based in San Antonio, Reyes learned to draw, sculpt and paint at a young age. Now, years later, with several exhibitions, some teaching experience, and a BFA in painting under her belt, Reyes creates works that seem to effortlessly combine the whole of her training and experience. Broody and earthy, her three-dimensional paintings imply a sense of touch while hinting at secrets yet to be revealed. Powerful explorations of dimension and tonality, these ruminative paintings also use color to accentuate the sense of motion and mood.
Free, 7-10pm Sat, Provenance Gallery, 1906 S. Flores St., (210) 216-8362, artandprovenance.blogspot.com.
— James Courtney

Andrea Reyes, Tacto No. 9