Fri 8/12
Art Party: Black and White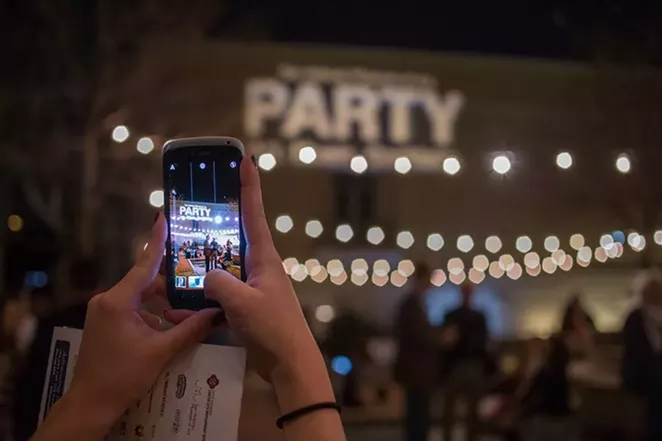 The August edition of SAMA and KRTU's Art Party series includes tours of the museum's collections (5:30pm, 6:15pm and 7:15pm), specialty cocktails by Blue Box (cash bar), art-making activities, live music by the Jim Cullum Jazz Band, catering by Sketch and artisan paletas by Pop'topia Pops.
$5-$10, 6-8pm Fri, San Antonio Museum of Art, 200 W. Jones Ave., (210) 978-8100, samuseum.org
.
Fri 8/12
"Dancing with Shadows"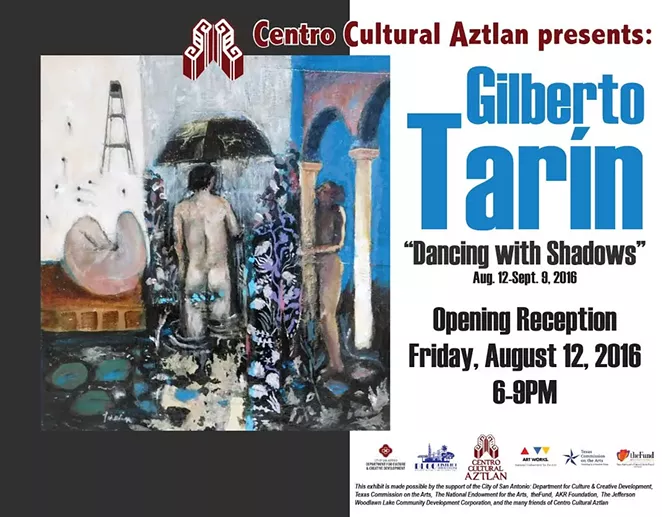 An accomplished artist represented in the personal collections of Luis Echeverría and President Jimmy Carter, Gilbert Tarin presents a series of surrealist paintings and mixed-media works dealing with the conflicts and turmoil of the Vietnam War.
Free, 6-9pm Fri, Centro Cultural Aztlan, 1800 Fredericksburg Road, (210) 432-1896, centroaztlan.org.
Fri 8/12
"Evaporándome Lentamente" & "El Color de la Obra"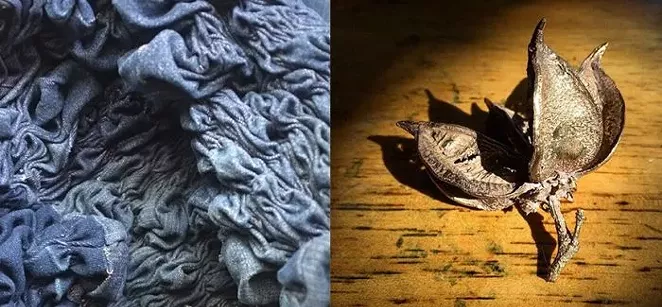 Galería Guadalupe showcases an installation of repurposed materials embroidered with Spanish-language sayings (Daniela Cavazos Madrigal's "Evaporándome Lentamente") and a series of photographs and sculptures referencing the history of cotton manufacturing along the U.S.-Mexico border (Jenelle Esparza's "El Color de la Obra").
Free, 6-9pm Fri, Galería Guadalupe, 723 S. Brazos St., (210) 271-3151, guadalupeculturalarts.org.
Fri 8/12
"Integrated Expressions"



Highwire unveils a group show featuring works by Alexandra Nelipa, David Anthony Garcia, Maria Jessica Alvarado and Cindy Palmer.
Free, 6-9pm Fri, Highwire Art Gallery, 326 W. Josephine St., (210) 827-7681, highwirearts.com.
Sat 8/13
Brian Phillips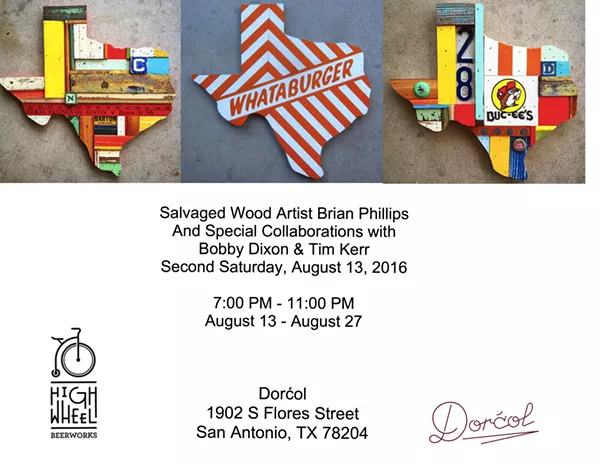 Blurring lines between carpentry and collage, Austin-based artist Brian Phillips' signature woodcut works conjure jigsaw puzzles and crazy quilts built with bits of upcycled trim, floorboards, rulers, paintbrush handles and — in the case of his piece
Hoosiers
— a gymnasium floor. In keeping with his mantra "One man's junk pile is another man's art supplies," Phillips' latest promises "layers and layers of paint drips, scrapes, nail holes and repurposed items," not to mention "special collaborations" with Bobby Dixon and Tim Kerr.
Free, 7-11pm Sat, Dorćol Distilling Co., 1902 S. Flores St., (210) 229-0607, dorcolspirits.com.
Sat 8/13
"Efficiency & Aesthetics"


Exploring the gap between design and fine art, artist Sarah Sauer creates both minimal porcelain works and abstracted architectural prints.
Free, 7-9pm Sat, Flax Studio, 1906 S. Flores St., (909) 518-2245, facebook.com/flaxstudio.
Sat 8/13
"Gravelmouth Presents: Ed Saavedra"


After quoting George Orwell's
1984
antagonist on the future ("…imagine a boot stamping on a human face — forever"), Nixon aide and Watergate co-conspirator John Ehrlichman on the war on drugs ("… by getting the public to associate the hippies with marijuana and blacks with heroin, and then criminalizing both heavily, we could disrupt those communities"), and Justice Sonia Sotomayor on Utah v. Strieff ("We must not pretend that the countless people who are routinely targeted by police are 'isolated'"), Ed Saavedra gets to the personal root of his latest artist's statement: "As an adult, I had been mistreated by law enforcement many times, but never dreamed I would be the victim of gratuitous violence while face down on the ground with arms and legs outstretched." Exploring police misconduct in a variety of contexts since 2003 (via
Still Life with Bacon
, a large-scale painting of two male sheriff's deputies with large breasts attending a Confederate family reunion), Saavedra accepted curator/gallery owner David "Shek" Vega's invitation to expand on the theme for an exhibition of works created over the last five years. Combining the traditional with the unexpected (from silkscreen and wood to coasters, targets and even a shower curtain), the timely solo show portrays cop cars as predatory beasts with menacing teeth while employing text, audio and less-obvious devices to directly reference Charles Kinsey, Alton Sterling, Eric Garner and Marquise Jones, among others.
Free, 7-10pm Sat, Gravelmouth, 1906 S. Flores St., gravelmouthgallery.com.

Sat 8/13
"Inner Workings: Contending with Things Unseen"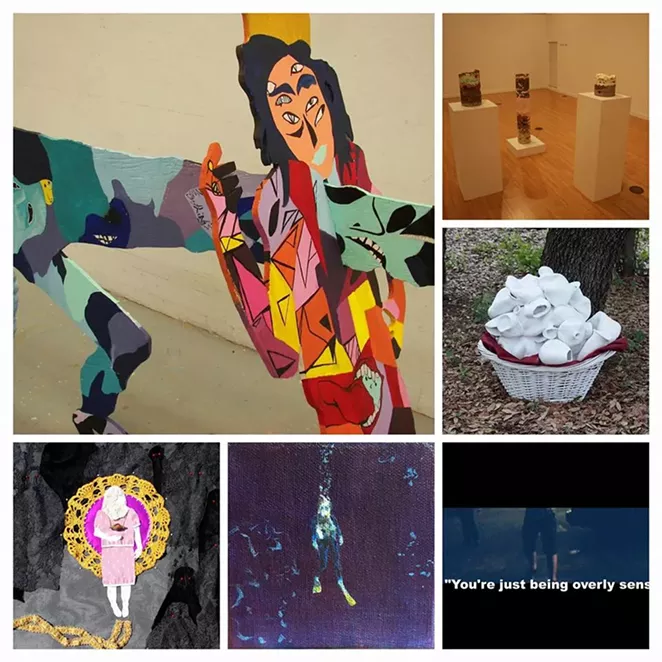 Curated by Mark Anthony Martinez, "Inner Workings" addresses labor as a multifaceted force via works by Nicole Amri, Audrya Flores, Nicole Geary, Kayla Littlefield, Stacey Villalobos and Melly Wuest.
Free, 7-10pm Sat, Freight Gallery & Studios, 1913 S. Flores St., (210) 331-4382, facebook.com/freightsatx.

Sat 8/13
"Momento"


After hosting Lisette Chavez's stunning "Three Hail Marys, Two Our Fathers" show in July, Provenance Gallery will feature abstract painter Andrea Reyes' new show "Momento" for the month of August. Born in Piedras Negras, Mexico, and now based in San Antonio, Reyes learned to draw, sculpt and paint at a young age. Now, years later, with several exhibitions, some teaching experience, and a BFA in painting under her belt, Reyes creates works that seem to effortlessly combine the whole of her training and experience. Broody and earthy, her three-dimensional paintings imply a sense of touch while hinting at secrets yet to be revealed. Powerful explorations of dimension and tonality, these ruminative paintings also use color to accentuate the sense of motion and mood.
Free, 7-10pm Sat, Provenance Gallery, 1906 S. Flores St., (210) 216-8362, artandprovenance.blogspot.com.
Sat 8/13
"The Disfiguration of Inner Connectivity"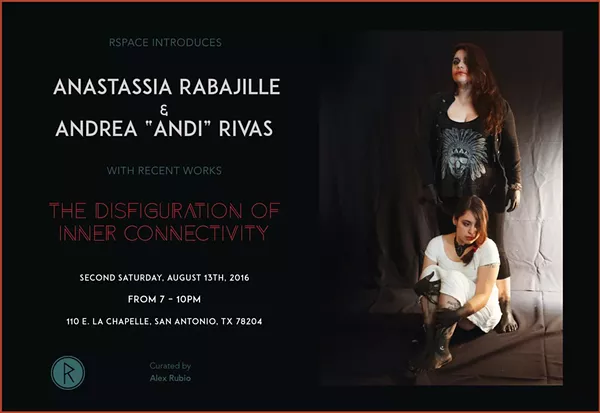 Alex Rubio's R Space hosts an exhibition pairing recent works by Anastassia Rabajille and Andrea "Andi" Rivas.
Free, 7-10pm Sat, R Space, 110 E. Lachappelle, (210) 793-8899, facebook.com/rubiospace.