Thu 8/18
Jake Ward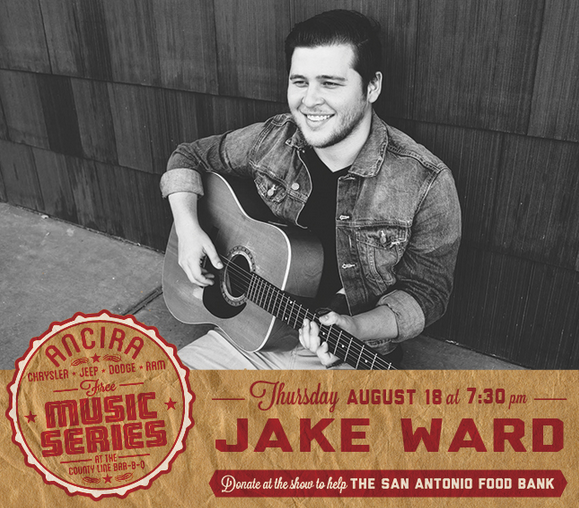 Described by
Texas Music Pickers
earlier this year as the "Best Kept Secret" in the Texas and red dirt music scene, Corpus Christi native Jake Ward brings his signature blend of classic country and contemporary rock to the County Line as part of the venue's Free Music Series. Guests can expect to hear Ward's breakout hit "Take My Hand" as well as the new single "Lonely Street."
Free (canned donations accepted on behalf of the San Antonio Food Bank), 7:30pm Thu, County Line, 101010 I-10 W., (210) 641- 1998, countyline.com.
Fri 8/19
Pokémon Go for Small Business





Marketing and communications specialist S. David Ramirez sheds light on the potential rewards and pitfalls of using Pokémon Go to market small businesses and concepts.
Free (registration encouraged at utsa.ecenterdirect.com), 11:30am-1pm Fri, UTSA Small Business Development Center, 501 W. Cesar E. Chavez Blvd., (210) 458-2460, sasbdc.org.

Fri 8/19
Jayme Lynn Blaschke
Hailed as "the best account of the Best Little Whorehouse in Texas ever written," Jayme Lynn Blaschke's
Inside the Texas Chicken Ranch
delivers much more than its title suggests — diving into the history of prostitution and brothels in the Lone Star State in the process of building a compelling portrait of "that home out on the range" immortalized in ZZ Top's 1973 classic "La Grange." Informed by oral histories, extensive research and interviews the author conducted with legendary madam Edna Milton Chadwell, the 336-page book debunks myths and rumors that swirl around the iconic brothel and its origin story, yet presents them as vivid little folktales. Although it devotes an entire chapter to Marvin Zindler, the KTRK consumer affairs reporter who eventually brought the Chicken Ranch to a halt in 1973, no one can upstage Chadwell, whose disarming wit shines through everything from her official Chicken Ranch Rules and Regulations for Boarders to the bawdy jokes and raunchy rhymes she employed to break the ice and cut through "testosterone-fueled tension." On Friday, The Twig hosts a reading with Blaschke, who directs the Office of Media Relations at Texas State University.
Free, 6-8pm Fri, The Twig, 306 Pearl Pkwy., (210) 826-6411, thetwig.com.
Fri 8/19
Los #3 Dinners


Formed in the 1970s, San Antonio legends Los #3 Dinners prove that there's no prime age in rock 'n' roll. Their guitar-driven party anthems haven't gathered cobwebs, the over 35-year-old band's the equivalent to a souped-up hot rod with a rockin' flame paint job. It would be an insult to dismiss Los #3 Dinners as a band who performs at wedding receptions, 'cause when they get the fire going, it goes hard. Dads who rock have never sounded so good.
Free, 8pm Fri, Viva Tacoland, 103 W. Grayson St., (210) 368-2443, facebook.com.
Fri 8/19
Jurassic World
Terrell Heights Neighborhood Association and Grande Communications' Screen at the Scates film series continues with an outdoor screening of Colin Trevorrow's 2015 sci-fi adventure
Jurassic World
. Picking up 22 years after cloned dinosaurs first wreaked havoc on the Jurassic Park tourist attraction, this fourth installment of the franchise stars Chris Pratt as a Navy vet and dino expert who's called to the new-and-improved Jurassic World luxury resort to stop a vicious Indominus rex on a killing spree. Blankets and lawn chairs welcome.
Free, 8:30pm Fri, Scates Park, 434 N. Meadow Lane, facebook.com.


Fri 8/19
Awake & Moving Pop-Up Shop


Rooted in street culture, skateboarding, art and music, urban lifestyle brand Awake & Moving unveils its new "Roots" collection of T-shirts and stickers at a pop-up event with a taco truck and music by 40hands, Ark and Jonah Conrad of Timewheel.
Free, 7pm-midnight Fri, High Five Shop, 806 E. Mistletoe Ave., (210) 380-1637, facebook.com.
Sat 8/20
Scream Out Loud & The Offer


In support of their new self-titled release, post-hardcore five-piece Scream Out Loud take the Mix's stage with support from high-energy fellow Floridians The Offer.
Free, 9pm Sat, The Mix, 2423 N. St. Mary's St., (210) 735-1313
,
themix-sa.com.
Sat 8/20
The Karate Kid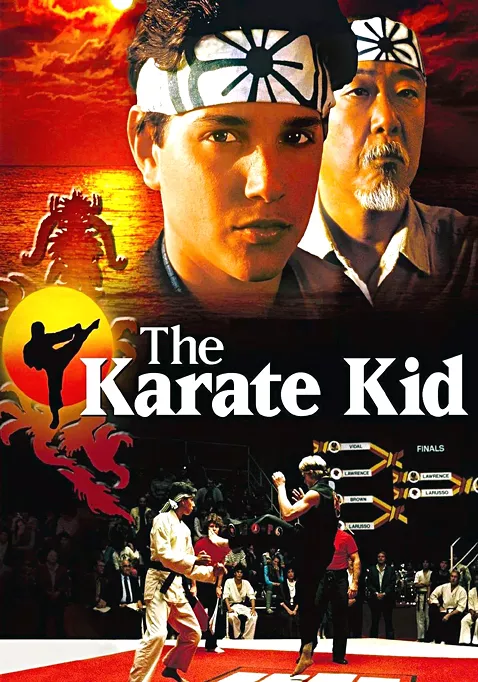 Get ready to "wax on, wax off" your weekend away with Slab Cinema's outdoor screening of the '80s-era cult classic
The Karate Kid
. After Daniel (Ralph Macchio) moves to Southern California with his mother Lucille (Randee Heller), he finds himself the target of a group of bullies who study karate at the Cobra Kai Dojo. Fortunately for Daniel, martial arts master Mr. Miyagi (Noriyuki "Pat" Morita) steps in as his untraditional mentor.
Free, 8pm Sat, Hemisfair Park, 434 S. Alamo St.,
facebook.com
.
Sat 8/20
Saturday Men's Health Clinic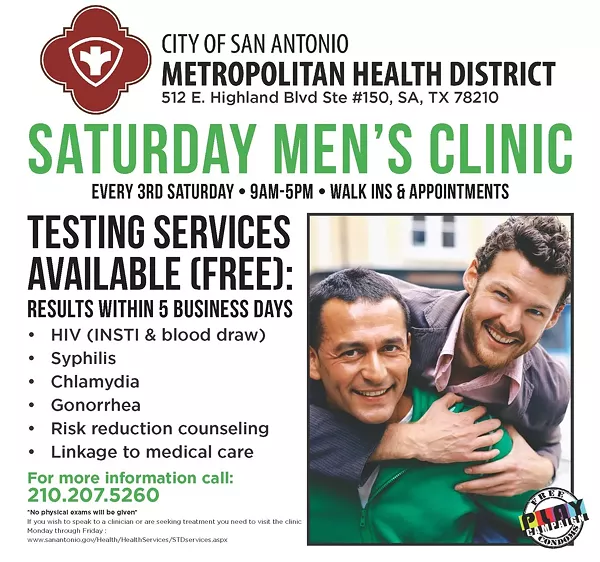 Every third Saturday of the month, Metropolitan Health District welcomes walk-ins and appointments for STD testing (with results available within five business days), risk-reduction counseling and information on medical care.
Free, 9am-5pm Sat, Metropolitan Health District, 512 E. Highland Blvd., Suite 150, (210) 207- 5260, sanantonio.gov
.
Sat 8/20
District 4 Back-to-School Health Fair


District 4 Councilman Rey Saldaña partners with CentroMed for a back-to-school health fair providing free backpacks (while supplies last) and immunizations for kids between the ages of 4 and 16 (must be accompanied by a parent and provide shot records).
Free, 8-11am Sat, CentroMed, 9011 Poteet Jourdanton Fwy., (210) 207- 0880
,
sanantonio.gov
.