Thu 8/25 - Sat 8/27
Jazz, TX Opening Week


A new music venue has arrived at the Pearl and looks to become an instant go-to for lovers of jazz, blues, big band, Texas swing, salsa, conjunto and Americana. Owned by noted local musician Brent "Doc" Watkins, a masterful pianist, organist and bandleader who performs constantly and has long been invested in supporting/championing the San Antonio music milieu, Jazz, TX is a sort of refined version of the old-town dancehalls and saloons that it is (at least in part) modeled upon. In a recent press release, Watkins explained that "San Antonio has always been a town where various music traditions come together," and he hopes this new venue will honor that "rich history." For the spot's opening salvo, Watkins himself will perform five nights in a row with his orchestra, wowing and wooing potential Jazz, TX devotees with his own unique take on American classics and his solid original numbers. Aside from jazz club meets Texas dancehall vibes and music, Jazz, TX will offer a San Anto-style soul food menu and a full bar, replete with fine signature cocktails.
$50, doors at 7pm, show at 8pm Thu-Sat, Jazz, TX, 312 Pearl Pkwy, Building 6, jazztx.com.
— James Courtney
Thu 8/25
Requiem for a Dream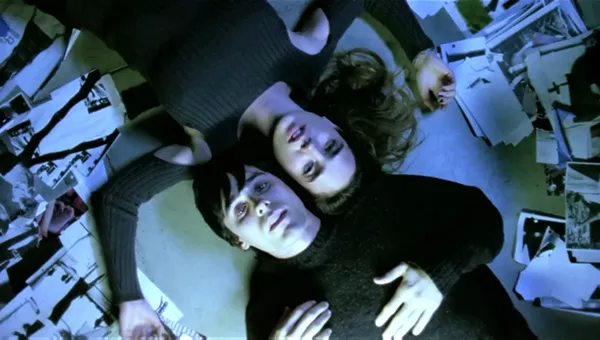 In between his personal and eye-popping films
Pi
and
The Fountain
, Darren Aronofsky found critical and commercial success with
Requiem for a Dream
, interweaving the downward spirals of four drug addicts. Three of them (Jared Leto, Jennifer Connelly and Marlon Wayans) are junkies who deal drugs at Coney Island. The fourth (Oscar-nominated Ellen Burstyn) is a middle-aged housewife hooked on prescription meds. All dream of a better life through mind-altering substances while reality gets grimmer. Aronofsky's hallucinatory, music-video approach elevates what's basically a
Reefer Madness
warning based on Hubert Selby Jr.'s cult novel from 1978. The McNay screens the 2000 film in conjunction with its Get Reel series and the traveling exhibition "Coney Island: Visions of an American Dreamland, 1861- 2008."
Free, wine reception at 6:30pm, film at 7pm Thu, McNay Art Museum, 6000 N. New Braunfels Ave., (210) 824-5368, mcnayart.org.
— Michael Barrett
Thu 8/25
Sinbad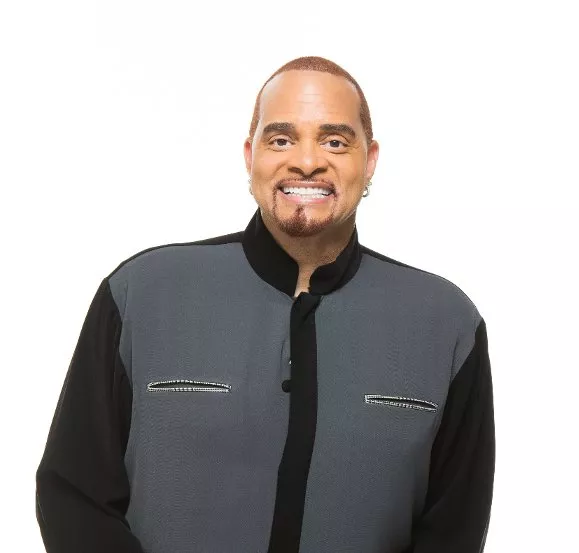 Stand-up David Adkins, better known as Sinbad, is also known as Coach Walter Oakes (
A Different World
), Andre Krimm (
Necessary Roughness
), David Bryan (
The Sinbad Show
) and by many other character names, but the role that really stands out on his IMDB page is that of Condom. Even then, the famously clean comic (he named his 1996 special
Son of a Preacher Man
for a reason) wasn't working blue but rather promoting safe sex in 1992's
Time Out: The Truth About HIV, AIDS, and You
. From his first appearances on Star Search in 1985 through his specials
Where U Been?
(2010) and
Make Me Wanna Holla!
(2014), Sinbad has been funny and even socially relevant while rarely saying anything that'd make your granny blush. Wikipedia lied. Sinbad lives.
$29.50- $39.50, 8pm Thu, The Majestic Theatre, 224 E. Houston St., (210) 226-3333, majesticempire.com.
— Jeremy Martin
Fri 8/26
"Photographic Projects: World War II Veterans & U.S. Marines"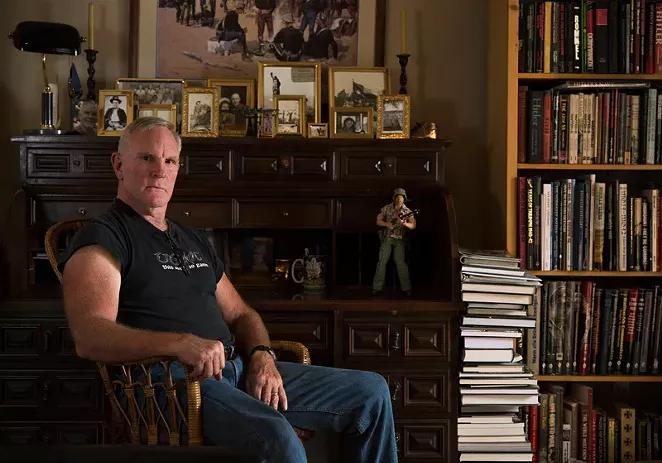 Upon graduating from Santa Barbara, California's esteemed Brooks Institute of Photography in the 1980s, D. Clarke Evans wrote two important letters — one to the San Antonio Spurs and one to the Texas Photographic Society. Not only was he hired as the official photographer for the Spurs, he eventually became the president of the nonprofit TPS. After 26 years of documenting the Spurs, Evans stepped down from his post last year to focus on personal photography projects honoring Marines and WWII veterans. Himself a Sergeant who served in the Marine Corps Reserve from 1964-1970, Evans takes a documentary approach to both "U.S. Marines" and "World War II Veterans: A Photographic Project," endeavors that pair present-day portraits with biographical texts culled from interviews. While one project aims to "capture the commonality of moral fiber that links Marines," the other seeks to preserve the stories and memories of WWII vets, a population that's dwindled from 16 million to 700,000 Americans. One of two Fotoseptiembre exhibitions hosted by the University of the Incarnate Word, Evans' "Photographic Projects: World War II Veterans & U.S. Marines" opens in tandem with "Han's Street Portraits," a showcase of urban snapshots created by San Antonio-based photographer Zhifeng Han.
Free, 6-8pm Fri, University of the Incarnate Word, Kelso Art Center, 4301 Broadway, (210) 829-3852, fotoseptiembreusa.com.

— Bryan Rindfuss
Fri 8/26
Lila Downs


Born in Oaxaca, raised in Minnesota, Lila Downs is the perfect bicultural machine. Boleros effortlessly turn into hard rock, polkas into hip-hop, folk into electronica. If you're not careful, listening to "Mano Negra" (from her superb 2015 album
Balas y Chocolate
) could turn you into a dancing Cossack within 90 seconds. The fact that Downs cleverly and organically blends past and future to create a truly original (and accessible) sound is perhaps her least interesting side — wait till you see her live. Her thunderbolt-like voice has incredible reach, at times a two-headed jarocho/mariachi monster, at times a magical incense that resembles a young Mercedes Sosa — no one does that guttural, center-of-the-earth wail better than Downs. She owns the stage, and is backed by a superb band, but this time, there's an extra treat: the Guadalupe Dance Company will accompany her on some songs in addition to performing their own set (flamenco? folklórico? both?). Pairing the local company with Downs is a masterstroke deserving of a packed house.
$19-$79, 7:30pm Fri, Lila Cockrell Theatre, 900 E. Market St., (210) 226-2891, artssa.org.
— Enrique Lopetegui
Fri 8/26
No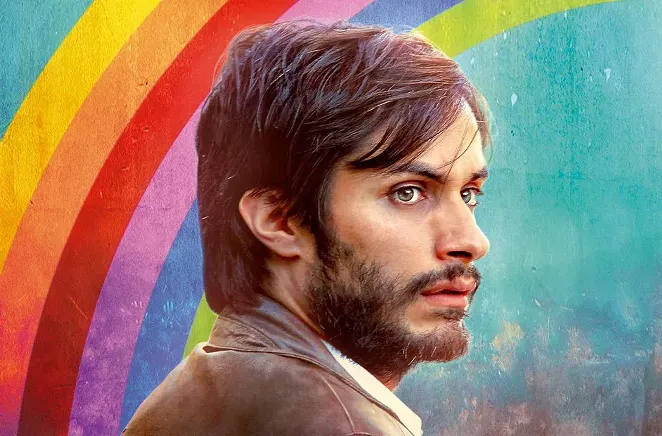 Although most North Americans haven't heard of it, one of the most important elections in modern history was Chile's 1988 referendum asking voters if
they wished military dictator Augusto Pinochet to continue or step down for democratic elections. The lively movie
No
, nominated for a Best Foreign Film Oscar, stars Gael Garcia Bernal as an advertising executive put in charge of light-hearted, media-savvy ads for the No campaign. Director Pablo Larraín
shot the film on outdated 3/4-inch U-matic tape in order to blend his footage seamlessly with actual TV footage of the period. The result has delighted critics internationally. SAMA revisits the historical drama as part of its cash bar- equipped Film on the Green series.
$5-$10, 8pm Fri, San Antonio Museum of Art, West Courtyard, 200 W. Jones Ave., (210) 978-8100, samuseum.org.

— MB
Fri 8/26 - Sun 8/28
Sommore


In 2001's
The Queens of Comedy
, stand-up Sommore (
Def Comedy Jam
,
Showtime at the Apollo
,
Friday After Next
) jokingly compares herself to Tupac Shakur, and she's not wrong. Her act, like many of Shakur's songs, gives the relentlessly horny id a charming, engaging voice, persuasively, impeccably delivered. The same sort of explicit-content warnings apply, but even with a mind in the gutter, a rose that grew from concrete can be beautiful, even thought-provoking. Sommore's good-natured, sex-positive shit-talking bears an unmistakable undercurrent of feminism even as she discusses the finer points of "ho-ism" or warns about the dangers of finding "good dick."
$25, 8pm & 10:15pm Fri-Sat, 8pm Sun, Improv San Antonio Rivercenter, 849 E. Commerce St., (210) 229- 1420, rivercentercomedyclub.com.
— JM
Fri 8/26 - Sun 8/28
White Rabbit 20th Anniversary Weekend


Sometimes, when you move into a place and make it irrevocably your own, you still occasionally do things to honor those who dwelt there before, as a kind of homage to the unique kinship born of place. Such is the case with the massive White Rabbit 20th Anniversary celebration going down at Paper Tiger this weekend. For nearly 20 years, the White Rabbit hosted a multitude of shows, largely of the metal, punk, emo, post-hardcore, and hip-hop variety, and provided a space for folks of all ages to gather and momentarily invest themselves wholly in the music being performed. It was quite a successful venture, but it also became, in the great tradition of seedy punk palaces everywhere, an important cultural touchstone. This weekend's three-night bonanza of a show (festival?) will provide plenty for nostalgic, old school Rabbit heads to fawn over, and, for everyone else, a damn fine (or at least extensive) bill of heavy rock in myriad styles. Just a few of the 50-plus bands on the bonkers lineup include Of Ruins, Upon a Burning Body, Lokey, Donella Drive, Slowlikefire and Psycho Plague. See the website below for a full lineup and to buy tickets, which are available for single days or for the whole weekend.
$10-$25, 6pm Fri-Sun, Paper Tiger, 2410 N St Mary's St, papertigersa.com.
— JC
Sat 8/27
"Infinite Realm of Abstraction"


One of several creative forces behind Tamara Adira's Artist Foundation Award-winning flamenco fusion performance
Angel of Gravity
, JD Morera is known for abstract paintings he says are "neither premeditated nor contrived." Distinguished by dramatic sweeps of bold color, his large-format canvases at times evoke figures, structures or landscapes — unintentional visual triggers Morera likens to pareidolia, the phenomenon that invites imaginative minds to discover meaningful shapes in clouds, hills and the moon, maybe even the face of Jesus on a tortilla. Born in Madrid and based in San Antonio, the widely exhibited painter's latest experiments in abstraction come to light at Bihl Haus in a solo show opening with a Saturday reception complete with live music, tapas and sangria.
Free, 6-9pm Sat, Bihl Haus Arts, 2803 Fredericksburg Road, (210) 383-9723, bihlhausarts.org.
— BR
Sat 8/27
"¡Puro San Antonio!"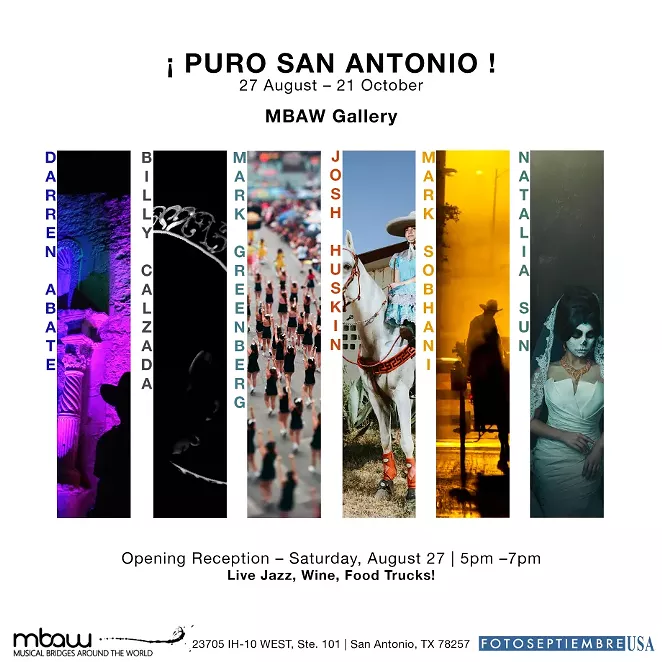 Founded in 1998 by Russian-born pianist Anya Grokhovski, the local nonprofit Musical Bridges Around the World is known best for eclectic programming
that takes shape in an International Music Festival and a free series of Musical Evenings at San Fernando Cathedral but also uplifts local artists in a dedicated gallery launched in 2013. Standing out in this year's early wave of shows presented under the umbrella of Fotoseptiembre — San Antonio's monthlong festival of photography — MBAW's "¡Puro San Antonio!" promises to showcase the "global heritage within our emerging metropolis" with an eye on "our future as the cosmopolitain crossroads of the Americas." Curated
by Julya Jara, the group exhibit collects works from photojournalists and commercial photographers Natalia Sun, Darren Abate, Billy Calzada, Mark Greenberg, Josh Huskin and Mark Soghani.
Free, 5-7pm Sat, Musical Bridges Around the World Gallery, 23705 I-10 W., (210) 464-1534, fotoseptiembreusa.com.
— BR