Thu 9/1
Southtown Vinyl Happy Hour


Southtown Vinyl puts a soulful spin on happy hour with brews from Freetail and a performance by local R&B vocalist Amea, plus 10 percent off records.
Free (RSVP here for complimentary drinks), 6-8pm Thu, Southtown Vinyl, 1010 S. Flores St., Suite 120, (210) 730-6941, southtownvinyl.com
.
Thu 9/1
Shop Rare Marketplace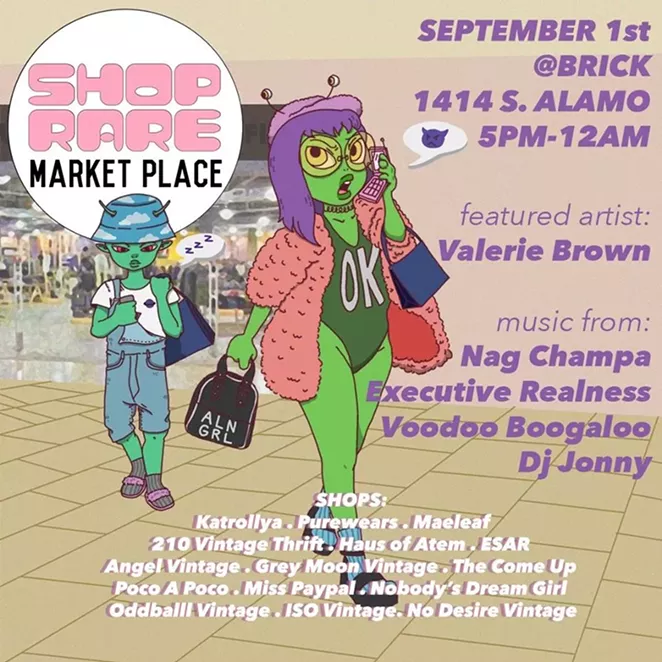 Having drawn a considerable crowd last month with an event showcasing local vendors selling on the buzzy e-commerce site Depop, vintage specialists Katalya Bustos, Mae Darrin and Kirstine Haynes are launching Shop Rare Marketplace, a monthly pop-up combining vendors, live music, DJ sets and a photo-booth outfitted with an artist-designed backdrop. At the inaugural shindig, guests can peruse wares from more than a dozen retailers based in San Antonio and Austin, including Poco A Poco (locally made accessories and fair-trade jewelry), In Search of Vintage (band T-shirts and sportswear), MaeLeaf (hand-painted denim and vintage finds), Katrollya (plus-size vintage women's clothing), Grey Moon Vintage (attire spanning from the '70s to the '90s), The Come Up SA ('90s-era streetwear for men and women) and Angel Vintage (from goth to glam) while enjoying sets by outré cumbia duo Nag Champa, trip-hoppers Voodoo Boogaloo and DJs Johnny and Executive Realness, plus vegan tamales and paletas from Papi Agave. As Shop Rare's inaugural artist, local illustrator and cyclops enthusiast Valerie Brown created both the the alien-chic event flyer and what promises to be a playfully bizarre photo-booth background.
Free, 5pm-midnight Thu, Brick, 108 Blue Star, (210) 262-8653, facebook.com.
Thu 9/1
"Hooves, Paws & Claws: Animals At Historic Places"
<!—————EndFragment—————>

King William's historic Villa Finale features pet-centric works at a Fotoseptiembre garden social with food, drinks and live music.
Free, 5:30-7pm Thu, Villa Finale, 401 King William St., (210) 223-9800, fotoseptiembreusa.com.
Thu 9/1
"Aerial Dancing & Bird's Eye View"


The McNay's latest Mashup Lecture challenges attendees to find connections between unrelated presentations by Aerial Horizon artistic director Julia Langenberg and Tower of the Americas sales and marketing director Jennifer Boland.
Free, 6:30-8:30pm Thu, McNay Art Museum, 6000 N. New Braunfels Ave., (210) 84-5368, mcnayart.org
.
Fri 9/2
Bellydancing Performances


<!—————StartFragment—————>Enjoy the seductive moves of burlesque performer Black Orchid (the "Transoceanic Tropical Tease") as she heats up First Friday with an entertaining belly dance performance at Southtown's Sexology Institute and Boutique.
Free, 8pm & 9pm Fri, Sexology Institute and Botique, 727 S. Alamo St., (210) 487- 0371,
sexologyinstitute.com
.
Fri 9/2
Swimming with Bears

Inspired by acts ranging from Kings of Leon to Temper Trap, Austin-based alt-soul outfit Swimming with Bears recorded its 2014 debut
Paw
with producer Matt Noveskey of Blue October fame. Comprised of bassist/vocalist Joe Perry, guitarists Alec Conte and Jonny Boy Kerr and drummer Ryan Hannasch, the quartet sets up shop at 502 Bar every Friday in September for a residency featuring special guests each week.
Free, doors at 9pm Fri, 502 Bar, 502 Embassy Oaks, (210) 257- 8125
,
502bar.com
.
Sat 9/3
Star Trek Day
<!————StartFragment————>Igo Branch Library celebrates the space epic's 50th anniversary with an afternoon of
Star Trek
cosplay, games, crafts, treats and a film screening.
Free, 2-4pm Sat, Igo Library,13330 Kyle Seal Pkwy, (210) 561- 6113
,
mysapl.org
.
Sat 9/3
"46 Years Of Photography"


With an admitted "predilection for alchemy, materiality and subtle colorations," longtime local photographer Kent Rush has experimented with an array of photographic processes, including silver-gelatin, photo-gravure, collotype, carbon-transfer printing, cyanotype, ambrotype and tin-type. In celebration of Fotoseptiembre, REM Gallery showcases a sampling of his images dating as far back as the 1970s.
Free, 6-9pm Sat, REM Gallery, 219 E. Park Ave., (210) 224-1227, remgallery.com.
Sun 9/4
Sunday Arts Market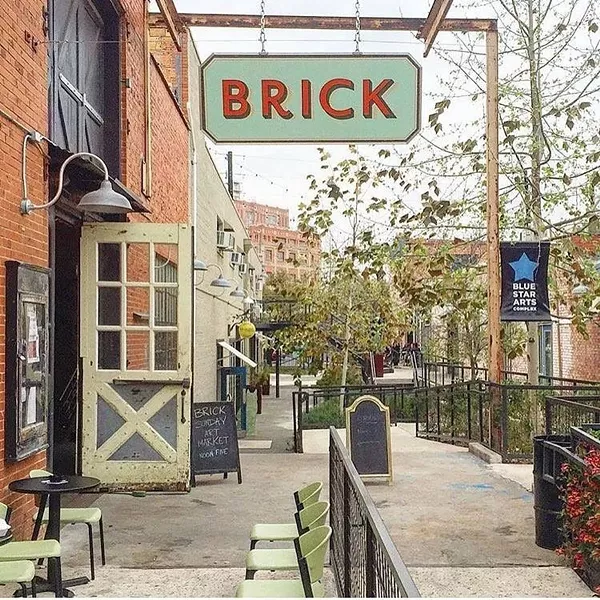 <!————StartFragment————>Brick at Blue Star encourages browsers to shop local at this weekly marketplace with vintage attire, contemporary art, vinyl records, handcrafted items, juices from Urth and a bar stocked with beer, wine, mimosas and sangria.
Free, Sun noon-5pm, Brick, 108 Blue Star,
(210) 262- 8653
,
facebook.com/brickatbluestar
.
Sun 9/4
The Boss

Central Library welcomes family and friends for a free "Central Cinema" screening of 2016's
The Boss
. Directed by Ben Falcone, the R-rated comedy stars Melissa McCarthy as a disgraced CEO who tries to redeem herself by building a brownie empire after being incarcerated for insider trading.
Free (snacks welcome), 2pm Sun, Central Library, 600 Soledad St., (210) 207- 2500, mysapl.org
.