Thu 9/8
"Gabriela Iturbide: A Lens to See"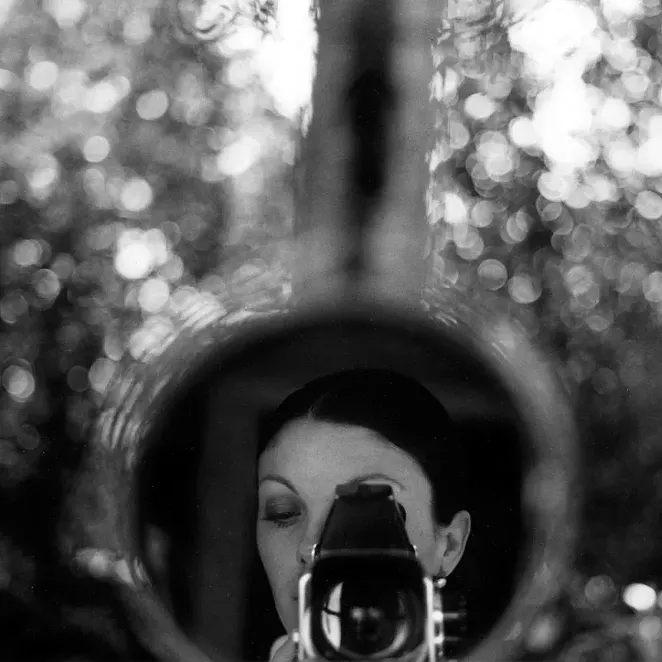 Graciela Iturbide, Autorretrato en mi casa
As part of this year's Fotoseptiembre, Ruiz-Healy Art will present "A Lens to See," a solo exhibition of photography by Graciela Iturbide. The selections, gathered from the Wittliff Collections at Texas State University, one of the largest archives of contemporary Mexican photography, mark the first
time Iturbide has been exhibited in a commercial gallery in Texas, and span
a period from the early 1970s to 2006. Among the work are some of Iturbide's most iconic photographs, including
Our Lady of the Iguanas
and
Angel Woman in the Desert of Sonora
, both of which depict the strength and dignity of indigenous women.
Free, 6-8pm Thu, Ruiz-Healy Art, 200 E. Olmos Drive, (210) 804-2219, ruizhealyart.com.
— Marco Aquino

Click here for our full story on Graciela Iturbide.
Thu 9/8 - Sun 9/11
World Heritage Festival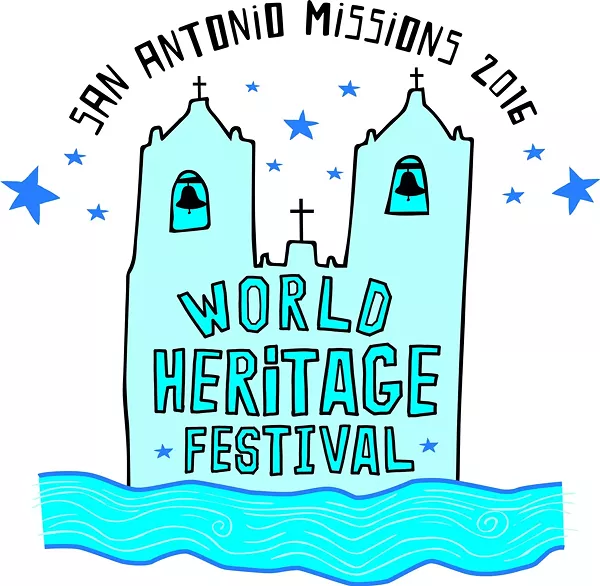 The City of San Antonio celebrates the first anniversary of the Missions' designation as a UNESCO World Heritage Site with a multifaceted festival. In addition to a "Nuestra Historia" archival exhibition
(10am-5pm daily, Presidio Gallery, 126 E. Nueva St.
), the festival features several don't-miss events. Notably, at Thursday's San Pedro Creek Groundbreaking Ceremony, Opera San Antonio will premiere the first act of
Las Fundaciones de Béjar
, an opera commissioned by Bexar County and penned by John Phillip Santos (
6:30pm, Fox Tech High School Athletic Fields, 701 N. Flores St.
). Come nightfall on Friday, Mission San Jose will get a temporary makeover via "Restored by Light," a spectacle using projection technology to recreate its original frescoed facade (
6:30-11pm, Mission San Jose, 6701 San Jose Drive
). On Saturday, The Mission Pachanga Celebration highlights San Antonio's rich cultural landscape by showcasing an eclectic array of local musicians (from the jazz and swing of Brent "Doc" Watkins to the mystical fusion of Femina-X) alongside classic San Antonian fare (
11am-11pm, Mission Park Pavilion, 6030 Padre Drive
). The festival culminates on Sunday with a series of Celebratory Masses held at Missions Concepción, Espada, San Juan, San José and San Fernando.
Free, Wed-Sun, visit worldheritagefestival.org for a full schedule of events.
— Kelly Merka Nelson
Thu 9/8 + Sat 9/10
"Obstacle"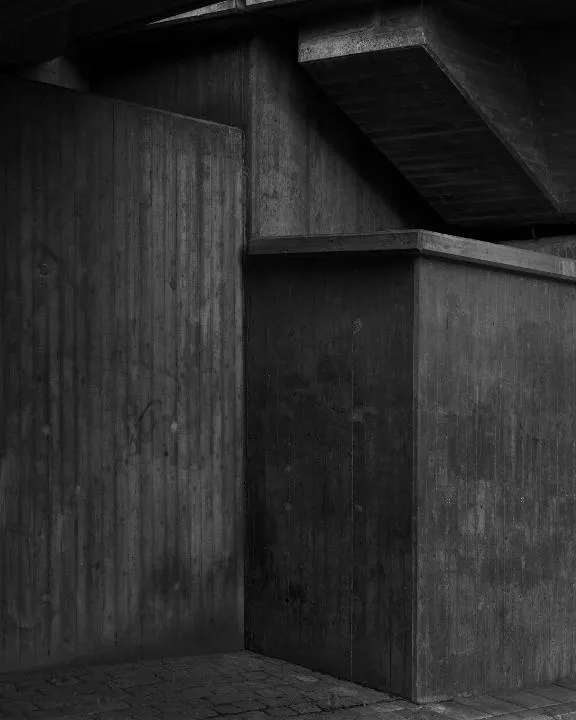 With the 2015 group show "Back from Berlin" (featuring works by Vincent Valdez, Cathy Cunningham-Little, Ricky Armendariz and Karen Mahaffy) and Thomas Cummins' current solo show "Broken Lens," Blue Star Contemporary has offered local art scenesters a glimpse of its Berlin residency, a three-month program that awards San Antonio artists with studio and living space at Künstlerhaus Bethanien. A pleasant surprise to come of the partnership, BSC has started to "build on this exchange and welcome KB resident artists to San
Antonio." First seen last winter in Norwegian artist Bodil Furu's video project
Landscapes by the Book
, the cross-cultural collaboration continues this month with Swedish artist Patrik Elgström's "Obstacle," a photographic exhibition hosted by Trinity's Noemi Neidorff Art Gallery. Informed by Elgström's walks through Berlin, the series takes architectural details out of context to present them as "obstacles" that nod somewhat abstractly to the city's complex history.
Free, 6-9pm Thu & 6-7:30pm Sat, Trinity University, Dicke Art Building, Michael and Noemi Neidorff Art Gallery, One Trinity Pl., (210) 227-6960, bluestarart.org.
— Bryan Rindfuss
Fri 9/9
"Recreational Modernism"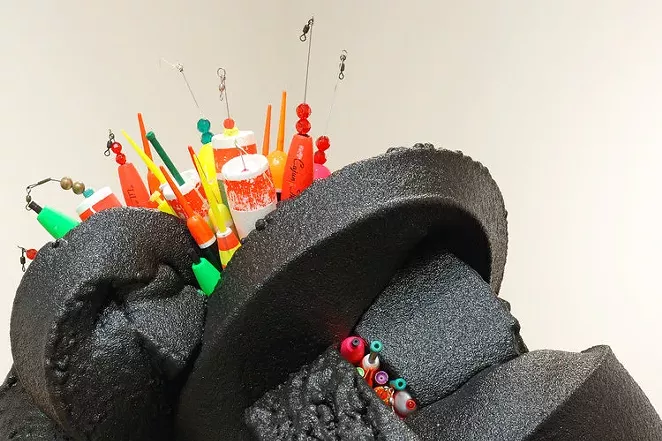 Buster Graybill, "Recreational Modernism"
An assistant professor 9 at UTSA, Buster Graybill art employs sculpture, installation, video and photography as "an all-terrain vehicle to traverse the rural landscape and reconnect with often-overlooked places." Putting a conceptual spin on classic American pastimes like fishing and camping, Graybill's previous projects encompass sculptural installations bursting with tangled inner tubes and a super-sized bronze catfish perched atop a replica of a high- voltage box. But it was the 2010 exhibition he created for Artpace's International Artist-in-Residence program that brought Graybill to
the attention of many San Antonio art fans. Named after a large, tusked hybrid of a domestic pig and a Russian boar, his "Tush Hog" took shape in an installation of sculptural hog feeders Graybill crafted in diamond-plate metal, filled with corn, released on a ranch and monitored as they were discovered by an array of wildlife. In addition to the "corn-dispensing artworks," the finished project included photographs and video captured with infrared cameras. Aiming to challenge "perceived notions of value and hierarchies imposed on objects of 'high' and 'low' culture," the outdoorsman and contemporary artist's new Sala Diaz solo show "Recreational Modernism" celebrates "the conceptual potential of objects and materials often tucked away in garages, found on the shelves of sporting goods stores or loaded on the bed of a truck for a weekend vacation."
Free, 6-10pm Fri, Sala Diaz, 517 Stieren St., (972) 900-0047, saladiazart.org.
— BR
Fri 9/9
Lewis Black

Whether you know him from his award-winning stand-up specials, his regular "Back in Black" segments on Comedy Central's
The Daily Show
, as Anger in Pixar's blockbuster
Inside Out
, or in his role as ambassador for voting rights for the American Civil Liberties Union, there is no mistaking the voice of Lewis Black. While tilting against the idiocy of life's windmills, oftentimes to the point of being, at best, apoplectic or, at worst, having a mental breakdown, Black strives to be a voice of reason in an increasingly indifferent world. He returns to San Antonio as part of The Emperor's New Clothes: The Naked Truth Tour.
$25-69.75, 8pm Fri, The Majestic Theatre, 224 E. Houston St., (210) 226-3333, majesticempire.com.
— Eric Moreno
Click here for our Q&A with Lewis Black.

Fri 9/9 - Sat 9/10
"Califas Lens, San Anto Heart: Outside Looking In"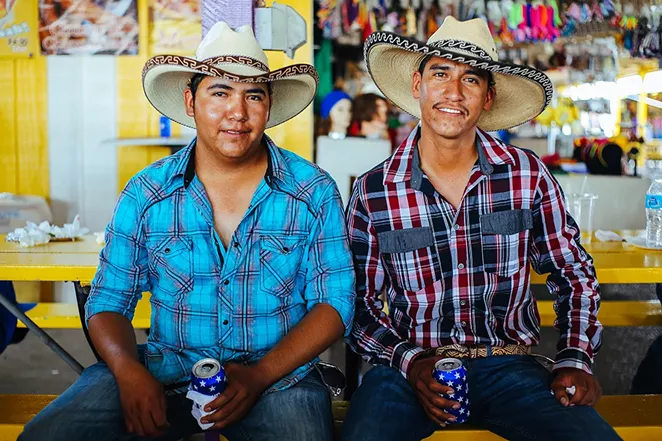 Cali-born photographer Arlene Mejorado grew up making fond and formative memories on weekend visits to pulgas and swap meets with her mother. Since relocating to San Antonio, Mejorado seeks out such places for their cultural vibrancy and the characters that populate them. For her, these spaces, these bustling outdoor markets, comprise a kind of far-flung home that she can visit anytime she craves "visually rich scenes intertwined with labor and social engagement." In "Pulga Portraits," a continuation of her ongoing photo-ethnographic project "Califas Lens, San Anto Heart: Outside Looking In," Mejorado zeroes in on Southwest San Antonio's Poteet Flea Market and the resulting pieces are bursting with life, capturing moments in time where the truly singular arises from looking deeply at the everyday.
Free, 6:30pm Fri, 7pm Sat, R Space, 110 E. Lachapelle St., (210) 214-1608,
ladybasegallery.com
.
— James Courtney
Sat 9/10
"Family Happiness"


Another month, another winning choice of featured artist by Provenance Gallery. Visual artist, San Anto transplant, recent UTSA MFA grad and self-described military brat Allison Valdivia often finds herself "looking
to the past, looking to [her] family and culture to find a sense of who [she is]." Her new exhibit, coyly (maybe subversively?) titled "Family Happiness," takes on her own family's past as a source of hidden stories, forgotten or unshared memories and, ultimately, as a therapeutic journey to reconnect to her own roots. In her artist's statement, Valdivia explains: "By viewing old family photos as artifacts, I have been creating my own stories, projecting hidden philosophies based off of personal experience, from what I see in the object before me and the lack of family history shared with me." She explores the ideal of the happy family, often depicted on the surface of the family photos she encounters, versus the actuality of dysfunction, guilt and suffering that are part of the family experience for so many people. Often at odds with or isolated from her culture as a Latina — the result of moving around so much and of being an artistically passionate person — Valdivia also uses her ruminations on the particulars of family life to deepen her connections to her cultural identity.
Free, 7-10pm Sat, Provenance Gallery, 1906 S. Flores St., (210) 216-8362, artandprovenance.blogspot.com.
— JC
Sat 9/10
"Ephemera"

Tucked away inside the 1906 South Flores arts complex, FLAX Studio originated as the collaborative project of Katy Silva, the marketing and communications director at the Guadalupe Cultural Arts Center, and Andrei Renteria, a current participant in the community-based organization's Artist Lab fellowship. In an interview with the San Antonio Current, Silva explained that FLAX directs its curatorial efforts toward diverse groups of socially disadvantaged artists, which happens to include women and ethnic minorities alike. This weekend, FLAX unveils Washington DC-born artist Kelly Johnston's
solo show "Ephemera" as part of the Second Saturday art walk. Johnston told the
Current
she was inspired by her mother's painful struggle with dermoid cysts, abnormal pockets of tissue that contain blood, teeth and clumps of hair. To this end, she crafted a series of fruit-like sculptures cast from inorganic materials and adorned with long hair follicles. "It's hard for women, period," Johnson said. "There's stuff people don't talk about, because it's gross and dirty. There's a culture the art world breeds, and if you don't fit into it, it's hard to be heard."
Free, 7-9pm Sat, Flax Studio, 1906 S. Flores St., (909) 518-2245, facebook. com/flaxstudio.
— Abby Mangel
Sat 9/10
"Strip Tease"


For quite a while now, if you've been paying attention, it's been clear that comic books and comic strips are far from being kid's stuff. The initially undervalued medium presents a wealth of possibility to writers who want to tell their stories with visuals and to art illustrators who know that a few well-chosen words can make a narrative more clear. In "Strip Tease" (comic strip, that is ... get your mind out of the gutter), we have an exciting chance to see new work from more than 10 local artists (Regina Morales, Isabel Ann Castro, Rigo Ortiz and Sergio Mata, to name a few) with quite distinct styles and artistic backgrounds. It's a fine opportunity to check in on the limits and possibilities of this unique narrative format, with folks operating/experimenting at the cutting edge of their disciplines.
Free, 7-11pm Sat, Black Moon Gallery, 1420 S. Alamo St., #106B, facebook.com/blackmoonprint.
— JC
Sat 9/10 - Mon 9/12
GroomWars

In
The Art of War
, Sun Tzu advises event "the worst policy of all is to besiege
walled cities." Similarly, the rules for three- day dog-grooming gauntlet GroomWars stipulate: "Dogs must not be in season at the time of completion," most likely to prevent canines in heat from providing their own definition of "doggystyle." The point is, competitive dog-grooming, much like war, involves managing and mastering an ever- growing list of variables, some predictable, many not. GroomWars competitors — many SA locals but some from as far away as Oklahoma — are allowed to practice their craft on their breed of choice for the final two days of competition but will be met with a major unknown right out of the gate. The first day's competition requires groomers to showcase their skills making over a randomly assigned rescue dog before they can move on to a fancy-pants purebred. Sort of like
Chopped
with dogs, but where "competitors are responsible for keeping the venue free
of dog waste of any kind" — because war is hell.
Free for spectators, 8:30am-6pm Sat- Mon (competitions: 2:30-5:30pm Sat-Sun, 1:30-5:30pm Mon), Austin Highway Event Center, 1948 Austin Hwy., (210) 639-1434, groomwars.net.
— JM