Thu 9/22
"Objectives"


Jessica Halonen, Remnant (Blue Weave)
Still in the midst of its yearlong 21st "birthday" celebration, Artpace turns to its ever-growing contingent of collaborators for a pair of exhibitions hosted in the Hudson Showroom and Window Works Gallery. Having already selected the all-female trio currently in residence at Artpace, Massachusetts Museum of Contemporary Art (MASS MoCA) curator Denise Markonish assumed double duty as curator of "Objectives," a Texcentric group show gathering works by painter Jessica Halonen (Austin), RJP Nomadic Gallery co-founder Ryder Richards (Dallas) and multimedia artist Kamila Szczesna (Galveston, TX). Getting a sense of Markonish's curatorial style from this Hudson Showroom exhibition could only enhance the unveiling of site-specific projects by International Artists-in-Residence Lily Cox-Richard (Houston), Kim Faler (Williamstown, Massachusetts) and Kim Morgan (Halifax, Nova Scotia) come November. Opening and running concurrently in Artpace's Main Avenue windows is a trio of "immersive sculptures" by Emily Fleisher, a San Antonio-based artist elected by Taylor Bates, Artpace's director of programs and exhibitions.
Free, 6-9pm Thu, Artpace, 445 N. Main Ave., (210) 212-4900, artpace.org.
— Bryan Rindfuss
Thu 9/22 - Sat 9/24
"Nuestras Voces: Our Voices"


Devised as a means to "explore the varied experiences and cultures of Latinxs, immigrants, women and LGBT individuals through accessible teatro" Teatro Audaz San Antonio officially launches this weekend with a trio of events held in observance of Hispanic Heritage Month. Dubbed "Nuestras Voces: Our Voices," the program kicks off Thursday with a presentation of
The Panza Monologues
, a performance compiling women's stories surrounding "that roll of belly we all try to hide." Developed by Virginia Grise and Irma Mayorga with contributions from Bárbara Renaud-González, Petra A. Mata and María R. Salazar, the homegrown play comes to light in a production directed by Alison Vasquez (
7pm Thu, San Antonio College, McCreless Theatre, 1300 San Pedro Ave.
). On Friday, Jim Mammarella directs Maximo Anguiano's
Requiem of the Oppressed
, a drama that "takes a hard look at what is really going on inside prison walls." A panel discussion on the status of our nation's prisons follows (
free, 7pm Fri, San Antonio College, McCreless Theatre, 1300 San Pedro Ave.
). Wrapping things up on Saturday, The Bang Bang Bar hosts a launch party fundraiser and staged reading of Liz Coronado Castillo's
Aye, No!
Set in a small border town, the play follows a Latina college student who turns to her "fairy-drag-queen friends" (portrayed by the rising "Juniors" of Rey Lopez Entertainment) in the midst of a family drama (
donations accepted, 7pm Sat, The Bang Bang Bar, 119 El Mio Drive
).
For more about the company and its Indiegogo campaign, visit teatroaudaz.com.
— BR
Fri 9/23
Out in the Park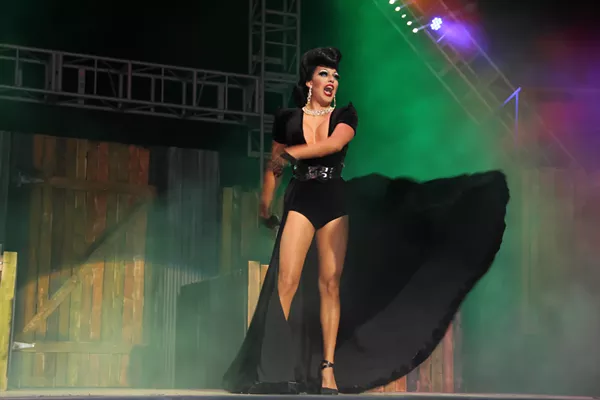 Not unlike Orlando's Gay Days at Walt Disney World — which annually attracts an estimated 50,000 color-coordinated attendees — Rey Lopez's slightly smaller (he's hoping for 5,000) fall signature Out in the Park functions as an over-the-top LGBT theme-park takeover. An instant hit built around the winning combination of "drag queens and roller coasters" (who knew?), the inaugural Out in the Park proudly took home honors for "Best Non-Fiesta Festival" in our 2015 readers' poll. Beyond the 10 main attractions — namely performances by
RuPaul's Drag Race
stars Kenya Michaels, Tatianna, Raven, BeBe Zahara Benet, Jujubee, The Princess, Yara Sofia, Jessica Wild, Alyssa Edwards and Joslyn Fox — the second annual extravaganza showcases a diverse array of talent on Six Flags Fiesta Texas' five stages — from drag and burlesque mainstays like Beyonce D. Mykels and Chola Magnolia to all-female rockers Heather Go Psycho and the festively costumed dancers of Grupo Folklórico de Bendiciones.
$45.99-$50.99, 6-11pm Fri, Six Flags Fiesta Texas, 17000 I-10 W., (210) 697-5442, sixflags.com.
—BR

Fri 9/23 - Sat 9/24
"Cuentos y Culturas"


The artistically inclined youngsters of the award-winning local nonprofit SAY Sí put a gender-neutral spin on National Hispanic Heritage Month with the latest edition of "Cuentos y Culturas." Constructed as "an artistic platform for student-artists to explore their origins," the annual exhibition tasked participants of the middle school Working Artists & Mentors (WAM) program with sharing personal narratives in a format inspired by Maya codices — folded books filled with hieroglyphics and printed on cloth made from inner tree bark. Under the guidance of local photographer Mark Greenberg, students enrolled in the youth development program's Media Arts Studio (MAS) photographed and wrote about Latinx individuals who've made an impact on their lives. Rounding out the "Latinx Heritage Month" offerings, the ALAS Youth Theatre Company's multimedia production
Napako
creatively addresses the "history, geography, and significance of the Blue Hole" — a spring often cited as the starting point of the San Antonio River.
Exhibition: free, 6-9pm Fri; Napako: $10 (free for youth), 7pm Fri-Sat, SAY Sí, 1518 S. Alamo St., (210) 212-8666, saysi.org.
— BR

Fri 9/23 - Sat 9/24
Manhattan Short Film Festival


The New York City borough might be 1,800 miles away from San Antonio, but no distance is far enough to keep movie lovers from attending this global festival in the comfort of their own city. Celebrating its 19th year, the Manhattan Short Film Festival screens the same films across the globe simultaneously in more than 250 cities and six continents. San Antonio is one of four Texas cities participating in the event this year. Once the finalists are screened, viewers worldwide become the festival judges and choose their favorite film of the fest. The 10 finalists this year are
The Tunnel
(Norway),
Bravoman
(Russia),
Kaputt
(Germany),
Ella Gets a Promotion?
(U.S.),
Hold On
(Netherlands),
Overtime
(Australia),
Carousel
(England),
Gorilla
(France),
I Am a Pencil
(Australia) and
The Last Journey of the Enigmatic Paul WR
(France). Based on synopsis alone, we're pulling for
Gorilla
, a rom-com set in the 1950s about an actor who performs in a gorilla suit in adventure movies only to end up falling for the lead actress. The film festival continues through October 1.
$10 per night, 8pm Fri-Sat, Urban-15, 2500 S. Presa, (210) 736-1500, manhattanshort.com.
— Kiko Martínez
Sat 9/24
San Antonio Music Showcase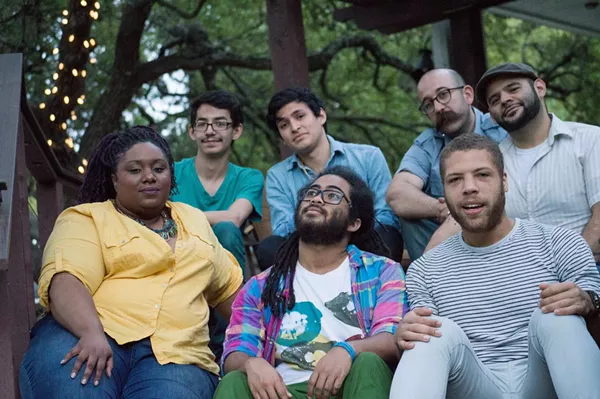 The Foreign Arm performs at Ventura at 11pm
San Anto sound takes over the city on Saturday with the 2016 edition of the
Current
's San Antonio Music Showcase, featuring some of the best local talent playing throughout the night — from the St. Mary's Strip down to South Flores. With more than 60 bands and DJs performing across a dozen stages, there's a lot to see. The Foreign Arm at Ventura, Juanito Castillo at Squeezebox, Michael J and the Foxes at The Amp Room, Dance Like Robots at Limelight and Amea at Phantom Room are but a few of the acts we highlighted
here
.
$5 for an all-access wristband, 9pm-2am Sat, multiple locations, visit sanantoniomusicshowcase.com for details and the full lineup.

— Kelsey Valadez
Sat 9/24
"Noche Buena"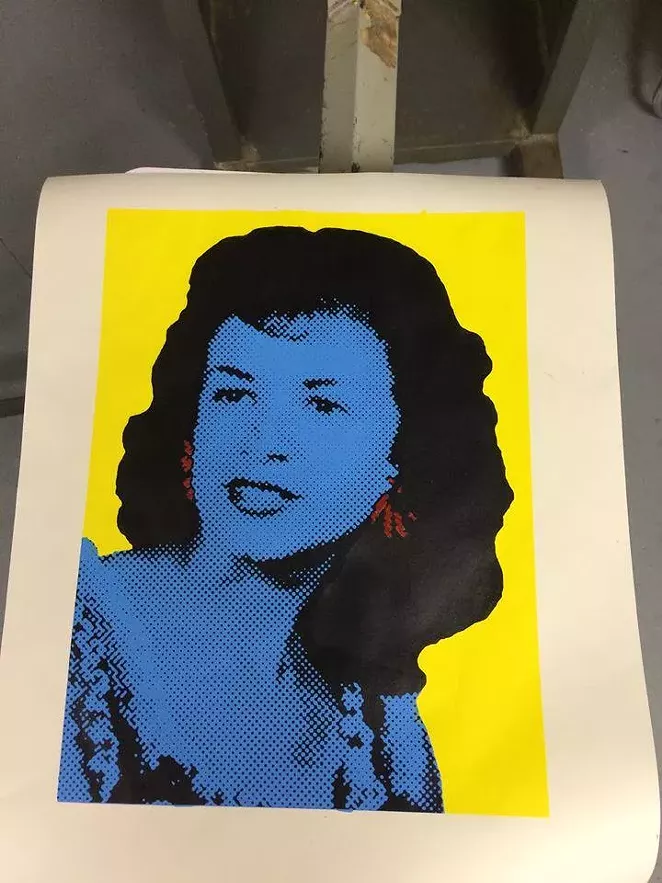 Apart from being a worldwide synonym for Christmas Eve (and a damn fine Mexican beer), "Noche Buena" is a one-night visual art and spoken-word bonanza. A stacked and diverse art showcase and poetry reading, "Noche Buena" also functions as a grand opening of sorts for La Printería, a new community printmaking studio in the heart of the Westside. While the space may be new, the talent on display includes such established (and beloved) local artists as Cruz Ortiz, Nik Soupé, Daniela Riojas, Ernesto Olivio and Ana Fernandez, along with more than 40 others. Meanwhile, the spoken-word artists who'll be holding down the mic include celebrated elders of the poetry community, including Jesse Jacinto Cardona, Anthony the Poet, Eddie Vega, Amanda Flores and Jason "Shaggy" Gossard. The event is the result of, at least in part, an exciting partnership between the Alamo Colleges' Westside Education and Training Center and the Westside Development Corporation. If you ask us, "Noche Buena" is a swell opportunity to experience a wide swath of San Anto's best creative energy while also helping to launch a promising new venture.
Free, 7-11pm Sat, Galería 237 at La Printería, 563 SW 40th St., facebook.com/laprinteriasa.
— James Courtney
Sat 9/24
4x5 Photo Fest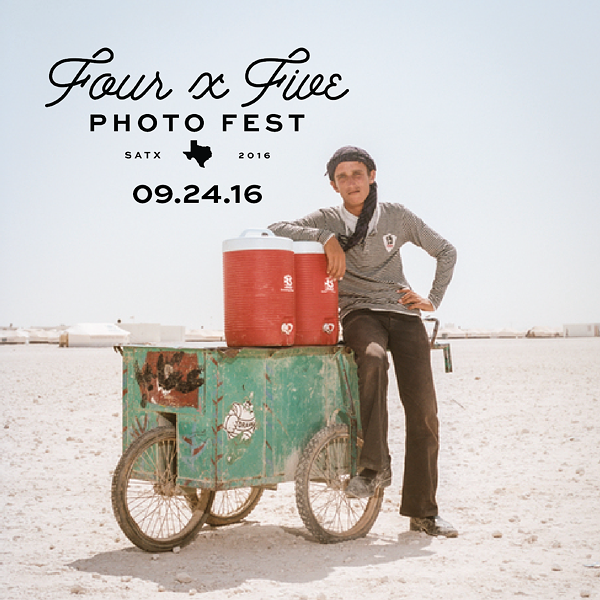 While the name is a bit of an ode to the bygone days when a photo was a thing that really didn't exist until you got it developed (or developed it yourself, like a boss), the 4x5 Photo Fest is actually quite an innovative one-day affair meant to showcase budding and established photographers in the SA/ATX area, while fostering a sense of collaboration and community. The website elaborates on this mission: "Through collaborations with photographers, journalists educators, and businesses, we are specifically [seeking] to heighten the rich and diverse photography community in the San Antonio and Austin corridor." The extensive one-day gathering includes a talk and book signing with Dan Winters, the exhibit "By The Olive Trees" (a collaboration with Haus Collective), a "Building Relationships in the Editorial World" panel discussion with Leslie Baldwin (
Texas Monthly
), Jenn Hair (
San Antonio Magazine
and
Austin Monthly
), Chuck Kerr (
Variety
) and Chris Skiles (
Academy Sports & Outdoors
), and a curated 4x5 Photo Fair. With submissions accepted until just last week, it is evident the event's creative directors — Josh Huskin, Scott Ball and Shannon Gowen — took extra care to be as inclusive as possible. Whether you are a student of photography looking to network and learn, an old hand looking for new ideas, or simply a fan of excellent photo art, the 4x5 Photo Fest is a stop you'll want to make this Saturday.
Free, 10am-9:30pm Sat, Brick, 108 Blue Star, (210) 262-8653, 4x5photofest.com.
— JC

Sat 9/24
Selena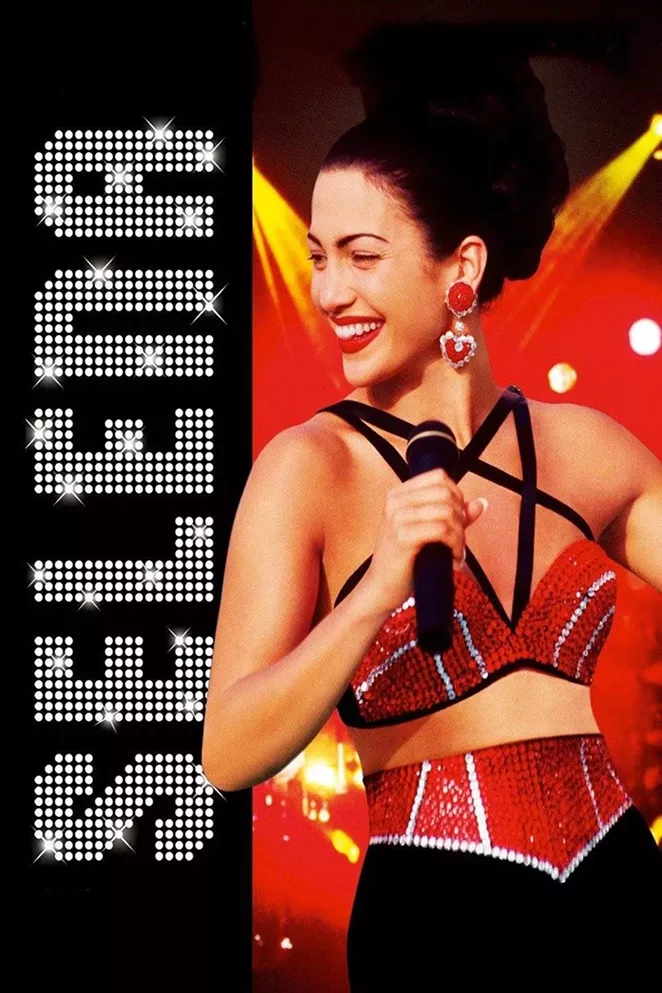 Jennifer Lopez is no Selena, but the singer/actress did do a hell of a job playing the late Queen of Tejano in Gregory Nava's biopic, which played a crucial role in spreading Selena's legacy. For many, watching the movie has become an integral part of the process of coping with Selena's untimely death and celebrating her life. In observance of Hispanic Heritage Month, Slab Cinema and Mission Marquee Plaza team up for a free outdoor screening of the 1997 film, complete with a Selena look-a-like contest, a mariachi performance, cultural demonstrations, food, beer and arts vendors, and musical finales courtesy of Isabel Marie Sanchez and Volcán.
Free, 8pm Sat, Mission Marquee Plaza, 3100 Roosevelt Ave., (210) 207-8612, facebook.com.

Sun 9/25
Parsons Dance

The Tobin Center for the Performing Arts inaugurates its new Dance Series with a performance by Parsons Dance Company. Based in New York City, Parsons Dance is internationally renowned for pushing the envelope of modern dance while staging performances that engage diverse audiences. In performance, the company explores the full range of human movement and doesn't limit itself to traditional techniques, placing each dance in a world of its own. Some pieces evoke a sense of swimming, or the atmosphere of a speakeasy, or even the dancing crowd at a concert. Evocative movement keeps the audience at attention — a lithe and flowing piece can be followed by a dance filled with what can only be described as spasmodic outbursts, and even the movement of dancers' hair is integrated into the choreography. By weaving all of these elements together, Parsons Dance creates an experience that's simultaneously challenging and accessible.
$20-$54.50, 7pm Sun, Tobin Center for the Performing Arts, 100 Auditorium Circle, (210) 223-8624,
tobincenter.org.
— Kelly Merka Nelson