Thu 10/6 - Sun 10/8
Josiah Media Festival


A still from San Antonio native Alexia Salingaros' film Of Gods and Bells
The internationally recognized film festival for filmmakers 21 years of age and younger has continued to inspire attendees each year since its inaugural event in 2007. Named after Josiah Miles Neundorf, a 20-year-old media artist from San Antonio who passed away from bone cancer in 2006, the festival was created by Josiah's parents, Marcus and Nancy, as a memorial for their son and an opportunity for aspiring young filmmakers to share their work. This year, 58 films will screen from all over the world, including countries like Australia, Denmark, Slovenia, South Africa and Brazil, among others. San Antonio-based filmmakers will also be represented (Geoffrey Glenn, Eryk Carrera, Rogelio Pedroza, Jesse Hu Jenkinson and Alexia Salingaros). Salingaros' film,
Of Gods and Bells
, which won second place in the documentary category this year, will screen Saturday at 7pm with the rest of the award winners. First place winners are:
Acquiescence
(animated film by Fierrany Halita of Indonesia),
Ernie
(narrative film by Hadley Hillel of Seattle),
A Harmonious Cacophony
(documentary film by Isabela Reid and Marielle Boland of San Francisco) and
Masso Awwo
(experimental film by Duncan Senkumba of the U.K.).
$10-$30, 7pm Thu-Fri, 2pm & 7pm Sat, URBAN-15, 2500 S. Presa St., (210) 736-1500, josiahmediafestival.com.
– Kiko Martínez
Thu 10/6
'SATX/MX'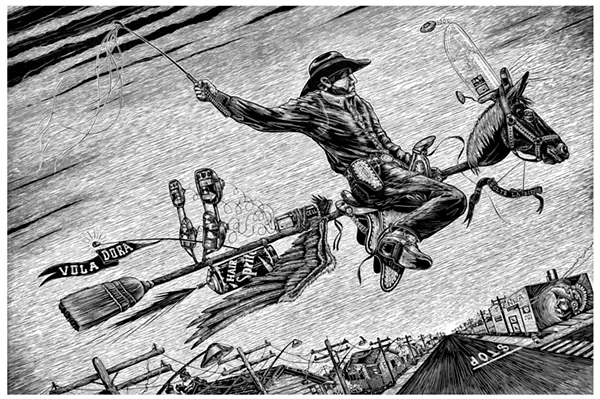 Just in time for Hispanic Heritage Month, the City of San Antonio's Department for Culture and Creative Development opens its inaugural art exhibit at Centro de Artes. Featuring the work of 21 contemporary San Antonio artists (both establish and emerging), "SATX/MX: Un Viaje Lleno de Cultura" focuses largely on celebrating "San Antonio's shared roots and deeply held tradition of cultural exchange with Mexico." Featured artists include Albert Alvarez, Ruth Buentello, Mari Hernandez, Jenelle Esparza, Ana Fernandez, Daniela Riojas and many more. Hosted at Texas A&M University–San Antonio's Centro de Artes downtown — on the grounds of historic Market Square, in the space of the former Museo Alameda — the exhibit will occupy two floors and give us all cause to celebrate the fact that the Daughters of the Republic of Texas didn't move their library into the space after all, as was briefly considered. As the city works to build up this cultural zone, events like this one, which uphold the Centro de Artes' mission to tell "the story of the Latino experience with a focus on South Texas," will hopefully happen with increasing frequency. But, as with all neighborhoods and cultural zones, this one can only thrive if we show up. See you there?
Free, 6pm Thu, Centro de Artes, 101 S. Santa Rosa Ave., (210) 207-1435, getcreativesanantonio.com.
— James Courtney
Thu 10/6
Slither and The Mist




Video Dungeon Theatre hosts an outdoor "creature double feature" reviving James Gunn's 2006 horror-comedy
Slither
(following a car dealer infected by an extraterrestrial parasite) and Frank Darabont's 2007 monster movie
The Mist
(based on Stephen King's 1980 novella of the same name).
Free (food and drinks available for purchase onsite), 9pm-1am Thursday; Oak Hills Tavern, 7920 Fredericksburg Road, (210) 614-8855, facebook.com.
— BR


Fri 10/7 - Sat 10/8
Locolobo


Jules Vaquera and Yleana Wooten in Locolobo
A fitting follow-up to the kooky, spooky antics of the gay-themed
Ghostbears
, The Overtime's October offering
Locolobo: A Punk Prometheus Psycho Wolf Musical Comedy
tempts theatergoers with "riffs, wisecracks, lycanthropy" and a face-melting soundtrack. Penned by Arlington transplant Jens Rushing (who made headlines last year with a viral Facebook post about the minimum-wage debate), the play follows Ruby Bolt, a hard-rocking singer who unwittingly becomes "ensnared in the monster politics" swirling around the mythical region of Texasylvania and its popular watering hole Drinkenstein's. How (or if) the plot parallels the life and times of the eternally suffering Greek Titan Prometheus is anyone's guess. William M. Razavi directs Yleana Wooten (as Ruby Bolt), Venny Mortimer (as Victor, an "an experimental homunculus with a heart of gold") and Jules Vaquera (as Professor Chimaera, a "not quite mad scientist") in the world premiere.
$10-$15, 8pm Fri-Sat, The Overtime Theater, 1203 Camden St., (210) 557-7562, theovertimetheater.org.
— BR

Fri 10/8 - Sun 10/9
Sweeney Todd

The Woodlawn Theatre brings Stephen Sondheim's musical
Sweeney Todd
to its stage this week, just in time for the Halloween season. A fixture of Victorian penny dreadful novels, the Demon Barber of Fleet Street and his partner in crime's dubious pies first appeared well over 100 years ago. However, Sweeney Todd didn't become more than a run-of-the-mill murderer until the story was adapted for the stage in the 1970s, when he was given a motivation behind his madness – a quest for revenge against a corrupt local judge. By weaving love, betrayal, rage and music into the story, the lurid tale was made weightier while maintaining the heightened atmosphere of its melodramatic origins. Productions of the musical feature Broadway belting and spilled blood in equal measure — beware of the splash zone.
$17-$26, 7:30pm Fri-Sat, 3pm Sun, Woodlawn Theatre, 1920 Fredericksburg Road, (210) 267-8388, woodlawntheatre.org. Through November 6.
— Kelly Merka Nelson

Sat 10/8
Chalk It Up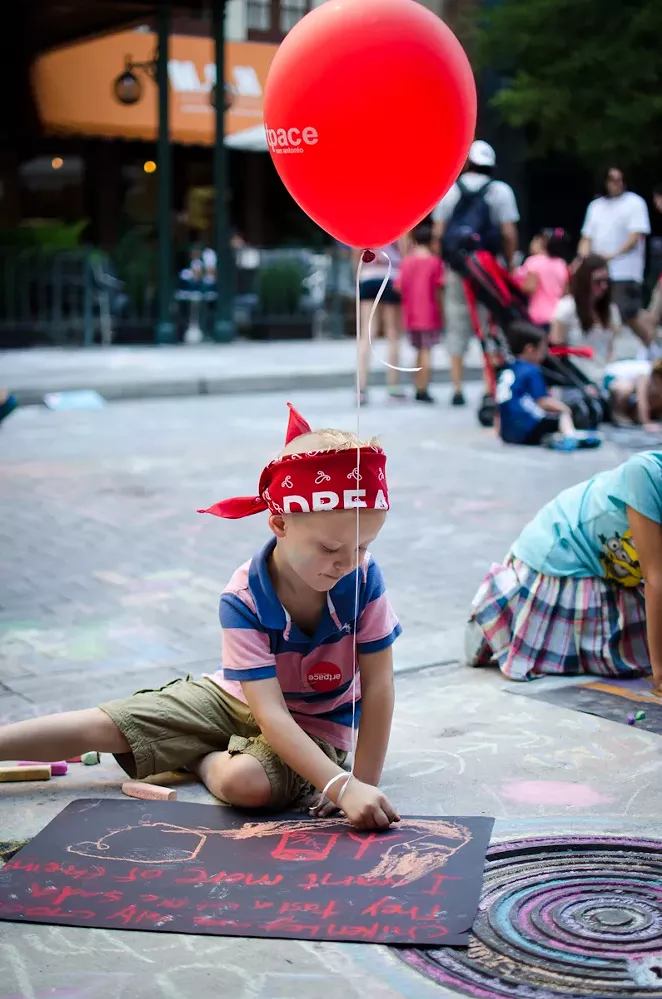 The late Linda Pace's "laboratory of dreams" spills youthful energy and creative vibes into the heart of downtown each October via Artpace Chalk It Up. Curated by Roberta "Nina" Hassele, the 13th annual affair is set to turn five city blocks into a street-level gallery showcasing fleeting masterpieces by featured artists Emily Fleisher, whose sculptural works are currently on view in Artpace's Window Works Gallery, and John Hernandez as well as 20 emerging artists (Lili Peña Dyer, Gustavo Pimentel, Katherine Brown, Ana Hernández-Burwell, Justin Duffy Mendez and Rhys Munro among them) and "Team Works" projects led by area schools, universities and nonprofits. Live music, DJs, food trucks and a Quick Draw Photo Booth sweeten the deal.
Free, 10am-4pm Sat, downtown Houston Street, (210) 212-4900, artpace.org.
— BR

Sat 10/8
Foals


It truly is best to hear these indie-math rockers in person. Hailed as one of the top live bands of Britain, Foals blasts out frenetically groovy loops that are irresistibly catchy, especially when heard from the stage. Frontman Yannis Philippakis leads the charge of the party, teetering on the edge of the stage to sing into faces of a back-chorusing crowd. Or he plunges deep into the audience, guitar and all, while riding a writhing wave of feelings and sounds. With Bear Hands and Kiev.
$15-$75, 9pm Sat, Aztec Theatre, 104 N St. Mary's St., (210) 812-4355, theaztectheatre.com. —
Jeff Gottschalk
Sat 10/8
Kris Kristofferson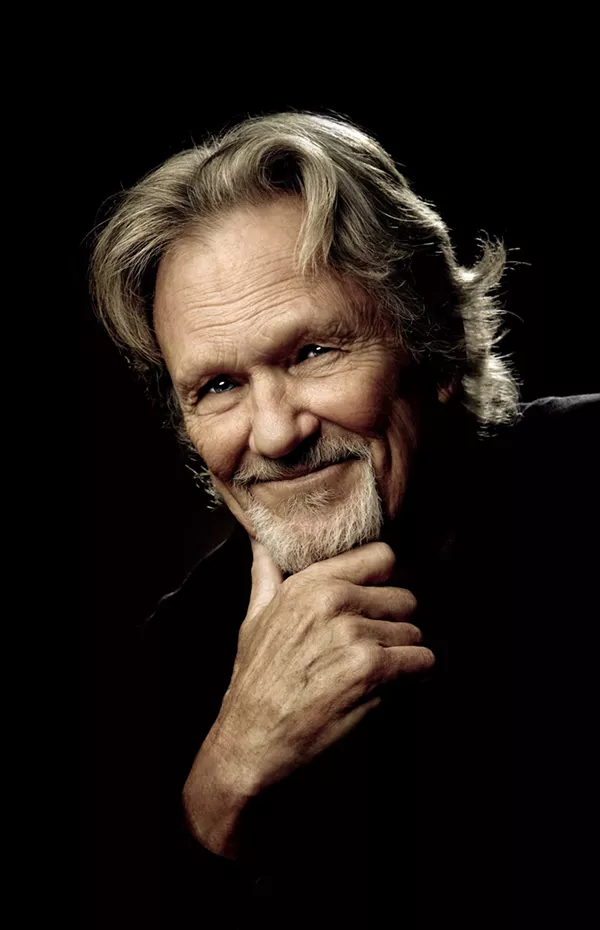 Courtesy of Kris Kristofferson
You might say Brownsville-born singer-songwriter-every-other-damn-thing Kris Kristofferson put the "outlaw" in "outlaw country" by portraying both Billy the Kid and Jesse James on screen, but the biographies of those notorious ne'er-do-wells pale in comparison to Kristofferson's own in every category except body count. Neither gunslinger, for example, ever landed a helicopter in Johnny Cash's yard. Don't try this at your own idols' homes, kids, unless you too are an Army-trained helicopter pilot hawking a song like "Sunday Mornin' Coming Down," which Cash – who'd formerly been ignoring Kristofferson's demo – took to the top of the charts in 1970, in an unbelievable chain of events Kristofferson told NPR "allowed me to quit working for a living." The former Golden Gloves boxer and Oxford-educated Rhodes Scholar was working as a janitor at Columbia Records, but after Cash's "Sunday Mornin'," Ray Price ("For the Good Times"), Sammi Smith ("Help Me Make It Through the Night") and Janis freaking Joplin ("Me and Bobby McGee") also took Kristofferson's songs to No. 1, and everyone from Elvis Presley to Jennifer Love Hewitt has tried to do the same, ensuring the only things the music industry will ever ask Kristofferson to pick up again are royalty checks and lifetime-achievement awards.
$34.75-$54.75, 8pm Sat, Tobin Center for the Performing Arts, 100 Auditorium Circle, (210) 223-8624, tobincenter.org.
— JM
Sun 10/9
Swan Lake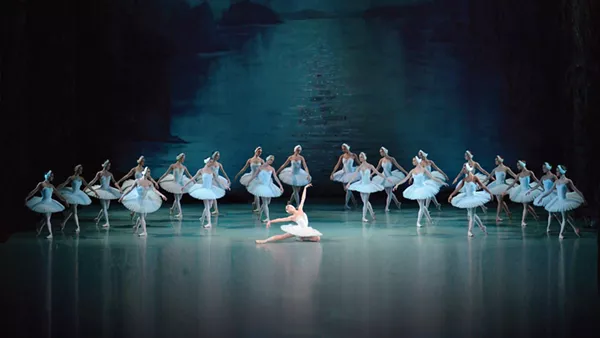 Courtesy of Russian Grand Ballet
The Russian Grand Ballet graces the Majestic as part of its latest national tour. For one night only, the world-renowned troupe will perform Tchaikovsky's
Swan Lake
, one of the quintessential examples of traditional ballet repertoire. Typical of the Romantic era,
Swan Lake
retells a fairy tale in a medieval setting: The Princess Odette is cursed to take the form of a swan and can only be rescued by the true and faithful love of Prince Siegfried. Tragically, their love is severed by an evil sorcerer's machinations, and the ballet most commonly ends with the doomed lovers throwing themselves to their deaths in the titular lake. The Russian Grand Ballet's production employs traditional costume and set design as well as Marius Petipa and Lev Ivanov's 1895 choreography, thus recreating the atmosphere of Tchaikovsky's Romantic vision for modern audiences.
$44.25-$89.25, 7pm, The Majestic Theatre, 224 E. Houston St., (210) 226-3333, majesticempire.com.
— KMN
Sun 10/9
The B-52s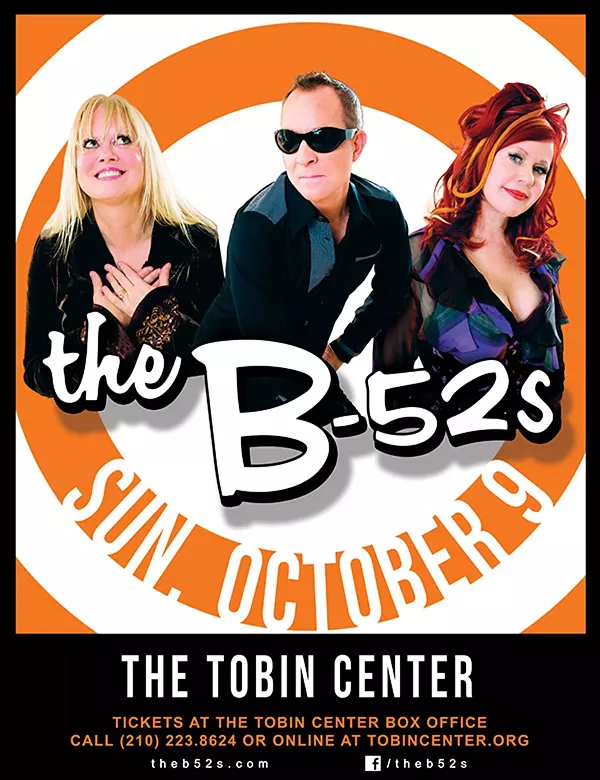 Courtesy of Tobin Center for the Performing Arts
Released last year,
Live! 8-24-1979
is definitive proof that whichever parallel-reality America the B-52s swooped in from is clearly the superior one. Eisenhower-era cheese — beehive hairdos, tiki and hot-rod culture, etc. — was reappropriated and weaponized by punks who watched at least as many beach-party movies as biker-gang flicks ("Rock Lobster") and shook their moneymakers doing the "Aqua Velva" and the "Hypocrite" ("Dance This Mess Around"). There, the disco vs. punk dichotomy must be nonexistent: Gay icon Fred Schneider gamely offering to "kiss your pineapple" on the dancefloor deserves the same kind of guitar squawl Roger Daltry growling "I hope I die before I get old" once merited ("Strobe Light"). Between their self-titled debut and 2008's comeback
Funplex
, the B-52s have given us four decades of alternate American history with which to embellish and improve our own. See it onstage while you still can, before they fly their positivity-powered convertible back to "Mesopotamia," "Planet Claire," "Hallucinating Pluto" or whatever it is they call the kitsch-kissed wonderland that loaned them to us.
$39.50-$96.50, 7pm Sun, Tobin Center for the Performing Arts, 100 Auditorium Circle, (210) 223-8624, tobincenter.org.
— Jeremy Martin