Thu 10/27
"Perennial Boundaries"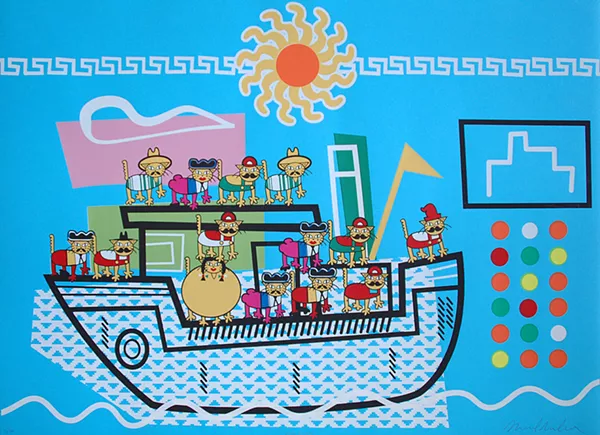 Michael Menchaca, Nuevo Acuerdo
With a pointed nod to the upcoming election, Olmos Park's Ruiz-Healy Art unveils an exhibition gathering works by contemporary artists Margarita Cabrera, César Martínez, Fernado Andrade and Michael Menchaca. Titled "Perennial Boundaries," the group show creatively mines "the socio-political experiences in Texas and along the U.S-Mexico Border."
Free, opening reception 6-8pm Thu, artist talk 1pm Sat, Ruiz Healy Art, 201-A E. Olmos Drive, (210) 804-2219,
ruizhealyart.com
.
— Bryan Rindfuss
Click
here
for our Q&A with "Perennial Boundaries" artist Fernando Andrade.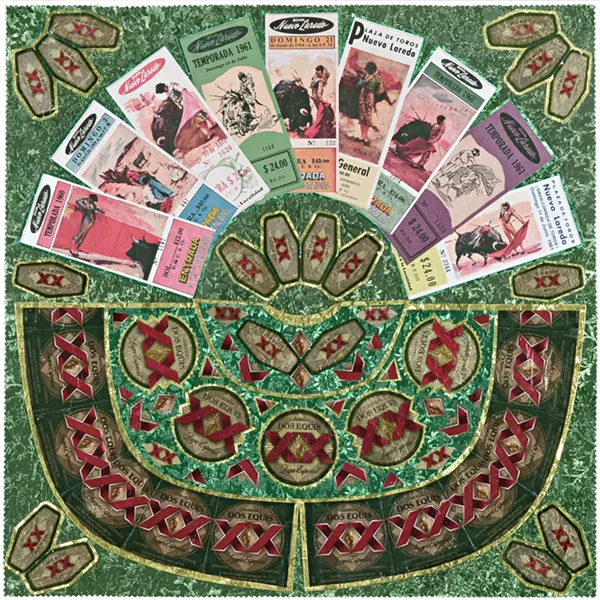 Cesar Martinez, Capote de Paseo (Dos XX Lager)
Fri 10/28
Nina Diaz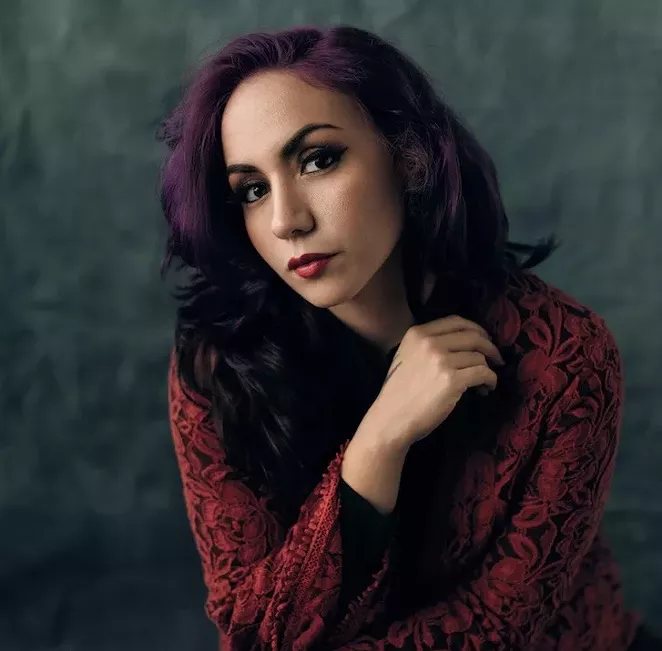 Nina Diaz photographed by Josh Huskin for the San Antonio Current
French writer and existential philosopher Simone de Beauvoir famously quoted in
The Second Sex
: "One is not born a genius, one becomes a genius." An established veteran of San Antonio's indie rock scene, Nina Diaz deserves her reputation as a musical genius in the making. The critically acclaimed Girl in a Coma alumna is celebrating the release of her first solo album – The Beat is Dead – with a concert at the distinguished Tobin Center for the Performing Arts. Deeply affecting, this latest album portrays the artist's grueling journey toward sobriety through electrifying tracks that push the listener's emotional extremes. Feel the sound and fury for yourself in darkly emotive head bangers like "Rebirth" and "Screaming Without a Sound." In this rousing spectacle, Diaz's seductive showmanship is sure to inspire fans, both new and old.
$15, 8pm Fri, Tobin Center for the Performing Arts, 100 Auditorium Circle, (210) 223-8624, tobincenter.org.
— Abby Mangel
Click
here
for our cover story on Nina Diaz.
Fri 10/28
Trevor Noah


Perhaps no other late-night comic has articulated the absurdity of the so-called "trans panic epidemic" better than
The Daily Show
's Trevor Noah. In an episode that aired earlier this year, Noah lambasted supporters of the many anti-LGBT "bathroom bills" being proposed around the country. "If you replace 'transgender' with any other group in society, you realize that we've been here before," Noah said. "We've had this conversation about minorities before … Society has done this over and over again. The same thing was said about black people … We cannot think of why anyone wouldn't have wanted multi-racial bathrooms." An offshoot of his one-hour Comedy Central special covering "everything from terrorism to police brutality to Ebola to his grandmother," Noah — who was notably the first South African stand-up to appear on
The Tonight Show
and the
Late Show with David Letterman
— brings his Lost in Translation Tour to the Tobin.
$38-$58, 8pm Fri, Tobin Center for the Performing Arts, 100 Auditorium Circle, (210) 223-8624, tobincenter.org.
— Marco Aquino


Fri 10/28 - Sun 10/30
Alamo City Comic Con


Cosplayers at Alamo City Comic Con
As giddy geeks across the Southwest prepare for San Antonio's largest and most popular comic-book convention this weekend, it's anyone's guess as to how massive the turnout is going to be for the fourth annual event (85,000 attendees showed up in 2015). "I'm excited that more and more San Antonio residents are coming to ACCC every year," Apple de la Fuente, ACCC festival director and founder, told the Current last week. "As we continue to grow, we're also getting the chance to show off our beautiful city to top-name artists and celebrities. We hope to break our record from last year and it looks like we are on track to do just that." So, what is it exactly that has so many fans ramped up this year? Along with a full slate of guest artists and writers from publishing houses like Marvel and DC, expect a convention floor brimming with creative cosplayers, fanboys and fangirls lining up to meet, take photos with, and get autographs from their favorite TV, film and pop-culture celebrities, including the young cast from the hit Netflix original series
Stranger Things
(Millie Bobby Brown, Gaten Matarazzo, Caleb McLaughlin and Noah Schnapp). Also on the roster: David Tennant (
Doctor Who
,
Jessica Jones
), Charlie Cox (
Daredevil
),
Gotham
stars Camren Bicondova (Catwoman) and Cory Michael Smith (Edward Nygma), Ralph Macchio (
The Karate Kid
), Billy Dee Williams (
Star Wars
), Margot Kidder (
Superman
), wrestlers Ric Flair and Sting, and San Antonio's own Summer Glau (
Serenity
) and Peter Weller, (
Robocop
), not to mention every current millennial's nerdy crush of the 1990s, the Pink Ranger herself, Amy Jo Johnson (
Mighty Morphin Power Rangers
). And that's just for starters. Let's not forget a special Saturday-only appearance by Kim Jong-un's BFF and cuddle buddy, five-time NBA Champion and former San Antonio Spurs forward Dennis Rodman. While he's here, remind us to tell him, "You're welcome!" Thanks for nothing, Will Perdue.
$15 (child pass), $30-$40 (one-day pass), $80 (three-day pass), 11am-8pm Fri, 10am-7pm Sat, 11am-6pm Sun, Henry B. Gonzalez Convention Center, 900 E. Market St., (210) 207-8500, alamocitycomiccon.com.
– Kiko Martinez

Fri 10/28 - Sun 10/30
Día de los Muertos


Desiderio Hernández Xochitiotzin, La Calavera Catrina, 1951
Arguably the most enduring image left behind by iconic Mexican illustrator and political satirist José Guadalupe Posada (1852-1913), the elegantly attired Calavera Catrina might as well be the patron saint of Día de los Muertos. Inspired by the Aztec goddess of death Mictecacihuatl and created by Posada as a pointed critique of Mexican Revolution-era aristocracy, la Catrina can be seen in various incarnations as San Antonians gather to honor the dearly departed at Día de los Muertos celebrations. Serving up a playful fusion of Halloween and Day of the Dead traditions,
the McNay
invites "muertitos and ghosts" 21 and up to dress the part for a
Muertosween Bash
complete with a costume contest, "boo-zy" drinks, snacks from Bakery Lorraine and music by DJ JJ Lopez.
$35, 7-10pm Fri, McNay Art Museum, 6000 N. New Braunfels Ave., (210) 824-5368, mcnayart.org.
A fan favorite from the get-go,
La Villita
's epic
Día de los Muertos Celebration
combines a high-stakes altar competition (first place wins $2,000), creative workshops, an art market with 30-plus vendors, a puppet procession presented by Las Monas drum and dance troupe and an eclectic live music lineup that this year features Eva Ybarra, Volcán, Femina-X (Saturday), Las Tesoros de San Antonio, Azul Barrientos and Mexico City-based Morrissey tribute supergroup Mexrrissey (Sunday).
Free, 10am-11pm Sat, noon-10pm Sun, La Villita, 418 Villita St., (210) 207-8614, muertosfest.com.
Founded in 1980 with a mission to "preserve and promote the rich traditions of Latino culture," the
Guadalupe Cultural Arts Center
pulls out all the stops for an indoor/outdor
Día de los Muertos
event featuring an exhibition of community altars created by local artists, students, organizations and members of the surrounding Westside community, readings from the Barrio Writers youth group, a peace and remembrance procession, art-making workshops where guests can craft sugar skulls, masks and papel picado, and live performances by Grupo Animo, the Mariachi Academy and the Guadalupe Dance Company.
Free, 3-8pm Sun, Galería Guadalupe (723 S. Brazos St.) & Guadalupe Theater (1301 Guadalupe St.), (210) 271-3151, guadalupeculturalarts.org.
— BR
Costumed revelers at the Guadalupe's Día de los Muertos celebration photographed by Edward Benavides
Sat 10/29
Spurs vs. Pelicans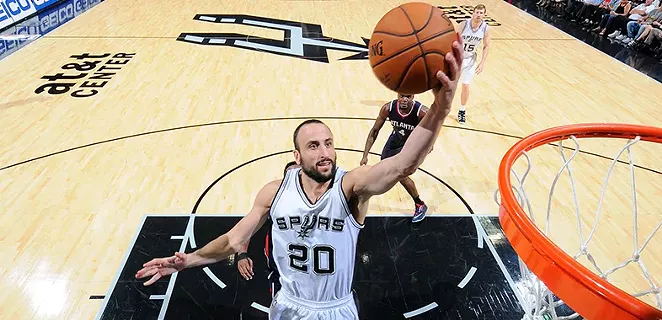 Spurs Sports and Entertainment
After a couple of road games in California to open the season, the Kawhi Leonard era officially tips off in San Antonio for the Spurs this Saturday. Leonard is coming off his first All-Star campaign and wisely passed on the Olympics in Rio to spend time with his newborn daughter. In the absence of Tim Duncan, the Spurs will count on Leonard to continue to grow as leader, as his polished game steadily evolves. Regarded by many as the best two-way player in the NBA, Leonard enters the season with a shot at a rare third-straight Defensive Player of the Year Award. A trio of fresh big men including former All-Stars Pau Gasol and David Lee, along with newcomer Dewayne Dedmon, arrive to reinforce the paint for a Spurs defense that, like Leonard, will be critical to San Antonio's success this season.
$35-$1,000, 7pm Sat, AT&T Center, One AT&T Center Pkwy., (210) 444-5000, attcenter.com.

– M. Solis

Sat 10/29
Dreadful Delights: A Tease Macabre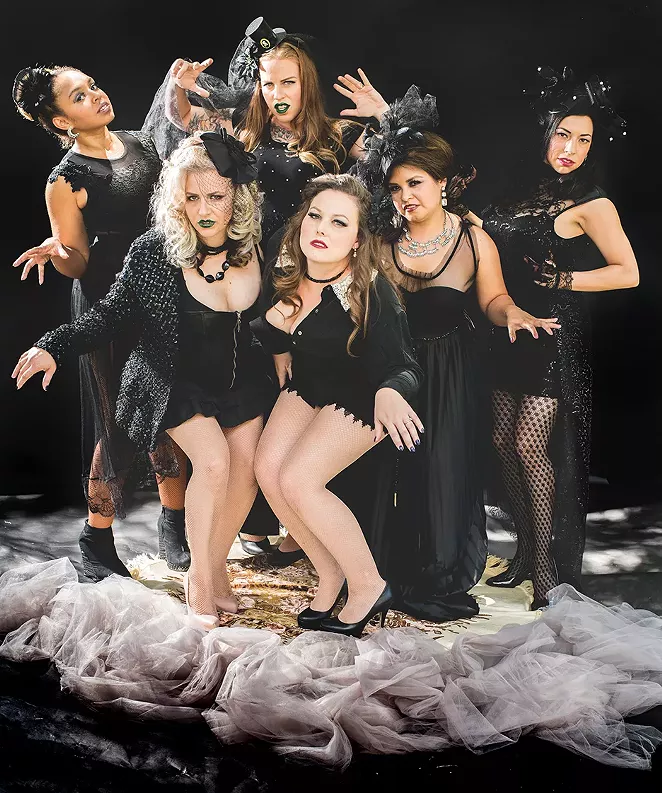 The haunting hotties of Stars and Garters are ready to shake their bones and heat up Halloween with
Dreadful Delights: A Tease Macabre
. A first for San Antonio's long-reigning Best Burlesque Troupe, the "shamelessly sexy revue" unites S&G all-stars Pystol Whips, Black Orchid, Coco Simone, Squirrelly Temple, Candy Kane and Lucky Strike with variety artist Teddy Bare and "weirdly wonderful circus performer" The Queen Anthuros for an evening of "undead elegance" and Halloween-themed audience participation games. According to these lovelies, "Things are about to get dead sexy, darlings."
$10-$25, 8pm Sat, Brick, 108 Blue Star, (210) 262-8653, starsandgartersburlesque.com.
— BR
Sat 10/29
Night of the Creeps II


One of the best things about Halloween is the opportunity to pretend to be someone (or something) else. When we play new roles — aside from it just being fun — we are able to release stress, practice creativity and even expand our capacities for empathy (in a light-hearted kind of way). For the second year in a row, Paper Tiger is throwing a Halloween bash that truly celebrates the act of becoming something else for a night. Their multi-faceted Night of the Creeps II features a costume contest, artwork by 10-plus local artists (Angela Fox, Regina Morales and Inés Estrada among them), and a massive live music lineup. But, don't just expect to catch your favorite local bands doing their typical thing. This unique show sees each band dress up as, and play the music of, a band of their choosing. There are plenty of acts to look forward to, including The Grasshopper Lies Heavy as Local H, Flower Jesus Quintet as The Velvet Underground, The Bolos as Devo, Sailor Poon as The Cramps and Cannibal Bitch as Butthole Surfers.
Free, 6pm Sat, Paper Tiger, 2410 N. St. Mary's St., papertigersa.com.
— JC

Sat 10/29
Trip or Treat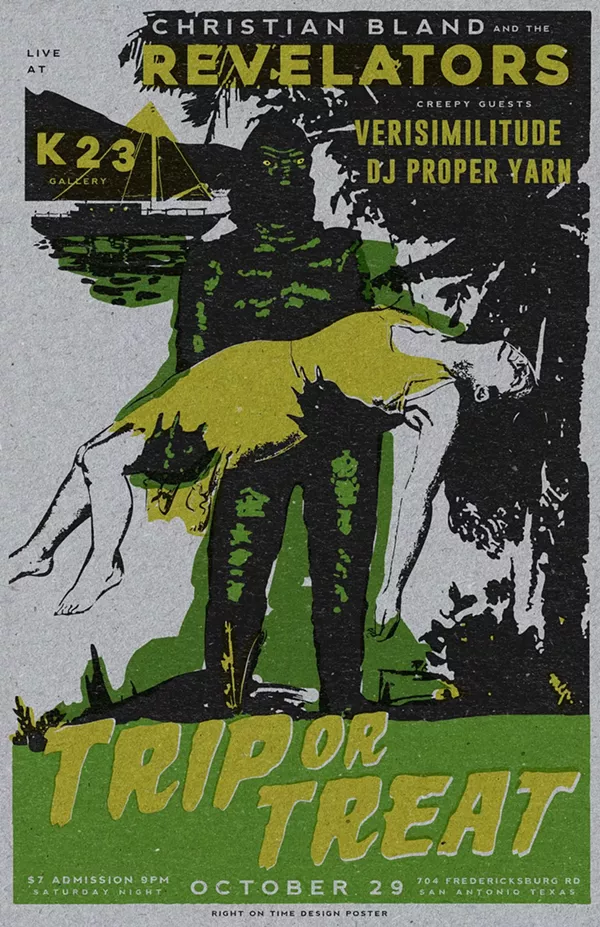 The tastemakers and trendsetters of K23 Gallery are waking the dead this Halloween weekend with their devious Trip or Treat showcase. Christian Bland and the Revelators usher in the dark night with brooding beats and demonic drones. The group started as an independent project of the Black Angels' guitarist, Christian Bland, a prolific shoegazer who founded Levitation (formerly known as Austin Psych Fest) alongside the aptly named Reverberation Appreciation Society. Drenched with obscured vocals and heavy guitar riffs, Christian Bland summons supernatural vibrations in ominous tracks like "Black Crayon." Drifting through the air like the wispy smoke of a burning cigarette, the song feels like a midnight drive through a sinister dreamscape. The synthy savants of Verisimilitude keep it real with Christian Bland at K23, the hotbed for live and local music in Beacon Hill.
$7, 9pm-1am Sat, K23, 702 Fredericksburg Road, (210) 776-5635,
k23gallery.wixsite.com/k23tx
.
— AM

Sat 10/29 - Sun 10/30
Mala Luna Music Festival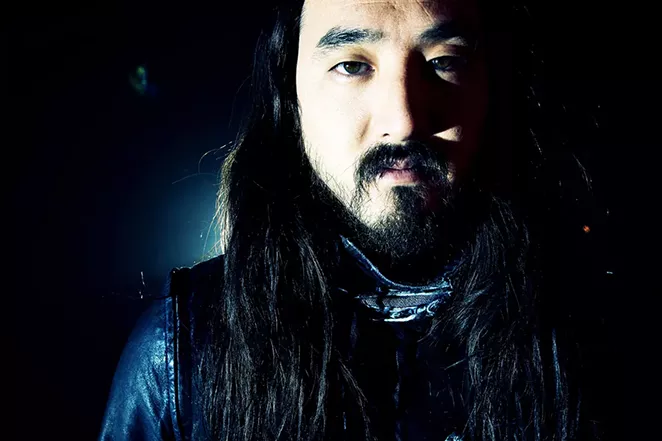 Steve Aoki photographed by Robin Laananen
If it feels like San Antonio is quickly morphing into a legit music festival destination ... well, that's because it kind of is. Consider the annual Maverick Music festival, which grew from headlining acts like Gary Clark Jr. and Girl In a Coma (while nothing to sneeze at, still local/regional talent) to the main draws being the Flaming Lips and Public Enemy in just a few short years (as we write in this week's music section, Maverick's new partnership with the Tobin Center is an encouraging sign next year will be even bigger). But no one's ever tried quite exactly what Scoremore Shows (the young, premier hip-hop promoter in Texas) is hoping to pull off with the Mala Luna Music Festival. The first large-scale music fest to take over the old Lone Star Brewery touts a remarkable lineup for EDM- and hip hop-loving crowds alike. Top headliners include Kaskade, Houston phenom Travis Scott (who just finished a tour with Rihanna) and the indefatigable Steve Aoki alongside rappers Kevin Gates and G-Eazy. Not forgetting San Antonio's homegrown talent, local artists IVY, VI$ION, Greg G, Mitch James, KWYK, and Phillip Wolf are all slated to perform. With a mix of EDM and hip-hop, it appears that Mala Luna will be something of a sister festival to Scoremore's annual El Paso throw-down, the Neon Desert Music Festival. We say it's about time we got our own.
$89-$399, noon-10:45pm Sat-Sun, Lone Star Brewery, 600 Lone Star Blvd.,
malalunamusicfestival.com
.
Click
here
for our rundown of acts to see at Mala Luna.