Thu 11/3 - Sat 11/5
Muertitos Fest


Aiming to offer "an international perspective on Día de los Muertos," SAY Sí's 10th annual Muertitos Fest welcomes members of Kolkata, India-based nonprofit Prayassam for a series of multidisciplinary performances exploring unlikely connections between the pre-Columbian tradition and the Hindu observance of Mahalaya Paksha (aka Pitru Paksha). Following a theme of "Fronteras de la Tierra y Cielos (Borders of the Earth and Heavens)," the three-night fest kicks off with a ticketed fundraiser (
$35-$40, 7-10:30pm Thu
), opens to the general public on First Friday (
free, 6-10pm Fri
) and wraps up with a fun-filled Family Day on Saturday (
free, noon-4pm Sat
).
SAY Sí, 1518 S. Alamo St., (210) 212-8666, saysi.org.
— Bryan Rindfuss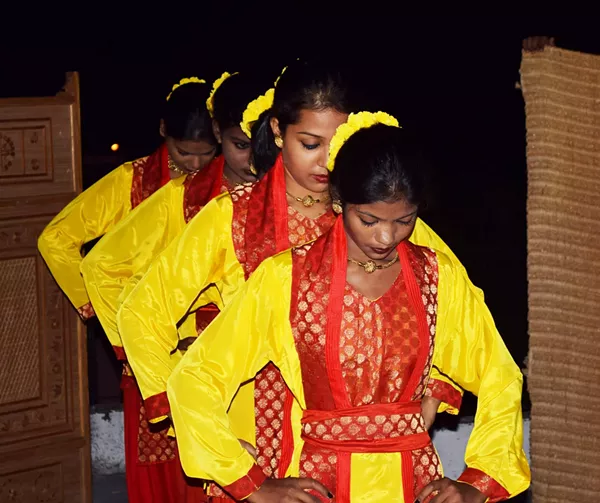 Fri 11/4
"November Spawned a Moz Show"

As excitement builds for a rare, already sold-out Morrissey show at the Tobin Center on November 17, fans, barely able to contain their delight, are finding ways to express their adoration and welcome the emo icon to our neck of the woods. As far as proof of his flock of followers here in town, one need look no further than an art show that's opening November 4 at Presa House Gallery. The exhibit, entitled "November Spawned a Moz Show" after the Morrissey classic "November Spawned a Monster," will feature Morrissey-themed work by an impressive roster of 31 artists from across the stylistic spectrum, including James Medrano, Bryson Brooks, Agosto Cuellar, Amada Miller, Christopher Montoya, Danielle Cunningham, and many more. The exhibit will also be on view before and after the Tobin show on November 17, so fans can gather and hold onto the night as long as they can.
Free, 6-11pm Fri, Presa House Gallery, 725 S. Presa St., (210) 573-8947, facebook.com/presahouse.
— James Courtney


Fri 11/4
Maná

Not only is Mexico's Maná the Spanish world's most successful pop-rock band ever — it is also the most underrated. Rocanrol purists who accuse them of being too soft may have never seen them live: Cuban-born drummer Alex González is a beast who does it all (reggae, metal and, of course, anything Afro-Latin) with the precision and showmanship of Keith Moon (there; I said it); low-profile bassist Juan Calleros may be from Guadalajara but is as dependable as a Swiss watch; guitarist Sergio Vallín joined the band for
Cuando los Ángeles Lloran
(1995) and turned the band from an explosive pop act to an arena powerhouse; and singer Fher Olvera (a gypsy version of Sting) is, along with González, one half of one of the most prolific songwriting teams in Latin alternative music. The best thing about Maná is that, instead of playing it safe, they always speak their minds and have loudly and unstoppably condemned racism and the planet's destruction for years, and they were the first ones to smell Trump's bullshit. This Latin Power Tour (complete with 80-tons of equipment) comes to Texas four days before the election. Not to be missed.
$51-$1,028.70, 8pm Fri, AT&T Center, One AT&T Center Pkwy., (210) 444-5000, attcenter.com.
— Enrique Lopetegui


Fri 11/4 - Sat 11/5
Grand Re-Opening Celebration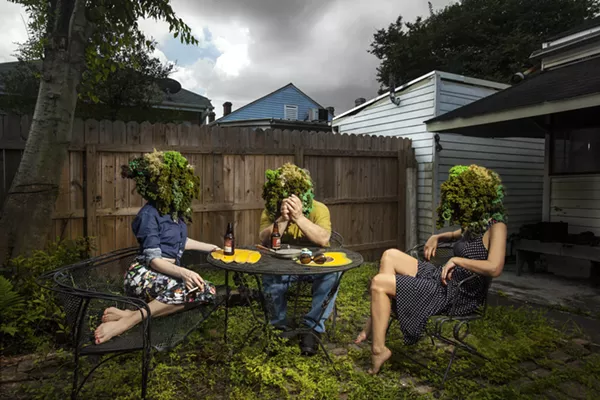 Daniela Edburg, Patio, ("Reclaimed by Nature")
We've barely had time to miss Blue Star Contemporary (BSC) as it has undergone its renovation — shuttering up back in June — because the-forward thinking organization has hardly been in repose during facelift operations. Aside from keeping busy putting together exhibits around town, the Blue Star crew has planned a glorious return to its newly updated space. First Friday and Saturday, you can be a part of the grand re-opening festivities, which include the unveiling of four new exhibitions, a community day (Saturday) full of artsy activities for folks of all ages and an exploration of exhibits from BSC's 30-year history, and a ticketed Supporters' Saturday Night soiree ($250 per person). The exhibitions opening this weekend are "Hold Still," a photography exhibit by Robert Langham III and Casey James Wilson that flips mundane artifacts of daily life in Texas into objects of mass (and personal) significance; "Beneath Metropolis," a group show featuring national and international artists who have contributed work that encapsulates the multi-varied emotional responses to city living; "Flexible Foundations," an exhibit of work by BSC Berlin Residency alum Leigh Anne Lester that takes an artful, mixed-media look at genetic modification; and "Reclaimed by Nature," a group show curated by Claudia Arozqueta (of Sala Diaz's Casa Chuck residency) that ruminates on the important and fraught relationship between humans and the natural world.
Free, 5-10pm Fri, noon-5pm & 7-10pm Sat, Blue Star Contemporary, 116 Blue Star, (210) 227-6960, bluestarart.org.
— James Courtney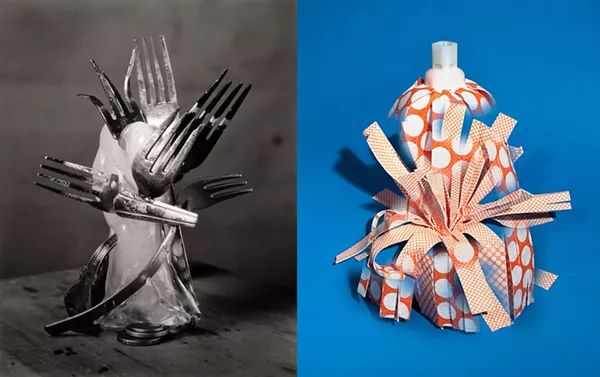 Robert Langham III, Folded Frozen Flatware; Casey James Wilson, What Is Left to Say About a Mop? ( "Hold Still")
Fri 11/4 - Sun 11/6
The School for Scandal


Craving some tawdry entertainment but tired of watching reruns of
Keeping Up With the Kardashians
? Premiered in 1777, Richard Brinsley Sheridan's
The School for Scandal
features characters that rival the most conspiratorial members of that (in)famous family. Sir Oliver returns from abroad to find his extended family embroiled in rumors of scandal. To cut through the gossip and determine which nephew deserves to inherit his fortune, Oliver engages in some subterfuge of his own, donning disguises and confronting each man with a choice that will reveal his inner nature. Meanwhile, Lady Sneerwell meddles in the nephews' love affairs, tangling their love triangle into something far messier. If your interest is piqued but you're averse to poetic dialect, don't worry – the play's dialogue is delivered in plainspoken English.
$10-$25, 8pm Fri-Sat, 3pm Sun, The Classic Theatre of San Antonio, 1924 Fredericksburg Road, (210) 589-8450, classictheatre.org.
Through November 27.

— Kelly Merka Nelson

Zachary Lewis (as Sir Joseph) and Christi Eanes (as Lady Sneerwell) costar in The School for Scandal
Fri 11/4 - Sun 11/6
The Glass Menagerie

The Playhouse San Antonio is putting on Tennesee Williams' classic memory play with a twist — in their upcoming production of
The Glass Menagerie
, the setting has been moved "from an apartment in St. Louis to the common area of a mid-century mental hospital." With this one change, the production is allowed to delve deeper into the play's central theme, shifting the perspective to further expose the dysfunction and fragility of the narrator's reality-challenged family. The script has not been altered at all: Tom Wingfield will still guide the audience through a painful memory of his sister and mother that served as a turning point in his own life. What the production does is simply alter the focus, as if a glass figurine had been shifted so that it scatters prismatic light across the stage.
$12-$42, 8pm Fri-Sat, 3pm Sun, The Playhouse, 800 W. Ashby Pl., (210) 733-7258, theplayhousesa.org. Through November 27.
— KMN

Sat 11/5
Diwali

In honor of, and in collaboration with, our sister city Chennai, India, San Antonio, believe it or not, puts on a huge event commemorating Diwali, the Hindu festival that celebrates the victory of light over darkness, of good over evil. Diwali, which for the eighth year in a row will take place at La Villita, is actually the only city-sanctioned event of its kind in the nation and draws nearly 15,000 people from all over the state. This year's family-friendly fest will feature live music and dance, traditional Diya floats, a fireworks display, a smorgasbord of Indian cuisine, and tons of artisan vendors. Aside from a genuine cultural experience and an enjoyable evening, Diwali 2016, occurring just days before the election, provides a perfect time for San Antonians of all backgrounds to come together in the spirit of cultural exchange and celebration. While we're at it, maybe we can all put our minds to willing an Election Day victory for the forces of good over evil.
Free, 5-11pm Sat, La Villita, 418 Villita St., (210) 273-2200, diwalisa.com.
— JC
Sat 11/5
Spurs vs. Clippers

Spurs Sports & Entertainment
Going into the regular season, the general consensus among NBA aficionados was that the San Antonio Spurs and Los Angeles Clippers ranked a tier below the Golden State Warriors and LeBron's Cavaliers in terms of title potential. The Spurs began their campaign one player short, with starter Danny Green sidelined by a left quad strain for at least two more weeks. They'll get no sympathy from the Clippers who slogged through last season with key injuries to Blake Griffin and Chris Paul. Much like their showdown in Oakland with the Warriors to tip off the season, Saturday night's contest against the Clippers offers a stiff challenge for Pop's charges. If given the green light, don't be surprised if Patty Mills or gunner Bryn Forbes goes off in Danny's absence.
$50-$1,600, 7:30pm Sat, AT&T Center, One AT&T Center Pkwy., (210) 444-5000, attcenter.com.
— M. Solis

Sat 11/5
Día de los Muertos Ball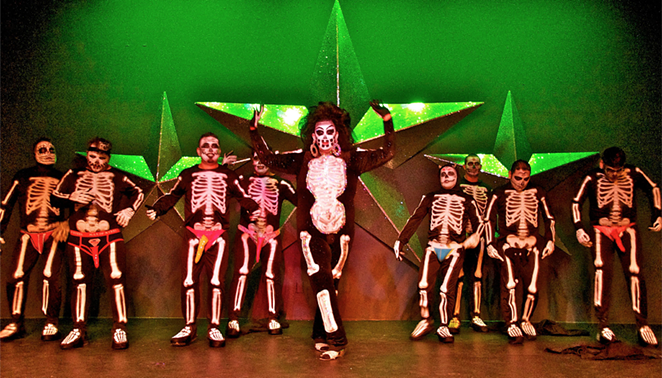 Organized by hairstylist, salon owner and out-of-the-box artist Rene Roberts, the Día de los Muertos Ball adopts a naughty S&M theme this year. Launched in 2010 at Jump-Start and now hosted in the historic confines of the Guadalupe Theater, the spectacle weaves elements of drag, vaudeville, pageantry and performance art into a wild blend that benefits area food pantries, scholarships and organizations ranging from Inner City Development to Metropolitan Community Church. Hailed by its organizers as "the best Día event in SA," the costumed shindig includes complimentary grub and Dos Equis beer but also invites "picky" guests to bring their own bottles.
$35, 6pm-midnight Sat, Guadalupe Theater, 1301 Guadalupe St., (210) 324-2662, sanantoniodiadelosmuertosball.com.
— BR


Sun 11/6
Olivia Newton-John

To some of us, Olivia Newton-John will forever be Sandy, the preppy teen who transforms into a spandex-clad bombshell in the 1978 musical rom-com
Grease
. While that role may have catapulted her into the spotlight, Newton-John was already an established singer-songwriter making unexpected waves in the country music industry. Born in Cambridge, England and raised in Melbourne, Australia, Newton-John recorded her first single at the age of 18 and earned a Grammy with the 1973 album
Let Me Be There
. Oddly mirroring Sandy's reinvention in
Grease
, Newton-John adopted a rockier style for 1978's
Totally Hot
, slipped on roller skates for the deliciously cheesy, ELO-soundtracked fantasy
Xanadu
(1980) and then topped the charts with "Physical," a sultry aerobics anthem Billboard once ranked as "The Sexiest Song of All Time." A breast cancer survivor who's dedicated to "educating and encouraging women to take a positive role in their breast health," Newton-John is also a philanthropist and humanitarian who works closely with the Amazon Center for Environmental Education and Research, and launched National Tree Day, an initiative that's added 10 million trees to Australia since its inception in 1992. Although her recent releases lean toward adult contemporary, holiday fare and even new age, Newton-John treats concertgoers to gems from her decades-spanning, genre-hopping career, interspersed with endearing anecdotes. Still stunning at 68, the Aussie icon takes a break from her extended "Summer Nights" residency in Las Vegas for a quick November tour stopping at the Majestic on Sunday.
$39-$105, 7pm Sun, The Majestic Theatre, 224 E. Houston St., (210) 226-3333, majesticempire.com.
— BR