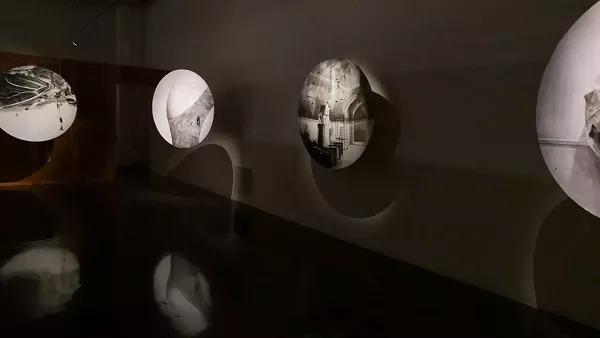 The Southwest School of Art bids adieu to its longtime papermaking and book arts department chair Beck Whitehead with a survey showcasing her work — some of which entails "painting" with colored paper pulp — alongside like-minded "pulparazzi" John Babcock (California), Shannon Brock (New York), Joan Hall (Rhode Island), Lois James (Washington), Anne Mckeown (New Jersey), Michelle Samour (Massachusetts), Peter Sowiski (New York) and Lynn Sures (Maryland).
Coinciding with the school's annual McMahon Fiber Arts Symposium, the group exhibition opens in tandem with solo shows featuring Israeli mixed-media artist Hadar Sobol (who embroiders "emotionally burdened female figures" on vintage linen napkins and paper), local photographer Erin Neve (whose "Bread Towers" reference liturgical rituals and the human body) and New Mexico's Todd Christensen (whose new site-specific installation employs
"hundreds of old and decommissioned library books" to explore "nostalgia for a past that doesn't exist."
Free, 5:30-7:30pm, Thur. Nov. 17, Southwest School of Art, 1201 Navarro St., (210) 224-1848, swschool.org.