Thu 12/1 - Fri 12/2
"nos/otras"
Jason Eric Gonzales Martinez
<!——————[if !supportLineBreakNewLine]——————>
Currently an MFA candidate at the University of Texas at San Antonio, Chicano artist and musician Jason Eric Gonzales Martinez works between sculpture, performance art and assemblage to create "artefacts/mixtech" that deal directly with "the experience of Texas Mexican Americans and the hybridity that is formed by living as an intersectional being." That hybrid classification begins to make a lot of sense when you study his deftly executed creations, many of which could indeed pass for mysterious relics left behind by a lost civilization. Often incorporating earthy materials (corn masa, nopales, leather, clay, wood, bronze, found objects, etc.), Mesoamerican symbols and rasquache sensibilities, Martinez's works come to light in "nos/otras," an MFA thesis exhibition hosted in UTSA's offsite gallery Terminal 136. Free, 6-9pm Thu-Fri, Terminal 136, 136 Blue Star, (210) 458-4352, art.utsa.edu. — Bryan Rindfuss
Jason Eric Gonzales Martinez
<!——————EndFragment——————>
Thu 12/1
Ugly God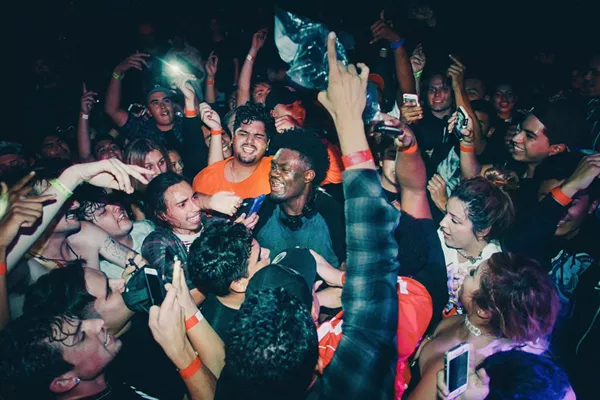 Visualize Lil Dicky taking his first steps into the codeine-laced streets of Screwston – that's the strange essence of Ugly God. Like the viral YouTube rapper, Ugly God is aroused by ordinary life at its most uncouth. In crude and outlandish numbers like "I Beat My Meat," we hear Ugly God reflect on masturbation to the unmistakable tune of a ringing iPhone. It's an artless response to the glitzy hype that enshrouds the Billboard rappers who dominate radio. Self-depreciating to the extreme, Ugly God stands as a blunt foil to Kanye West's colossal ego and Drake's shallow ostentation. Just as his working moniker implies, he resonates like the deified incarnation of the unsophisticated facets of life that listeners encounter every day. $16.75-$50, 8pm, Paper Tiger, 2410 N. Saint Mary's St., www.papertigersa.com. — Abby Mangel
Fri 12/2
Spurs vs. Wizards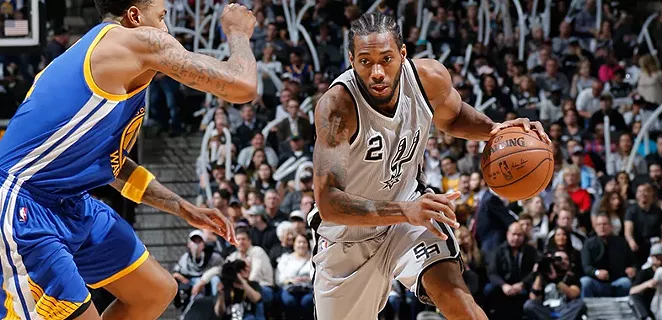 While most contenders in the NBA place premium value on chemistry, the Spurs continue to compete with an emphasis on what Gregg Popovich calls "corporate knowledge." Loosely defined as an intrinsic familiarity with
Spurs sets, complimented by a sense of humor and the ability to "get over
oneself," corporate knowledge has been tested early this season with the
abundance of new faces on San Antonio's roster. Nothing against Matt Bonner, but now that Coach Pop's ideal starting lineup has been restored, things are starting to click for the silver and black on both ends of the floor. The reemergence of Pau Gasol and the passing game should offer a solid counter to Washington's promising yet dysfruntional backcourt on Friday night. $24-$1,843, 7:30pm, AT&T Center, One AT&T Center Pkwy., (210)444-5000, attcenter.com.
– M. Solis
<!——————EndFragment——————>
Fri 12/2
"Borderwavve"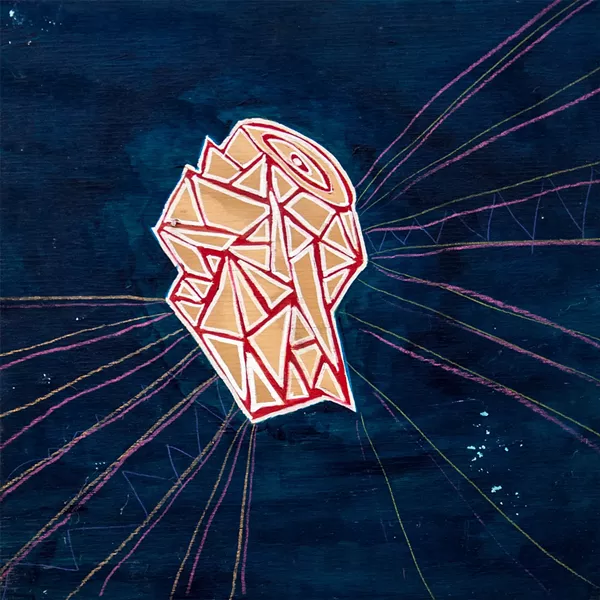 Presa House Gallery
Aldo Fabian Ramos
With only a couple of exhibitions under its belt, Presa House Gallery has proven itself as an independent art space worth keeping an eye on. Coming from a decidedly different angle than much of the politically charged, often explicit contemporary art addressing the U.S.-Mexico border, the gallery's December show "Borderwavve" brings together four artists employing the visual vocabulary of abstraction to "shatter misconceptions and claim their space in the art world, on behalf of
la frontera
."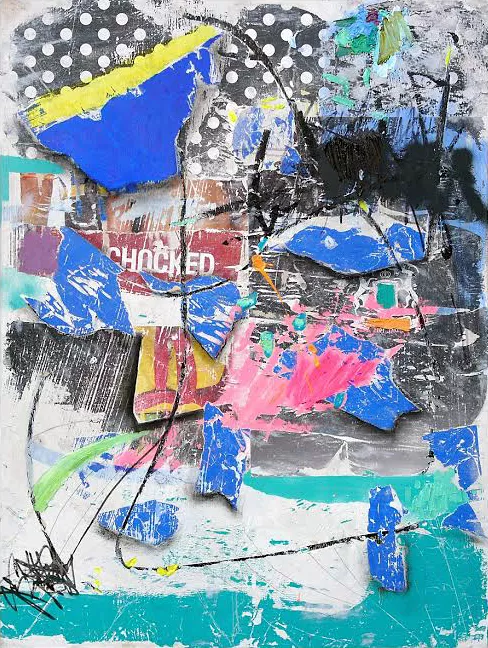 Presa House Gallery
Cande Aguilar
A self-taught artist and co-founder of the Tejano band Elida y Avante, Brownsville-born Cande Aguilar, Jr. earned his classification as a "barrio pop artist" via large-scale canvases combining elements of pop culture, graffiti and cartooning. Born in the Mexican state of Coahuila and based in Austin, Gerardo Arellano puts a postmodern spin on border culture via expressionist works riddled with familiar symbols. A "self-informed" painter with an extensive exhibition history, Piedras Negras-born, San Antonio-based artist Jorge Purón draws creative inspiration from life and work on both sides of the border. A self-taught multidisiplinary artist with ties to the forthcoming Museo de Arte Contemporáneo Ciudad Acuña, Aldo Fabian Ramos explores cross-cultural identity through paintings and drawings distinguished by a vivid palette and "collaged visionary symbolism."
Free, 6-11pm, Presa House Gallery, 725 S. Presa St., (210) 973-8947, facebook.com/presahouse.
— BR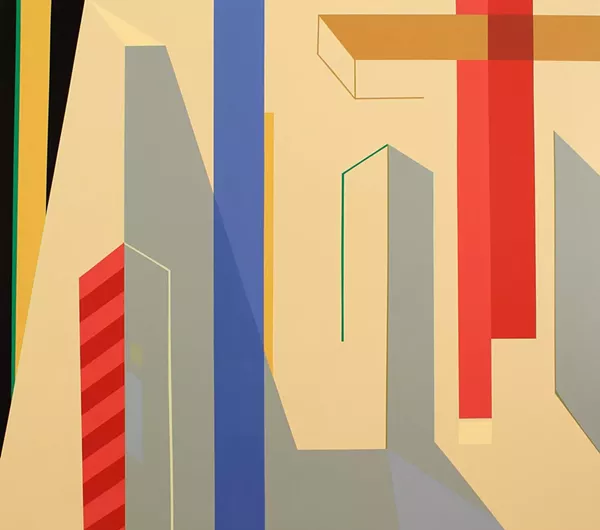 Presa House Gallery
Jorge Purón
<!——————EndFragment——————>
Fri 12/2
King Dude

Dark forces are at work in T.J. Cowgill's King Dude. Stark and prophetic, the Seattle folk project is steeped in sinister shades of the occult. Mumbling
choruses with the quick reprise of a satanic incantation,
King Dude concocts twisted numbers like "Lucifer Is
the Light of the World." Marked by Cowgill's bottomless
baritone – his vocal pitch oats somewhere between
Johnny Cash and the wrathful god of the Old Testament
– King Dude's obscure variety of Americana plays out like
campfire songs for the more outdoorsy sects of Luciferians. $13,
7pm, Paper Tiger, 2410 N. Saint Mary's St.,
www.papertigersa.com
.
— AM
Fri 12/2 - Sat 12/3
Articopia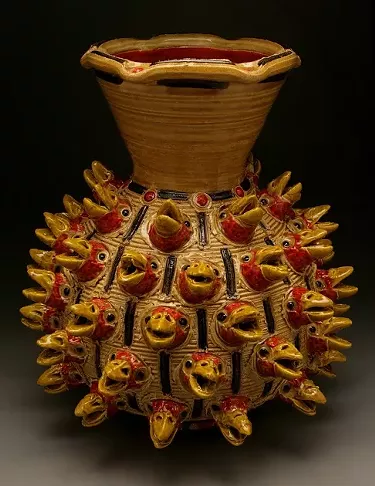 Southwest School of Art
Diana Kersey
The Southwest
School of Art's
Articopia holiday bazaar has returned for another year, filling the campus' Coates Chapel with unique and
handmade objects perfect for all your gifting needs. Vendors run the gamut from
letterpress prints to modern apparel and home decor. For the
environmentally-conscious, Casey Galloway's Hand Eye Textiles features
scratch-made shawls that use fibers she colors using natural dyes then
hand-weaves into finished garments – the holy grail for crunchy
Farm's
fashionistas
– and Boyd's
bath and body products are organic, vegan, and scented with essential oils,
providing a gentle clean without harsh chemicals.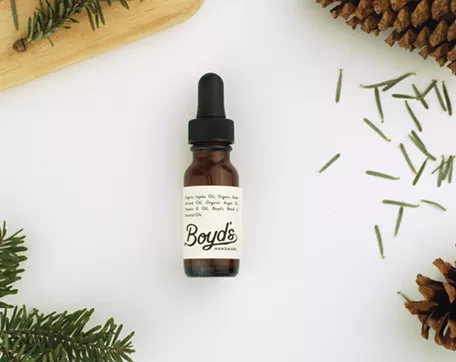 Southwest School of Art
Boyd's Farm Cedar Serum
If you're looking for gifts with a sense
of humor, BarbacoApparel's cheeky screen-printed tees will allow you to immortalize
your bestie's
taco order so that you never forget it again, and Tattoos & Love Letters' punny greeting cards will delight
your goofy pen pal. The more refined among us will enjoy Loyalty & Blood's geometric jewelry designs and
Guten Co.'s
minimalist ceramics. This year also features the introduction of the Feral Cat
Collective, which will feature items made by the school's BFA students. SSA Members will
have access to an exclusive preview from 5-6 pm on Friday for an hour of V.I.P.
shopping, after which the rest of us plebeians can get our shop on.
Free, 6-9pm Fri, 10am-5pm Sat, Southwest School of Art, Coates Chapel, 300 Augusta St., (210) 224-1848, swschool.org.
— Kelly Merka Nelson

Southwest School of Art
Barbaco Apparel Carne Guisada T-shirt
<!——————EndFragment——————>
Fri 12/2 - Sun 12/4
All Is Calm

Christmas Eve,
1914: hunkered down in the trenches, British soldiers begin to hear something
unusual — instead of exploding shells, strains of the carol "Stille
Nacht" begin to cross
No Man's
Land as German soldiers sing to mark the holiday. Soon after, soldiers began to
lay down their weapons and cross into No Man's Land. They exchanged gifts of
food and tobacco, sang together, and even buried each other's dead. Styled as a radio musical
drama,
All Is Calm
tells the story of the Christmas Truce through the words
of those who were there, using text from "letters, journals, official war
documents, poetry [and] grave stone inscriptions" among its sources. The
Playhouse's
production features San Antonio's all-male a capella group The Marcsmen, and for anyone
looking for a double dose of holiday cheer, a special double feature of
All Is Calm
and
A Marcsmen Christmas
will run on December 17.
$10-$40, 8pm Fri-Sat, 3pm Sun, The Playhouse, 800 W. Ashby Pl., (210) 733-7258, theplayhousesa.org.
— KMN

<!——————EndFragment——————>
Sat 12/3
Jimmie Vaughan

Austin-based electric blues man Jimmie
Vaughan, the older and slightly less celebrated brother of Stevie Ray Vaughan,
is a multiple Grammy winner, a dedicated student and practitioner of American
rock 'n' roll, jazz and blues, and a guitar virtuoso par excellence. Recently,
he's been quiet on the album release front, but has stayed busy touring,
including a guest spot playing with the Foo Fighters on the PBS show
Austin City Limits
in 2015. As with any guitar great, Vaughan's prowess is most
fully on display in the live setting where his fingers can trace his racing
mind and consistently inventive musical ideas upon his guitar with unfettered
abandon. While blues music may not exactly be in vogue these days, Vaughan's
signature style of writing and playing will never be obsolete.
$22-$100, 9pm, Sam's Burger Joint, 330 E. Grayson St., (210) 223-2830, samsburgerjoint.com.
— James Courtney

Sat 12/3
The Goonies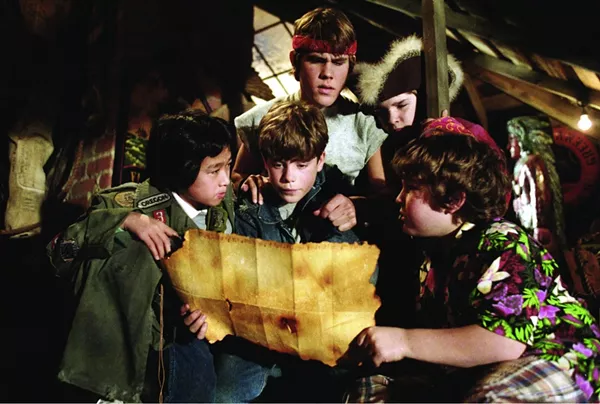 Over the last three decades, the 1985 comedy adventure starring a pubescent
Sean Astin and a slightly-older Josh Brolin has seen its cinematic cult status
rise so much, Gen-Xers who are smitten by nostalgia don't care that the movie is sort of just alright (same thing for millennials and their love for
Hocus Pocus
, which many of them consider a Halloween classic). But I digress. Every parent should enjoy sharing something they loved during their childhood with their own young kids (I have my five-year-old daughter watching
The Princess Bride
and
Pee-wee's Big Adventure
right now), so if your soft spot happens to be laughing at the scene where Chunk does the Truffle Shuffle or reveling in the heroics of a swashbuckling Sloth, so be it. You won't have more fun experiencing a movie with your little ones than at one of the popular outdoor screenings sponsored by Slab Cinema. And what about that long anticipated
Goonies
sequel? No new news to report, but back in 2010 Brolin told the
Current
, "I'm loyal to [
The Goonies
]. I would probably do anything they wanted me to … unless I thought the role was ridiculous."
Free, 7pm, Hemisfair Park, Yanaguana Gardens, 434 S. Alamo St., (210) 212-9373, slabcinema.com.
– KM

Sat 12/3
Gary P. Nunn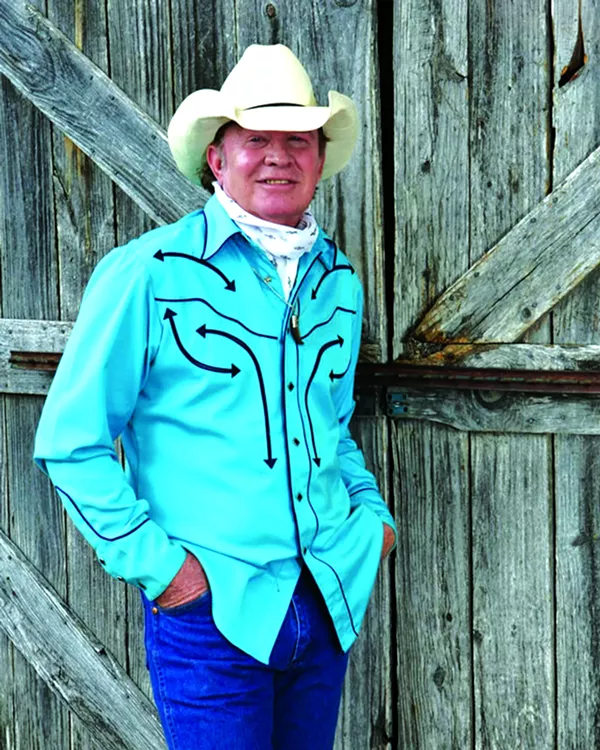 Gary P. Nunn is the best damn Texas country singer-
songwriter that you've never
heard of. Well, maybe that's
unfair. If you've been paying
close attention to Texas country,
you've probably at least heard
his songs. The man—who is
a Texas Musical Ambassador
and inductee of the West
Texas Hall of Fame, who's been
writing and picking alongside
some of the more recognizable
Texas country greats for over
50 years—has garnered heaps
of acclaim from his peers,
including Jerry Jeff Walker,
Michael Murphy, David Allan
Coe, and Willie Nelson, all of
whom have recorded versions
of his songs throughout the
years. Nunn, whose best (or at
least most iconic) song "London
Homesick Blues" just might
be the perfect paean to Texas,
will celebrate his 71st birthday,
amid crowds of the devoted and
curious alike, within the warm,
beery, and friendly confines of
Gruene Hall, on a stage that
he's graced countless times
throughout the years. $15, 9
pm, Gruene Hall, 1281
Gruene Rd., New Braunfels, (830)
606-1281, gruenehall.com.
— JC