Thu 12/29
Harlem Globetrotters
Courtesy of the Harlem Globetrotters
Earlier this month, Harlem Globetrotter Anthony "Buckets" Blakes celebrated "World Trick Shot Day" by draining an unbelievable shot from the roof of the Tower of the Americas. Blakes' long-range bucket, from 583 feet and 8 inches away, is now the highest trick shot recorded on the continent. Blakes and the Globetrotters return to the AT&T Center, where they have already set nine Guinness World Records, as part of their 2017 World Tour. Ant Atkinson, Hi-Lite Bruton, Bull Bullard, Cheese Chisholm, Thunder Law and Big Easy Lofton round out a stacked roster of basketball magicians. Hoops enthusiasts of all ages can expect the Globetrotters' entertaining brand of basketball wizardry, combining electrifying dunks with dizzying ball handling, set to the sounds of Teddy Riley's remixed "Sweet Georgia Brown."
$14-$102, 2pm & 7pm Thu, AT&T Center, One AT&T Center Pkwy., (210) 444-5000, attcenter.com.
— M. Solis
Thu 12/29
Valero Alamo Bowl


Courtesy of Valero Alamo Bowl
After a five-year absence, the #12 Oklahoma State Cowboys are back in the Alamo Bowl to face the #10 Colorado Buffaloes in a matchup of former Big 12 opponents. Colorado leads the all-time series at 26-19-1, and should be highly motivated after a perceived Rose Bowl snub. The Cowboys roster is stacked with Texans, including three players originally from San Antonio. Brackenridge High School standout Ramon Richards exudes confidence at the cornerback position for Oklahoma State and has emerged as one of the most engaging personalities in college football. With the winner expected to close out the season with a top 10 ranking, a competitive contest is in the cards for San Antonio's annual holiday football classic.
$35-$300, 8pm Thu, Alamodome, 100 Montana St., (210) 226-2695, alamobowl.com.
— MS
Thu 12/29 - Sun 1/1
Brad Williams

Courtesy of Brad Williams
Here's something you don't read every day: A story about oft-alleged joke thief Carlos Mencia helping a young comic. Brad Williams, 19 at the time, was in the audience at a Mencia show when the consistently controversial stand-up started cracking jokes about dwarves, reportedly making those sitting near Williams (an achondroplastic dwarf) squirm. Embracing the awkwardness, Mencia invited Williams to the stage, where his quick wit inspired Mencia to not only encourage Williams to become a comic, but to invite him to tour as his opening act. Memorable appearances on
Mind of Mencia
,
Jimmy Kimmel Live
and Williams' own comedy specials
Fun Size
and
Daddy Issues
followed, and Williams' stories from the road inspired
About Last Night
, the podcast he currently co-hosts. Most surprisingly, during the years Williams toured as his opener, Mencia never even added a chunk about being an achondroplastic dwarf to his own act.
$18.50, 8pm Thu, 8pm & 10:15pm Fri-Sat, 7pm Sun, Laugh Out Loud Comedy Club, 618 NW Loop 410, (210) 541-8805, lolsanantonio.com.
— Jeremy Martin
Fri 12/30
Gary Owen


Gary Owen's impressive list of credits includes being designated "Funniest Serviceman in America," hosting BET's
Comic View
and acting in
Ride Along
,
Little Man
,
Think Like a Man
and
Tyler Perry's House of Pain
. His most impressive credit, in terms of WTF-value alone, however, is being named "Funniest Black Comedian in San Diego," while being technically classified as what ethnographers might term "white as hell" — a blue-eyed blond who grew up in an Ohio trailer park. (The contest was conducted via radio call-in show if you were curious.)
Ebony
magazine's postulation "Black America's Favorite White Comedian" is considerably more accurate, and though his black wife often comes up in his act, Owen's bits about black culture are always delivered from the perspective of a knowledgeable outsider, a subtle reminder of how very far we are from post-racial society but an even better reminder of how laughter can momentarily make that shit not matter quite so much.
$29.75-$65, 8pm Fri, Tobin Center for the Performing Arts, 100 Auditorium Circle, (210) 223-8624, tobincenter.org.
— JM
Fri 12/30
Spurs vs. Trail Blazers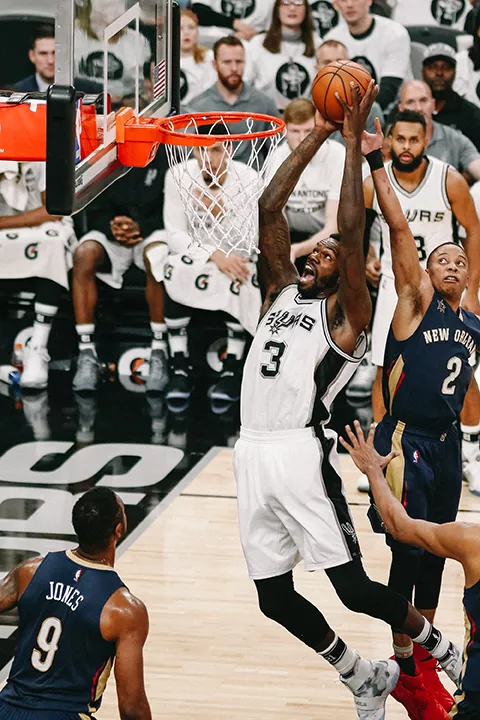 During a recent road game, Portland Trail Blazers point guard and aspiring emcee Damian Lillard was greeted by taunts of "SoundCloud rapper" from unforgiving NBA fans in Milwaukee. While Dame Dolla's skills on the mic are up for debate, his ability on the hardwood is undeniable. Lillard is posting a career-high 27 points per game this season, and will be a handful for the Spurs defensive duo of Danny Green and Kawhi Leonard. Former Blazer LaMarcus Aldridge is currently averaging the lowest points per contest since his rookie season, so a breakout game against his old squad is overdue. With Tim Duncan officially in the rearview mirror, San Antonio is counting on Aldridge to further embrace his role as a scorer and the team's de facto dominant big man.
$45-$1,600, 7:30pm Fri, AT&T Center, One AT&T Center Pkwy., (210) 444-5000, attcenter.com.
— MS
Sat 12/31
New Year's Eve Kiki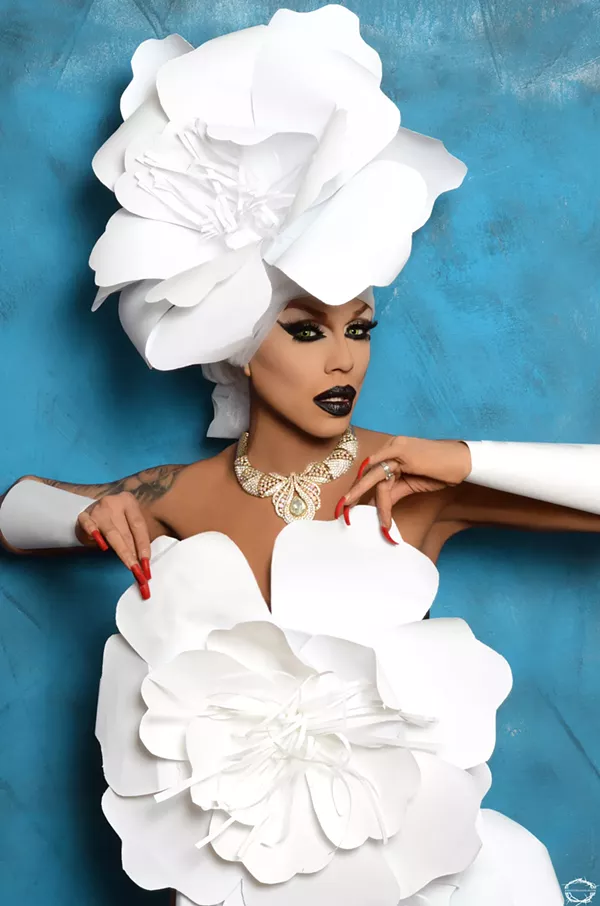 With their 2012 club favorite "Let's Have a Kiki" and its accompanying instructional video (allegedly filmed at the Kiki Institute of Mental Instability), the playful pop band Scissor Sisters explained, "A kiki is a party, for calming all your nerves / We're spilling tea, and dishing just desserts one may deserve / And though the sun is rising, few may choose to leave / So shade that lid and we'll all bid adieu to your ennui." Channeling such an intimate yet fabulous extravaganza, Pride Center San Antonio's New Year's Eve Kiki is set to ring in 2017 with live entertainment from Puerto Rican drag star Yara Sofia. Born Gabriel Burgos Ortiz, Sofia took to the small screen on the third season of
RuPaul's Drag Race
, charming fans with her thick accent and broken English, eventually earning the title of Miss Congeniality and returning to the spotlight on the first season of
RuPaul's Drag Race: All Stars
. Besides the catch phrase "Echa pa'lante," the leggy brunette is known for her avant-garde fashion choices, exotic contact lenses and otherworldly makeup concepts. Hosted on the 22nd floor of the Hilton Palacio Del Rio, the second annual benefit treats guests to panoramic views of the Hemisfair fireworks, danceable DJ beats, "glittery party favors," hors d'oeuvres and a champagne toast at midnight. As the song commands: "Fire up the smoke machine and put on your heels."
$100 (includes two drink tickets), 8pm-1am Sat, Hilton Palacio Del Rio, 200 S. Alamo St., 22nd floor, (210) 370-7743, pridecentersa.org/newyearskiki.
— Bryan Rindfuss
Sat 12/31
Celebrate San Antonio


Billed as "the biggest free New Year's Eve celebration and fireworks extravaganza in Texas," the San Antonio Parks Foundation's annual blowout in Hemisfair and La Villita combines carnival games and rides, festival food, live music on three stages and an epic fireworks finale sponsored by Valero. This year's featured entertainers include Marie Bueno, the Hermann Sons Polka dancers, Johnny Love, Briana Nicole and Italie Flores (on the Arneson River Stage), Sunny Sauceda y Todo Eso and Ricardo Castillion y La Diferencia (on the Maverick Plaza Stage) and Piñata Protest, Carlton Zeus and Frankie J (on the Main Stage).
Free, 6pm-midnight Sat, Hemisfair (434 S. Alamo St.) & La Villita (418 Villita St.), (210) 212-8423, celebratesa.org.
Sat 12/31
Mingo Fishtrap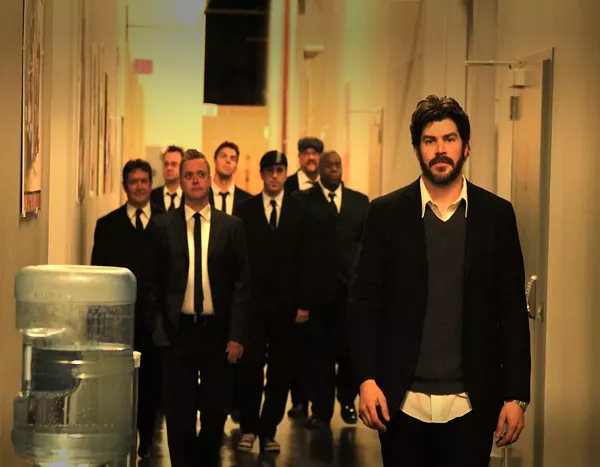 Courtesy of Mingo Fishtrap
Singer and lead guitarist Roger Blevins has a voice that will make you say, "Damn, this boy's got soul." Seriously though, in the day and age of Soundcloud, iTunes, Spotify and basically a billion other music listening platforms, it's rare you hear a new voice that brings you back to that curiosity and awe you first experienced in your early music listening days. Mingo Fishtrap, a six-piece soul-funk band hailing from Austin, will have you shaking that thang and raising your hands to praise the heavens for blessing you with an opportunity to experience the masterful music layering and dynamic that makes this band a rare Texas gem.
$20-$90, 8:30pm Sat, Sam's Burger Joint, 330 E. Grayson St., (210) 223-2830, samsburgerjoint.com.
— Chris Conde
Sat 12/31
New Year's Eve with Volcán


To describe SA 13-piece Volcán simply as a talented
nueva orquesta
Latina hardly prepares you for the band's explosive, transfixing sound. This deconstructed cumbia/Latin pop group, hot from the get go, dropped its first EP,
Ritmo, Cultura, y Amor
, back in October, and it's one of our favorite releases of the year. But, to truly know Volcán, and bear witness to the group's power to move the body and the mind, you must seek the live experience. And, from where we're sitting, there's likely no better time to catch Volcán than on New Year's Eve, an ideal backdrop for the passion and hope of the young outfit's music. And, if passion and hope seem to have fled you, on the final night of the year, Volcán should prove a fine soundtrack for any dance into oblivion.
$5, 8pm Sat, Brick, 108 Blue Star, (210) 262-8653,
facebook.com
.
— James Courtney
Sun 1/1
Townes Van Zandt Tribute


Townes Van Zandt, Texas country laureate and sad Hank song personified, died on New Year's Day 1997, from complications associated with never skipping out on a chance to adore oblivion. His deep, poetic and often unbearably dark lyrics, like the somber songs he fashioned to deliver them, have, over the years, become gospel among his diverse fan base. As they have for the last five years, on that grim anniversary, local husband-and-wife duo The Whipples will once again gather local musicians of all stripes for a Townes tribute show on Sunday. Hosted for the first time at Alamo Beer, this year's tribute will feature, along with The Whipples, Geronimo Trevino III, Will Owen Gage, Jordan Minor, Los Djangoleros and 20 other acts. While Van Zandt himself may have preferred a whiskey distillery, a brewery seems a fitting place to remember the singularly gifted and troubled songwriter.
Free, 6-9pm Sun, Alamo Beer Company, 202 Lamar St., (210) 872-5589, facebook.com.
— JC