Thu 1/5

"Perception" 



Ansen Seale, Temporal form no. 10

Presenting works that are "slightly different from what they usually show," photographer George Krause, multimedia artist Bonnie Maygarden, holographer August Muth and photographer Ansen Seale examine how our perceptions of reality can become twisted or challenged. Free, 6:30-9pm Thu, Cinnabar, 1420 S. Alamo St., Suite 147, (210) 557-6073, cinnabarart.com.

Thu 1/5

Art to Lunch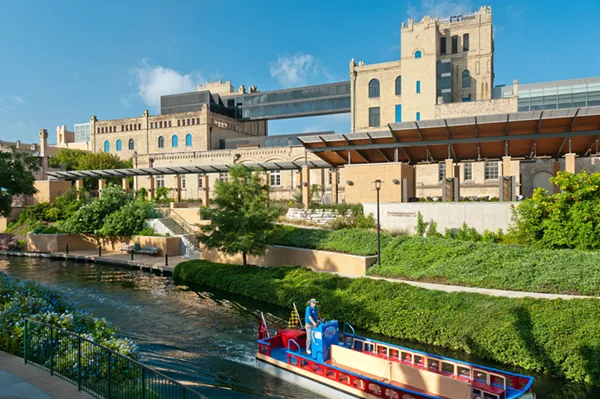 Courtesy of San Antonio Museum of Art
Ideal for art enthusiasts with tight schedules and/or short attention spans, SAMA's Art to Lunch series invites guests on a short-and-sweet two-object tour of works they might have overlooked in the galleries. Bring a sack lunch to enjoy on the grounds or grab a bite from nearby spots like The Luxury or Rosella.
$5, 12:30-1pm Thu, San Antonio Museum of Art, 200 W. Jones Ave., (210) 978-8100, samuseum.org.
Thu 1/5 - Fri 1/6

"Wet"


Jorge Villareal, Untitled (Red)
Hello Studio hosts a closing reception for local photographer Jorge Villareal's solo show "Wet." Initiated in Cuba in the summer of 2016, the ongoing series comprises dreamlike landscapes that employ "spontaneous collections of condensation, water or soap as a filter."
Free, 7-9pm Thu-Fri, Hello Studio, 1420 S. Alamo St., Building B #203, hellostudiosa.com.
Thu 1/5 - Fri 1/6

"Locations"



Beyond offering early exposure to the steady stream of students emerging from UTSA's department of art and art history, the university's offsite Terminal 136 occasionally showcases the work of faculty members — some of whom are nationally (and even internationally) recognized artists. Kicking off its 2017 programming on a promising note, the Blue Star outpost's two-man show "Locations" pairs assistant professors Buster Graybill and Humberto Saenz. Employing sculpture, installation, video and photography as "an all-terrain vehicle to traverse the rural landscape and reconnect with often-overlooked places," Graybill made a splash back in 2010
with his Artpace exhibition "Tush Hog" (which involved sculptural hog feeders that were released on a ranch and monitored with infrared cameras) and recently took over Sala Diaz with a solo show exploring "the conceptual potential of objects and materials often tucked away in garages, found on the shelves of sporting goods stores or loaded on the bed of a truck for a weekend vacation." A widely exhibited artist specializing in printmaking, Saenz creates work designed to "empower the viewer with knowledge about immigration issues which have affected and segregated Mexican immigrant communities." Often addressing contemporary immigrant issues, the objectification
of minorities and the appropriation of mythological stories, his prints have depicted reimagined pre-Columbian themes and scenes, along with the "piñatafication" of familiar figures.
Free, 6-9pm Thu-Fri, Terminal 136, 136 Blue Star, (210) 458-4391, art.utsa.edu.
Thu 1/5 - Fri 1/6
"17 Pelicans Along the Banks When I'm 64"


James Cobb, The Ethics of Architecture
For even casual followers of the local art scene, a new exhibition by James Cobb is something to get excited about. Since the mid-1980s, Cobb has notched over 25 solo exhibitions and experimented wildly, with a creative abandon and pesky curiosity that makes him truly magnetic, in the realms of painting, drawing, digital media and music. His restlessness is an abundant and odd territory of generous fertility — whereas, for so many, restlessness just leads around in circles. For his new exhibit at FL!GHT, which collects work from the past two years, details are somewhat scarce. What we do know is that the exhibit, titled "17 Pelicans Along the Banks When I'm 64," combines three distinct (though not necessarily separate) bodies of work, all of which veer to the realms of surreal geometry, digital layering, dense symbolism and rich colors/textures. Some of the initial images are truly stunning. And, with Cobb, we'd be remiss not to also expect some surprises.
Free, 6-9pm Thu-Fri, FL!GHT Gallery, 134 Blue Star, (210) 872-2586, facebook.com/flightsa.
— James Courtney
Fri 1/6
"Sex, Race, Science"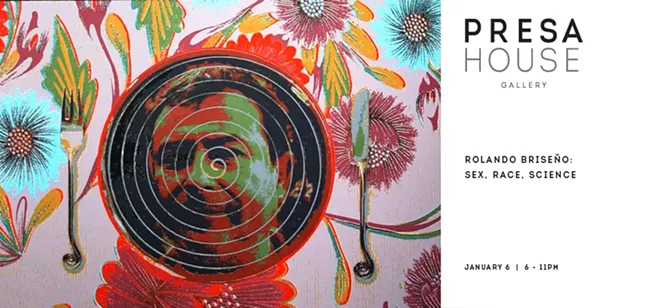 Counted as the youngest member of the seminal Chicano art collective Con Safo, Rolando Briseño is a revered local artist who's represented in the permanent collections of institutions ranging from New York's Museo del Barrio to Austin's Blanton Museum of Art. Known for culturally and politically driven work, Briseño's new solo exhibition "Sex, Race, Science" highlights sculpture, photographic constructions, digital works, public art and never-before-seen paintings created over the past three decades.
Free, 6-11pm Fri, Presa House Gallery, 725 S. Presa St., (210) 445-6997, facebook.com/presahouse.
Fri 1/6
"Disquiet"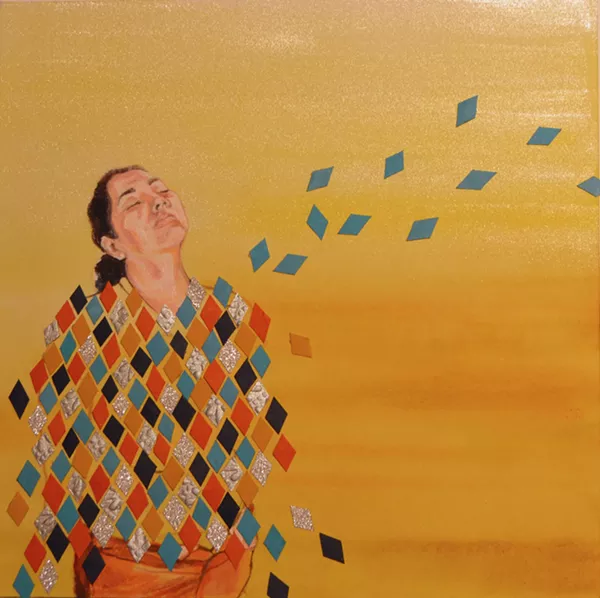 Anabel Toribio-Martinez, Dissipate
Back at least as far as her 2013 solo exhibit "Interludes," artist and educator Anabel Toribio-Martinez has been concerned with exploring intimacy (or lack thereof) and communication (or its breakdown) within domestic spaces, often depicting subjects as too distracted or preoccupied to experience anything approaching domestic bliss. In her latest exhibit, "Disquiet," Toribio-Martinez comes at unease and disaffection in a more abstract way, removing her subjects from the implication-laden context of home life. In fact, the new series often removes subjects from all contexts, seeking instead to depict outward manifestations of inner struggles and epiphanies.
Free, 7-10pm Fri, Rubio Gallery–South, Southtown Flats, 111 Probandt St., (210) 793-8899, facebook.com/rubiogallerysouth.
— JC
Sat 1/7
Family Saturday


Photographs by Robert Langham (left) and Casey James Wilson (right)
Blue Star Contemporary and H-E-B's collaborative Family Saturday program continues with a day inspired by "Hold Still," a photography exhibition that flips mundane artifacts of daily life into objects of mass (and personal) significance. Kicking the photo-centric day off at 11am, Robert Langham walks kids through "Hold Still" and then leads a workshop where they can build and photograph still lifes made from styrofoam, plastic tableware, everyday materials or items brought from home. At 12:30pm, Casey James Wilson shows aspiring young shutterbugs how to "make a preplanned composition that creates flattened spatial relationships." In the afternoon, both photographers lead "craft talks" geared for teens and adults, with Langham sharing tips on "How to Revolutionize Your Camera Work" (2-3pm) and Wilson covering the ins and outs of "In Camera Collage" (3:30-4:30pm). Space is limited — reserve your spot
here
.
Free, 11am-4pm Sat, Blue Star Contemporary, 116 Blue Star, (210) 227-6960, bluestarart.org.
Sat 1/7
"Rooted: Works from the Meadow"


Carra Garza and Kari Englehardt are San Antonio-based artists who share a studio and a common interest in the melding of natural and non-natural elements. Speaking of their latest work, Englehardt described the inspiration as "a cataloguing and visual appreciation of the tiny meadow we created in front of our studio." While Garza begins with lumens, a type of camera-less photography that uses sunlight to transfer an image to a surface, and Englehardt begins with ink and rust relief prints, both artists arrive at an encaustic process, wherein layers of wax are smoothed over the piece, giving it the depth of an oil painting. Englehardt's prints are intensities, filled with shifting color and bold shapes, reflecting the rusted metal canvas underneath. Garza's photographs are shadowy yet light, exemplifying an elegance through the wisping flowers and plants she uses to create line, form and contrast. Describing her work, while also conveying the catalyst for their collaborative exhibition "Rooted," Garza explained, "It is the essence of a wildflower."
Free, 6-9pm Sat, REM Gallery, 219 E. Park Ave., (210) 224-1227, remgallery.com.
— Zephyrine Parten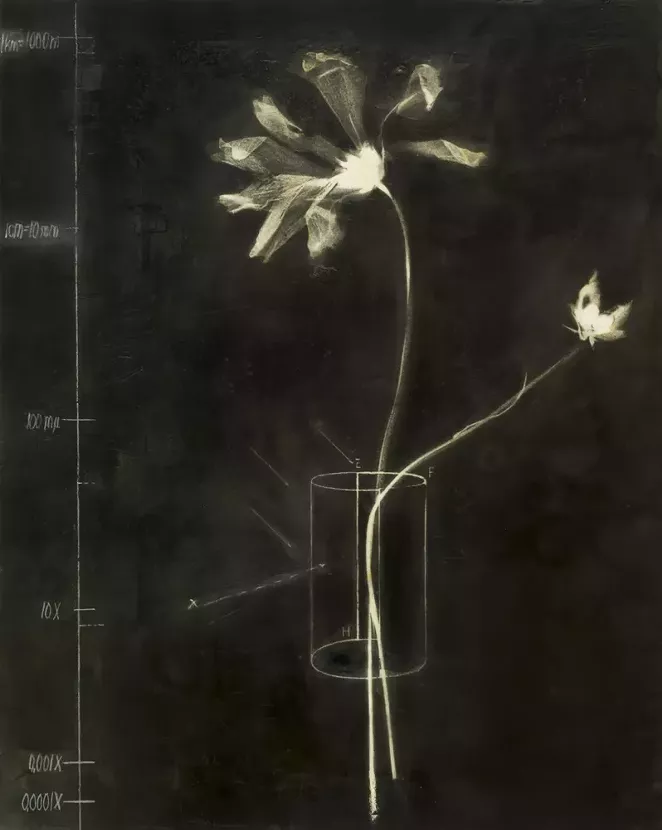 Sat 1/7
"From Moussor to Tignon: The Evolution of the Head-Tie"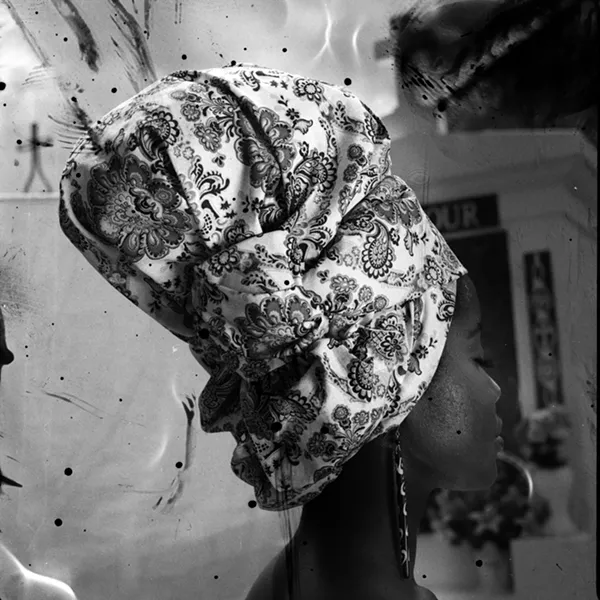 Olaju Art Group and Musical Bridges Around the World team up for a DreamWeek exhibition showcasing the work of British-Nigerian photographer Juliana Kasumu. Based in London, Kasumu creates portraits often designed to educate her audience. Furthering her quest for personal knowledge surrounding Africa and its diaspora, Kasumu's "From Moussor to Tignon: The Evolution of the Head-Tie" offers viewers a chance to engage with images that "demystify preconceptions of black women and their bodies."
Free, 5:30-7:30pm Sat, Musical Bridges Around the World Gallery, 23705 I-10 W., (210) 464-1534, musicalbridges.org.