Thu 1/26
"Did You Ever See Such a Thing as a Drawing of a Muchness?"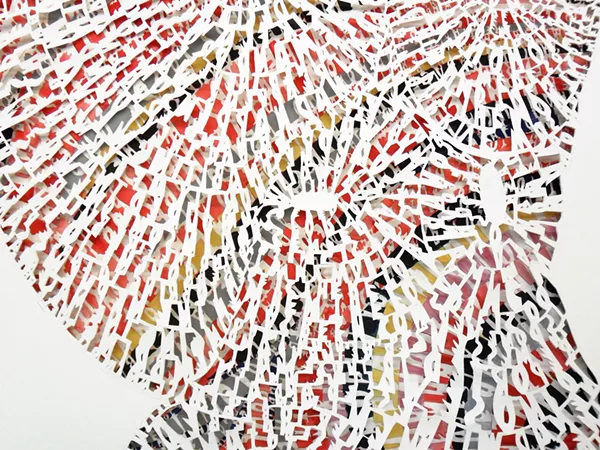 Since celebrating its 21st birthday and bringing art-world veteran Veronique Le Melle on board as executive director in 2016, Artpace has stayed true to late founder Linda Pace's vision — welcoming three geographically diverse trios of resident artists and hosting three independent exhibitions each year — while implementing thoughtful tweaks to process and presentation. In a twist possibly only art nerds might notice, the revered San Antonio institution is once again inviting the curator of its forthcoming International Artist-in-Residence cycle to also select the artists for an exhibition in the Hudson Showroom. Herself a multifaceted artist with an extensive
exhibition history, Wisconsin-born
Michelle Grabner steps in as curator
of the curiously titled "Did You Ever
See Such a Thing as a Drawing of a
Muchness?" — a group show gathering
works by Natasha Bowdoin (Houston),
Harold Mendez (Chicago) and Rodrigo
Valenzuela (Los Angeles), all of
whom were living in Texas when they
applied to Artpace's statewide open
call. Running concurrently, Benjamin
McVey's "Open" involves the San
Antonio artist relocating his painting
studio into Artpace's newly rebranded
Main Space, formerly known as the
Window Works Gallery. Free, 6-8pm Thu,
Artpace, 445 N. Main Ave., (210) 212-
4900, artpace.org.
— Bryan Rindfuss


Thu 1/26 - Sat 1/28
"On the Curve"


"On the Curve," a show
that focuses on the
multitude of possibilities within
the realm of curvilinear artwork,
is the latest from Olmos Park's
Ruiz-Healy Art. The group exhibit,
which
runs through
February 25, features the work
of artists Constance Lowe,
Jesse Amado, Andrés Ferrandis,
Nicolás Leiva, Nate Cassie,
Laura Anderson Barbata, Ricky
Armendariz and Ethel Shipton.
While the curvilinear aspects
are clearly evident in the clean
lines and precise curves, each
artist offers their own unique
perspective, concerns, personality
and process in the pieces.
The resulting whole presents a
compelling argument that within
even the most rigid forms, endless
permutations and explorations
are possible based on an artist's
particular pursuit/approach.
As the exhibit announcement
explains, these artists "delve into
curvilinear shapes and forms with
a bold intellectual and playful
practice using art history as an
impetus." Free, 11am-4pm Thu-Sat, Ruiz-Healy
Art, 201-A E. Olmos Drive, (210)
804-2219, ruizhealyart.com.
— James Courtney
Fri 1/27
39th Annual Cowboy Breakfast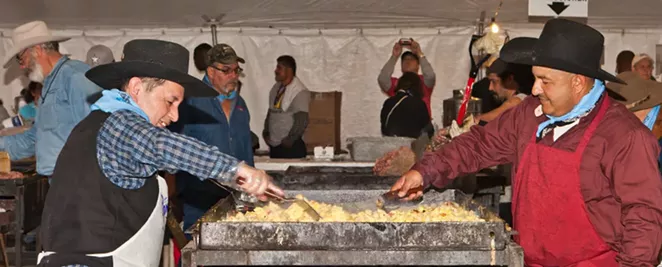 As is tradition to kick off the San Antonio Stock Show and Rodeo, The Cowboy Breakfast will serve free breakfast tacos to up to 40,000 people in the parking lot of Cowboys Dancehall. Including live country music, gun slingers and mechanical bull, the event raises money for a scholarship fund for the St. Philip's College Culinary and Tourist Department. Take a bite out of 12,000 Kiolbassa chorizo and egg tacos, 10,000 tamales and 8,000 biscuits with sausage.
Free, 4:30-8:30am Fri, Cowboys Dancehall, 3030 NE Loop 410, (210) 646-9378, thecowboybreakfast.com.

Fri 1/27 - Sat 1/28
Dr. Jekyll and Mr. Hyde


Courtesy of Invincible Czars

Here's a swell treat for fans of old horror movies, gothic literature and spooky/ambient soundtracks alike. This unique event, hosted by the hardworking folks at URBAN-15, will present a silent showing of the 1920 movie Dr. Jekyll and Mr. Hyde (starring John Barrymore), which is based on Robert Louis Stevenson's 1886 novel, accompanied by a live score/soundtrack performed by ATX band Invincible Czars. Last year, Invincible Czars gave another horror classic, Nosferatu, a similar treatment, with stunning and widely lauded results. For this performance, the soundtrack work by Invincible Czars promises to be minimal and creepy, and includes audience participation as well as a few reworked pieces that originally appeared in the film. $10-$15, 9pm, URBAN-15 Studio, 2500 S. Presa St., (210) 736-1500, urban15.org.
— JC



Courtesy of Invincible Czars
Fri 1/27
Gregory Porter


Courtesy of Gregory Porter
Consider this one of
San Antonio's concerts
you should not miss this
year. The amazing gospel singer,
with a voice that could melt the
iciest hearts, is backed by some
damn good gospel and jazz
instrumentation, his lyrics floating
perfectly through the songs. Porter's
performances are a perfect example
of what legendary singing should
look like (from someone awarded a
Grammy for best jazz vocal album,
no less). Don't miss this chance to
catch someone who is truly one of
the best vocalists of our time. 8pm Fri,
$35, Carver Community Cultural
Center, 226 N. Hackberry, (210) 207-2234, www.thecarver.org
.

– Chris Conde
Fri 1/27 - Sun 1/29
PAX South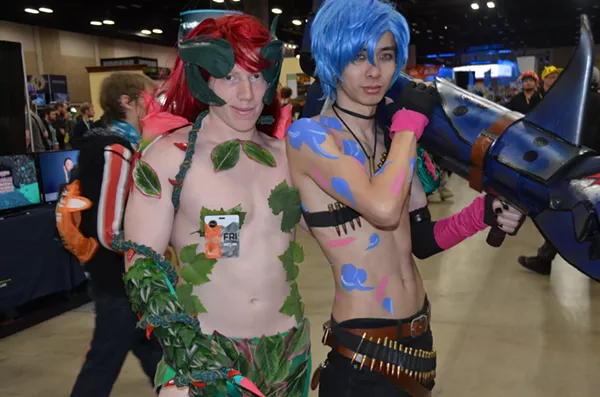 The international gaming convention PAX (short
for Penny Arcade Expo), returns to San Antonio for its third
annual event as tens of thousands of Texas gamers (and
those from galaxies far away) convene to participate in three
full days of video game panels, tournaments, concerts,
special guest appearances and an expo featuring gaming
companies showing off their latest products. PAX, which
also holds conventions in Seattle (PAX Prime and PAX Dev),
Boston (PAX East) and Melbourne (PAX Aus), debuted PAX
South in San Antonio in 2015 and broke the attendance
record for a first-year PAX con. Numbers are anticipated to
rise even higher this year as PAX South continues to build
on its popularity and the fact that it caters to video game
enthusiasts of all sorts — from those who like MMORPGs
to vintage Atari games to dice and card games. Autograph
sessions this year include epic fantasy writer Patrick
Rothfuss (The Kingkiller Chronicle), video game reviewer
"Angry" Joe Vargas (The Angry Joe Show), YouTube gaming
channel personality Stacy Hinojosa (aka StacyPlays) and
podcasters Cox n' Crendor. $35-$75, 10am-midnight Fri-
Sat, 10am-7pm Sun, Henry B. Gonzalez Convention Center,
900 E. Market St., (210) 207-8500, south.paxsite.com.
– Kiko Martinez


Sat 1/28
Ron White


A quick survey of Ron "Tater Salad" White's promotional materials indicates it's almost impossible to capture photographic evidence of the former "Blue
Collar" comic without a cigar in one hand and a scotch on the rocks
in the other, so it's only fitting that
the premium VIP ticket package
for his current tour is called the
"200-Proof Experience." For those
of you drinking along at home,
that's 100 percent pure alcohol —
two shots of Wild Turkey, hold the
Turkey — and its White superfan
(aka member of the "Rontourage")
equivalent includes an autographed
pass, access to a post-show Q&A,
a DVD copy of White's Comedy
Salute to the Troops and even a CD
recorded by White's wife, singer
Margo Rey. Such a cross-promotion
might seem out of place for another
comic, but the personal nature of
White's storytelling guarantees
true obsessives access to detailed
accounts of his life with every
stand-up special and podcast
appearance. He's essentially
America's drunken uncle who's
actually funny, so getting his family
in on the act is as natural as the
next round. $47.75-$246.75, 7pm
& 10pm Sat, The Majestic Theatre, 224
E. Houston St., (210) 226-3333,
majesticempire.com.
— Jeremy Martin
Sat 1/28

Compagnie
Hervé
Koubi


Courtesy of Compagnie Hervé Koubi
French-Algerian choreographer Hervé Koubi is recognized as one of Europe's most distinctive choreographers. Presented by ARTS San Antonio, Koubi will make his San Antonio debut with 12 French-Algerian and African male dancers, mostly coming from street dance and hip-hop backgrounds.
Ce que le jour doit à la nuit
(
What the Day owes to the Night
) is a highly physical, stunningly fluid work that combines capoeira, martial arts, and urban and contemporary dance with powerful Sufi imagery.
$29-$99,
7:30pm Sat, Charline McCombs
Empire Theatre, 226 N. St. Mary's St., (210)
226-3333, www.artssa.org.
Sun 1/29
This Is Not a Film Festival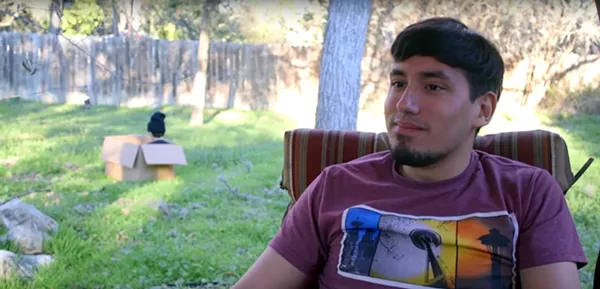 Technically, it's more of a film showcase. Hosted by CO LAB, a "working
community for artists and creatives," the non-film festival will feature local filmmakers looking for more exposure in their hometown and offer them an opportunity to network with peers in the local film industry. For this inaugural event, 11 short films will be accepted to screen across different genres. As of press time, no shorts had been selected, according to Corey Clark, founder of CO LAB and co-founder of the filmmaker's showcase. Local filmmaker Chuco Garcia hopes to get some good news soon. He submitted a short documentary on local Chicano artist Adan Hernández. Local filmmaker Jesse Salazar III submitted his short mockumentary The Box Boy. The comedy tells the story of a father coming to grips with his young son living in a cardboard box in their backyard. "I submitted because I just like supporting anything that's local and involves film," Salazar said. "It's fun to see other local indie work and show my stuff — if it gets in. Any time I can interact and network with other local filmmakers, I'm down." $5-$7, 5-8:30pm, CO LAB, 723 N. Alamo St., (210) 901-9902, pointwestproductions.com/notafilmfestival. – KM
Sun 1/29
WWE Royal Rumble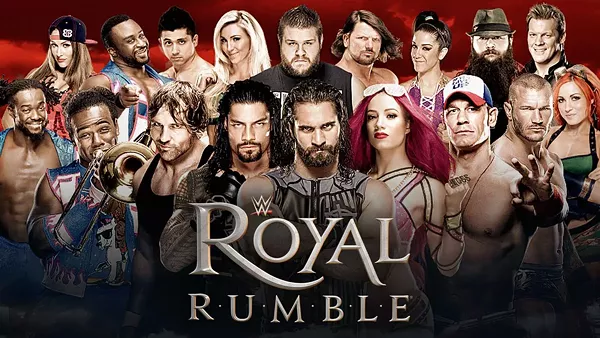 Vince McMahon's legion of jacked-up, muscle-bound warriors rassle for the distinct honor of headlining WrestleMania in April when the WWE returns to San Antonio for the Royal Rumble. Unofficially dubbed "the kickoff to the road to WrestleMania" — WWE always had its way with monikers — the Royal Rumble has surprisingly taken place in San Antonio more than any other city (three times in the last 20 years). Iconic wrestling superstars such as John Cena, Goldberg, The Undertaker, and Brock Lesnar are scheduled to perform along with relative WWE newcomers AJ Styles, Roman Reigns and Kevin Owens. The main event of the evening is the fabled Royal Rumble match in which 30 wrestlers enter one ring and it's "every man for himself." The objective is to toss your opponent over the top rope until there is only one oiled-up rassler left standing. The victor then goes on to Orlando, not for Disney World but rather to headline the "grandaddy of them all," WrestleMania. The Rumble is one of WWE's most famous traditions (this is the 30th edition) and it's a hoot for die-hard wrestling fanatics and casual fans alike. $45-$407, 5:30pm, Alamodome, 100 Montana St., (210) 207-3663, alamodome.com. — Chris McDonald