When we first arrived at Flight Gallery, to walk and talk with James Cobb through his new exhibit "17 Pelicans Along the Banks When I'm 64," my 3-year-old daughter Emerson, true to her current custom, insisted on having the first word. "What do you do with all these paintings?" she asked the long-celebrated, consistently-inventive San Antonio artist. Breaking out in his trademark mischievous smile — a delightful thing that seems somehow tied to his restless and playful creative spirit — he blithely told her: "Well, I make them. And then I put them up here for people to see. And then I usually take them home with me."

Aside from being an adorable interaction, I found it fairly representative of Cobb's sharp wit, frankness and openness. In his continuing affair with fine art, Cobb, as he stated himself, is chiefly concerned with "cultivating the joy of the work." Truth be told, that focus on intrinsic satisfaction first is probably why he continues to outdo himself.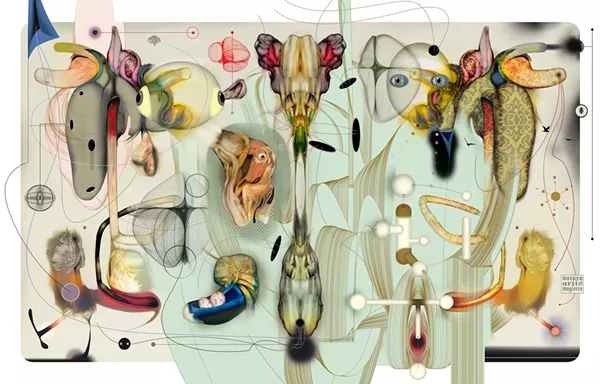 "What continually enchants me about making visual images is that it's kind of a personally perpetually reinforcing experiential loop," Cobb said. "I'm excited by what I see, experience, and ideas that I have and then I allow them to inform the visuals I create. Those visuals often excite and surprise me and this reinforces my excitement about what I see, experience, and ideas that I have."
Created in 2015 and 2016, "17 Pelicans Along the Banks When I'm 64" is a body of work that melds the digital with the analog. By working digitally, with programs like Illustrator and Photoshop, and also importing elements of his paintings from photos, Cobb, like some cyborg wizard, is able to achieve organic-synthetic hybrid works that, seeming to unfold in a plane of infinite depth, pull the viewer in. The works in this three-part exhibit — which gets its whimsical and curious title from a pelican-counting moment in Port Aransas, the artist's walks on the river near his house, and his realization that he had finally aged into a favorite Beatles song — are playful, curious, surreal, and geometric, but somehow also natural and human.

Long "seduced by computers' possibilities in the realm of fine art," though he's "not a fan of sitting at a computer for hours on end," Cobb explained that this process allows him the "ultimate freedom of experimentation," without fear or hesitation. Because digital elements can be manipulated and then, if the manipulation goes awry, restored to their original form, Cobb likens the process to "the creation of music from tracks." Though he still adores the movement and physicality of painting, working in the digital realm saves time and allows for new ideas to be explored and stretched to their limits.
Cobb's favorite thing about his current, ever-evolving process is "the layering aspect," which allows him to work in a way that is "almost like collage, but with no limitations in terms of depth." The effect on the artist is elation, as Cobb relishes in "the technical aspects" as well as the sheer possibilities, and the effect on the viewer is mind-bending. One gets the sensation, because of the depth and combination of sharpness and subtlety that he is able to achieve, that these pieces go on forever and emerge from deep within the material they are printed on.
Catch the exhibit through the end of the month and, for a chance to learn more about Cobb's work, dig the "Hang Out with James Cobb" event Flight Gallery is hosting on Wednesday, January 25 (7:45-10pm).
17 Pelicans Along the Banks When I'm 64"
Free, by appointment
Flight Gallery
134 Blue Star
(210) 872-2586
facebook.com/flightsa