Thu 2/2
W. Kamau Bell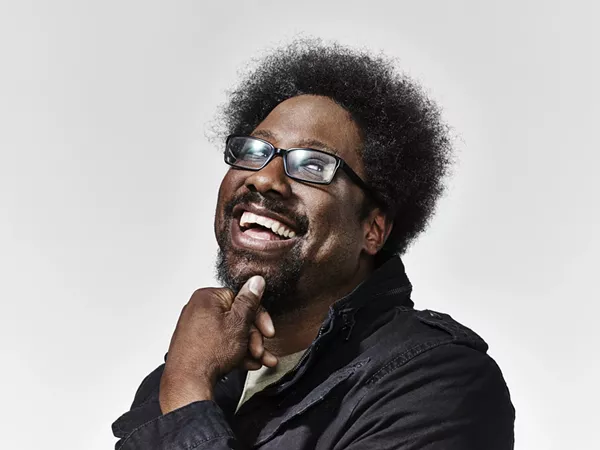 The amount of balls it must take to name your latest stand-up comedy tour, as W. Kamau Bell has, "Ending Racism in About an Hour," i.e., applying the LensCrafters guarantee to America's original sin, would put any racial stereotype to shame. And if, as a conscious white person, you think that last sentence was awkward, imagine discussing an album named, as Bell's 2016 album was named,
Semi-Prominent Negro
. Tracks include: "Gentrification Sweeping the Nation," "#BlackLivesMatter," "Too Much to Get Upset About," and (gulp) "When Is It Okay for White People to Say 'Nigger'?" White people feeling awkward is part of the point, and the educational value of that feeling is evident in the fact that you can see this show for free at a local college instead of a two-drink minimum comedy club. Dick Gregory transitioned from comic to activist, but, in the interest of the ever-endangered belly laugh, let's hope Bell doesn't feel the need to.
Free, 7pm Thu, San Antonio College, McAllister Auditorium, 1300 San Pedro, (210) 486-0936, alamo.edu/sac/kamau-bell.
— Jeremy Martin
Thu 2/2
Spurs vs. 76ers


Spurs Sports & Entertainment
Despite a dismal win-loss record in a wretched Eastern Conference, the Philadelphia 76ers have been making strides lately, largely due to the emergence of a healthy Joel Embiid. The 7-foot, 250-pound center sat out his first two seasons with a foot injury, but has returned as the front-runner for this season's Rookie of the Year Award. Already drawing comparisons to Houston Rockets luminary Hakeem Olajuwon, Embiid is putting up impressive numbers for the 76ers in restricted minutes. With veteran Pau Gasol sidelined with a fractured finger, the Spurs will lean on LaMarcus Aldridge and Dewayne Dedmon to slow down Embiid, who has become Philly's catalyst for victory. All-Star Kawhi Leonard has settled back into MVP form for the Spurs, which should tip the scales in San Antonio's favor.
$10-$1,600, 7:30pm Thu, AT&T Center, One AT&T Center Pkwy., (210) 444-5000, attcenter.com.
— M. Solis
Thu 2/2
Cold Cave


Dark wave is on the rise again. Gaining popularity in the '80s as a darker, atmospheric alternative to new wave and synth-pop, the sound incorporates gothic rock and synths to produce a colder, sharper version of its more upbeat counterpart. Wesley Eisold (who was the singer of hardcore group Give Up the Ghost, formerly American Nightmare) fastens the elements of traditional dark wave with his project Cold Cave – music perfectly suited to be blasted at your next cold graveyard dance party. With Drab Majesty,
$15, 8pm Thu, Paper Tiger, 2410 N. St. Mary's St.,
papertigersa.com
.
— Chris Conde

Thu 2/2 - Fri 2/3
Ángel Rodríguez-Díaz


On Thursday, FL!GHT Gallery opens two exhibitions of rediscovered early works by artist Ángel Rodríguez-Díaz. In its Salon gallery will be "The Full Monty/ El Mero Chile," an exhibition of paintings that celebrate the male figure and were created in New York between 1983 and 1992. It features Rodríguez-Díaz's famous nude Adam, a portrait of a Caribbean man that was censored when it was exhibited in 1992. Titled "Nueva York — San Antonio," the main gallery exhibition will shed light on the development of the artist's technique before his arrival in San Antonio. Rodríguez-Díaz, who is of Puerto Rican descent, has called San Antonio home since relocating here in 1995 to live with his partner artist Rolando Briseño. The exhibitions at Fl!ght Gallery precede the largest ever Rodríguez-Díaz retrospective, opening February 9 at Centro the Artes. "If I were to characterize him as an artist, the really unique, singular and astonishing thing about his work is how he used his self-portraiture as a vehicle for social commentary," curator and art historian Ruben C. Cordova said. "He makes a critique of pollution, or fossil fuels, greed, corruption and war in the genre of self-portraiture."
Free, 6-10pm Thu-Fri, FL!GHT Gallery, 134 Blue Star, (210) 872-2586. facebook.com/flightsa.
— Marco Aquino
Thu 2/2 - Fri 2/3
"Pillow Talk"


With "Pillow Talk," UTSA's Terminal 136 gallery presents a lighthearted (maybe even heart-warming) joint exhibition from artists Kimberly Aubuchon and Patty Ortiz. Each artist has prepared a unique installation that is inspired by "the famous split-screen scene premise from the 1959 Doris Day/Rock Hudson screwball comedy"
Pillow Talk
. Titled "Do You Feel?," Aubuchon's contribution uses emojis to ruminate on the way in which we experience and express emotions in the 21st century. Meanwhile, Ortiz's installation is a continuation of her "Work Won't Kill You" series, which investigates a host of topics related to labor, love, and the means by which we personally relate to each. In this particular piece, Ortiz employs "the ubiquitous touchscreen smartphone as a device to question the nature of language and interpersonal relationships."
Free, 6-9pm Thu-Fri, Terminal 136, 136 Blue Star, (210) 458-4391, art.utsa.edu.
— James Courtney
Fri 2/3
Heather McDonald


A mother of three who sends her kids to the same Catholic school she attended as a child and also co-hosts TLC's
All About Sex
, former
Chelsea Lately
scribe and round-tabler Heather McDonald has to be one of the few writers whose credits include both
Reader's Digest
and
White Chicks
. Her podcast
Juicy Scoop
focuses on celebrity gossip, but her stand-up special I Don't Mean to Brag dishes the deets on her family — how cheap her husband of 15 years is, for example, and which of her children is currently her least favorite — and her two bestselling books
You'll Never Blue Ball in This Town Again
and
My Inappropriate Life
reconcile the two sides. In Hollywood but not of Hollywood, McDonald is like an Erma Bombeck for the box-wine and reality TV generation with a killer Drew Barrymore impression to boot.
$29.75, 8pm Fri, Tobin Center for the Performing Arts, 100 Auditorium Circle, (210) 223-8624, tobincenter.org.
— Jeremy Martin
Fri 2/3
Va-Va-Valentine
Beloved burlesque troupe the Pastie Pops celebrates Valentine's Day early with a variety show filled with "love, glitter and lots of skin." Hosted by the inimitable Foxxy Blue Orchid at Southtown's Sexology Institute and Boutique, the 2017 season opener features performances by Jasper St. James, Vixy Van Hellen, Mary Annette, Lucy Lips, Maxxy Radd.
$10-$50, 7pm Fri, Sexology Institute and Boutique, 727 S. Alamo St., (210) 487-0371, facebook.com/pastiepops.
Sat 2/4
Asian Festival
In its 30th year to date, the Institute of Texan Cultures Asian Festival celebrates the new year with all things food, drink, dance and then some. The Year of the Rooster, which began January 28 and lasts through February 15, 2018, brings together Asian communities in SA for one day of cultural performances, music, cooking, henna, palm reading, art and, most importantly, food from 15 vendors. Enjoy Japanese, Korean, Thai, Laotian, Filipino and Indian fare on the patio of the ITC.
$5-$10, 10am-5pm Sat, 801 E. Cesar E. Chavez Blvd., (210) 458-2224,
texancultures.com
.
— Jessica Elizarraras

Sat 2/4
Americas Rugby Championship: USA vs. Uruguay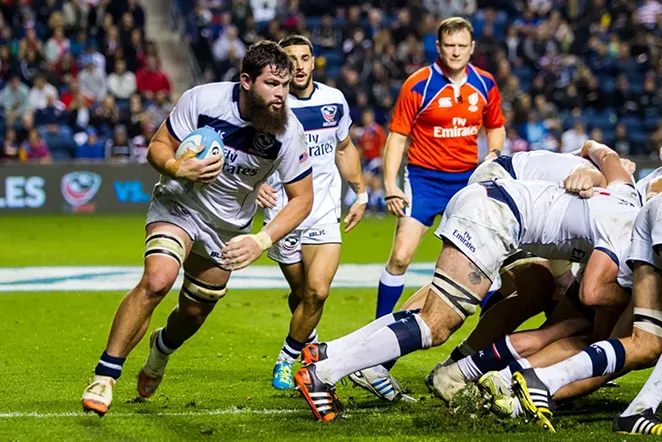 For the opening game of the 2017 Americas Rugby Championship (Americas' version of Europe's Six Nation tournament), the world's 17th-ranked USA Eagles will face #21 Uruguay Teros (Southern Lapwings) in the Eagles' first-ever international game in San Antonio. Tough-as-nails Uruguay dramatically beat the US 29-25 in March in last year's ARC, but it is six-time, undefeated champion Argentina XV (the Jaguars, not to be confused with the Pumas, their powerful main side) the team to beat. On paper, only Canada (#18) or the U.S. have a long-shot chance of beating the Argentines, but no matter what happens, prepare for an exciting, fast-paced, no-headgear, no padding tour-de-force. Uruguay comes without its team captain (out with a knee injury) and the U.S. will want to finally overcome a semi-professional team that has become a pain in the ass lately (second-team Uruguay A crushed second-team U.S. A 47-15 in October as well), even though the Eagles' have a better overall record. All Eagles' games will be televised live at therugbychannel.tv and on a delayed basis on ESPN2.
$12-$55, 3pm, Toyota Field, 5106 David Edwards Drive, usarugby.org.
— Enrique Lopetegui
Sat 2/4
Legislate This!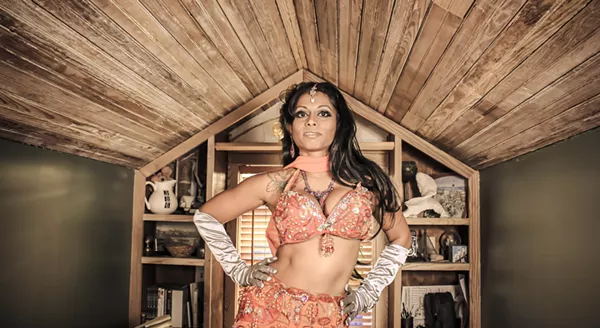 Launched in 2012 by Austin-based activist and burlesque performer Ginger Snaps as a revealing reaction to "the perils of having Rick Perry as our governor," Legislate This! takes shape in a "triple shot of tease" that kicked off last Friday at ATX's Spider House Ballroom and wraps up Saturday in the cozy confines of Jump-Start Theater. By "taking it off for a cause," the provocative initiative has raised awareness of the plight of women's reproductive rights in Texas — along with substantial contributions to Planned Parenthood chapters across the Lone Star State. Hosted by "fiercely feminist, gender-bending" glam bear queen Foxxy Blue Orchid, the 2017 edition brings together an "an epic array of ecdysiast entertainment" comprised of local mainstays CoCo Simone, Black Orchid, Giomara Balzalduar, Jasper St. James, Queen Anthuros and Lita Deadly along with special guests Chola Magnolia (Austin) and Teddy Bare (Chicago).
$10, 8pm Sat, Jump-Start Theater, 710 Fredericksburg Road, (210) 227-5867, legislatethissa17.brownpapertickets.com.

— Bryan Rindfuss