Thu 2/9
Breathless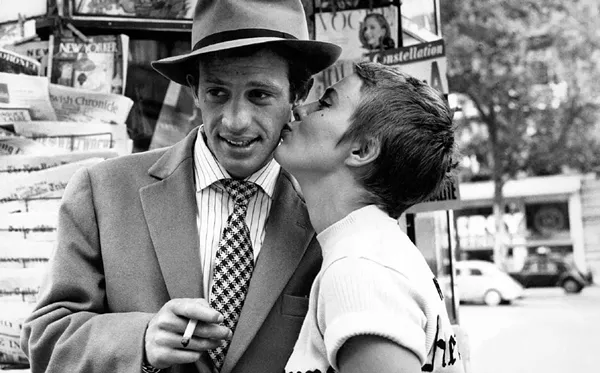 Movies are dangerous. In 1960's Breathless (À Bout de Souffle), Jean-
Paul Belmondo plays a brooding Frenchie so infatuated by American movies
and pulp thrillers — just like filmmaker Jean-Luc Godard — that he picks
up an American girlfriend (waifish Jean Seberg in an iconic pixie cut) and
tries to turn her into a femme fatale with his irresponsible delusions. If you
watch the events from her point of view, which hardly anyone does, she's
a sensible gal looking for straight talk from the father of her unborn baby.
See wishes clash with reality in a groundbreaking, off-the-cuff, do-it-yourself
classic of the French New Wave that still charms and seduces viewers into
misunderstanding it. Hey Lady Pop Up Cinema revives the impossibly hip
black-and-white gem at Ventura. Free, 8pm Thu, Ventura, 1011 Avenue B., (210)
802-6940, facebook.com/heyladypopupcinema.
— Michael Barrett




Thu 2/9
"Ángel Rodríguez-Díaz: A Retrospective, 1982-2014"

In 2015, art historian Ruben C. Cordova curated a series of exhibitions across four San Antonio venues as part of a citywide Mel Casas retrospective that was meant to bring recognition to the late Chicano artist. Now Cordova will curate a retrospective at Centro de Artes celebrating artist Ángel Rodríguez-Díaz. Rodríguez-Díaz, who is of Puerto Rican descent, has called San Antonio home since relocating here in 1995 to live with his partner Rolando Briseño. "If I were to characterize him as an artist, the really unique, singular and astonishing thing about his work is how he used his self-portraiture as a vehicle for social commentary," Cordova said. "He makes a critique of pollution, or fossil fuels, greed, corruption and war in the genre of self-portraiture." Cordova explains how, after unrolling canvas after canvas, he could spot connections with Frida Kahlo and other artists from the past — from Spanish master Diego Velasquez to Irish painter Francis Bacon. "What's important to realize is that Latino artists don't have a Latino framework," Cordova said. "There wasn't much Latino art when these artists started ... I guess one of the big revelations for me is the connection [Rodríguez-Díaz] has with the whole history of art." Two accompanying exhibitions of Rodríguez-Díaz's "early works" are on view at FL!GHT Gallery (134 Blue Star) through March 3. Free, 6-9pm Thu (on view 11am-6pm Tue-Sun through Jun. 11), Centro de Artes, 101 S. Santa Rosa Ave., (210) 206-2787, getcreativesanantonio.com. — Marco Aquino
Excerpted from "Local Treasure" by Marco Aquino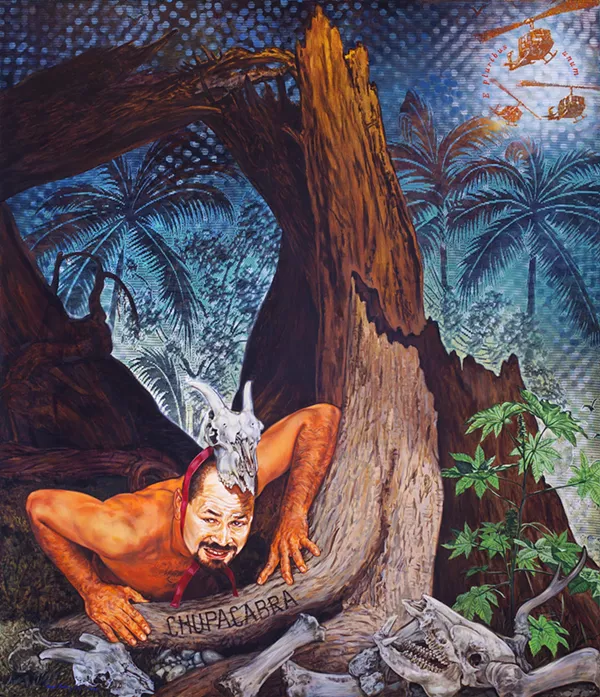 Fri 2/10
The Peking Acrobats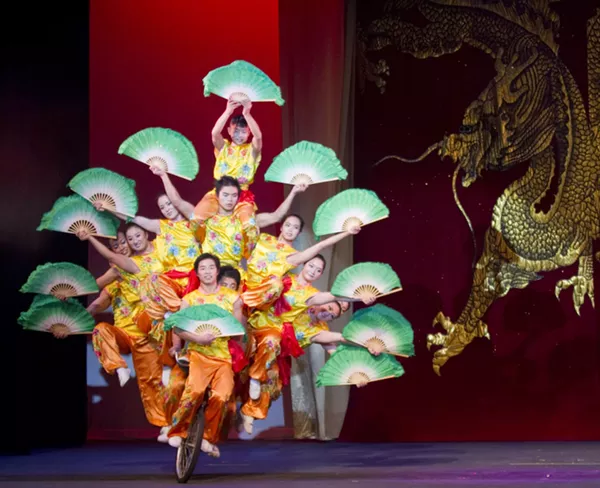 Having spent the Year of the Monkey tumbling, juggling, trick-cycling and wire-walking
through an epic 30th
anniversary tour, the
Peking Acrobats are
back on the road
with a gravity-defying
spectacle reminiscent
of a Chinese carnival.
Possibly known best
for the six-person,
21-foot "human chair
stack" that earned
them a Guinness World Record back in 1999, the troupe routinely appears on
TV shows and specials
(from Ellen's Really Big
Show to the Hollywood
Bowl) and famously
launched gifted acrobat
and contortionist
Qin Shaobo onto
the big screen via
Steven Soderbergh's
2001 Oceans Eleven
reboot. Discovered
while performing in
Las Vegas, Shaobo
reprised his role as
Danny Ocean's nimble
"greaseman" in the
sequels Oceans Twelve
and Oceans Thirteen.
Masters of "melding
the ancient and
traditional," the Peking
Acrobats return to the
Alamo City courtesy
of ARTS San Antonio.
$29-$99, 7:30pm Fri,
The Majestic Theatre,
224 E. Houston St.,
(210) 226-3333,
majesticempire.com.
— Bryan Rindfuss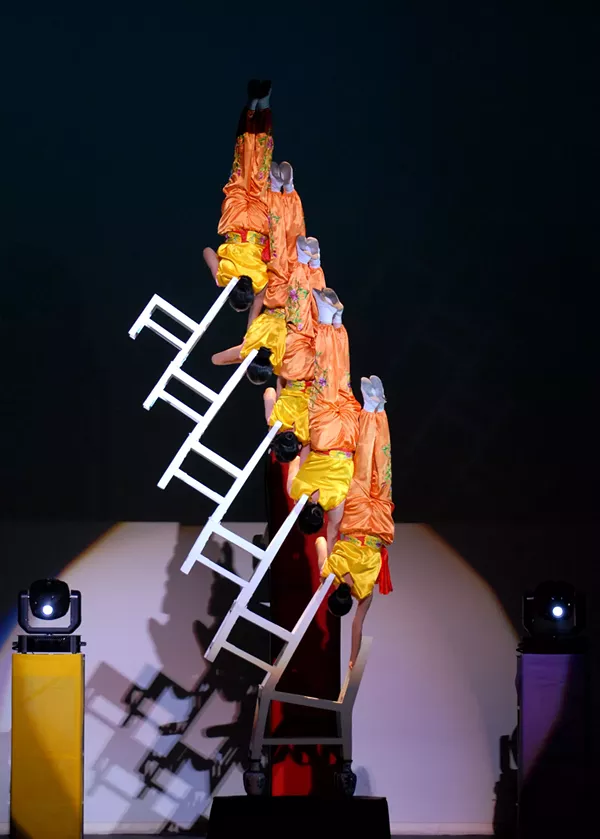 Fri 2/10
Kathleen Madigan
Courtesy of Kathleen Madigan
While toiling as a print journalist during the late '80s, Kathleen Madigan started doing open mic nights at local comedy clubs and found her calling. "That's what I was meant to do," she said. Since then, she's developed into a sharp, unsparing comic who's proudly "performed on nearly every stand-up television show ever made" and recorded specials for Showtime, HBO,
Comedy Central and Netflix.
Unsurprisingly, there's nothing she
enjoys more than her work.
Madigan, who'll bring her "Bothering
Jesus Tour" to the Empire on Friday, isn't
one of those humorists using comedy as
a stepping stone to a sitcom vehicle.
What Madigan wants is to make
audiences laugh. "That's all I ever wanted
to do," she said. "I can't believe this is my
job ... It's the greatest job in the world." $29.50-$39.50, 8pm Fri, Charline McCombs Empire Theatre, 226 N. St. Mary's St., (210) 226-3333, majesticempire.com.

— Ed Condran
Fri 2/10 - Sat 2/11
Scream Hollow Wicked Valentine's Weekend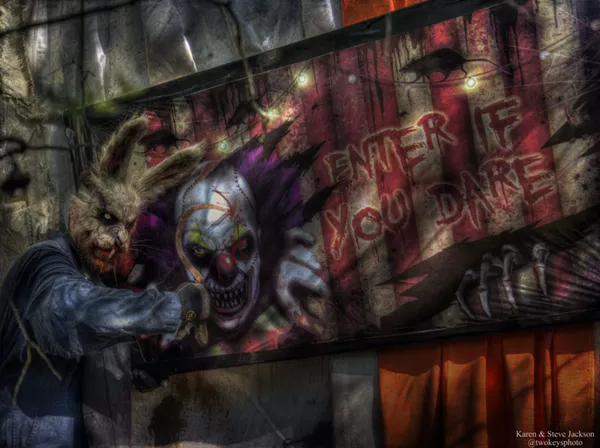 It happens like this: The weekend before this Annual Designated Romantic Love Day, you've just picked up a hot date in Bastrop. The car breaks down
on Highway 304, and that AAA subscription you just renewed means nothing 'cause you and your date promised each other no cell phones tonight. On
the way to get help, that shortcut you insisted you knew about gets you both lost in the woods. Ahead, in the clearing, lies an abandoned orphanage with
its own cemetery. And a long-closed factory. And ... is that a circus? Sound too good to be true? Scream Hollow offers you the chance to recreate this
experience for about the price of a mid-range steak dinner. Walk hand-in-hand, touring the scenes of pretend atrocities across their 16-building, 20-acre,
three-attraction haunted house park. If you get bored of all the zombies, cannibals and clowns, there's a bon re, a masquerade ball, beer and wine, and
brisket sandwiches. And if you're single, does it really sound any creepier than whatever dating app you're on? $35 (includes one drink ticket), 7pm-
midnight Fri-Sat, 149 Split Rail Lane, Smithville, (512) 710-8267, screamhollow.com. — Jeremy Martin

Sat 2/11
The Coathangers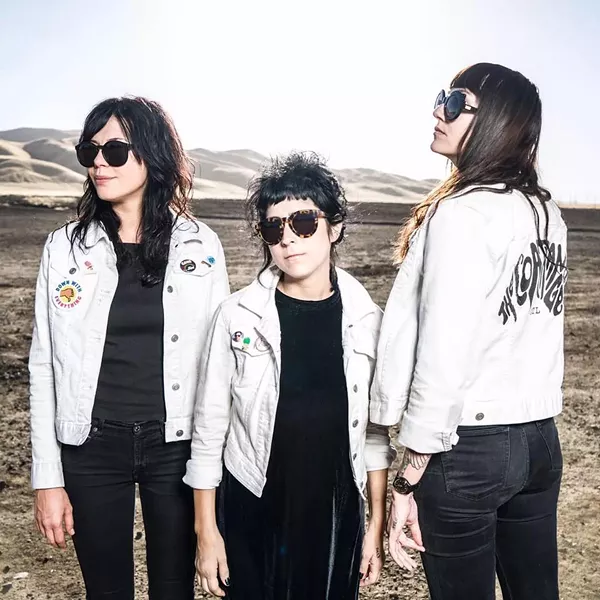 Courtesy of The Coathangers
Formed as a joke in 2006, riot grrrl band The
Coathangers are as hilarious
as they are damn good musicians.
Named after the self-induced
abortion method, the Atlanta-based
trio fuse the stylings of true 90s
garage rock and surf-punk with
just the right amount of poppiness,
creating potent mix reminiscent of
Bikini Kill and Bratmobile. $12, 8pm,
The Korova, 107 E. Martin St., (210) 226-5070, thekorova.com.
— Chris Conde
Sat 2/11
Dallas Black Dance Theatre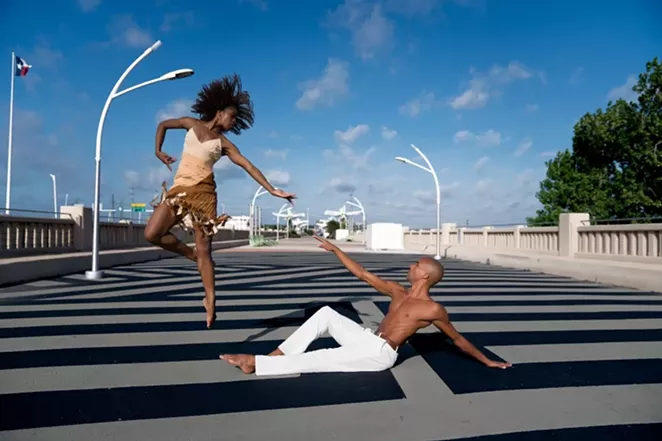 Founded by Ann Williams as a
community-based organization in 1976,
Dallas Black Dance Theatre has since grown
into a fully professional institution with a
focus on producing multicultural modern
dance for diverse audiences. The company
is the oldest continuously operating dance
company in Dallas, and its 12-member multi-
ethnic stall of dancers performs year-round
both locally and internationally. DBDT's
2016-2017 season features a selection of
contemporary dances that includes Jamal
Story's What to Say, a duet that muses on
the myth of Echo and Narcissus and features aerial silks, and Christopher Huggin's
ensemble Night Run, in which the dancers evoke the transformation of human behavior
and social mores as day becomes night. $35, 8pm Sat, Carver Community Cultural Center,
Jo Long Theatre, 226 N. Hackberry St., (210) 207-2234, thecarver.org.
— Kelly Merka Nelson


Dallas Black Dance Theatre
Sat 2/11
'Works by Dan Lam'

Philippine-born, Texas-based artist Dan Lam has already generated quite a buzz around herself. Despite not even being 30 years old yet, Lam, especially over the past four years, has dazzled fine art lovers with her organic, brightly colored, blob-like sculptures, which seem to writhe and reach out. Her solo exhibitions, as she becomes increasingly comfortable creating in this unique vein, are something akin to visiting an alien dimension, teeming with odd yet enticing forms, in all manner of mesmerizingly incandescent color combinations. She's caught the attention of art publications like Juxtapoz, Maake Magazine, and The Creators Project, and now she's coming to town with a new solo exhibition. You'll definitely want to make time to check out Lam's otherworldly sculptures in person. Free, 7-10pm Sat, The Lullwood Group, 107 Lone Star Blvd., facebook.com/thelullwoodgroup.
— James Courtney
Sat 2/11
The Art of Fetish & Fashion


Brandishing a flyer that harks back to the heyday of illustrator, photographer and publisher John Willie's cult BDSM magazine Bizarre (1946-1959), The Art of Fetish & Fashion looks ready to whip the saccharine sweetness right out of your Valentine's weekend. Presented by the admittedly dark and eccentric boutique La Santa Luna and hosted by musician and nightlife innovator Wayne Holtz, the adults-only affair employs fetish and kink as common threads between burlesque, fashion, music and photography. In addition to the main spectacle — a risqué runway show featuring local fashions worn by more than 20 models — the evening includes an S&M-themed exhibit (featuring work by photographers Gina Sandoval, Mary Rodriguez, Vanessa Velazquez, Andrew Lopez and Alfred Canedo), vendors (hawking everything from cupcakes and jewelry to sex toys and handcrafted paddles), a "pleasure station" where guests can get tickled or spanked, and performances by drag divas Toni Andrews and Amerie Parker, the all-female Le Strange Sideshow, fire dancer Saterra Rene and psychedelic blues duo Skeleton Creek. $10, 7:30pm-midnight Sat, Brick, 108 Blue Star, (210) 262-8653, facebook.com/lasantalunaboutique.
— BR
Sat 2/11 - Sun 2/12
Las Tesoros CD Release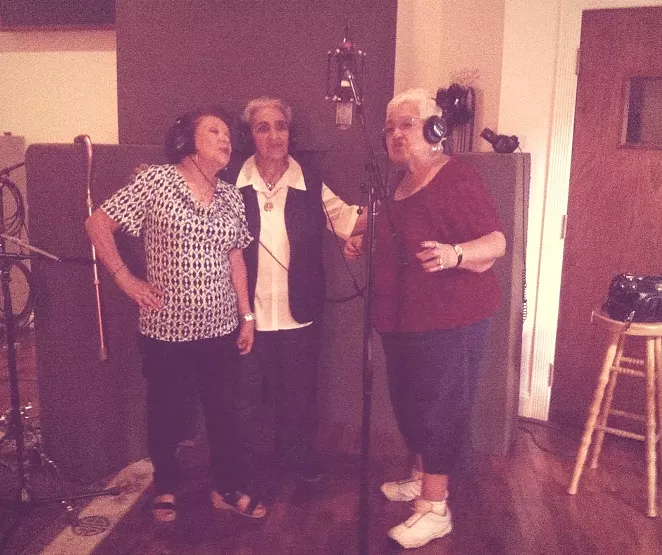 Courtesy of the Esperanza Peace and Justice Center
San Antonio is abundant with
queens of all types: drama, drag,
necia or whatever. The title of fi
ercest queen, however, should be shared
between the ladies of Las Tesoros. Inspired by
Tejana singers like Lydia Mendoza and world
famous Eva Garza, Las Tesoros challenged
racism and sexism throughout their career
while opening doors for generations of amazing
women singers of color that would follow. With
the passing of Janet "Perla Tapatia" Cortez, the
tradition of beautiful music continues with
trio Rita Viduarri, Beatriz Llamas, and Blanca
Rodríguez. $15, 6pm Sat, 3pm Sun,
Esperanza Peace And Justice Center, 922 San
Pedro Ave., (210) 228-0201, esperanzacenter.org.
— CC