Thu 2/23
Into the Woods


The musical
Into the Woods
is now so well-known — particularly after Meryl Streep's Oscar-nominated turn in the movie adaptation — that Forbidden Broadway's delicious parody has even more bite:
Into the Words
. That's because James Lapine and Stephen Sondheim's
Into the Woods
has always been about words, stories and story-telling: it's a mashup of several fairy tales tied together by the thread of a childless baker and his wife. Fiasco Theater's acclaimed revival — which eventually landed Off Broadway — strips away the artifice and grandiosity of other productions and, with just one piano and a nimble cast of 10, puts the emphasis back on the words that communicate wisdom, and even solace, from one generation to the next.
Into the Woods
has just one stop in San Antonio: miss it, and it will disappear … like magic.
$31.60-$94.50, 7:30pm Thu, Tobin Center for the Performing Arts, 100 Auditorium Circle, (210) 223-8624, tobincenter.org.
— Thomas Jenkins
Thu 2/23
Dior and I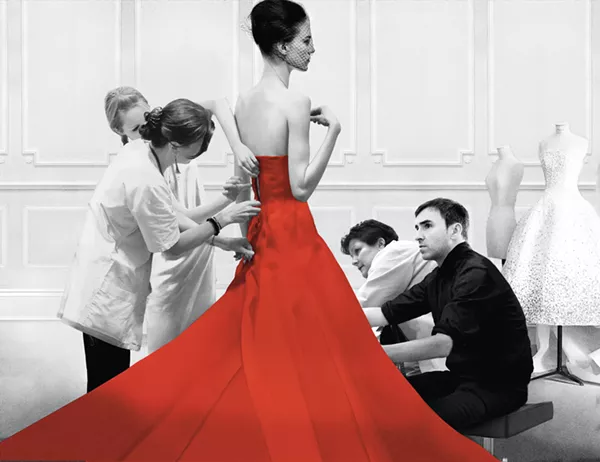 When it comes to designers helming the world's most revered fashion houses, shakeups are par for the course — and keeping up with who's where feels like watching a high-stakes game of chess. After firing British wildcard John Galliano back in 2011 (based on his viral "I Love Hitler" rant in a Paris bar), the house of Christian Dior found its new leader in Raf Simons, a comparatively mild-mannered Belgian designer who launched his own menswear line in 1995 and became creative director of minimalist German luxury brand Jil Sander in 2005. Using the founding father's eponymous 1956 memoir
Christian Dior & I
as a guiding light, French filmmaker Frederic Tcheng's directorial debut
Dior and I
zooms in on Simons just after he's taken the reins and is struggling to uphold the house's legacy while creating his first-ever couture collection in a matter of eight weeks. Working with a crew of seamstresses and craftsmen — including some who've worked for Dior for 40-plus years — Simons ultimately rises to the occasion, infusing modern sensibilities and abstract concepts into the clothes and presenting them in a Parisian mansion quite literally covered with fresh flowers. Since the film's 2015 release, circumstances for Simons and Dior have unsurprisingly changed. Just last year, the creative team at Dior remarkably produced a well-received collection without a creative director after Simons defected to become chief creative officer of Calvin Klein. A fascinating and refreshingly realistic look at the inner workings of an often-misunderstood industry,
Dior and I
screens as part of the McNay's Get Reel Film Series "just in time for Paris Fashion Week 2017."
Free, wine reception at 6:30pm, film at 7pm Thu, McNay Art Museum, Chiego Lecture Hall, 6000 N. New Braunfels Ave., (210) 824-5368, mcnayart.org.
— Bryan Rindfuss
Thu 2/23
Message to the People: A Story of Malcolm X
When local cultural activist Aundar Martin decided last year that he wanted to present his message of "Black pride, self-reliance and human rights" through the art of cinema, he decided to adapt his 2011 stage play
Message to the People: A Story of Malcolm X
into an independent film. Martin, who organizes and hosts cultural festivals and events around the city, including the Kwanzaa Market Festival and the Pan-African Festival, portrays the late Muslim minister and human rights activist in both the play and the new film, which makes its San Antonio debut this week.
Message to the People
is directed by Born Logic Allah. According to Martin, 80 percent of the script recounts words spoken by or about Malcolm X. "What we thought made this story different than other stories about Malcolm X is that it gives insight to the man and his transformation from childhood to adulthood," Martin told the
Current
. "We wanted to show the transformation, not only of Malcolm but also a human transformation — how people can ultimately change the conditions of their world."
$10, 7pm Thu, Alamo Drafthouse Park North, 618 NW Loop 410, (210) 560-3622, eventbrite.com.
— Kiko Martinez
Thu 2/23 - Sun 2/26
Felipe Esparza


Courtesy of Felipe Esparza
The hundred-some-odd words here expended describing 2010's
Last Comic Standing
winner Felipe Esparza's stand-up act could probably be used to transcribe two or three of his jokes verbatim. Good ones, too. But we'd never tell them like he does. His precise writing and off-kilter delivery might invite comparisons to Mitch Hedberg or Steven Wright, but it's hard to imagine either of them hosting — as Esparza does — a podcast called
What's Up Fool?
featuring episodes with the theme "Cholos: Where Are They Now?" And as good as he is with a one-liner, it's impossible to imagine anyone but Esparza, as he does on Comedy Central's
This Is Not Happening
, telling a 12-minute story about biting a dude's ear off in a street-fight while high on PCP and making it into something uplifting. Exactly the kind of joker we need right now.
$22.50, 8:30pm Thu, 8pm & 10:15pm Fri, 7pm & 9:15pm Sat, 7pm Sun, San Antonio Improv Rivercenter, 849 E. Commerce, (210) 229-1420, rivercentercomedyclub.com.
— Jeremy Martin
Thu 2/23 - Sun 2/26
Bert Kreischer


Courtesy of Bert Kreischer
Screw Horatio Alger, here's a real American success story: Bert Kreischer spent a six-year stint as a Florida State undergraduate partying so hard that
Rolling Stone
— the magazine that spent the '70s watching rockstars ride motorcycles through luxury hotels — wrote an article about him, which inspired the movie
Van Wilder
and also inspired Kreischer to follow his dream of becoming a stand-up comic. But lest you think he'll just be rehashing tales of theme-parties gone wrong and pastry-humping bulldogs, Kreischer's life seems to bear about as much resemblance to the film as he does to Ryan Reynolds, and he's now a 40-something father (he filmed a web-series with his daughters called
How Not to Kill Your Kids
).
Rolling Stone
worried he'd wind up selling carpets, but instead he's hosted a travel show (
Trip Flip
), done coke with Hollywood suits and gotten in too deep with Russian mobsters.
Van Wilder 2
could've been much better.
$22.50, 8pm Thu, 8pm & 10:15pm Fri-Sat, 7pm Sun, Laugh Out Loud Comedy Club, 618 NW Loop 410, (210) 541-8805, lolsanantonio.com.
— JM
Fri 2/24
CineFestival Opening Night: Dolores


Peter Bratt's first doc (after narrative features
Follow Me Home
and
La Mission
) attempts to set the record straight about UFW co-founder Dolores Huerta (still active at age 86), the beloved and controversial labor leader and civil rights activist often overshadowed by César Chávez's accomplishments and the UFW's own sexism after Chávez's passing. The film (executive produced by Carlos Santana) recently premiered at Sundance, where it earned a standing ovation. By all accounts, it's a powerful film and not a simple hagiography. Progressives were understandably upset with Huerta's decision to support Hillary Clinton instead of Bernie Sanders in last year's elections, and actress Rosario Dawson (who portrayed Huerta in 2014's
César Chávez
, directed by Diego Luna) called her out for it. Huerta replied that she thought Hillary would be better for Latinos and, "when the dust settles … we're going to be together." Although the dust hasn't exactly settled, anyone who keeps on fighting at age 86 — after almost losing her life to police brutality at age 58 — deserves a long line of credit among true progressives. This is
the
film to watch at this year's CineFestival.
$15, 7pm Fri, Guadalupe Theater, 1301 Guadalupe St., (210) 271-3151, cinefestival.org.
Fri 2/24 - Sun 2/26
Disenchanted! The Musical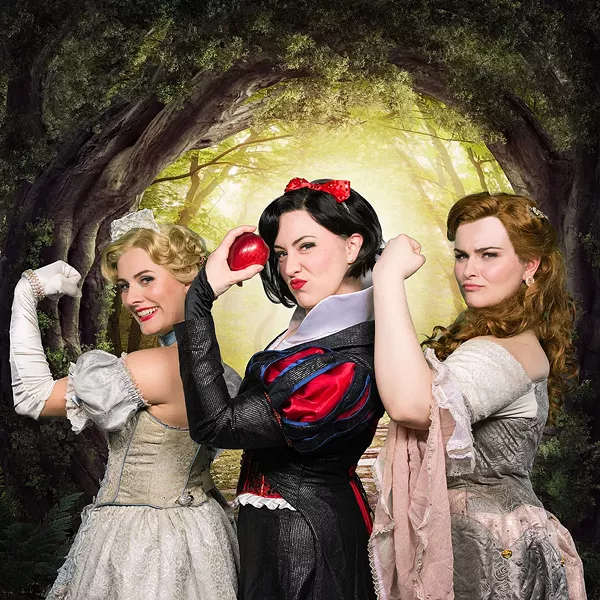 Courtesy of Disenchanted! The Musical
As beloved as animated fairytale movies may be, the Disneyfication of folk tales has overwritten what are often much darker stories (looking at you,
The Little Mermaid
…), and in
Disenchanted! The Musical
, the princesses themselves have a bone to pick with their modern portrayals. The musical lampoons the idea of "happily ever after" with a raunchy twist — on stage, the ladies lament their sex lives, the difficulty of maintaining a perfect princess body, and other overlooked challenges of princesshood with vulgarity that puts most R-rated films to shame. Guaranteed to charm both those who love and those who hate children's movies, Disenchanted! promises a night of irreverent hilarity, but for #$@%'s sake, don't bring the kids!
$31.60-$94.50, 8pm Fri, 2pm & 8pm Sat, 2pm & 7pm Sun, Tobin Center for the Performing Arts, 100 Auditorium Circle, (210) 223-8624, tobincenter.org.
— Kelly Merka Nelson

Fri 2/24 - Sun 2/26
"Of Country and Culture: The Lam Collection of Contemporary Australian Aboriginal Art"


San Antonio Museum of Art
San Antonio Museum of Art's latest exhibition brings to light the museum's collection of over 100 objects created by Aboriginal artists since the mid-1990s. The collection, a gift from May and Victor Lam, which includes many female artists, was born out of May's experience (in 2000) with an exhibit of contemporary Aboriginal art called "Spirit Country," a traveling affair put on by the Fine Arts Museums of San Francisco. Inspired by this exhibit, May (a longtime SAMA trustee) and her daughter journeyed to Aboriginal communities all across Australia and amassed an exquisite collection of their own. And, what a collection it is: diverse in terms of materials and themes, both ancient and current in its processes and styles. That the result of this flight of fancy is now going to be on view at SAMA, for all to see, is an exciting nod to the way that museum experiences can change lives and lead to unexpected new things.
$15-$20, 10am-9pm Fri, 10am-5pm Sat-Sun, San Antonio Museum of Art, 200 W. Jones Ave., (210) 978-8100, samuseum.org.
— James Courtney

Sat 2/25
"Diverse Views"


Google the word "Trebla" and the top result — courtesy of the fan-fueled
Star Wars
database Wookieepedia — leads down a winding path dedicated to a magical Jinda, a sentient species distinguished by "pom-pom tufts of hair," markings that cover their bodies and entertaining talents including (but not limited to) juggling, dancing and storytelling. As it turns out, that nomadic creature has zero to do Trebla Art Gallery, a Westside venture run by Albert Gonzales. Although it's simply his first name spelled backwards, Gonzales admits the gallery name is designed to spark questions: "What I want people to do is to question what [Trebla means] … and wonder what kind of art would be in the space." Himself a full-time artist known best for poppy, simplistic paintings of flowers that wouldn't look out of place on the set of
The Simpsons
, Gonzales is set to inaugurate his new digs with "Diverse Views." Doubling as Trebla's grand opening, the group show brings together works by more than a dozen artists, including Paul Cooley and Chris Riggs (New York), Kristen Phipps (Kansas), and Ana Hdz-Burwell and Raul Gonzalez (Texas).
Free, 4-10pm, Trebla Art Gallery, 2402 Guadalupe St., (210)441-0075, facebook.com/treblaartgallery.
— BR
Sun 2/26
Drag Brunch: Foxxy's Farewell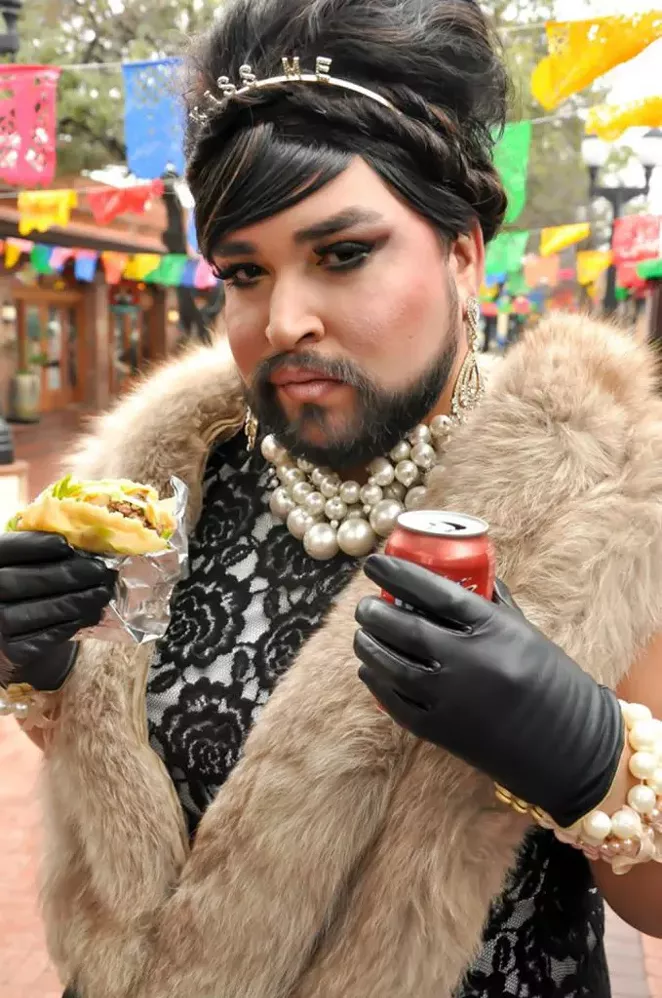 Those familiar with San Antonio scenes spanning from burlesque and drag to knitting and poetry have probably crossed paths with Dino Foxx, a multifaceted artist and performer who — frequently as his gender-blending alter ego Foxxy Blue Orchid — has emceed more events than he'd likely care to count. Once the lone male in the award-winning troupe Stars and Garters Burlesque, Foxx has caught our attention over the years through multiple creative endeavors, including crafty antics with the yarn-bombing outfit the Yarn Dawgz and his poetry collection
When the Glitter Fades
— a debut publisher Kórima Press bills as the "celebrations and mournings of a queer Xicano poet, teatrista [and] fire-eater." Far less publicized are Foxx's admirable efforts as an activist, an aspect of his life quickly coming to the forefront. Working on a contract basis with California-based International Development Exchange (IDEX) since November of last year, Foxx is in the process of relocating to the Bay Area for a full-time position with the nonprofit, which is dedicated to promoting lasting solutions to issues related to food sovereignty, alternative economics and climate justice in the U.S., Asia, Africa and Latin America. While Foxx says he'll continue co-producing and emceeing the San Antonio Burlesque Festival and collaborating with Austin-based burlesque/cabaret/variety collective The Midnight Menagerie ("I'll still be back a lot," he promised us), an array of his cohorts are uniting for a festive sendoff at Paramour. Emceed by the "glambear queen" himself, the rooftop fiesta features performances by Lucy Lips of local burlesque troupe the Pastie Pops and drag divas Kristi Waters and Nilaya Milan Mathews, music by DJ Vitamin A, and brunch fare and cocktails available for purchase. Admittedly nervous about his big leap, Foxx pondered, "I only hope that the Bay Area has room in its heart for Foxxy Blue." Although highly unlikely — if it doesn't … we know a place that does.
Free, 11am-4pm, Paramour, 102 9th St., (210) 340-9880, paramourbar.com.
— BR