Thu 3/2 - Sun 3/5
"Monet to Matisse: A Century of French Moderns"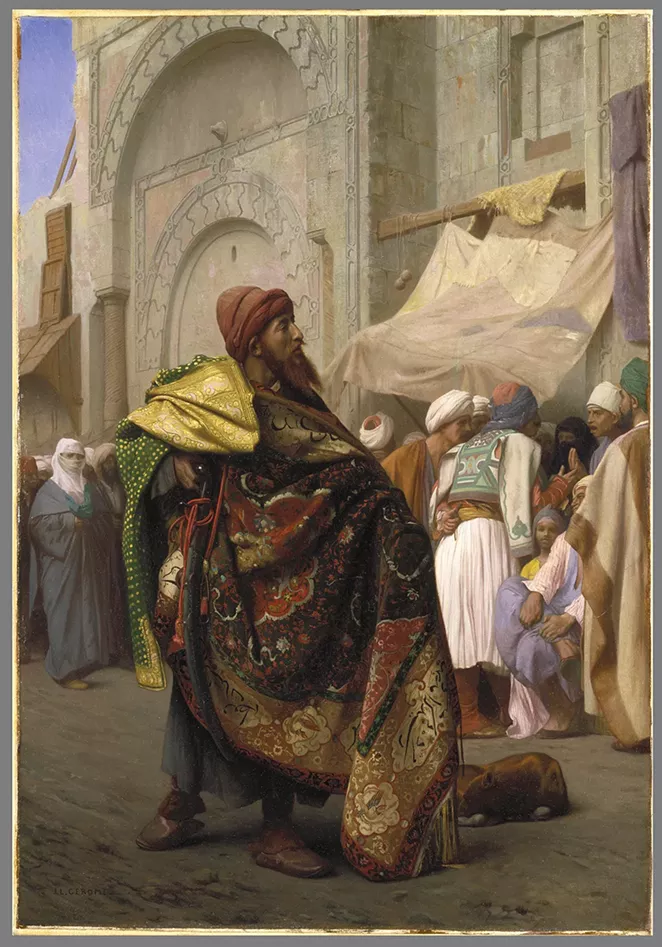 Jean-Léon Gérôme, The Carpet Merchant of Cairo. Brooklyn Museum, Gift of Joseph Gluck, 74.208. (Photo: Brooklyn Museum)
Aside from the bewildering sensation of viewing classics from the 1800s that still fall under the heading of "Modernism," the McNay's new spectacle "Monet to Matisse: A Century of French Moderns" boasts a number of dichotomies and surprises. Although it might seem like an unlikely pairing to begin with, McNay director Richard Aste describes the San Antonio institution's collaboration with New York-based presenting partner the Brooklyn Museum as "a reunion decades in the making." Marrying "nearly 60 paintings and sculptures from Brooklyn's renowned European art collection" with a selection of works culled from the McNay's like-minded holdings, the exhibition extends far beyond masters Monet and Matisse to highlight works by Rodin, Degas, Renoir, Cézanne and other legends you may recall from Art History 101. And if the promise of viewing 19th-century masterpieces in the sleek, contemporary confines of the McNay's Tobin Exhibition Galleries isn't enough of a draw, consider the fact that the museum recently "tore down" interior walls to create an open plan "that both showcases the beauty of [architect Jean-Paul] Viguier's design to great effect and provides visitors with a fresh and dynamic experience."
$15-$20 (free for visitors 19 and under), 10am-9pm Thu, 10am-4pm Fri, 10am-5pm Sat, noon-5pm Sun, McNay Art Museum, 6000 N. New Braunfels Ave., (210) 824-5368, mcnayart.org.
— Bryan Rindfuss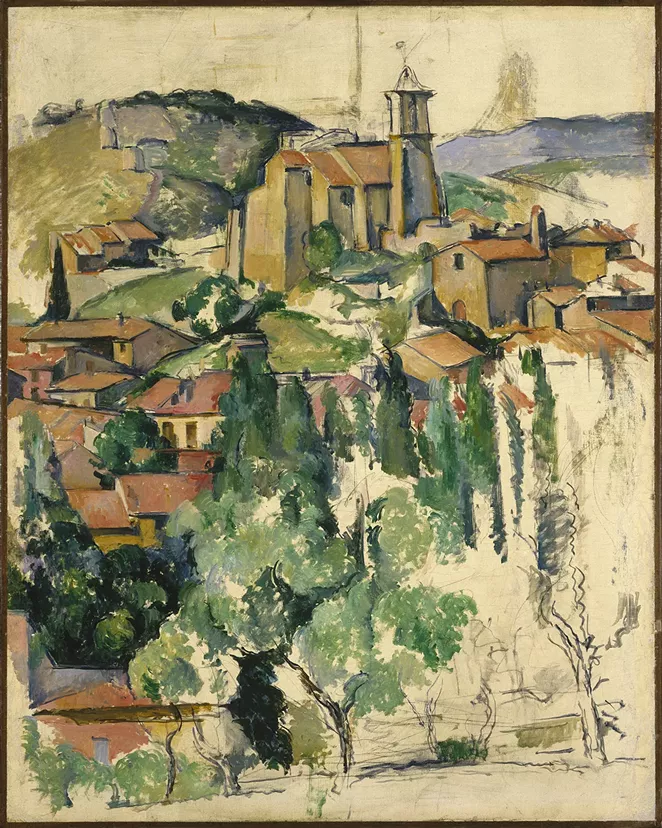 Paul Cézanne, The Village of Gardanne. Brooklyn Museum, Ella C. Woodward Memorial Fund and Alfred T. White Fund, 23.105. (Photo: Brooklyn Museum)
Thu 3/2
Contemporary Art Month Kickoff Party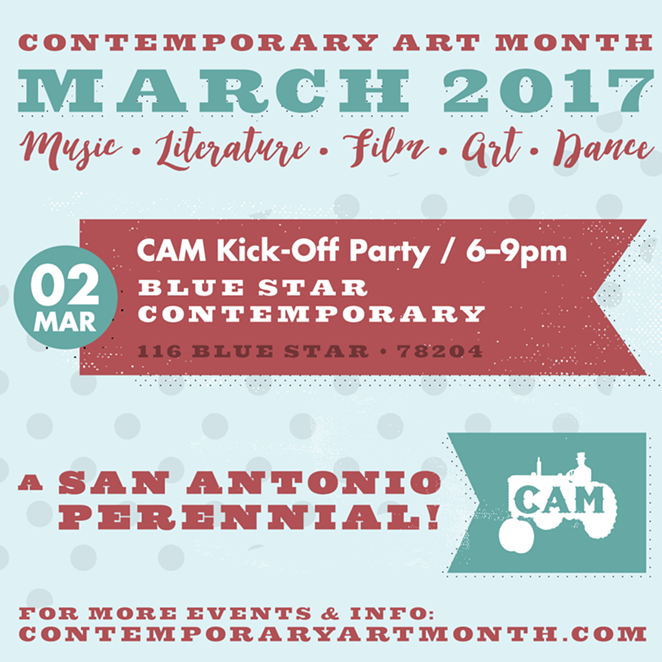 Long before it was the far-flung, impossible-to-see-it-all bonanza that it is today, Contemporary Art Month (CAM) was a Blue Star-centric affair, showcasing affiliated artists and bringing the art-loving community to them in a concentrated way. While those days are long gone, and CAM has blossomed into a fruitful season for arts across the city, the arty party still kicks off (quite spectacularly) where it all began. This year's CAM Kickoff festivities include — apart from exhibits in all the galleries (at Blue Star Contemporary and throughout the complex) and other exciting happenings — a performance by a 30-piece street choir led by self-styled composer Nathan Felix, a DJ throughout the night, food available from Ay Papi's and Bombay Salsa Co. food trucks, and, most importantly, a chance to mingle and lay out plans to attend as many CAM events as possible.
Free, 6-9pm Thu, Blue Star Contemporary, 116 Blue Star, (210) 227-6960, contemporaryartmonth.com.
— James Courtney

Thu 3/2
"CAM WOW!"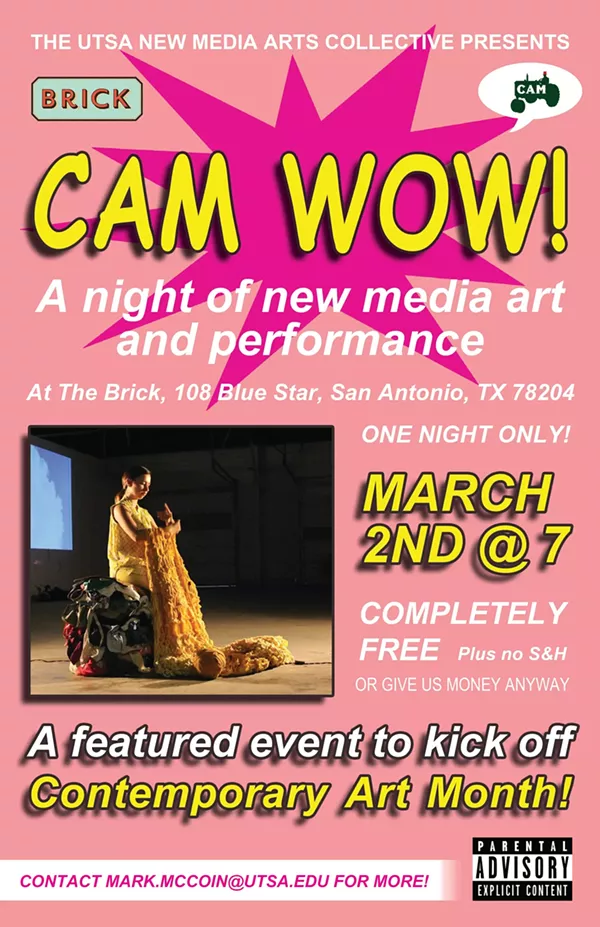 In the midst of a busy opening night for Contemporary Art Month, UTSA's New Media Arts Collective presents a unique and edgy bill at Brick. Entitled "CAM WOW!" and described as a "mix of new media art and conceptual curiosities," this presentation, which is a one-night-only event, includes multimedia installations as well as live performances and individual and collaborative works. All told, through a barrage of multi-sensory experience that features the contributions of more than 20 artists, "CAM WOW!" tackles "cultural topics, environmental reconfigurations, and personal narratives through actions of ritual, duration, structure, and disruption." Parental discretion is advised due to the possibility of strong language and occasional nudity, which, for our money, is all the more reason to get jazzed about this special event. Following the reception, stick around for "Shake It Baby," an after party and dance set to beats by DJ Agosto Cuellar.
Free, 7pm-midnight, Brick, 108 Blue Star, (210) 262-8653, contemporaryartmonth.com.
— JC

Thu 3/2
"Magic Time Machine"


Cinnabar explores San Antonio's past, present and future with a Contemporary Art Month exhibition pairing local artists Ana Fernandez and Hiromi Stringer.
Free, 6:30-9:30pm Thu, Cinnabar Art Gallery, 1420 S. Alamo St., Suite 147, (210) 557-6073. cinnabarart.com.


Fri 3/3
"Color Cycle"


Fluctuating in tandem with the Contemporary Art Month mainstay known as the CAM Perennial, the CAMx initiative does double duty by showcasing out-of-town curators and artists in our homegrown art spaces while also exporting some of San Antonio's brightest creative talents to partnering cities that have previously included Houston and Mexico City. Listed by
The New York Times
in the 2015 article "Art Basel Miami Beach: A Focus on Female Artists" as one of a handful of galleries championing oft-overlooked South Florida talent in the midst of a glitzy, international affair, Miami's Laundromat Art Space brings its offbeat sensibilities to San Antonio for CAMx 2017. Marking a partnership with San Antonio artist, curator and mentor Alex Rubio's new venture Rubio Gallery South, the CAMx group show "Color Cycle" imports works by Miami-based mixed-media artists David McCauley and Marina Gonella, painters Michael Williams and Pablo Contrisciani, self-proclaimed outsider artist Ronald Sanchez and photographer Christin Paige Minnotte, among others.
Free, 7-10pm Fri, Southtown Flats, Rubio Gallery South, 111 Probandt St., contemporaryartmonth.com.
— BR

Fri 3/3 - Sun 3/5
RENT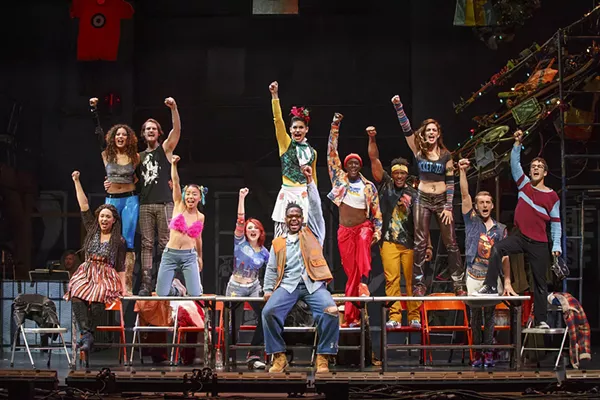 Those of us of a certain age will find it hard to believe that
RENT
is blowing through San Antonio on its 20th-anniversary (!) tour: It seems like only yesterday that Jonathan Larson's Pulitzer-winning musical took America by storm. A contemporary riff on Puccini's
La Bohème
,
RENT
explores the lives of struggling artists in New York's East Village as they confront such 1990s challenges as income inequality, gentrification, HIV, substance abuse and social marginalization. (Ah,
plus ça change
… as the bohemians might say.) Larson's infectious score — with such moving ballads as "Seasons of Love" — has made
RENT
a mainstay, now, of community theaters; but it's neat to see director Michael Greif's work recreated for the tour.
$35-$125, 8pm Fri, 2pm & 8pm Sat, 2pm & 7:30pm Sun, The Majestic Theatre, 224 E. Houston St., (210) 226-3333, majesticempire.com.
— Thomas Jenkins
Sat 3/4
San Antonio International Woman's Day March & Rally


It's been a busy 2017 for the community organizers at Mujeres Marcharán. Between the post-election day march and drama with the City and SAPD regarding expensive march permits, they have also organized peace-keeper trainings to facilitate peaceful protests and IWD march planning meetings. The International Woman's Day March has been gaining momentum since its 1990 launch and is currently featured in the Department of Arts & Culture's "United We Are One" exhibit celebrating San Antonio's marches for equality. The 2017 march theme is "Muxerista, Existe y Resiste"/"Our Existence Is Resistance" and celebrates how "women and girls all over the world … are the voices of conscience, the roots of change and the leaders of local and global movements." Given the current political climate, this year's gathering is sure to bring out xingonas of all stripes, armed with signs and accompanied by family and friends. The march begins at Plaza del Zacate (Milam Park) with a blessing for Mother Earth and concludes with a rally uniting community leaders and speakers along with music, poetry and performances.
Free, 11am Sat, Milam Park, 501 W. Commerce St., (210) 971-4493, facebook.com/sawomenwillmarch.
– Rachel Cooley


Sat 3/4
Huevos Rancheros Cook-Off & Gala


Rosedale Park will come alive with the savory wafting scent of 15 restaurants/chefs trying to outdo themselves for this year's Huevos Rancheros Cook-Off and Gala put on by San Anto Cultural Arts. Hosted by two members of the community with a lasting commitment to the arts, King and Queen Huevo, the event is one of San Anto's major fundraisers of the year. This year's King, David Zamora Casas, is a painter, activist, installation artist and curator known as Nuclear Meltdown, whose work can be found inside the Henry B. Gonzalez Convention Center and the San Antonio Museum of Art. Queen Rita Vidaurri was born in the city's Westside and went on to earn international acclaim as a singer and actress in the 1940s and '50s. Casas and Vidaurri will be part of the judging panel that picks the best traditional and contemporary takes on this breakfast staple. This year adds a new Artisans' Market to the kid-friendly mix that includes live music, artsy activities and a silent auction.
$10-$12, 9am-1pm Sat, Rosedale Park, 340 Dartmouth St., (210) 226-7466, sananto.org.
— Jessica Elizarraras
Sat 3/4
"Effloresce"


Without a background in realm of graffiti, Mexico City-based artist Paola Delfín started painting in the street as something of an experiment. Besides teaching her that urban art is likely her true calling, that experiment has taken Delfín all over the world to create sprawling murals in Germany, China, Spain, Puerto Rico, Cuba, Brazil and back to her native Mexico — a country she's described as a super-important "cradle of
muralismo
." Although often addressing themes of femininity, Delfín is quick to point out that her work is not socially driven but a means to bring spaces new life. Currently finishing up a residency at S.M.A.R.T., Delfín is set to unveil "Effloresce," a series of new work that "radiates with the metaphor of blossoming femininity anchored in the roots from which we came." The first solo curatorial endeavor of Hillarey Jones, the exhibition comprises an exhibition of paintings as well as "a new mural for San Antonio."
Free, 6-9pm Sat, S.M.A.R.T. projectspace, 1906 S. Flores St., (210) 748-3181,
smartsa.org
.
— BR
Sat 3/4
The Clothesline Muse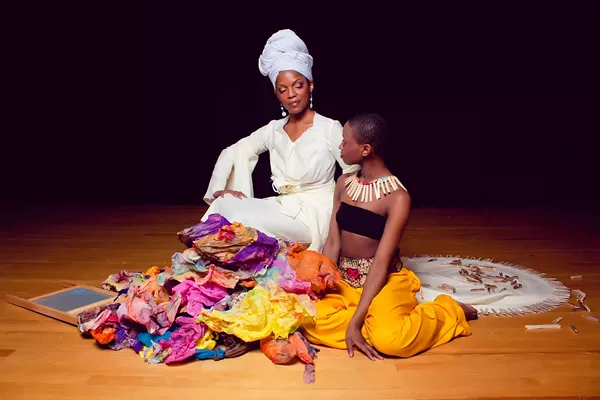 Carver Community Cultural Center
First conceived as a dance by Dr. Kariamu Welsh, The Clothesline Muse is a multidisciplinary theatrical performance that evolved as a collaboration between Welsh singer Nnenna Freelon and visual artist Maya Freelon Asante. The story centers on Mary Mack, a young feminist screenwriter who returns to her grandmother's home to fulfill a promise to care for her belongings after her death. Mary's Grandma Blu was a washerwoman who possessed a treasure trove of "clothesline stories," and once Mary begins to sort through her possessions, those stories reassert themselves, demanding that Mary "holds up her end of the line." Freelon's composition, Welsh's choreography, and Asante's tissue paper art are woven together on stage into a vibrant celebration of traditional women's work and the importance of connections formed across generations.
$35, 8pm, Carver Community Cultural Center, Jo Long Theater, 226 N. Hackberry St., (210) 207-2234, thecarver.org.
— Kelly Merka Nelson