Thu 3/2
Contemporary Art Month Kickoff Party


Long before it was the far-flung, impossible-to-see-it-all bonanza that it is today, Contemporary Art Month (CAM) was a Blue Star-centric affair, showcasing affiliated artists and bringing the art-loving community to them in a concentrated way. While those days are long gone, and CAM has blossomed into a fruitful season for arts across the city, the arty party still kicks off (quite spectacularly) where it all began. This year's CAM Kickoff festivities include — apart from exhibits in all the galleries (at Blue Star Contemporary and throughout the complex) and other exciting happenings — a performance by a 30-piece street choir led by self-styled composer Nathan Felix, a DJ throughout the night, food available from Ay Papi's and Bombay Salsa Co. food trucks, and, most importantly, a chance to mingle and lay out plans to attend as many CAM events as possible.
Free, 6-9pm Thu, Blue Star Contemporary, 116 Blue Star, (210) 227-6960,
contemporaryartmonth.com
.
— James Courtney
Thu 3/2
"Magic Time Machine"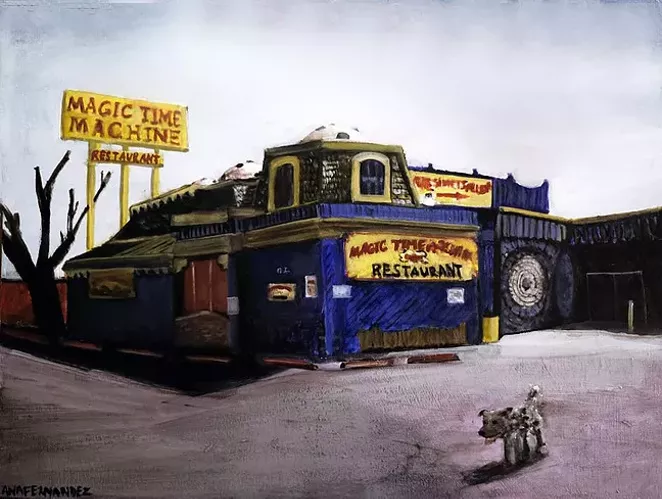 Cinnabar explores San Antonio's past, present and future with a Contemporary Art Month exhibition pairing local artists Ana Fernandez and Hiromi Stringer.
Free, 6:30-9:30pm Thu, Cinnabar Art Gallery, 1420 S. Alamo St., Suite 147, (210) 557-6073, cinnabarart.com.
Thu 3/2
"Pretty Hurts"


Former San Antonio resident Wesley Harvey continues his exploration of queer theory with an exhibition of ceramics and works on paper addressing "ideas of deviance and perfection associated with homosexuality."
Free, 6-9pm Thu, Hello Studio, 1420 S. Alamo St., (210) 291-8640, hellostudiosa.com.
Thu 3/2
"Skins"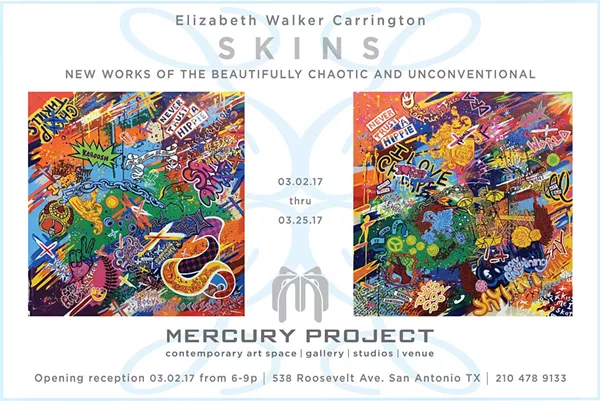 Local artist Elizabeth Carrington's new paintings conjure "the passage of time represented by candy-colored cakes and icons, heroic swords and kingly rings."
Free, 6-9pm Thu, Mercury Project, 538 Roosevelt Ave., (210) 478-9133, mercuryproject.net.
Thu 3/2
"CAM WOW!"


In the midst of a busy opening night for Contemporary Art Month, UTSA's New Media Arts Collective presents a unique and edgy bill at Brick. Entitled "CAM WOW!" and described as a "mix of new media art and conceptual curiosities," this presentation, which is a one-night-only event, includes multimedia installations as well as live performances, and individual and collaborative works. All told, through a barrage of multi-sensory experience that features the contributions of more than 20 artists, "CAM WOW!" tackles "cultural topics, environmental reconfigurations, and personal narratives through actions of ritual, duration, structure, and disruption." Parental discretion is advised due to the possibility of strong language and occasional nudity, which, for our money, is all the more reason to get jazzed about this special event. Following the reception, stick around for "Shake It Baby," an after party and dance set to beats by DJ Agosto Cuellar.
Free, 7pm-midnight Thu, Brick, 108 Blue Star, (210) 262-8653,
contemporaryartmonth.com
.
— JC
Thu 3/2 - Fri 3/3
"Pardon My Glitch"


Showdown Gallery observes Contemporary Art Month by highlighting the work of SCOTCH! — a street artist who uses spray paint and stencils to build layers of color, patterns and off-set images.
Free, 6-11pm Thu-Fri, Showdown Gallery, 1420 S. Alamo St., facebook.com/showdowngallery.
Thu 3/2 - Fri 3/3
"Things We Used to Know"


Born of a common appreciation for space travel, mirrors, the mapping of uncharted wilderness, magic and concepts like Wheeler's Participatory Anthropic Principle, Terminal 136's group show "Things We Used to Know" reframes natural history and external observation as a form of self-investigation and vice versa.
Free, 6-9pm Thu-Fri, Terminal 136, 136 Blue Star, (210) 458-4391, art.utsa.edu.
Fri 3/3
"Color Cycle"


Fluctuating in tandem with the Contemporary Art Month mainstay known as the CAM Perennial, the CAMx initiative does double duty by showcasing out-of-town curators and artists in our homegrown art spaces while also exporting some of San Antonio's brightest creative talents to partnering cities that have previously included Houston and Mexico City. Listed by The New York Times in the 2015 article "Art Basel Miami Beach: A Focus on Female Artists" as one of a handful of galleries championing oft-overlooked South Florida talent in the midst of a glitzy, international affair, Miami's Laundromat Art Space brings its offbeat sensibilities to San Antonio for CAMx 2017. Marking a partnership with San Antonio artist, curator and mentor Alex Rubio's new venture Rubio Gallery South, the CAMx group show "Color Cycle" imports works by Miami-based mixed-media artists David McCauley and Marina Gonella, painters Michael Williams and Pablo Contrisciani, self-proclaimed outsider artist Ronald Sanchez and photographer Christin Paige Minnotte, among others.
Free, 7-10pm Fri, Southtown Flats, Rubio Gallery South, 111 Probandt St., contemporaryartmonth.com.
Fri 3/3
Cosmic Art Night

The Northwest Vista College art department opens its studios, turns on the black lights and invites visitors to try their hand at throwing a vessel on the potter's wheel, silk-screening clothing or creating a sculpture using glowing, luminescent materials.
Free, 7-9pm Fri, Northwest Vista College,
Palmetto Center for the Arts, 3535 N. Ellison Drive, (210) 843-7650, alamo.edu/nvc/palmetto.
Fri 3/3
"Fine Print"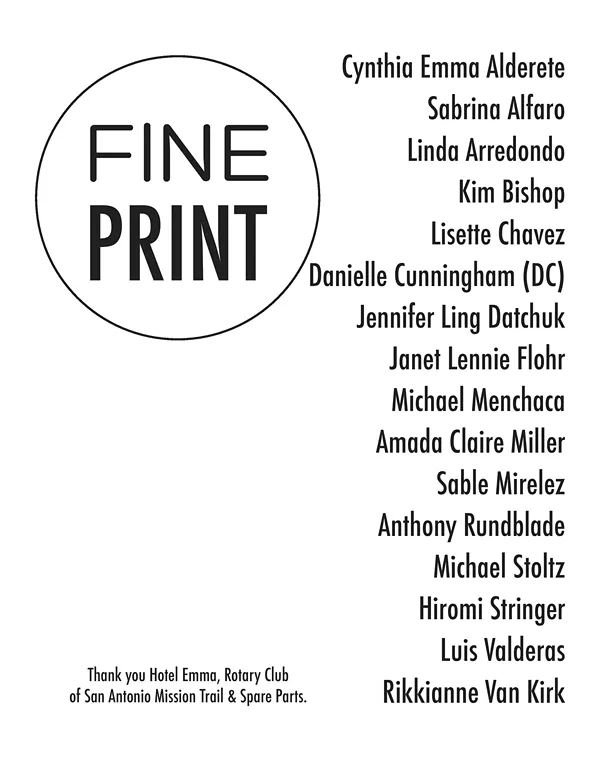 The Spare Parts Mini Art Museum showcases wee works created by 16 contemporary artists working in various aspects of printmaking — from letterpress and lithography to photogravure and chine-collé.
Free, 6-8pm Fri, Hotel Emma, 136 E. Grayson St., (210) 274-5409, sparepartssa.org/wp/mini-art-museum.
Fri 3/3
"Small Scale • Big Change"


SAY Sí celebrates 20 years of showcasing local artists with an exhibition and sale of more than 200 small-scale works, with proceeds benefiting the nonprofit's tuition-free creative youth-development programs.
Free, 7-10pm Fri, SAY Sí, 1518 S. Alamo St., (210) 212-8666, saysi.org.
Fri 3/3
"Strangers"


Black Moon brings together Texas photographers who have an eye for "raw interactions."
Free, 7-11pm Fri, Black Moon Gallery, 1420 S. Alamo St., Suite 106B, facebook.com/blackmoonprint.
Sat 3/4
"Dream Keeper"


Inaugural DoSeum artist-in-residence Richard Armendariz unveils a large-scale installation recreating a childhood bedroom that leads guests into a magical forest.
$12, 9am-6pm Sat, The DoSeum, 2800 Broadway St, (210) 212-1313, thedoseum.org.



Sat 3/4
"The Nebulous Hum"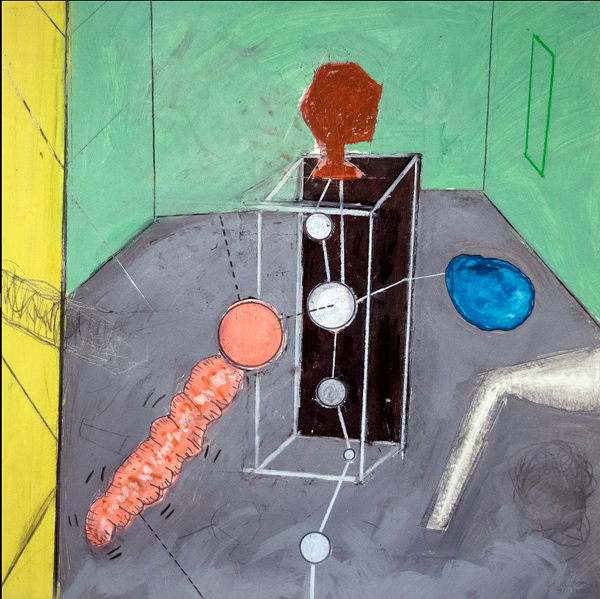 John Mattson's latest comprises acrylic and mixed-media works on paper informed by "personal observation and inner search."
Free, 6-9pm Sat, REM Gallery, 219 E. Park Ave., (210) 224-1227, remgallery.com.

Sat 3/4
"Effloresce"


Without a background in realm of graffiti, Mexico City-based artist Paola Delfín started painting in the street as something of an experiment. Besides teaching her that urban art is likely her true calling, that experiment has taken Delfín all over the world to create sprawling murals in Germany, China, Spain, Puerto Rico, Cuba, Brazil and back to her native Mexico — a country she's described as a super-important "cradle of
muralismo
." Although often addressing themes of femininity, Delfín is quick to point out that her work is not socially driven but a means to bring spaces new life. Currently finishing up a residency at S.M.A.R.T., Delfín is set to unveil "Effloresce," a series of new work that "radiates with the metaphor of blossoming femininity anchored in the roots from which we came." The first solo curatorial endeavor of Hillarey Jones, the exhibition comprises an exhibition of paintings as well as "a new mural for San Antonio."
Free, 6-9pm Sat, S.M.A.R.T. projectspace, 1906 S. Flores St., (210) 748-3181, smartsa.org.
Sat 3/4 - Sun 3/5
McNay Print Fair
More than a dozen dealers from around the U.S. bring thousands of prints, drawings, watercolors and photographs to show and sell at this two-day fair catering to "every taste and budget."
Free, 10am-5pm Sat, noon-5pm Sun, McNay Art Museum, 6000 N. New Braunfels Ave., (210) 824-5368, mcnayart.org.
For a complete list of CAM events, visit contemporaryartmonth.com/calendar.