Thu 3/9 - Sat 3/11
Gary Gulman


Twenty-year standup vet Gary Gulman has put in double the Gladwell Hours (TM) required to call himself an expert in comedy — 10,000 hours times two. So much time spent talking — maybe too much for most — but odds are he spent most of them wisely, whatever the subject. Gulman used an entire
Conan
set to recommend a nonexistent movie about abbreviating state capitols, and he killed. His "ode" to the abnormal friendliness of the Trader Joe's staff incorporates literary criticism of
The Lion, the Witch and the Wardrobe
to great effect, and his astonishment at the ludicrous wealth accumulated by Bill Gates includes the number of times you'd have to hit the Mega Millions to catch up and put Trump in his place nearly three years ago. In the always-odd arena of paying to hear a person say stuff, Gulman's gabbing is more valuable than most. He might not be able to fill an hour reading a phone book, but he could probably do twice that on phone books in general.
$18.50, 8pm Thu, 8pm & 10:15pm Fri-Sat, Laugh Out Loud Comedy Club, 618 NW Loop 410, (210) 541-8805, lolsanantonio.com.
— Jeremy Martin
Thu 3/9
Warship Issue Two Zine Release

Warship
draws creative inspiration from Canadian filmmaker David Cronenberg (aka the Baron of Blood) for a themed zine release complete with a screening of the 1986 classic
The Fly
(7:30pm), varied vendors, food for purchase from Mama Tierra and live music by Rivers Want and Star Fighter Dreams (9:30pm).
Free, 7pm-midnight Thu, Brick, 108 Blue Star, (210) 262-8653, facebook.com/warshipzine.





Fri 3/10
"Reflections on Landscape and Memory"


Launched in 2012 as a Contemporary Art Month initiative that brings out-of-town curators to San Antonio to "give a fresh perspective on the local art scene through copious studio visits and a resulting curated exhibition," the CAM Perennial generated a controversial buzz last year when the Guadalupe Cultural Arts Center pulled out as host venue of an all-female show based specifically on a "lack of representation of Latina artists." Organized by New Orleans-based curator Amy Mackie, the 2016 CAM Perennial dissolved into "Diversity and Inclusion in the Arts," a panel discussion that brought together representatives from CAM, the Guadalupe, SA2020 and the City of San Antonio's Office of Diversity and Inclusion … but arguably sparked as much controversy as it did conversation by neglecting to include a Latina panelist. While CAM has remained steadfast in the "no-strings-attached" freedom it offers the guest curators of the CAM Perennial, it's a safe bet that a few of the organization's critics will be pleasantly surprised by the group Miami-based Chris Ingalls assembled for "Reflections on Landscape and Memory." Hosted by the Southwest School of Art, this latest edition of the CAM Perennial unites works by more than a dozen local artists — Ana Fernandez, Guillermina Zabala, Julia Barbosa Landois, Joe Harjo, Sarah Fox and Alejandro Augustine Padilla among them — plus the unveiling of
Vertex
, a site-specific performance installation created by Saintlorraine collaborators Britt Lorraine and Kristy Perez.
Free, 6-8pm Fri, Southwest School of Art, 1201 Navarro St., (210) 224-1848, contemporaryartmonth.com.
— Bryan Rindfuss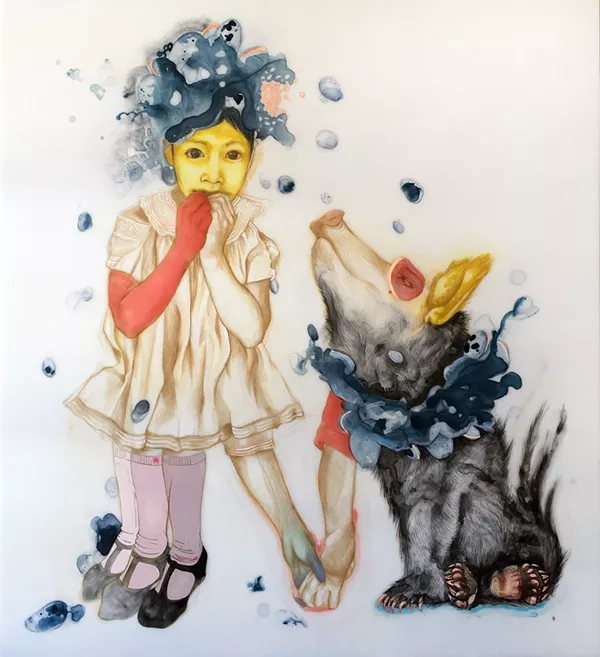 Fri 3/10 - Sun 3/12
KI Con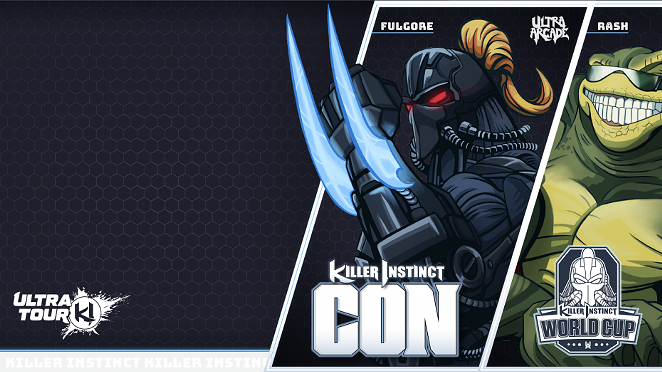 If you're familiar with characters like Fulgore, a cyborg soldier armed with plasma blades, or Riptor, a genetically engineered velociraptor-human hybrid who spits acid, then there's a good chance you were a teenager in 1994 when
Killer Instinct
rolled into your local arcade and demanded that you feed it all your quarters. Twenty-three years later, the franchise, which was rebooted by Microsoft Studios in 2013, is still so popular, instead of demanding all your loose change, it now commands its own exclusive gaming conference. Enter the inaugural KI Con, a three-day event featuring panels, gaming, concerts, contests, special guests (artists, game developers, voice actors), and a
Killer Instinct
World Cup tournament where the best players from around the globe compete for their share of $30,000. "
Killer Instinct
might not have been as popular as
Street Fighter
or
Mortal Kombat
, but it found an even more passionate cult audience that has set it apart as something special," said Trey Hilburn, video game reviewer for iHorror.com and occasional
Current
contributor. "It's one of the few games that is reliant on the fans' love in order to keep it alive."
$25-$175, 9am Fri-Sun, Tobin Center for the Performing Arts, 100 Auditorium Circle, (210) 223-8624, tobincenter.org.

— Kiko Martinez
Sat 3/11
"Little Works"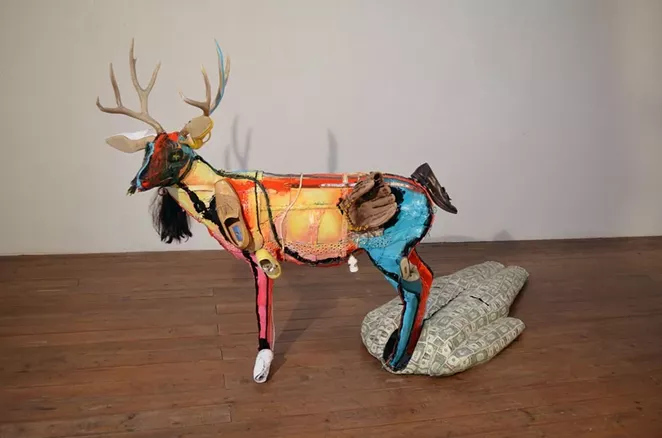 Taxidermy mounts covered in shoes, larger-than-life garments plastered in dollar bills, conceptual neon signs and stylized bronze animal masks are among the unusual hallmarks in the work of Ken Little, a nationally recognized artist who teaches at the University of Texas at San Antonio and graces the local music scene with his colorful projects Rodeo Ho Ho and the Swingbillies. A native of Canyon who grew up hand-painting china with his grandmother and dreamed of working for Walt Disney, Little uses his mastery with an array of materials to challenge the confines of sculpture with a refreshing dose of wit. Writing the foreword for his cheekily titled 2003 retrospective "Little Changes," Southwest School of Art president Paula Owen hailed Little as "one of the true crossover artists" based on his "intertwining of precepts from both art and craft history and practice." Adding to an impressive list of 40-plus solo shows, the beloved visual artist, vocalist and guitarist sets up shop at Dock Space Gallery for "Little Works" — an exhibition likely to emphasize his signature spin on creatures great and small. Following the opening reception, "Little Works" remains on view by appointment through March 31.
Free, 7-10pm Sat, Dock Space Gallery, 107 Lone Star Blvd., (210) 723-3048,
dockspacegallery.com
.
Sat 3/11
Spurs vs. Warriors


Spurs Sports & Entertainment
The Golden State Warriors make the first of two stops in San Antonio this month on Saturday night for a nationally televised, primetime showdown with the Spurs. Kawhi Leonard and company opened the regular season in Oakland with a thorough 29-point drubbing of the new-look Warriors, in which Leonard poured in 35 points. With the Splash Brothers still in the fold, Golden State boasts the league's best record and remains the prohibitive favorite to claim another NBA title. Leonard may be the reigning Defensive Player of the Year, but he can only guard one Warrior at a time. For San Antonio to continue to compete, LaMarcus Aldridge and Juice Unit stalwarts Manu Ginobili, Patty Mills and Jonathon Simmons must impact the game.
$132-$2,106, 7:30pm Sat, AT&T Center, One AT&T Center Pkwy., (210) 444-5000, attcenter.com.
— M. Solis
Sat 3/11
"Dreams Are for Those Who Sleep"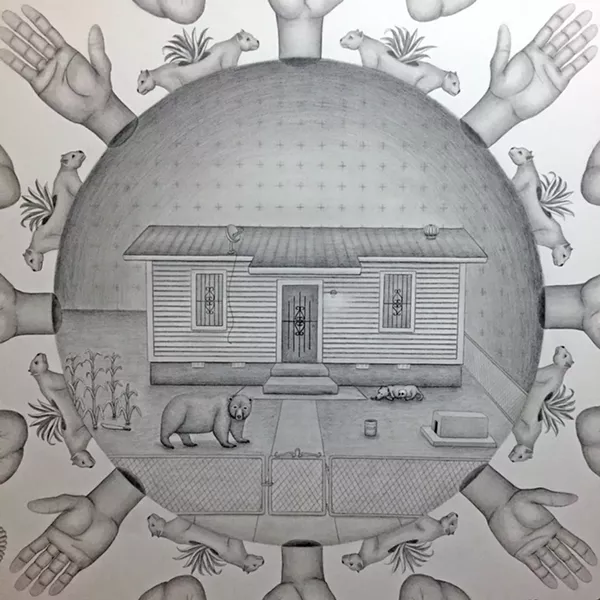 For San Antonio artist Jose Fidel Sotelo, art is an important means of self-exploration and a tool for cultural excavation, for pursuing balance and peace, and for appreciating the beauty in the everyday. Heavily influenced by his studies in design and photography, Sotelo started painting in 2009 with an eye for sharp, crisp images/lines and a penchant for burying complexity within simplicity. His latest exhibit, entitled "Dreams Are for Those Who Sleep," departs a bit from his recent work that has alternated between vivid color and stark black-and-white precision. This exhibit, which explores "the meditative quality of repetitive symbolic imagery," consists of large-scale graphite drawings that delve deep into Sotelo's dreamscapes as well as images from Aztec mythology.
Free, 7-10pm Sat, Provenance Gallery, 1906 S. Flores St., (210) 216-8362, artandprovenance.blogspot.com.
— James Courtney
Sat 3/11
Femina-X Multiverse Album Release


Even if you haven't been living in San Antonio for very long, if you've made at least an attempt at exploring the local music scene, chances are you've stumbled upon the eclectic musings of Femina-X. The SA five-piece, led by singer Daniela Riojas, explores the sounds of a variety of genres, a blend of tribal, electronic, Latin and world music. Their new album
Multiverse
exhibits a bit more focus and vocal control from Riojas, and is definitely a step further into the weird and cosmic world that is Femina-X. Also on the bill: Fort Never, Volcán and Mexicans with Guns.
$7-$10, 9pm Sat, Limelight, 2718 N. St. Mary's St., (210) 735-7775, thelimelightsa.com.
Sat 3/11
"Lujuria"


Launched in 2013 by San Antonio artist/curator Sarah Castillo as a means to support the professional development of women and LGBTQIA artists, Lady Base Gallery continues its tradition of staging thought-provoking pop-up exhibitions with a Contemporary Art Month showcase for San Antonio-based Michael Martinez. A native Texan who earned a BFA in intermedia from the Pacific Northwest College of Art, Martinez has exhibited work in Portland, Oregon; Belgrade, Serbia; and more recently back home in San Antonio. Teaming up with his older brother Mark Anthony to address timely topics (from race and identity to gender expression and homophobia) for the Bihl Haus Arts show "Profiling Made Visible," Martinez hit a memorable note with
Aztec Gender Swap
, a video piece appropriating Jesús Helguera's iconic painting
The Legend of Iztaccíhuatl and Popocatépetl
as a means to address "the erasure of queer presence from the cultural narrative of Chicanismo." Partnering with AP Art Lab and Viva Vegería, Lady Base shines a light on Martinez's "Lujuria," an exhibition of videos displayed on old computer monitors. With cinematic titles such as
League of God-Like Bionic Titans
, Martinez's new works employ "the language of '80s action movies" to explore the pressures of coming out and articulate "a lust for life, freedom and respect."
Free, 7-10pm, AP Art Lab, 1906 S. Flores St., (210) 705-2332, ladybasegallery.com.
— BR
Sat 3/11
Rodney Carrington


Courtesy of Rodney Carrington
Dear Rodney Carrington's Penis: It's been 18 years since your Longview-native owner/proprietor/operator first began corresponding with you in his song, "Letter to My Penis," and in the time between, the two of you have had your (ahem) ups and downs. Or, at least, he has. Carrington included the letter on a platinum-selling greatest hits album, spent two seasons starring in the ABC sitcom
Rodney
, and appeared alongside singer Toby Keith in 2008's
Beer for My Horses
. While you, well, "You used to watch me shave / now all you do is stare at the floor," Carrington originally lamented on his tellingly titled 1998 debut,
Hangin' with Rodney
. If the title track of 2000's certified-gold follow-up
Morning Wood
is any indication, your relationship has improved significantly since Carrington first put paper to pen, then put the paper down his pants, but if that's true, why haven't we heard from you since your terse reply to Rodney all those years ago? Sigh. Nobody writes letters anymore.
$44.75-$179.75, 7pm Sat, The Majestic Theatre, 224 E. Houston St., (210) 226-3333, majesticempire.com.
— JM