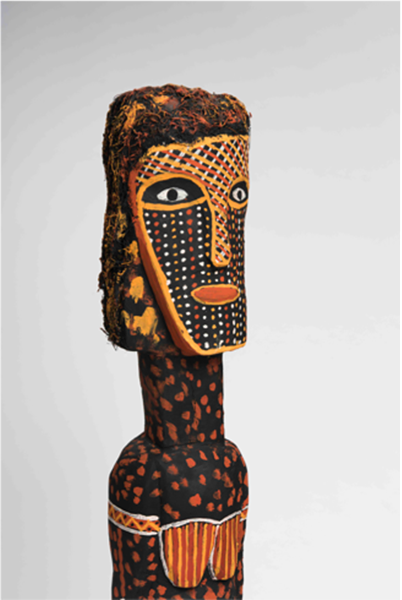 "Of Country and Culture: The Lam Collection of Contemporary Australian Aboriginal Art"
Fri., March 10-Sun., March 12


San Antonio Museum of Art's latest exhibition brings to light the museum's collection of over 100 objects created by Aboriginal artists since the mid-1990s.
The collection, a gift from May and Victor Lam, which includes many female artists, was born out of May's experience (in 2000) with an exhibit of contemporary Aboriginal art called "Spirit Country," a traveling affair put on by the Fine Arts Museums of San Francisco.
Inspired by this exhibit, May (a longtime SAMA trustee) and her daughter journeyed to Aboriginal communities all across Australia and amassed an exquisite collection of their own. And, what a collection it is: diverse in terms of materials and themes, both ancient and current in its processes and styles. That the result of this flight of fancy is now going to be on view at SAMA, for all to see, is an exciting nod to the way that museum experiences can change lives and lead to unexpected new things.
Tuesdays, Fridays, 10 a.m.-9 p.m. and Wednesdays, Thursdays, Saturdays, Sundays, 10 a.m.-5 p.m. Continues through May 14, San Antonio Museum of Art, 200 W. Jones Ave.
Instagram, Scary Stories Exhibit
Scary Stories to Tell in the Art
Friday, March 10
Like most kids who grew up in the '80s and '90s, Vidad Sainz was both completely fascinated and totally creeped out by Scary Stories to
Tell in the Dark
, a collection of three terrifying books filled with urban legends and folklore.
The books that many of us probably remember reading in grade school were the perfect amount of horror for that age. And while we may have fond memories of reading the series under our blankets with a flashlight, one thing always sticks out about these stories the most: the terrifying illustrations.
Sainz remembers the books' visuals clearly. And, inspired by the work of the books' illustrator Stephen Gammell, Sainz has orchestrated a line-up of about 40 artists to participate in an exhibit this Friday, entitled S
cary Stories to Tell in the Art
.
From 7 p.m. to midnight March 10th at Brick, you can expect to find illustrators, graphic designers and artists of other mediums give their takes on the drawings that once kept us up with nightmares. Cody Meirick, the producer behind
Scary Stories: A Documentary
will be in attendance to talk about the film that explores the "history of the most controversial work of modern children's literature," and guests are highly encouraged to dress up.
Scary Stories to Tell in the Art, Brick at Blue Star Arts Complex, 108 Blue Star, 7 p.m.-midnight, Friday, March 10.
Courtesy
Photo: Brooklyn MuseumClaude Monet (French, 1840–1926). Rising Tide at Pourville, 1882. Oil on canvas, 26 x 32 in. (66 x 81.3cm). Brooklyn Museum, Gift of Mrs. Horace O. Havemeyer, 41.1260.
"Monet to Matisse: Monet to Matisse: A Century of French Moderns"
Fri., March 10-Sun. March 12


Aside from the bewildering sensation of viewing classics from the 1800s that still fall under the heading of "Modernism," the McNay's new spectacle "Monet to Matisse: A Century of French Moderns" boasts a number of dichotomies and surprises.
Although it might seem like an unlikely pairing to begin with, McNay director Richard Aste describes the San Antonio institution's collaboration with New York-based presenting partner the Brooklyn Museum as "a reunion decades in the making."
Marrying "nearly 60 paintings and sculptures from Brooklyn's renowned European art collection" with a selection of works culled from the McNay's like-minded holdings, the exhibition extends far beyond masters Monet and Matisse to highlight works by Rodin, Degas, Renoir, Cézanne and other legends you may recall from Art History 101. And if the promise of viewing 19th-century masterpieces in the sleek, contemporary confines of the McNay's Tobin Exhibition Galleries isn't enough of a draw, consider the fact that the museum recently "tore down" interior walls to create an open plan "that both showcases the beauty of [architect Jean-Paul] Viguier's design to great effect and provides visitors with a fresh and dynamic experience."
Tuesdays, Wednesdays, Fridays, 10 a.m.-4 p.m., Thursdays, 10 a.m.-9 p.m., Saturdays, 10 a.m.-5 p.m. and Sundays, 12-5 p.m. Continues through May 21
Price: $15-$20, McNay Art Museum, 600 N. New Braunfels Ave.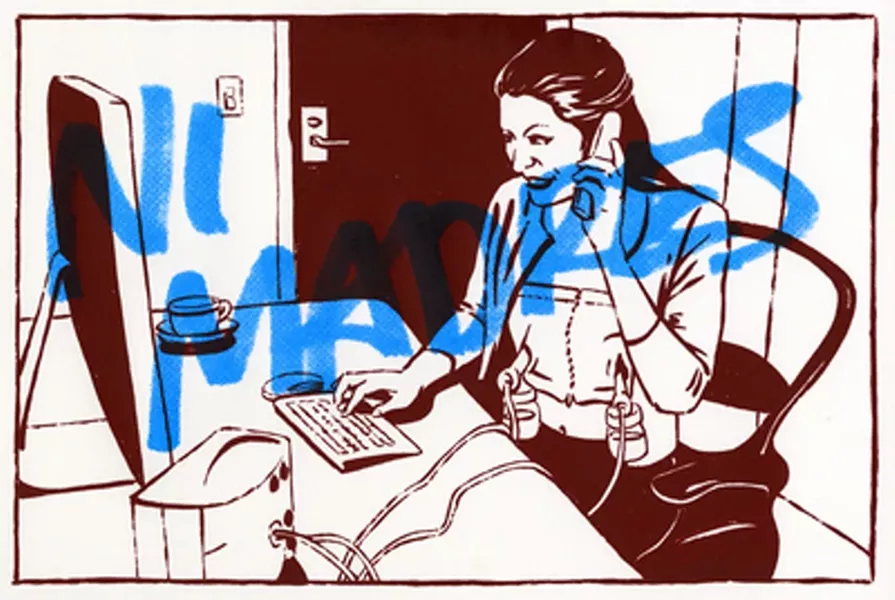 "Homage," "The Blue Hour (A Clock Stopped)," "M*dres" & "Turning Memory"
Fri., March 10-Sun., March 12.

In celebration of its 30th anniversary, Blue Star Contemporary welcomes 2017 with a quartet of exhibitions that look to the future with a keen eye on the past. Standing out as a likely crowd pleaser, "Homage" promises to be an intriguing tribute to "Blue Star I," a show that rose from the flames of the SAMA's canceled 1986 show "San Antonio Contemporary" and effectively inaugurated the Blue Star Arts Complex as a hub for contemporary art.
Taking cues exclusively from titles and descriptions of pieces included in that show the started it all, participating artists David Almaguer, Joe Harjo, Jennifer Khoshbin, Michele Monseau, Andrei Renteria, Rainey Rabbit, Anthony Rundblade and Ed Saavedra created "new work inspired by these details," without ever having seen the originals. One of the more mystical elements represented in Artpace's Tex-centric 2016 exhibition "Objectives," Jessica Halonen's fascination with the history of the pigment known as Prussian Blue comes back into focus via "The Blue Hour (A Clock Stopped)" — a solo show that sees the Austin/San Antonio-based Michigan native employing sculpture and oil on linen to "tap into the cultural and social associations the color blue evokes." An ever-inventive multidisciplinary artist and recent Blue Star Contemporary Berlin Residency alum, Julia Barbosa Landois fuses semantics and serigraphy in "M*dres," a series of silkscreen prints examining "how gendered language reflects and structures our political and cultural attitudes towards women."
In addition to two-dimension works that deconstruct concepts surrounding often-loaded words like "mom" and "madre," Barbosa Landois' Blue Star project encompasses a performance that satirically contrasted "the banalities of parental life with the performance artist persona, using a smartphone as mediator and monkey wrench." A Chicago-based artist with an extensive exhibition history, John Steck Jr. evokes themes of "ephemerality, physicality, materiality, fragility and mortality" in "Turning Memory," which comprises images from his series Lament (Disappearing Photographs) but also entails "two exposure boxes where the images are created during the span of the exhibition, punctuating our need to permanently document and hold a moment longer."
Thursdays, 12-8 p.m. and Fridays-Sundays, 12-6 p.m. Continues through May 7 , Blue Star Contemporary, 116 Blue Star, Free.

"Reflections on Landscapes and Memory"
Fri., March 10-Sun. March 12


Launched in 2012 as a Contemporary Art Month initiative that brings out-of-town curators to San Antonio to "give a fresh perspective on the local art scene through copious studio visits and a resulting curated exhibition," the CAM Perennial generated a controversial buzz last year when the Guadalupe Cultural Arts Center pulled out as host venue of an all-female show based specifically on a "lack of representation of Latina artists."
Organized by New Orleans-based curator Amy Mackie, the 2016 CAM Perennial dissolved into "Diversity and Inclusion in the Arts," a panel discussion that brought together representatives from CAM, the Guadalupe, SA2020 and the City of San Antonio's Office of Diversity and Inclusion … but arguably sparked as much controversy as it did conversation by neglecting to include a Latina panelist. While CAM has remained steadfast in the "no-strings-attached" freedom it offers the guest curators of the CAM Perennial, it's a safe bet that a few of the organization's critics will be pleasantly surprised by the group Miami-based Chris Ingalls assembled for "Reflections on Landscape and Memory."
Hosted by the Southwest School of Art, this latest edition of the CAM Perennial unites works by more than a dozen local artists — Ana Fernandez, Guillermina Zabala, Julia Barbosa Landois, Joe Harjo, Sarah Fox and Alejandro Augustine Padilla among them — plus the unveiling of Vertex, a site-specific performance installation created by Saintlorraine collaborators Britt Lorraine and Kristy Perez.
Fri., March 10, 6-8 p.m., Sundays, 11 a.m.-4 p.m. and Mondays-Saturdays, 9 a.m.-5 p.m. Continues through April 30, Southwest School of Art, 300 Augusta, Free.