Thu 4/20
Dazed and Confused

Since the Aztec averages less than one movie screening per month nowadays, you gotta figure the timing of showing Richard Linklater's stony opus
Dazed and Confused
on 4 freaking 20 is absolutely intentional — even if the venue website stresses that "all patrons are subject to search" and "no drugs or drug paraphernalia" are allowed. So maybe, just this once, ignore the timeless advice of Wooderson (Matthew McConaughey) who says "it'd be a lot cooler if you did" have a joint on you, even though you're going to watch a movie where characters take bong rips in a moving vehicle on Smoke Weed Day. Remember time is a nebulous thing in Linklater's oeuvre — long before he defied the fates and sat on
Boyhood
for its dozen-year gestation.
D&C
's Wooderson, it seems, keeps getting older while high school girls "stay the same age," but, mentally, has he really aged at all? Have any of us? How does a 24-year-old movie, set 41 years ago, continue to influence high-school freshman hazing rituals and the ongoing gentrification of Austin? Ponder these cosmic questions and more whilst not indulging in the drug being celebrated both on screen and IRL, because the man told you not to. Quoth Wooderson: "The older you do get the more rules they're gonna try to get you to follow. You just gotta keep livin' man, L-I-V-I-N."
$12, 8pm Thu, Apr. 20, Aztec Theatre, 104 N. St Mary's St., (210) 812-4355, theaztectheatre.com.
— Jeremy Martin
Thu 4/20
Che Malambo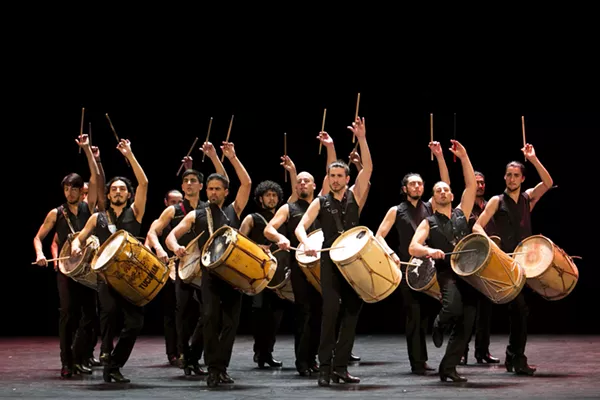 Dating back to 17th-century Argentina,
malambo
originated as a competitive contest of the brute strength and dexterity of
gauchos
— South American cowboys. The traditionally male phenomenon later evolved to include cadenced, freaky-fast footwork called
zapateo
, inspired by the sound of galloping horses. Argentinian
bombos
(drums) and
boleadoras
(weapons made of long cords weighted on one end by stone) were also included in the competition, which began to resemble a dance performance. Based in Argentina, Che Malambo is a dance company led by international choreographer Gilles Brinas, who brings all the elements of
malambo
together in an intense exhibition. Brought to life by a 14-member troupe, Che Malambo's quick-paced, testosterone-fueled shows combine rhythmic stomping, deep percussion and vigorous displays of dueling dancers and drummers.
$29-$99, 7:30 Thu, Apr. 20, Charline McCombs Empire Theatre, 226 N. St Mary's St., (210) 226-3333, majesticempire.com.
— Kimberly Rivera
Thu 4/20 - Sun 4/23
The Golden Glee Club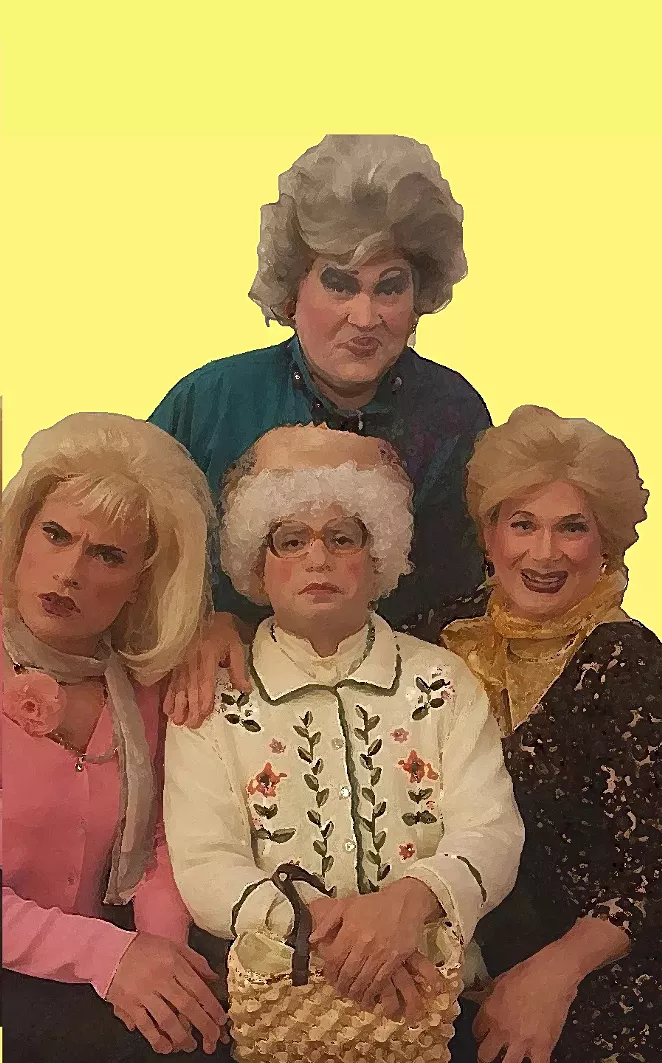 Born in Cape Town, South Africa, playwright and composer Bernard J. Taylor relocated to England in the 1980s and found one of his earliest successes with a musical adaption of Emily Brontë's 19th-century classic
Wuthering Heights
. Originally brought to San Antonio for the premiere of his musical
Liberty!
(billed as "a stirring retelling" of the siege of the Alamo), Taylor met his partner Jerry Wright here and soon adopted the Alamo City as his hometown. During what he's described as "the most prolific creative period of his life," Taylor has penned and premiered an array of original works including
Ghosts in the Afternoon
(at The Overtime Theater in 2013) and
The Road to Madness
(at Performing Arts San Antonio in 2015), picking up several Alamo Theatre Arts Council (ATAC) Awards along the way. A recent addition to the city's performing arts scene, Taylor's new LGBT-centric theater at Woodlawn Point comes to light with a campy tribute to the beloved sitcom
The Golden Girls
. Directed by Greg Hinojosa, the drag musical sees the fabulous foursome forming a glee club to entertain the residents of Florida's many retirement homes. Featuring a dozen original songs (including Blanche's commanding "Make Love Like a Savage"),
The Golden Glee Club
stars Dave Ankrom (as Blanche), Richard C. Solis (as Dorothy), John Stillwaggon (as Rose) and Dave Cortez (as Sophia).
$15-$20, 8pm Thu, Apr. 20, Fri, Apr. 21, & Sat, Apr. 22, 3pm & 7pm Sun Apr. 23, Woodlawn Point Theatres, 702 Donaldson Ave., brownpapertickets.com.
— Bryan Rindfuss
Fri 4/21 - Sat 4/22
Willie Nelson & Family


Courtesy of Willie Nelson
What can we say about Willie Nelson that hasn't been said before? The singer-songwriter, poet, actor, author and activist is turning 84 this month, and judging by his performance at this past San Antonio Rodeo, he's not throwing in the red bandana anytime soon. One of the pioneers of the sub-genre outlaw country, a reaction to the conservative mainstream Nashville country of the 1960s, Nelson has released 200 albums over the course of 60 years and remains one of the most revered musicians to contribute to American music. Also on the bill: Kacey Musgraves.
$59.12-$2,150.58, 7pm Fri, Apr. 21 & Sat, Apr. 22, Whitewater Amphitheater, 11860 FM 306, New Braunfels, (830) 964-3800, whitewaterrocks.com.
— Chris Conde
Fri 4/21
Webb Party


Courtesy of David Hernandez
The San Antonio AIDS Foundation's Webb Party returns after a one-year hiatus with an '80s-themed "Reboot," featuring a live entertainment roster headlined by vocalist David Hernandez, who gained national attention on the seventh season of
American Idol
and came out as gay last year. Influenced by the likes of Stevie Wonder, Alicia Keys and Michael Jackson, Hernandez recently returned to the stage in the national and international tours of
Ballroom with a Twist
, a live spinoff of
Dancing with the Stars
. As one of SAAF's signature fundraisers, the Webb usually attracts more than 1,500 revelers and helps raise over $100,000 annually for the organization's client services, including free HIV testing and a hot meals program. Hosted by the Bonham Exchange, "Reboot" also includes performances by Cornyation favorites The Pointless Sisters, plus "exotic cuisine tastings" and three drink tickets per guest.
$75-$175, 7:30pm-midnight Fri, Apr. 21, Bonham Exchange, 411 Bonham St., (210) 225-4715, sanantonioaids.org.
— Marco Aquino


Fri 4/21
Christopher Titus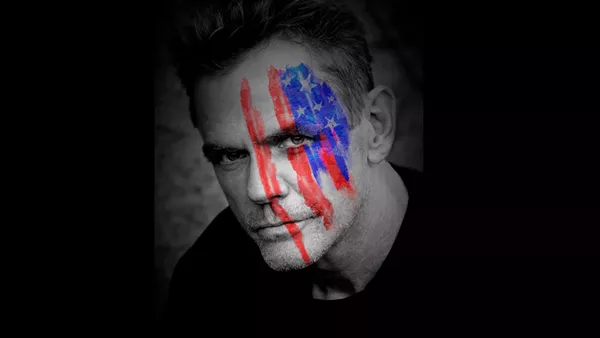 Through the seven comedy specials he's recorded over the past 12 years, Christopher Titus has proven himself as a hard, funny comic who takes no prisoners and gives audiences all he has. Having tackled the world, relationships, children, the human race and even himself, Titus takes on politics with his 2017 show
America … Really?
$25-$100, 8pm Fri, Apr. 21, Charline McCombs Empire Theatre, 226 N. St. Mary's, (210) 226-3333, majesticempire.com.
Fri 4/21 - Sat 4/22
Fiesta Oyster Bake


St. Mary's University's 101st anniversary Fiesta celebration promises more than 100,000 oysters served baked, raw and fried plus more than 70 food and beverage booths that dish up savory favorites and quench every thirst. Enjoy continuous rock, country, tejano, R&B, hip-hop and pop entertainment, as well as a full carnival and a fireworks spectacular on Friday evening. Highlights from this year's eclectic live music lineup include Eddie Money, William Clark Green, David Lee Garza y Los Musicales, Carlton Zeus and Ying Yang Twins (all on Friday) and Skillet, Casey Donahew, Bombasta, Bidi Bidi Banda and Aaron Carter (all on Saturday).
$20-$35, 5-11pm Fri, Apr. 21, 11am-11pm Sat, Apr. 22, St. Mary's University, One Camino Santa Maria, (210) 436-3011, fiestaoysterbake.com. —
Sarah Martinez
Sat 4/22
"Copy/Scan/Print/Repeat"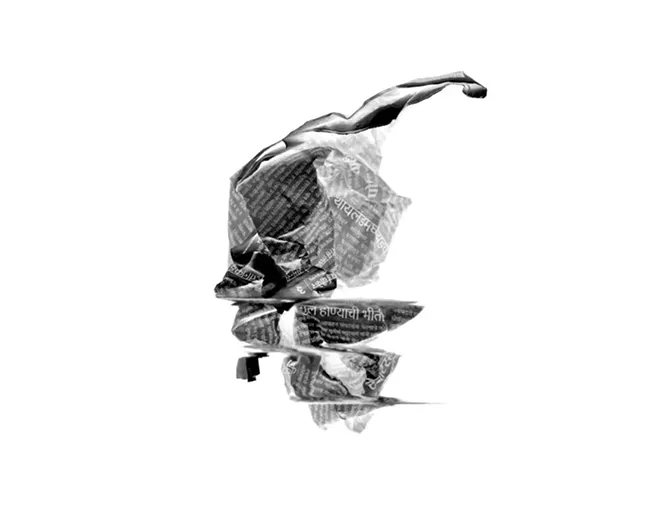 "Multidisciplinary" is a term often used to categorize artists, but it doesn't feel sufficient to describe Pradeep Dalal, a Mumbai-born, New York-based multitasker armed with degrees from India's Center for Environmental Planning & Technology, the Massachusetts Institute of Technology (MIT) and the International Center of Photography (ICP). Incorporating approaches that are both academic and conceptual, Dalal's artistic endeavors have employed photography, drawing, scanning technology and collage to explore modernist architecture, social issues, portraiture and memory. Describing his piece
Go West
, writer Nandita Raman commented on Dalal's "DJ-like use of disparate materials on the flatbed scanner" to create a photomontage. In the statement for his Sala Diaz show "Copy/Scan/Print/Repeat," Dalal references experimental photocopies artist Barbara T. Smith created in the 1960s, Seth Siegelaub and John W. Wendler's 1968 publication
The Xerox Book
and his own process of xeroxing photographs, scanning the copies and then printing photographs of the scans. Touching on the alteration of images through layers of reproduction, he asks, "Why should this rankle and what does it say about the fluid ways objects, books, bodies, and ideas circulate and recirculate through the world?"
Free, 6-11pm Sat, Apr. 22, Sala Diaz, 517 Stieren St., (972) 900-0047, saladiazart.org.
— BR
Sat 4/22 - Sun 4/23
Fiesta Arts Fair


Hosted by the Southwest School of Art, Fiesta Arts Fair stands out as one of the most beloved events on the Fiesta calendar. The family-friendly affair offers tons of food and drink (including beer and margaritas) from vendors like La Gloria, Kona Grill, Chocollazo, Social Ice and many more. Art, of course, is at the center of the fair, and there will be opportunities for kids and adults to create arts and crafts, as well as opportunities to peruse or purchase works from more than 100 regional and national artists and artisans. We are particularly looking forward to seeing work from Fiesta Arts Fair award winners Shawn Ray Harris, Gary E. Bachers, Ed Pribyl, Julia Gilmore and Yan Lee. On the music side of things, this year's lineup features puro San Anto rock and roll outfit Los #3 Dinners, soulful indie rock crew Fishermen, Americana songstress Rachel Laven and Chicano soul/surf-rock conglomerate Rudy Tee and King Pelican, among others.
$5-$15, 10am-6pm Sat, Apr. 22, 11am-5pm Sun, Apr. 23, Southwest School of Art, 300 Augusta St., (210) 734-9673, swschool.org.
— James Courtney

Sun 4/23
A Day in Old Mexico & Charreada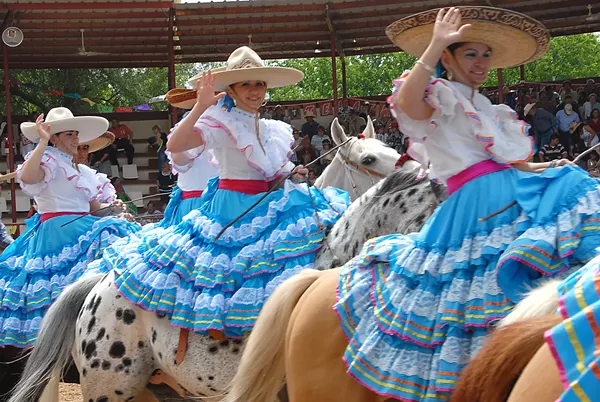 Asociación de Charros de San Antonio
For the last six decades, the Asociación de Charros de San Antonio has championed
charrería
(often described as Mexican rodeo), competing throughout the year and attracting a diverse crowd each April with its beloved Fiesta event A Day in Old Mexico. Of the 10 official
suertes
(competitive roping and riding events performed in period costumes), the all-female
escaramuza
easily stands out as a fan favorite.
$5-$15, 3pm Sun, Apr. 23, Charro Ranch, 6126 Padre Drive, (210) 396-9752, sacharros.org.