Thu 5/11
"MetaDada: High Art for the POPulace"


Kelly O'Connor, In Real Life
While its title may spark images of Big Brother listening in on your phone calls and squirreling away your emoji-filled texts for safe keeping, the City of San Antonio's Arts & Culture department's group show "MetaDada: High Art for the POPulace" is not about metadata (literally "data about data") but a fusion of concepts and practices associated with the Dada movement and Pop Art. While the hallmarks of Pop (appropriation, mass media imagery, repetition, loud colors) have never truly fallen out of fashion, Dada is less common in conversations about art and therefore remains somewhat misunderstood. Born in Zürich, Switzerland's Cabaret Voltaire in the middle of World War I, Dada took cues from abstraction, cubism and expressionism and spun them into anti-war, anti-establishment messages rendered in a wide array of media (performance, visual art, poetry and graphic design among them). Subversive, surreal and intentionally bizarre, the movement positioned itself alongside the radical left, abolished logic, broke the rules and commented on the meaninglessness of life circa 1916. Drawing lines between the two creative movements, "MetaDada" showcases 11 accomplished locals (Ana Hernández-Burwell, Jason Ibarra, Michael Menchaca, Kelly O'Connor and David "Shek" Vega to name a few) working in mixed media, mural painting, collage, printmaking and points in between. Opening in tandem, Public Art San Antonio's comic-book-inspired exhibition "PASAbilities" is designed to demystify PASA's mentorship program via "Hero Cards" created by a dozen local artists.
Free, 6-9pm Thu, Plaza de Armas, 115 Plaza de Armas, Suite 102, (210) 207-1435, getcreativesanantonio.com.
— Bryan Rindfuss
Thu 5/11 + Sat 5/13
"Trama"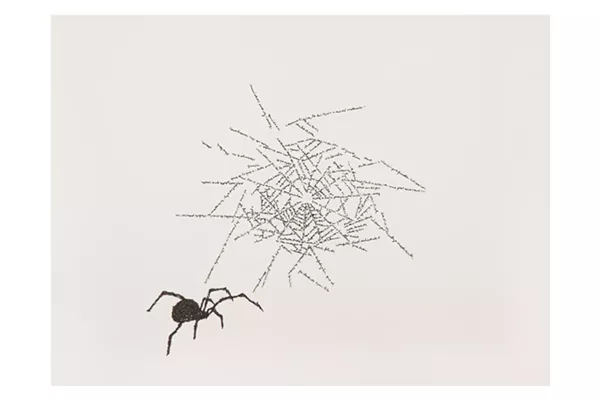 Johanna Calle, Sin Título (Arañas)
Whether drawing in pencil or flattening birdcages into sculptural compositions, Colombian artist Johanna Calle pushes one of art's purest elements — the line — to unexpected destinations, questioning and commenting on the growth of developing countries, environmental decay and humanitarian tragedies. Widely exhibited and represented in an impressive array of permanent collections (including New York's Museum of Modern Art and the Museum of Fine Arts Houston), Calle's typically black-and-white works have investigated the weird world of arachnids and built conceptual poetry from deconstructed anthropological texts. Organized by Ruiz-Healy Art, "Trama" highlights the Bogotá-based artist's explorations in mark-making along with a hand-stitched book of intaglio prints that pays homage to her father and the 43 Ayotzinapa students who vanished in the Mexican city of Iguala in 2014. Following Thursday's opening reception, "Trama" comes to light in an artist talk with Calle and remains on view through June 24.
Free, opening reception 5:30-7:30pm Thu, artist talk 2pm Sat, Ruiz-Healy Art, 201-A E. Olmos Drive, (210) 804-2219, ruizhealyart.com.
— BR

Johanna Calle, Sin Título (Progenie en Tinta)
Fri 5/12
La Santa Cecilia
La Santa Cecilia loves San Antonio. To be sure, I have no concrete evidence to support this statement, but consider the fact that the Grammy-award winning
banda panmericana
has played here frequently amid its rapid rise to stardom (at least in the Western hemisphere). What's more, the kinetic and consistently life-affirming outfit, which is actually from Los Angeles, shares San Anto's multicultural makeup, presenting, over the course of six albums in eight years, a radical mish-mash of culture in sonic form: from cumbia to rockabilly, from bossa nova to bolero, from Mexican folk to mariachi, from rock and blues to rancheras and jazz. And, that's not all: the six-piece has decided to play Paper Tiger on the date of the release of its new visual album
Amar y Vivir
, which, recorded live over a wild five days, finds the group on location in Mexico City, dancing, singing, and playing through, and deep into, the heart of the city. To what do we owe this devotion?
No me importa
. Let's just make sure we show up to say thanks.
$20, 8pm Fri, Paper Tiger, 2410 N. St. Mary's St., papertigersa.com.
— James Courtney
Fri 5/12
"Photographs and Facemasks"
Although bound by a fascination with animals, artists Diane Fox (Knoxville, Tennessee) and Abigail Brown (London, England) approach their beasts from opposite ends of the spectrum. A senior lecturer at the University of Tennessee's College of Architecture and Design, Fox creatively addresses the objectification of nature (in zoos, on TV and elsewhere) via
UnNatural History
— a photographic series depicting taxidermied animals housed in natural history museums in the U.S. and abroad. At times incorporating reflections, light glare and the inner workings of diorama cases, these images often expose "unreality and the disconnection within the human/animal relationship." Armed with a degree in surface decoration and printed textiles, Brown is perhaps best known for her bird sculptures, which have landed in the pages of
Vogue
,
Bazaar
, and UK-based
Elle Decoration
. Working with upcycled materials, embroidered fabrics, wood and papier-mâché, the artist and illustrator handcrafts dolls, wall art and head mounts inspired by owls, squirrels, monkeys, cats and kangaroos. Curated by Clamp Light resident artist and co-director Carol Cunningham (who incidentally grew up "surrounded by farm animals" in Oklahoma), "Photographs and Facemasks" opens May 12 and remains on view by appointment through then end of the month.
Free, 7-10pm Fri, Clamp Light Artist Studios and Gallery, 1704 Blanco Road, Suite 104, (580) 704-9466, clamplightsa.com.
— BR

Sat 5/13
Twisted Taco Truck Throwdown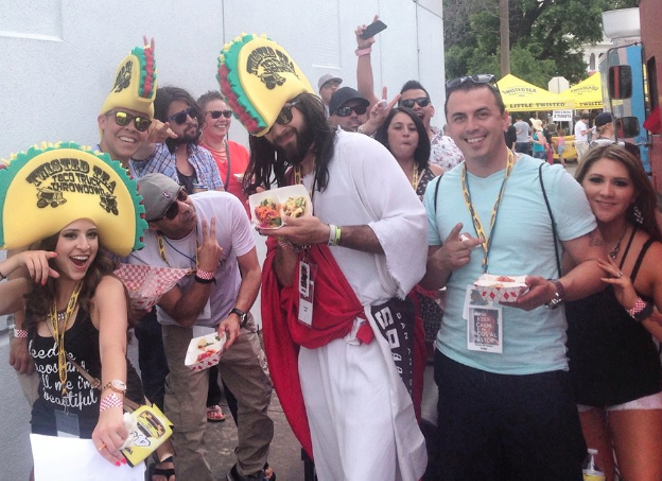 Every year, thousands flock to taste the best tacos from over 20 local food trucks, to judge and vote on the People's Choice Winner, and to revel in the florid taco community here. Local celebrity judges (last year included Judge Spurs Jesus) make the crowning decision for the Grand Champion and Freestyle category winners. This year, Finding Friday, Los #3 Dinners and The SanAntunes will regale taco-toting attendees with live performances.
Free, 3pm-midnight Sat, VFW Post 76, 10 10th St., (210) 725-5477, twistedtacotruckthrowdown.com.
— Monica Simmons
Sat 5/13
Alejandro Augustine Padilla

Alejandro Augustine Padilla
Studio Fantomas — which is located in the creatively bustling complex at 1906 South Flores and has shown some really stellar and strange work over the past couple of years — is the home studio for prolific and provocative artists Alejandro Augustine Padilla and James Supa Medrano. For this Second Saturday, the gallery is unveiling a large collection of new work from Padilla. The exhibit, which is set to stay up through June 4 and is simply entitled "New Work," finds the versatile painter/sculptor stepping away from the ominous, macabre and finely-detailed, surrealist perfectionism of some of his most successful work. The process-focused work in this show, Padilla reports, "is much more chaotic, no filter, true automatism." He explained to the
Current
that his new, more expressionistic, and markedly brighter (in subject and in literal color) approach found him allowing himself the freedom to "fuck up the work" and then "embrace the mistake" and go from there. The resulting pieces are complex and playful at the same time, and never feel over-wrought or unnecessarily refined. Even while approaching big concepts like phobias, masculinity, poverty, and Mithraism (to name a few), this new work from Padilla seems to truly embody the mischievous sense of probing whimsy that is at the heart of the surrealist endeavor.
Free, 7-10:30pm Sat, Studio Fantomas, 1906 S. Flores St., (210) 978-6663, facebook.com/studiofantomas201.
— JC
Sat 5/13
Ferris Bueller's Day Off

Slab Cinema revisits the John Hughes classic following a hip high school student (Matthew Broderick) who concocts a sophisticated plan to take an epic day off with his girlfriend Sloane (Mia Sara) and best friend Cameron (Alan Ruck) in tow.
Free, 8pm Sat, Hemisfair Park, 434 S. Alamo St., (210) 212-9383, slabcinema.com.
Sat 5/13
New York Dog Film Festival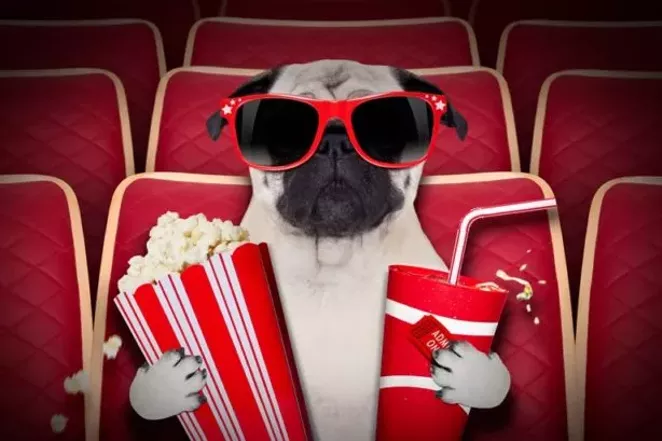 New York Dog Film Festival
As man's best friends, dogs have been known to provide their owners with emotional support, physical help (to those with impairments), and have even saved the lives of their human counterparts. The New York Dog Film Festival honors our four-legged friends by featuring some highly trained dogs in some touching and hysterical short films, while also supporting local animal welfare organizations. The festival offers animated and live-action flicks celebrating the extraordinary bonds between dog and human. The NYDFF sorts the films into two programs (under 80 minutes each) back-to-back that contain a combined 25 short films of a varying lengths. Program One's
Second Chances
showcases 12 films including
Harvey and Harmony
, a one-minute comic short about a speed-dating terrier who finds love with a beautiful poodle, as well as Jonna McIver's documentary
A Boy and His Dog
, a remarkable story about a seven-year-old boy suffering from a rare muscular disorder who learns it's OK to be different when he is introduced to a three-legged Shepherd who's suffered a tragic train accident. Program Two's
Love Changes Everything
features films like
K9s for Warriors
, about a former soldier and current head trainer of the K9s for Warriors — a program which provides soldiers suffering from PTSD with trained service dogs to help ease the anxiety and depression. Along with presenting some of the finest dog-related films to the Alamo City, the Tobin is allowing dog owners to bring their well-behaved dogs to the show. A part of the proceeds from each ticket will go toward the Animal Defense League, a strictly no-kill organization that advocates for the adoption of stray, abandoned or neglected dogs and cats, while also catering to preexisting medical/emotional issues.
$5-$25, 7pm Sun, Tobin Center for the Performing Arts, 100 Auditorium Circle, (210) 223-8624, tobincenter.org.

— Kimberly Rivera

Sat 5/13 - Sun 5/14
San Antonio Beer Week

Courtesy of San Antonio Beer Week
2017 Kick Off Party
• The party starts at Main Plaza with a DJ set by Gabe of Southtown Vinyl and classic country covers by The Texases, a pig roast by Swine House and The Saga by French artist Xavier de Richemont, and beer!
Free, 4-11pm Sat, 115 N. Main Ave., sanantoniobeerweek.com.
The Three Bs •
Sponsor Hop & Vine invite folks out for a tasty start to festivities with a special on burgers.
$20 gets you a burger, fries, turtle bacon and a beer, 4-11pm Sat, 5619 W. 1604 N., Suite 109, (210) 878-4071.
SABW Tapping •
Get your first taste of 2017's collaboration beer at Big Hops Bitters and The Bridge. Both will feature a tapping and commemorative San Antonio Beer Week glassware.
No cover, 5pm Sat, 306 Austin St., (210) 320-1470 and 226 W. Bitters Road, (210) 437-3588.
Mother's Day Brunch •
Mom's love beer, too. Freetail Brewing Co. will team up with Renegade Foodie for brunch fare, Witmosas and a screening of 2016's
Bad Moms
starring Mila Kunis and Kristen Bell.
Prices vary, noon-3pm Sun, 2000 S. Presa St., (210) 625-6000.
Paints & Pints •
Let's call this one Pilsners Palette, shall we? Seguin Brewing Co. welcomes Matt Wagner of Personal Touch Paint Parties who will guide participants through an art session.
$25 per person, 2-4pm Sun, 111 W. Gonzales St., Seguin, email info@seguinbrewing.com for availability.

— Lance Higdon

Click here for our full story on San Antonio Beer Week.
Sun 5/14
Frankie Valli
Courtesy of Frankie Valli
Frankie Valli is an American treasure. Seriously. Aside from possessing one of the most penetratingly beautiful falsettos in the history of pop music and having recorded some of the most iconic songs of the last great American century, the now 84-year-old Valli, who proudly reps Newark, makes it easier to forgive New Jersey for the likes of Snooki, or even Bon Jovi for that matter. The man who brought you "Big Girls Don't Cry," "Walk like a Man," "Sherry," and "Rag Doll" (just to name a few), and was recently immortalized in film with Clint Eastwood's adaptation of
Jersey Boys
, is still at it after all these years. Don't miss the chance to see how well the icon is holding up, as he brings the latest incarnation of his group The Four Seasons to town.
$45-$125, 7:30pm Sun, The Majestic, 224 E Houston St, (210) 226-3333, majesticempire.com.
— JC