Thu 5/25
"Borderline Reality" & "Checkpoint"
Works by Doerte Weber (left) and Sabine Senft (right)
Sometimes the timeline of planning, researching and executing a complex art exhibition aligns in such way that it seems as if the artist was a soothsayer who knew exactly how the last few years would play out. Such is the case with two new exhibitions at Artpace, both by German-born artists based in San Antonio. Certainly immigration and borders have been ever-present issues (especially in Texas), but in the last few years, the refugee crisis in Europe, ascension of Trump, calls for a 2,300-mile wall along the entire Mexican-American border, and the unleashing of an emboldened border security apparatus and nativist department of justice, render these two exhibits especially timely.
In the Hudson Showroom, Sabine Senft's "Borderline Reality"
is an ambitious, multifaceted work. Like solar flares or volcanic eruptions, gold "surges" conjure the migratory surges flowing into Europe. Photographs of tire "drags" in Warholian colors reflect the latticed treads of the tires. A river of candy shaped like the Rio Grande will wind through "Borderline Reality," symbolizing the "sweet life" migrants are seeking when they risk their lives to cross borders.


In Artpace's Main Space, Doerte Weber's "Checkpoint" simulates the border wall between the U.S. and Mexico by weaving massive tapestries of thick cotton and plastic newspaper bags
. Weber grew up going through the checkpoints of the Berlin Wall and felt the experience was akin to an animal becoming caged. The tapestries stretch 15 feet to the ceiling, not quite the 20 feet of the actual walls but approximating their looming intimidation. The translucent bags between the cotton alight in the afternoon sun, and like the candy river in Senft's "Borderline Reality," suggest an enticing new world on the horizon.
Free, 6-8pm Thu (artists
'
talk at 7pm), Artpace, 445 N. Main Ave., (210) 212-4900,
artpace.org
.
— Neil Fauerso
Thu 5/25
Wanda

Bardene International Films, Inc.
"If you don't want anything, you won't have anything. If you don't have anything, you're nothing, may as well be dead. You're not even a citizen of the United States," says the gruff customer Wanda hangs around with. "I guess I'm dead then," she replies. Barbara Loden made this absorbing, largely improvised 1970 odyssey through low-rent America that's like little else of the era, though it bears comparison to Bob Rafelson's
Five Easy Pieces
and the films of John Cassavetes. Just when you think it's a slice of life about a tuft of female flotsam without prospects, a quietly melodramatic turn launches
Wanda
into the rich tradition of films about couples on the lam, perhaps the only one with a woman's point of view. Loden's only feature has secured her reputation as one of America's most admired women filmmakers, but it surprisingly flies under the radar and never surfaced on video. The McNay screens the hidden gem in conjunction with its Get Reel Film Series, which dedicates its summer programming to American women in 1970s cinema.
Free, 7pm Thu, McNay Art Museum, 6000 N. New Braunfels Ave
.
, (210) 824-5368, mcnayart.org.
— Michael Barrett
Thu 5/25 - Sun 5/28
Tejano Conjunto Festival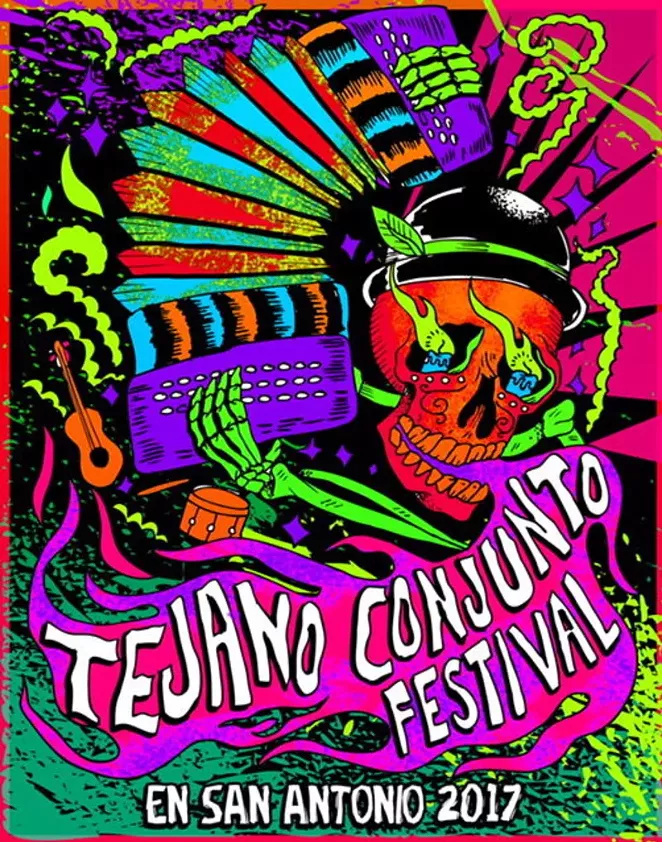 Back for its 36th year, the Tejano Conjunto Festival, presented by the Guadalupe Cultural Arts Center, is gearing up for what's looking like a pretty impressive event. The festival will include performances from 30 of the most popular conjunto musicians, including Grammy-winning accordion hero Flaco Jiménez and his son Santiago Jiménez Jr. The annual celebration expects to draw more than 5,000 conjunto music lovers from across Texas, the U.S., Mexico, and beyond. "I am honored to take on the tremendous task of filling the shoes of festival founder Juan Tejeda, who brought conjunto music to the forefront with this event," said Cristina Ballí, executive director of the Guadalupe. Ballí recently made a significant impact statewide as executive director of Texas Folklife, the Austin-based organization designated by the National Endowment for the Arts to preserve and present the diverse cultures and living heritage of the Lone Star State. Some of this year's TCF highlights include a presentation of new inductees into the Conjunto Music Hall of Fame at a special gala event, a free seniors conjunto dance and the opportunity to win a top-of-the-line Hohner accordion.
$5-$40; Hall of Fame Gala: 6pm Thu, Guadalupe Theater, 1301 Guadalupe St.; Festival: 5:30pm-midnight Fri, 1-midnight Sat, 1-11pm Sun, Rosedale Park, 303 Dartmouth St.; (210) 271-3151, guadalupeculturalarts.org
.
— Chris Conde

Sat 5/27
Doug Benson
A multitasking marijuana enthusiast of the highest order, San Diego native Doug Benson rose through the ranks of Los Angeles stand-up in his 20s, landed on the fifth season of NBC's
Last Comic Standing
in 2007 and has since established a tradition of recording an annual comedy album on the official stoner holiday of 4/20. Although he's no stranger to television, Benson's amassed a significant chunk of his fanbase through his wildly popular podcasts. Running regularly since 2006 with recurring segments and games such as "Tweet Relief: Tweets About Movies," "A-B-C-Deez Nuts," "How Much Did This Shit Make?" and "Doing Lines with Mark Wahlberg," his signature offering
Doug Loves Movies
has welcomed a stacked list of Hollywood talents — Zach Galifianakis, Sarah Silverman, Aziz Ansari and Amy Poehler among them. Launched in 2013, his tellingly titled
Getting Doug With High
podcast covers all things weed (from "High History" to a "Pot Quiz Hop Shot") in a similarly playful format that's welcomed an eclectic assortment of guests that's included Cheech & Chong, Margaret Cho and Peaches. Currently serving as a consistently stoned arbitrator who rules Comedy Central's hazy reality show
The High Court
, the cannabis-loving comic sets up shop at Laugh Out Loud for a 4:20pm taping of his beloved Doug Loves Movies podcast.
$20, 4:20pm (doors at 3:20pm) Sat, Laugh Out Loud Comedy Club, 618 NW Loop 410, (210) 541-8805, lolsanantonio.com.
— Bryan Rindfuss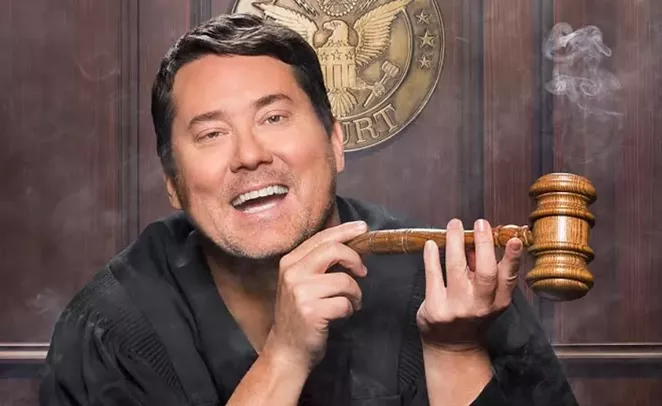 Fri 5/26 - Sat 5/27 (postponed to 10/6 - 10/7)
The Naked Magicians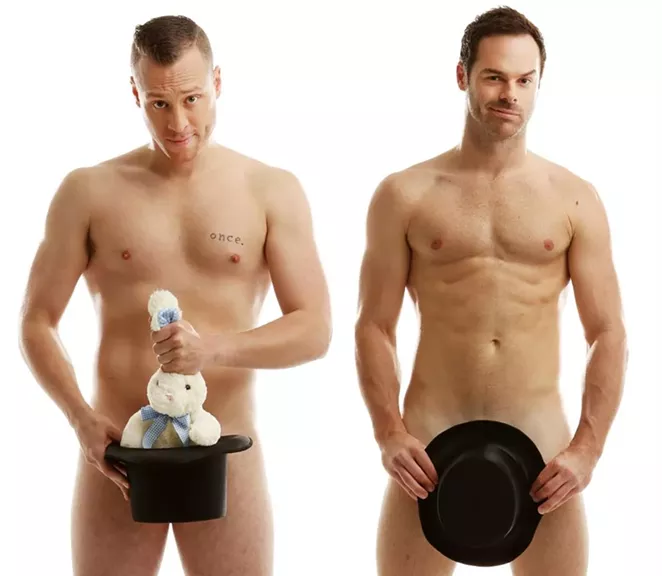 Courtesy of The Naked Magicians
Chris Wayne and Mike Tyler are two magicians whose clothes do the disappearing act for them. Coming from Australia, The Naked Magicians prove they have no tricks hidden up their sleeves (they have no sleeves). "Sleeves up, pants down," that's the motto of the internationally touring magic show that invites adult audiences to get back in touch with modern mysticism. Ditching the capes and top hats of traditional magic shows, Aussies Chris and Mike prove the only magic wands they need are down under and can levitate on command. The handsome and hilarious tricksters are coming to the Tobin Center to bare their raw, fleshy and untainted talents to the Alamo City. This 18-and-over show is sure to be full-frontal fantasy at its finest.
$29.32-$56.50, 7:30pm Fri, 7pm Sat, Tobin Center for the Performing Arts, 100 Auditorium Circle, (210) 223-8624, tobincenter.org.
— Kimberly Rivera
Fri 5/26 - Sun 5/28
Alamo City Comic Con
Don't worry. We haven't fallen into some sort of space-time continuum — a San Antonio version of Kang the Conqueror's Damocles Base or the Flash's radioactive Cosmic Treadmill. Yes, the 5th Annual Alamo City Comic Con (ACCC) is about to take place only eight months after last year's record-breaking event, but trust us when we say there won't be any world-destroying warheads to dodge or black voids to avoid. And although it would be cool, no one is likely to increase their knowledge of the mystic arts by discovering a galactic wormhole this side of Highway 281. Then, why is this year's ACCC some four months early? Instead of securing a date in September or October like it had since its inaugural convention in 2013, ACCC was forced to choose another weekend when the Henry B. Gonzalez Convention Center told founder and director Apple de la Fuente there just weren't any dates available during those months, especially since the expanding convention needed more space. So, de la Fuente looked at the calendar and picked another — Memorial Day weekend, May 26-28 — and told his team they would have to buckle down. Click
here
for our full story on this year's Alamo City Comic Con.
$15-$995, 11am-8pm Fri, 10am-7pm Sat, 11am-6pm Sun, Henry B. Gonzalez Convention Center, 900 E. Market St., (210) 207-8500, alamocitycomiccon.com.

— Kiko Martinez
Sat 5/27
The Rocky Horror Picture Show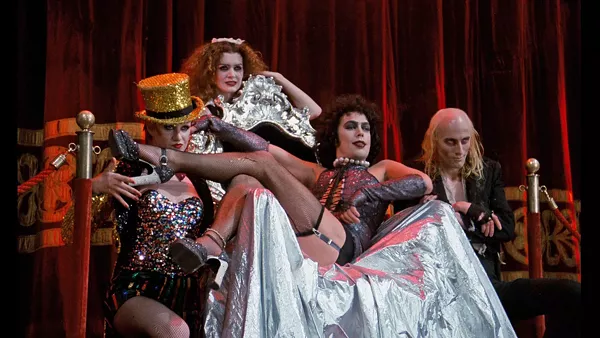 From its big red lips and ripped fishnets to its Frankenstein-inspired plot and rock opera soundtrack crawling with earworms,
The Rocky Horror Picture Show
is the ultimate cult classic and — thanks to the fact that it's still in "limited release" — boasts the longest theatrical run in cinema history. Making its first appearance in the form of a successful 1973 musical that playwright/actor Richard O'Brien developed in London amid a glam-rock backdrop,
Rocky Horror
failed to wow critics upon its translation to the big screen in 1975 — but found its audience the following year when it was reintroduced as a midnight movie that sparked audience participation (in New York, San Francisco and eventually … everywhere) as irreverent, unpredictable and bizarre as the film itself. Set aboard a spacecraft disguised as a Victorian mansion in the woods, the film stars Tim Curry as a "sweet transvestite" with moves like Jagger and a hand-crafted boy toy he's ready to reveal to a motley crew of incognito aliens, misfits and squares (O'Brien himself nearly steals the show as the extraterrestrial butler Riff Raff). Now four decades strong, the cultural phenomenon lands on the Aztec screen in a special engagement hosted by the Rey Lopez Entertainment showgirl trio The Juniors.
$6.50-$22, 10pm Sat, Aztec Theatre, 104 N. St. Mary's St., (210) 812-4355, theaztectheatre.com.
— BR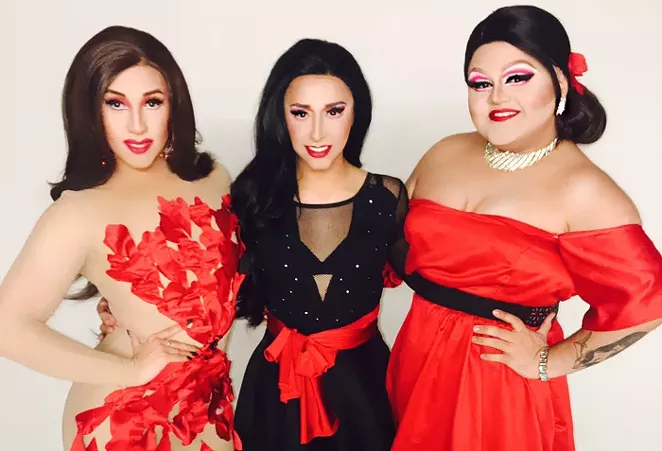 The Juniors photographed by Josh Huskin
Sun 5/28
Latinos Unidos Block Party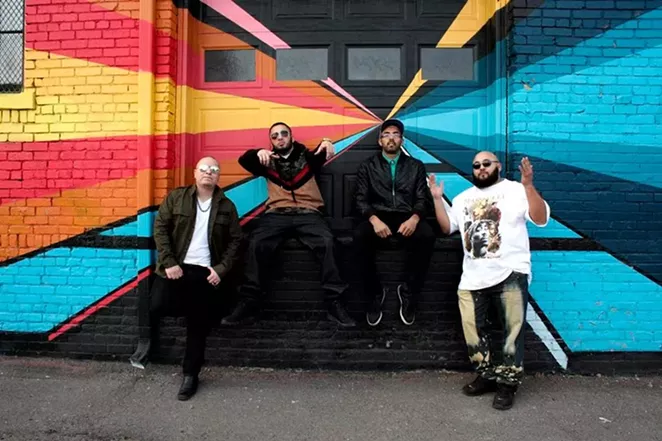 Denver-based Chicano rappers Dem Ese Boyz make their San Antonio debut on Memorial Day weekend as part of the fourth annual Latinos Unidos Block Party. The show is a Texas homecoming for brothers Mr. Bell County and Hi-Fidelity, who are featured prominently on the group's solid first album, Never Left. Backed by polished beats from producer Ceez Major, fellow emcees Ovni and SoDenCo offer a fresh take on the crew's Latin rap leanings, with Ovni's Spanish flows adding heft to standout tracks including the titular "Never Left." Citing UGK, SPM and Nas as influences, Dem Ese Boyz offer a motivated mix of Chicano rap tropes with aspirations toward tighter lyricism, minus the posturing. Any squad that samples Gene Wilder from Young Frankenstein has to be pretty lit.
Free, noon-6pm Sun, Tha Westside Spot, 1401 SW 19th St., (713) 296-0611, facebook.com.
– M. Solis
Sun 5/28
Queer Brunch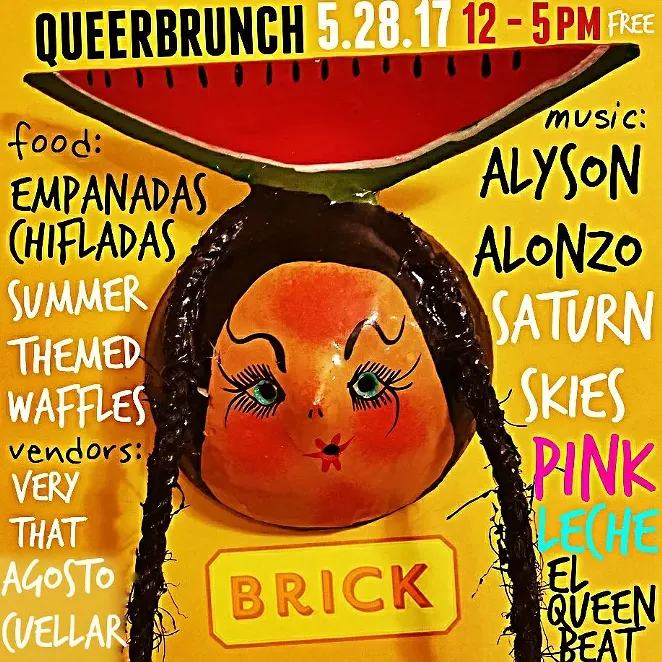 Southtown's monthly brunch pop-up returns to Brick with a queer-centric buffet featuring waffles cooked to order by Empanadas Chifladas, delicious doughnuts from Cake Thieves, mimosas and beer, art and fashions from Agosto Cuellar and VeryThat, plus live music courtesy of Pink Leche, Saturn Skies, Alyson Alonzo and El Queen Beat.
Free, noon-5pm Sun, Brick, 108 Blue Star, (210) 865-3852, facebook.com.
Sun 5/28
Memorial Weekend Burger Bash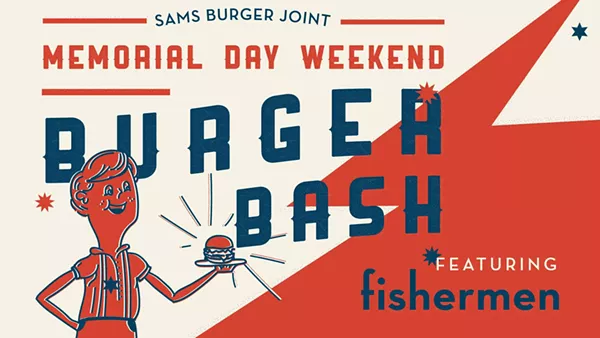 Last time the Fishermen gents set foot on the Sam's Burger Joint stage, the place was lit up like Christmas with a sweaty, sold-out crowd bleeding out the front door. Their return to Sam's promises just as good of a time with extended Memorial Day hours, meaning this go-round will be an all-day affair featuring Brandon Cunningham, Levees, Booty Feet, Sioux and Fox, St. Dukes, and Family Names, as well as the Fishermen themselves. In addition to commemorating our men and women serving in the military, the music-filled festivities will celebrate the beginning of summer and the time-honored tradition of downing burgers and beer the Sunday before a holiday. Locally owned small businesses will also be posted up at the shindig. A handful of vendors will be selling their goods, including a delicious handcrafted loose-leaf tea venture. You've got that Monday off, so come hang out and bring the kids, too — all ages welcome.
$12-$50, 4-10:30pm Sun, Sam's Burger Joint, 303 E. Grayson St., samsburgerjoint.com.
— Melanie Robinson