Thu 6/8
Environmental Film Festival

A week after President Donald "Global Warming Is a Chinese Hoax" Trump withdrew the U.S. from the Paris climate accord, the fight for ecological awareness continues with the fourth annual Environmental Film Festival hosted by the San Antonio River Authority (SARA) in commemoration of National Rivers Month. The festival will feature national and international short films covering a variety of issues, including nature, wildlife, environmental justice and conservation. "It is my hope that everyone attending the event will leave educated and inspired to take their own actions to help protect the natural resources of our watershed," said Suzanne Scott, general manager at SARA. Films screening include
Our Wonderful Nature: the Common Chameleon
,
Selah: Water from Stone
,
Native Waters: Rio Grande
,
The Last Resort
and
Douglas Tompkins: A Wild Legacy
. Along with the screenings, SARA will recognize eco-friendly individuals and organizations across Texas during the Watershed Wise Awards. This year's award winners include Michael Burke of the Mission Verde Alliance and Art Dohmann of the Goliad County Groundwater Conservation District.
Free, 6-9pm Thu, Santikos Northwest 14, 7600 I-10 W., (210) 227-1373, sara-tx.org.
– Kiko Martinez

Thu 6/8 - Sun 6/18
International Fest of Theatre
In previous years, AtticRep has offered a partial remedy to theatrical provincialism by importing troupes from Austria, Colombia, Cuba, Ecuador, Germany, Hungary, Italy and Switzerland. This year, AtticRep's third International Fest of Theatre offers productions from India, the United States and Mexico.
Snapshots of a Fervid Sunrise
The festival kicks off on June 8 and 9 with
Snapshots of a Fervid Sunrise
, a play by Mahesh Dattani that dramatizes how two adolescents each choose a different path to challenge injustice in their beloved India. Directed by Dushyanth Dunashekar, it is a production of Crea-Shakthi, a company based in Chennai. AtticRep artistic director Roberto Prestigiacomo is intent on establishing local connections with his visiting troupes, so performances of
Snapshots
will be supplemented by Dhanasri Thillana — a reconception of classical Indian dance choreographed by Aarthi Karthic and performed by Karthic and Madhavi Subramaniam, students of Kausi Subramaniam, who choreographed part of AtticRep's 2015 production
From the Mahabharata: The Great Dance-Off
.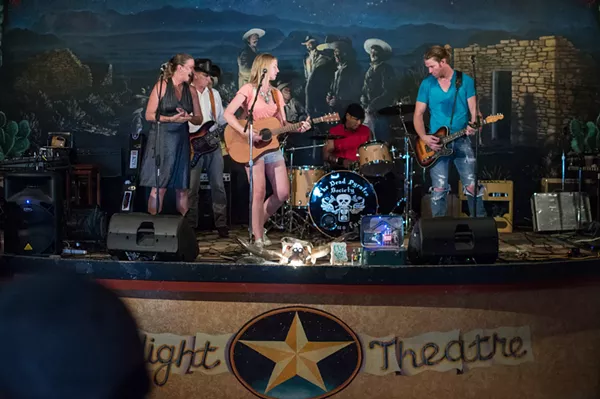 On June 10 and 11, the stage at the Tobin will become a family's porch, given over to
On the Porch with the Lavens
, a musical history of a talented singing clan, from its origins in Holland to success in the United States. "Rachel Laven was a student of mine at Trinity University," Prestigiacomo, who directs the production, recalls. Performing their own blues, folk, and country songs, Andreas and Jana Laven and children, Rachel and Niko, will recount some of the challenges the family has faced and overcome. "They are," says Prestigiacomo, "a positive story of immigration."
Through the Wall: A Traves del Muro
More bittersweet are the immigration stories in
Through the Wall: A Traves del Muro
, scheduled for June 16, 17 and 18. Playwright Regina Moya, who grew up in Mexico City and lives in San Antonio, began by interviewing Mexican immigrants who crossed the border illegally. She translated transcripts of their stories into English and shaped them into dramatic form. "I am an immigrant myself," notes Prestigiacomo, who directs
Through the Wall
and feels especially troubled by how immigrants are maligned and criminalized. "They follow the archetypal journey of the hero," he contends. "When they come here, they do all they can to respect the laws and contribute to the country."
$25-$28 (full festival package $75), Snapshots of a Fervid Sunrise: 7:30pm Thu, 8pm Fri; On the Porch with the Lavens: 8pm Sat, 2:30pm Sun; Through the Wall: A Traves del Muro: Jun 16-18; Tobin Center for the Performing Arts, 100 Auditorium Circle, (210) 999-8524, atticrep.org.
Click here for our full story on the International Fest of Theatre.


— Steven G. Kellman
Fri 6/9
At The Drive-In
At The Drive-In's recent performance at SXSW is definitely in my top 10 fave shows of all time now. In this era of synth-driven indie pop it was refreshing to see a high-energy rock and roll show from a band that's become famous for going nuts on stage. Back in February, the El Paso boys announced that they were going back on tour, and much to ATDI fans worldwide, were also releasing a new album entitled
in•ter a•li•a
. If you haven't listened to the record and you're a fan of the band, stop what you're doing (well, finish reading this obviously), and turn that shit on full volume. I won't say that it's as good as
Relationship of Command
but all the components of a good ATDI record are there: Omar Rodriguez' signature spasm guitar riffs and Cedric's true-to-form shout/singing about something (whatever it is, it sounds cool). The only bummer is that the show has been sold out for several months now so if you haven't been proactive about hunting down a ticket, you might want to light a candle and pray for a miracle or that your best friend breaks up with their ex so you can snag theirs. With Le Butcherettes.
Sold out ($22-$150 at stubhub.com) 8pm Fri, Aztec Theatre, 104 N. St. Mary's St., (210) 812-4355, theaztectheatre.com.
— Chris Conde

Fri 6/9
"Crossing Borders"
Clamp Light Artist Studios and Gallery
Clamp Light — formed as "an organization of visual artists who have come together to support one another's creative process, to network as artists, and build an established relationship of creative community" — recently called all artists, poets, photographers, thinkers/tinkerers, and well-wishers to submit a postcard-sized work (or works) that might keep the concept of "Crossing Borders" in mind. These works will be displayed in the gallery throughout June and sold (hopefully) for $50 each, with the proceeds being split between the artist and the nonprofit RAICES (Refugee and Immigrant Center for Education and Legal Services). In a press release, Clamp Light explained the thematics of the exhibit this way: "'Crossing Borders' seeks to celebrate the immigrant spirit that is part of the American story, raise awareness about the immigrant and refugee crisis, and strives to help those affected. Postcards are a symbol of travel and can provide cross-cultural connections between friends and family abroad or even closer to home. Through this exhibition and in collaboration with RAICES, Clamp Light hopes to support a cause that deeply affects our community while connecting individuals from diverse backgrounds." Buy stuff and feel good about it. Put it up in your home and talk about it. Believe in something and be about it.
Free, 6-10pm Fri, Clamp Light Artist Studios and Gallery, 1704 Blanco Road, Suite 104, (512) 569-8134, clamplightsa.com.
—JC
Fri 6/9 - Sun 6/11
Texas Folklife Festival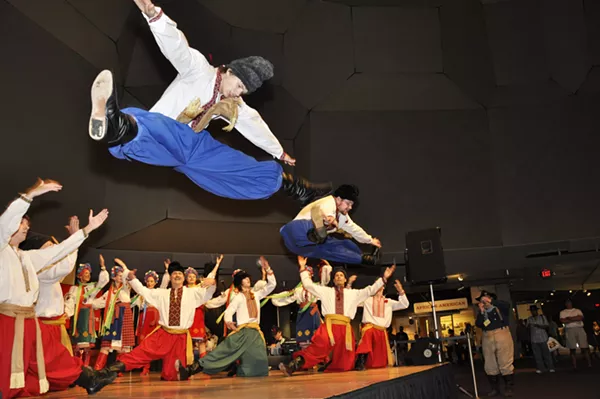 Institute of Texan Cultures
When O.T. Baker attended the first Smithsonian Folklife Festival in 1968, he returned home with plans for San Antonio's own version. Inaugurated in 1972, the Texas Folklife Festival now proudly "showcases the Lone Star State's diversity and rich heritage through a wide variety of ethnic food, music, dance, arts, and crafts." The three-day festival will host more than 170 groups and individuals representing over 40 cultures, including 13 that "have have been with the festival for all 46 years," says James Benavides, Senior Communications Specialist at the Institute of Texan Cultures. New additions to the menu will include soul food and Vietnamese dishes; and guests can enjoy entertainment from the likes of Ukrainians of San Antonio, Hula Halua Ohana Elikapeka, Chilean Folklife and many more.
$5-$15, 5-11pm Fri, 11am-11pm Sat, noon-7pm Sun, Institute of Texan Cultures, 801 E César Chávez Blvd., (210) 458-2300, texasfolklifefestival.org.
— Kelsey Valadez

Fri 6/9 - Sun 6/11
John Caparulo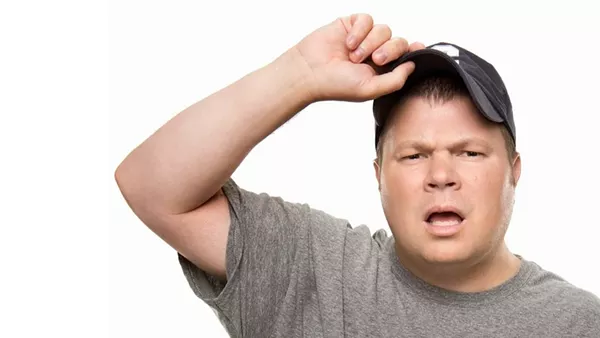 Courtesy of John Caparulo
For more than three years now, comic John "Cap" Caparulo has been releasing about 10 new minutes of comedy every month on his YouTube channel. As might be expected, the videos, sometimes recorded at SoCal comedy clubs and sometimes featuring his wife Jamie and daughter Madden, are significantly less polished than stand-up specials tend to be (Caparulo's last official special,
Come Inside Me
, was released in 2013), but the format suits Cap, whose dressed-down doofiness first found a large audience on, oddly,
Chelsea Lately
and has since found more intuitive fits on CMT's
Mobile Home Disaster
and Ron White's
Salute to the Troops
. Offering up laughs with the same nonchalance a similar-looking dude might display repairing your water heater and even getting his family in on the act (he also co-hosts the podcast
Domestic Disputes
with his wife), former golf-course groundskeeper Caparulo is the comedic equivalent of the locally owned corner hardware store — except that he can currently still be seen outside of sitcoms.
$20, 8pm & 10:15pm Fri-Sat, 7pm Sun, Laugh Out Loud Comedy Club, 618 NW Loop 410, (210) 541-8805, lolsanantonio.com.
– Jeremy Martin
Sat 6/10
United We Brunch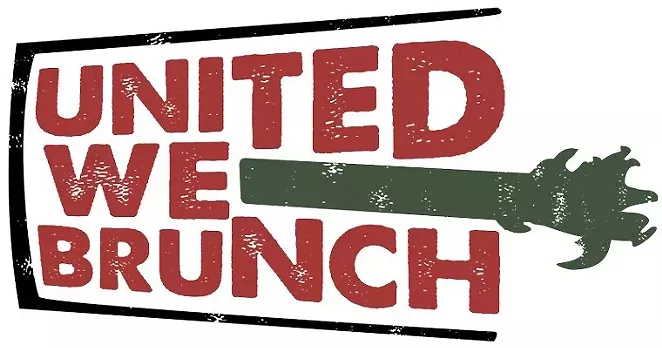 United We Brunch is San Antonio's ultimate brunch event, bringing together the city's top brunch spots for an afternoon of food, drinks, music and much more. Benefiting the Briscoe Western Art Museum, United We Brunch promises breakfast cocktails, music by Dirty River Dixie Band and the Soul Spot, and bites from an array of local favorites — including Bar Louie, Botika, Frank, Grayze, La Botánica, Magnolia Pancake Haus, Max's Wine Dive, Nola and Southerleigh.
$45, noon-3pm Sat, Briscoe Western Art Museum, 210 W. Market St., (210) 227-0044, localculturetickets.com.
Sat 6/10
Frontera Bugalú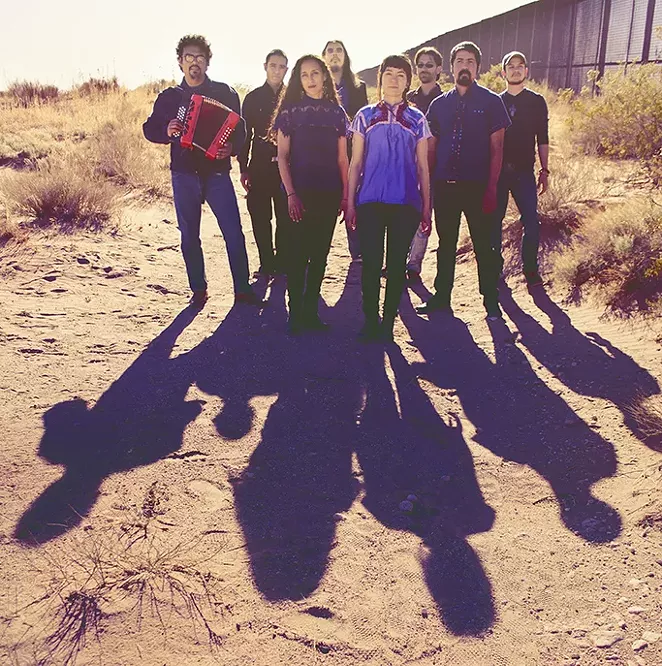 Courtesy of Frontera Bugalú
Carrying the
pachanga
across the Lone Star State, from El Paso to be exact, Frontera Bugalú will bring its deliriously heady live show to The Squeezbox this weekend. The group, with a variable cast of musicians, always led by composer, singer, and accordionist Kiko Rodriguez, began as a tribute band, focused on bringing wonderful and unsung borderland songwriters' work to larger audiences. Now, still heavily indebted to bygone composers rooted in border life, Frontera Bugalú crafts its own unique tunes, passionate hybrids of border folk tradition and sweltering Caribbean rhythms. Needless to say, you had better have your comfortable dancing shows ready for this one, because Frontera Bugalú will have you both in your feelings and moving your feet all night long.
$5, 9pm Sat, The Squeezebox, 2806 N St Mary's St., facebook.com/thesqueezebox.
— JC
Sat 6/10
#Queergrito"
Liliana Wilson, Dos Sirenas Rojas
The Esperanza Peace and Justice Center has a history of bringing together and celebrating diverse communities, be it through art, educational programs, or events. Their new "#Queergrito" exhibit is co-curated, or "queer-ated" by Penny Boyer, Gianna Rendon and Eliza Perez. The exhibit, officially titled "#Queergrito: Esperanza 3.0," is a "call for current cultural output by LGBTQIA+ artists/cultural workers in response to current sociopolitical crises." The exhibit will feature art in any medium, with digital media no longer than 20 minutes, and visual art no larger than 24 x 24 inches. As for the title of the exhibit, the Spanish word
grito
"means yell or shout or call. This yell can be one of celebration, anger, helplessness, etc.," says Rendon. "A
grito
also brings up political connotations, like the Grito de Dolores. In this current political situation, we were wondering, what does a queer
grito
look like?" The hashtag signifies the "conversation between the artists and society, the artists and people who see the exhibit, and the artists and each other," says Rendon. The inclusion of "Esperanza 3.0" in the title nods to the Esperanza's 30th anniversary while looking forward to the next 30 years. "The historical portion of the exhibit, one room, is being devoted largely to enlarged headlines from Esperanza's past 30 years of media representation of queer
qulturas
," says Penelope Boyer, co-curator of the show. "Also featured is some anticipated '80s- and '90s-era archival digitized VHS documentation of Esperanza exhibitions."
Free, 6-9pm Sat, Esperanza Peace and Justice Center, 922 San Pedro Ave. (210) 228-0201, esperanzacenter.org.
— KV

Jessica Alvarenga, Gender is only a Perfomance
Sat 6/10
Old 97's

The Old 97's are a Texan institution at this point. The rowdy folk/alt-country crew, based out of Dallas, has been active, plying dynamic Texicana with the aplomb of the cult heroes that they are, since 1993. Now, with opening support from celebrated local avant-pop-rock group Buttercup, the Old 97's will commemorate the release of their 11th studio album
Graveyard Whistling
this weekend. The title of the album, for those who aren't familiar with the Old 97's gospel, is a fine approximation of the band's attitude and catalog of music: in turns crass, raucous, flippant, reverent and emotive. All told, the Old 97's, throwbacks from an era when rock stars did more than just Instagram their latest purchases of hairstyles, put on one of the most energetic and earnest live shows you're ever likely to catch.
$25-$150, 8pm Sat, Sam's Burger Joint, 330 E Grayson St, (210) 223-2830, samsburgerjoint.com.
— JC