Betsabeé Romero, Por el Pan Nuestro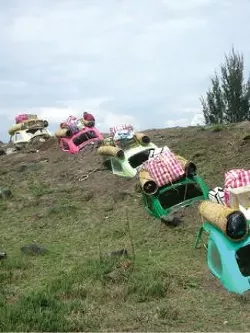 Betsabeé Romero, Exodus I
Born in Mexico City in 1963, globally exhibited artist Betsabeé Romero specializes in transforming everyday materials in powerful installations that comment on social, political and environmental issues. Based on their ability to attract "the greatest aesthetic attention among people of all ages and social classes," Romero often employs cars (and car parts) as artistic elements — referencing borders, migration and natural disasters while making interventions to vehicles with floral, tattoo and cloud patterns or, in the case of her 2007 photograph
Exodus I
, half-burying a colorful caravan of Volkswagen Beetles on a hillside.
As
The New York Times
pointed out in 2011, Romero "treats the car like a human body, and excels at dissecting its anatomy — especially the tires." Taking rubber to unexpected heights while also emphasizing the importance of recycling, Romero has carved historical patterns into tires, turned tires into printing matrixes, and sculpted tires from pre-chewed gum — which stands out as another unexpected yet universal ingredient in her work.
Betsabeé Romero, En Tránsito
Previously exhibited at the Mexican Cultural Institute in Washington, D.C. as part of a program examining the importance of relations between the U.S. and Mexico in these troubled times, Romero's "El Vuelo y Su Semilla" reflects on "the identity and culture that Mexican immigrants carry with them on their journey to the United States." Bringing together an assortment of installation works, the solo exhibition opens in conjunction with our own Mexican Cultural Institute's multimedia series
A World of Migrants: A Week to Understand Migration
.
Free, opening reception 6-8pm Thu, Jun. 15, on view 9:30am-5:30pm Mon-Fri, 10am-4pm Sat-Sun through Aug. 27, Mexican Cultural Institute, 600 Hemisfair Plaza Way, (210) 227-0123, icm2.sre.gob.mx/culturamexsa.