Thu 6/15 - Sun 6/18
Tom Rhodes
Funny enough,
Mr. Rhodes
, the NBC sitcom bearing his name, is probably one of the low points of stand-up Tom Rhodes' three-decade career. Running for a total of 19 episodes in the mid-'90s, the show featured Rhodes — the first breakout star from still-new Comedy Central — as a cool, longhaired teacher and has-been novelist and is less representative of the comic than the two TV shows he later hosted in Amsterdam or his 1995 travelogue
Viva Vietnam: A White Trash Adventure Tour
(where he set up a Slip 'n Slide on the beach from
Apocalypse Now
). Though he was born in Washington, D.C., Rhodes seems to make his best TV in other countries, and several of his stand-up specials were recorded in Europe. The perspective he brings back Stateside (comparing present-day America's standing in the world to fat, jumpsuit-era Elvis, for example) is both one-of-a-kind and invaluable right now and delivered with the fervor of a Southern gospel preacher. He's got some good fart and wiener jokes too, because some things are always funny whether you're in Butte, Montana or Malaysia.
$17, 8:30pm Thu, 8pm & 10:15pm Fri-Sat, 8pm Sun, Improv San Antonio, 849 E. Commerce St., (210) 229-1420, rivercentercomedyclub.com.
— Jeremy Martin
Thu 6/15
"El Vuelo y Su Semilla"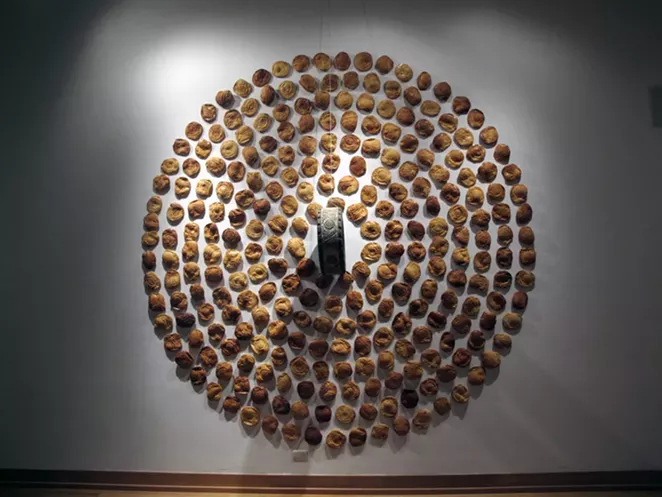 Betsabeé Romero, Por el Pan Nuestro
Born in Mexico City in 1963, globally exhibited artist Betsabeé Romero specializes in transforming everyday materials in powerful installations that comment on social, political and environmental issues. Based on their ability to attract "the greatest aesthetic attention among people of all ages and social classes," Romero often employs cars (and car parts) as artistic elements — referencing borders, migration and natural disasters while making interventions to vehicles with floral, tattoo and cloud patterns or, in the case of her 2007 photograph Exodus I, half-burying a colorful caravan of Volkswagen Beetles on a hillside. As
The New York Times
pointed out in 2011, Romero "treats the car like a human body, and excels at dissecting its anatomy — especially the tires." Taking rubber to unexpected heights while also emphasizing the importance of recycling, Romero has carved historical patterns into tires, turned tires into printing matrixes, and sculpted tires from pre-chewed gum — which stands out as another unexpected yet universal ingredient in her work. Previously exhibited at the Mexican Cultural Institute in Washington, D.C. as part of a program examining the importance of relations between the U.S. and Mexico in these troubled times, Romero's "El Vuelo y Su Semilla" reflects on "the identity and culture that Mexican immigrants carry with them on their journey to the United States." Bringing together an assortment of installation works, the solo exhibition opens in conjunction with our own Mexican Cultural Institute's multimedia series
A World of Migrants: A Week to Understand Migration
.
Free, 6-8pm Thu, Mexican Cultural Institute, 600 Hemisfair Plaza Way, (210) 227-0123, icm2.sre.gob.mx/culturamexsa.
— Bryan Rindfuss
Fri 6/16
Brownout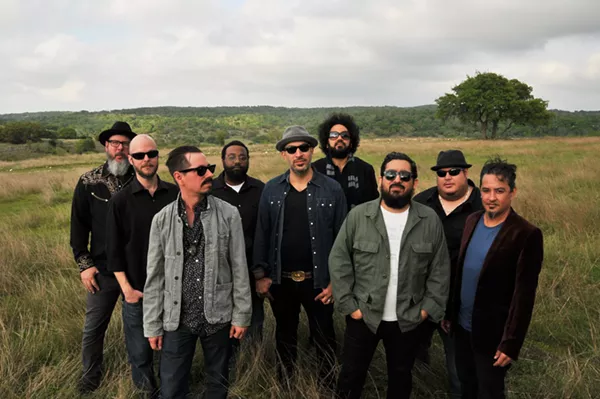 Formed over a decade ago by members of the Grammy-winning ATX
cumbia
crew Grupo Fantasma, Brownout is a hardcore Latin funk ensemble. Over the course of several adventurous albums, including especially
Brown Sabbath
(2014) and
Brown Sabbath II
(2016), the group has proven quite a bit more than simply a cool idea for a side project. In the live setting, the eight-piece group of uber-talented instrumentalists really excels, pushing its savory grooves and jungle rhythms past the point of a fever pitch. On Friday, Brownout will play a free show at Paper Tiger to celebrate the release of a new EP. As summer fully descends on San Anto, it's hard to imagine a more deliriously joyful way to spend a Friday night.
Free, 8pm Fri, Paper Tiger, 2410 N. St. Mary's St., papertigersatx.com.
— James Courtney
Fri 6/16 - Sun 6/18
Through the Wall: A Traves del Muro

In previous years, AtticRep has offered a partial remedy to theatrical provincialism by importing troupes from Austria, Colombia, Cuba, Ecuador, Germany, Hungary, Italy and Switzerland. This year, AtticRep's third International Fest of Theatre offers productions from India, the United States and Mexico. The politically charged issue of immigration figures prominently in
Through the Wall: A Traves del Muro
, scheduled for June 16, 17 and 18. Playwright Regina Moya, who grew up in Mexico City and lives in San Antonio, began by interviewing Mexican immigrants who crossed the border illegally. She translated transcripts of their stories into English and shaped them into dramatic form. "I am an immigrant myself," notes AtticRep artistic director Roberto Prestigiacomo, who directs
Through the Wall
and feels especially troubled by how immigrants are maligned and criminalized. "They follow the archetypal journey of the hero," he contends. "When they come here, they do all they can to respect the laws and contribute to the country."
$23-$28, 8pm Fri-Sat, 2:30pm Sun, Tobin Center for the Performing Arts, 100 Auditorium Circle, (210) 999-8524, atticrep.org.
— Steven G. Kellman
Fri 6/16 - Sun 6/18
"Heaven and Hell: Salvation and Retribution in Pure Land Buddhism"

Pure Land Buddhism is an ancient spiritual practice based on the belief in the Buddha of Western Paradise, Amitabha, who grants entrance to heaven to those who call out to him. Offering simple salvation, Pure Land Buddhism appealed to the masses, spreading through Asia like wildfire — igniting spiritual awakening and resulting in stunning relics and artworks. The San Antonio Museum of Art's "Heaven and Hell" exhibition is a collection of 75 sculptures, paintings and other works that epitomize the lasting beliefs of Pure Land Buddhism in countries like Japan, India, China, Korea and Tibet. The majority of displayed works are rooted in the Japanese culture of Pure Land Buddhism depicting salvation through Amitabha's journey to Earth to claim dying souls, bringing them up to his heavenly paradise. The relics illustrate the many divine beings of Pure Land Buddhism who roam the earth helping the faithful and the fallen.
$5-$10, 10am-9pm Fri, 10am-5pm Sat-Sun, San Antonio Museum of Art, 200 W. Jones Ave., (210) 978-8100, samuseum.org.
— Kimberly Rivera
Sat 6/17
Brian Regan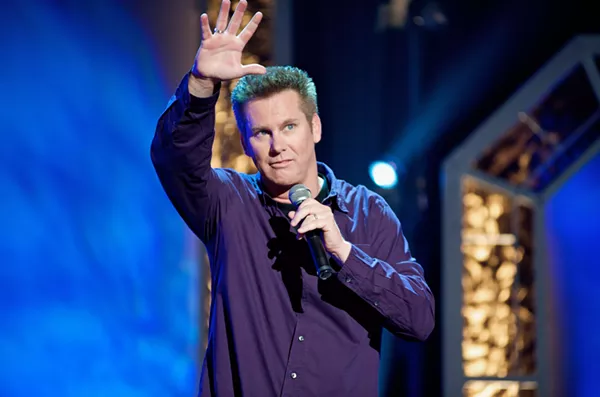 After three-and-a-half decades of touring, Brian Regan is still at it with his signature brand of clean comedy. Feel free to pack up the older kids and tote them along sans worry 'cause those awkward jokes we all dread in mixed company — offensive, sexual, political or otherwise — won't be uttered on the Majestic stage. In September of 2015, the Miami native made history with
Brian Regan: Live From Radio City Music Hall
, the first live broadcast of a stand-up special in Comedy Central's history. Revered by comedians like Jerry Seinfeld, Chris Rock and Jimmy Fallon, Regan is unique in that his material is relatable to generations of fans. As
The New York Times
once noted, "He's a refined technician, a connoisseur of amusing word combinations with a rigorously honed delivery. He plays it safe with subject matter but shows gumption in the details of his performance."
$49.75-$59.75, 8pm Sat, The Majestic Theatre, 224 E. Houston St., (210) 226-3333, majesticempire.com.
— Melanie Robinson
Sat 6/17
Enrique Iglesias & Pitbull

Courtesy of Enrique Iglesias & Pitbull
It's about to get hotter than an
abuelita
making tortillas over a
comal
in the summertime, y'all — 'cause two of Miami's biggest performers are about to hit SA. Before jumping into the waters of world stardom (and when he still had that mole), Enrique Iglesias was asked to contribute a song to Will Smith's
Wild Wild West
, after the Fresh Prince attended one of Iglesias' concerts. "Bailamos" would become an international hit, and boys and girls across the planet eventually traded in their Ricky Martin posters for ones of Enrique Iglesias who, to many, still holds the title for Latin King of Pop. On tour with "Timber" rapper Pitbull, these two Miami hot boys are back to make sure this summer is a hot one in the Alamo City.
$39-$747, 7:30pm Sat, AT&T Center, One AT&T Center Pkwy., (210) 444-5140, attcenter.com.
— Chris Conde
Sat 6/17 - Sun 6/18
"6 Texas Artists | 8 Summer Days | 1 Cool Museum"

Since the summer of 2015, the McNay has been annually showcasing works by South Texas artists in pop-up exhibitions to exemplify the museum's mission — opening new doors through artist empowerment. Newly renovated, the Tobin Exhibition Galleries host this year's presentation of a dynamic range of pieces provided by five San Antonio artists and one Austin-based artist, all hand-selected by René Paul Barilleaux, Head of Curatorial Affairs at the McNay. Featured artists include Jane Dunnewold and her collection of antique quilts of salvaged clothing; Ana Fernandez with fantastic landscape paintings depicting San Antonio neighborhoods; Kelly O'Connor, who uses icons and popular imagery of the '50s and '60s to create wistful psychedelic collages; Curt Slangal, who incorporates old family photographs, nature and spirituality with modern elements of graphic and pop art; Andy Villarreal, whose Mesoamerican-inspired paintings erupt with effervescent energy and color; and Austin's Sally Webber, who creates analytical artwork tracing light, space and the path of the human eye.
$5-$10, 10am-5pm Sat, noon-5pm Sun, McNay Art Museum, 6000 N. New Braunfels Ave., (210) 824-5368, mcnayart.org.
— KR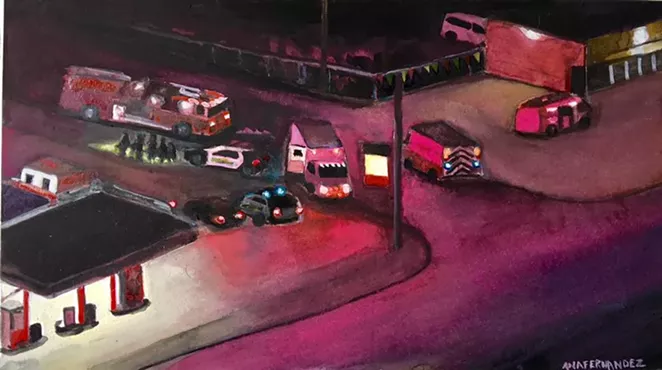 Sun 6/18
Cumbia Roots Festival

Guadalupe Cultural Arts Center
Though anthropologists still debate the exact origins of cumbia, the music genre has deep roots in the African, European and indigenous communities that spread throughout Latin America. The genre features percussion instruments like the merry and calling drums familiar to African culture, blending bass with the sounds of Millo flutes and other wind instruments, all mixed with interpreted traditional European music, dance and costume styles. Today, strains of cumbia can be heard trickling into modern genres ranging from Afrobeat to rock and pop. Hosted by musician Kiko Villamizar and elders straight from Colombia, the Guadalupe Cultural Arts Center's Cumbia Roots Festival combines workshops and performances showcasing such renowned acts as Paito y los Gaiteros de Punta Brava and Grupo Trapiche de Colomboy.
$15-$25, 3pm, Guadalupe Theater, 1301 Guadalupe St., (210) 271-3151, guadalupeculturalarts.org.
— KR
Sun 6/18
Father Fest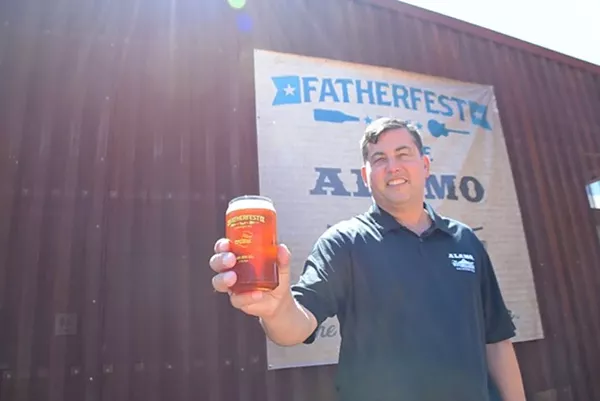 Alamo Beer celebrates Father's Day with a pet-friendly event featuring a pig roast, food trucks, a washer tournament, live music, a bouncy castle and a silent auction benefiting Pints for Prostates.
Free, 11am-8pm Sun, Alamo Beer Company, 202 Lamar St., (210) 872-5589, alamobeer.com.