Thu 6/22
"Puente*Bridge"

A creative response to "a time when borders seem more like barriers," Cinnabar's "Puente*Bridge" marks a collaboration with San Antonio-based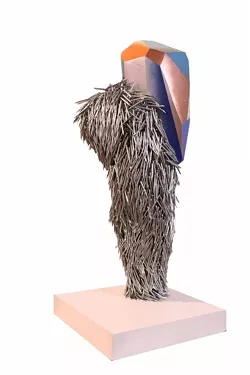 artist Ernesto Ibañez and his Arte International, an agency designed to connect Latin American artists with U.S. galleries and corporate buyers. Aiming to "build a bridge between the art community in Texas and Mexico," the group show brings together works by eight artists — including Ibañez, who's best known for animal sculptures covered with remarkably soft-looking layers rendered with thousands of nails. Beyond strong ties to the city of Guadalajara, "Puente*Bridge" finds a bit of common ground in the medium of painting — although genres and approaches vary wildly, ranging from from stylized realism (Patricia Sanchez Saiffe) and playful pop (Roberto Morleghem) to conceptual portraiture (Carlos Torres) and collage-inspired mashups (Cinthia Nuez).
Free, 6-9pm Thu, Cinnabar Art Gallery, 1420 S. Alamo St., Suite 147, (210) 557-6073, cinnabarart.com.
— Bryan Rindfuss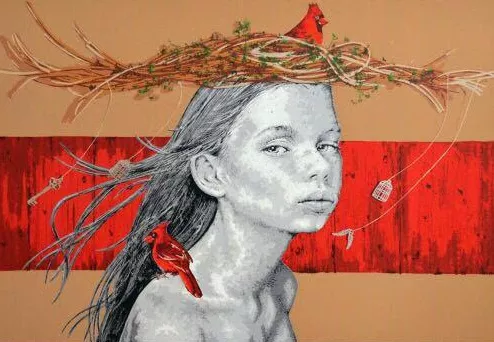 Thu 6/22 - Sun 6/25
Luling Watermelon Thump
Courtesy of Luling Watermelon Thump
Coming in at number two on "Motel 6's Top Six Quirkiest Summer Festivals of 2017," the beloved Luling Watermelon Thump is a unique summer festival that might just bring the seed-spitter out of you. Occurring every last weekend in June since 1954, the watermelon jubilee features a four-day carnival, watermelon parade, live music, car shows, food and vendor booths, a beer garden and an array of games. Crowd favorite watermelon-y events include seed-spitting and melon-growing contests, both of which offer hefty cash prizes to the top three winners. Those aiming to break the Guinness World Record for watermelon seed-spitting (and winning the $1,000 grand prize) should come prepared to spit a seed farther than 69 feet. The Watermelon Thump is Luling's largest event, bringing a consistent 30,000 attendees to the quaint town of 5,000. This quirky small-town Texas festival is sure to bring out the watermelon-lover in anyone who attends.
$5 grounds admission (free for kids 12 and under), 5:30pm-midnight Thu, 10am-midnight Fri-Sat, 10am-9pm Sun, Luling Watermelon Thump, 421 E. Davis St., Luling, (830) 875-3214, watermelonthump.com.
— Kimberly Rivera
Thu 6/22 - Sat 6/24
Ralphie May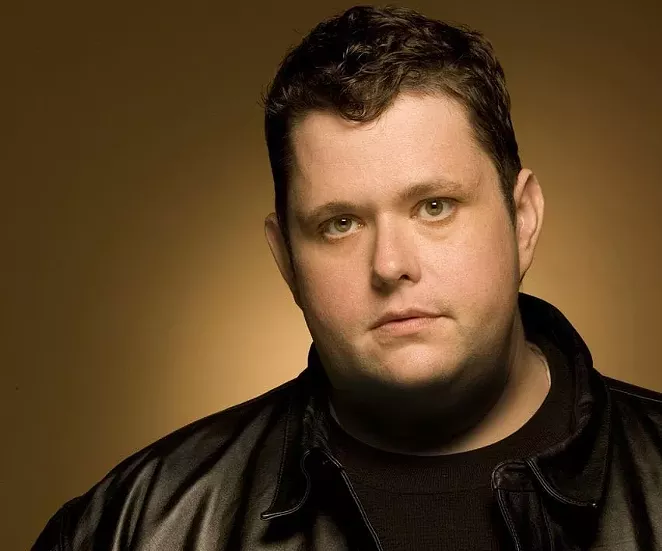 Self-billed as "400 pounds of sexiness," platinum-selling stand-up, Comedy Central favorite and
Last Comic Standing
alum Ralphie May (G
irth of a Nation
,
Prime Cut
,
Austin-tatious
,
Too Big To Ignore
) returns to the Alamo City for a five-show run at Laugh Out Loud.
$25, 8pm Thu, 7:30pm & 10:15pm Fri-Sat, Laugh Out Loud Comedy Club, 618 NW Loop 410, (210) 541-8805, lolsanantonio.com.
Fri 6/23
Boy and the World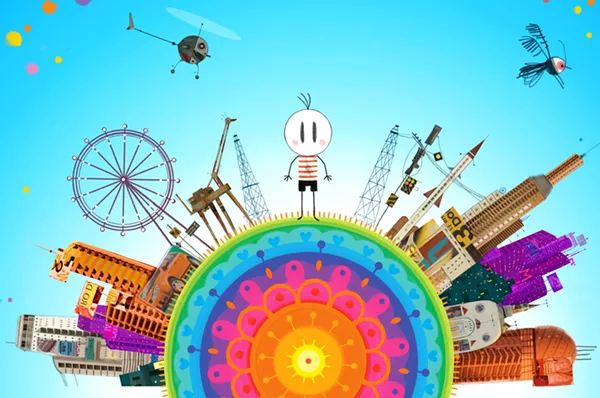 Boy and the World
(
O Menino e o Mundo
), the Academy Award-winning (Best Animated Feature, 2013) work of Brazilian writer/director Alê Abreu and company, is a visually stunning film that says a great deal by saying very little. Literally. The film has very little dialogue, and what dialogue it does have is delivered in backwards Portuguese. Nevertheless,
Boy and the World
, which screens Friday evening as part of the San Antonio Museum of Art and Slab Cinema's Family Flicks outdoor film series, says a great deal, in a kid-friendly manner of course, about loss, loneliness, exploration, personal growth and transcendence. Besides all that, the film's combination of drawing, painting, digital animation and even live action, is thoroughly delightful to watch. This is one of those flicks that does just as much, for kids and adults alike, to edify as to entertain.
Free, 8pm Fri, San Antonio Museum of Art, 200 W. Jones Ave., (210) 978-8100, samuseum.org
.
— James Courtney
Fri 6/23
Mariachi Extravaganza Summer Camp

Courtesy of MariachiMusic.com
Ah... Summer Camp. A delightful fusion of art and culture, finesse and melodrama, skill and passion. Not the Summer Camp you were recalling? Well, at the Mariachi Extravaganza Summer Camp, you'll find these things and more in great measure. Featuring award-winning vocalists from San Antonio's annual Mariachi Vargas Extravaganza, paired with a full choir, this public concert promises to showcase the best of the best, nothing less that the bright future of Mariachi itself. Featured vocalists include Mariachi Vargas Extravaganza National Vocal Competition winners Kassandra Juárez, from Rio Grande City, Brooke Talk, from New Braunfels, Kamryn Ramírez and Christina López, from McAllen, Victoria Rosa and Francisco García, from Roma, and Jizelle Rodríguez, from Kyle, as well as a number of youth from around the nation, who come to the Alamo City to study with the masters each summer.
$15-$30, 7pm Fri, Tobin Center for the Performing Arts, Carlos Alvarez Studio Theater, 100 Auditorium Circle, (210) 223-8624, tobincenter.org
.
— JC
Fri 6/23 - Sun 6/25
"George Catlin's North American Indian Portfolio"

George Catlin // Briscoe Western Art Museum
While the rest of 19th-century Americans battled conflicting emotions of awe and fear toward the Native American populations whose lands they were stealing, George Catlin became the first American to depict the indigenous tribes. The author and painter lived among the Mandan, Sioux, Blackfeet, Crow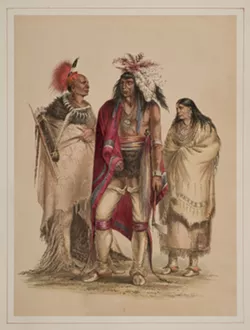 George Catlin // Briscoe Western Art Museum
and other tribes in the summer months between 1832 and 1837, painting and etching their likenesses onsite, applying oils to his works later in his home over the winter. To the hesitant American populations east of the Mississippi, Catlin's works were a way to understand the "savage" community while maintaining their precipitous ideas of superiority. Catlin's catalog of works included a projected 600 paintings, some of which were lost after Catlin suffered a financial crisis in 1952. This summer, the Briscoe unveils a rare exhibition of "George Catlin's North American Indian Portfolio," featuring 31 hand-painted color plates that illustrate the culture, dress and lifestyle of these Native tribes. This portfolio stands as one of only three sets of Catlin's paintings still in existence. On view from June to September, the historic exhibition presents a reconnection to the early American frontier — an appreciation of the beauty of Native American culture, and a commemoration of their suffering and dwindling populations.
$8-$10, 10am-5pm Fri-Sun, Briscoe Western Art Museum, 210 W. Market St., (210) 299-4499, briscoemuseum.org.
— KR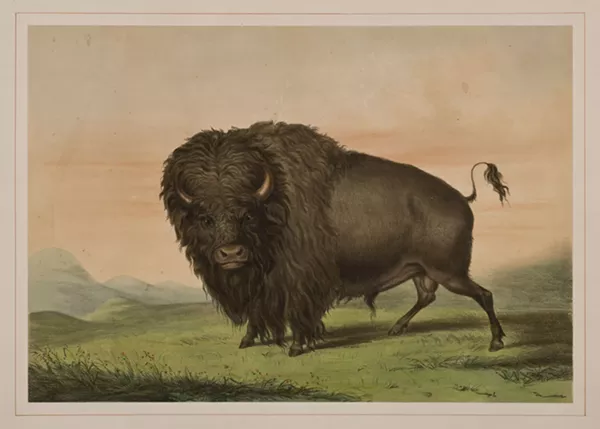 George Catlin // Briscoe Western Art Museum
Sat 6/24
Iron Maiden

Formed on Christmas Day in 1975, British metal band Iron Maiden have put out a colossal 38 albums since the release of their 1980 eponymous debut record. Equipped with high-pitched wailing and screeching guitar solos, Maiden continued to set the bar with each release throughout the '80s and today have become one of the most revered metal acts ever. On tour in support of their latest album
The Book of Souls
, the band continues to rock sold-out arena concerts night after night. And for a band whose members are mostly in their 60s, that's no easy task.
$39.50-$89.50, 7:30pm Sat, AT&T Center, One AT&T Center Pkwy., (210) 444-5000, attcenter.com.
— Chris Conde
Sun 6/25
Fetish: Pride Week Kickoff Drag Brunch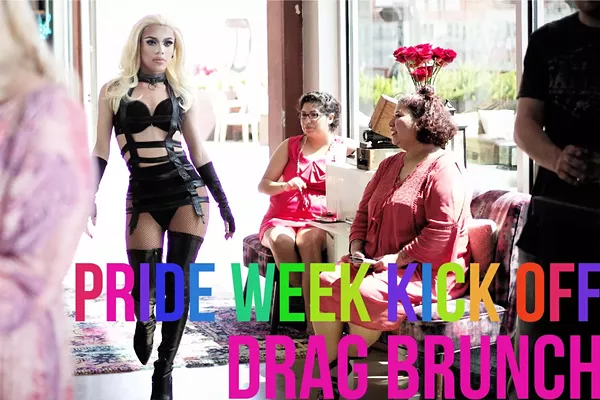 Kristi Waters hosts Paramour's LGBT Pride celebration complete with breakfast tacos, pastries, cocktails, mimosas and fetish-themed drag performances by the likes of Nilaya Milan Matthews, Lucy Lips and Jorgeous Waters.
Free, 11am-4pm Sun, Paramour, 102 9th St., (210) 307-8740, paramourbar.com.
Sun 6/25
"El Gran Día de Los Artistas"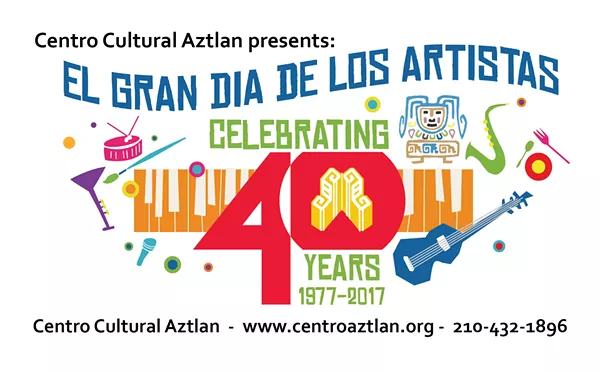 Since its formation in June of 1977 at the hands of organizers "active in the Chicano movement and eager to extend its message of pride and empowerment," Centro Cultural Aztlan has cemented itself as a steadfast pioneer of the Alamo City's artistic communities — celebrating established, emerging and student artists exploring myriad forms of expression. Possibly best known as an early instigator of Día de los Muertos traditions in San Anto, Aztlan recently retired its beloved Lowrider Festival but still has plenty to celebrate as it marches into its 40th year. In keeping with its dedication to local creatives of all walks, the always-inclusive organization's anniversary party doubles as a multi-genre spectacle uniting poets, performers, musicians, dancers and painters. Falling under the banner of "El Gran Día de Los Artistas," the free, family-friendly event features 30-plus artists and artisans showing and selling work alongside demonstrations from San Antonio Potters Guild members, children's crafting activities, poetry presentations from the likes of Eduardo Garza, Jacinto Cardona and Anthony "The Poet" Flores, and live music by Ruben V., Los Nahuatlatos, The Smoking Guns and I Ching Gatos.
Free, 2-8pm Sun, Centro Cultural Aztlan, 1800 Fredericksburg Road, Suite 103, (210) 432-1896, centroaztlan.org.
— BR
Sun 6/25
Noche Azul: Cantinflas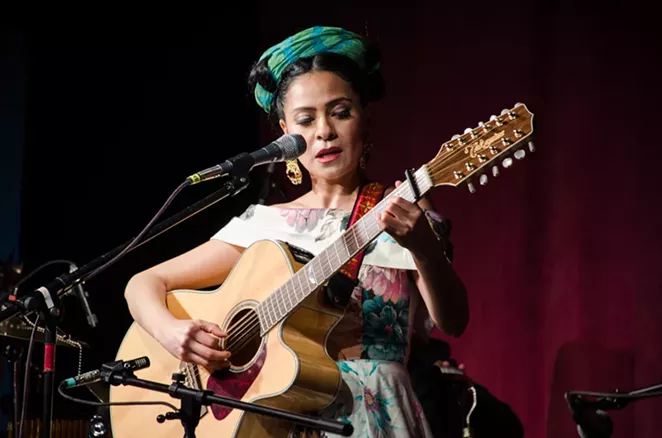 Esperanza Peace and Justice Center
The Esperanza Peace and Justice Center is a true San Antonio staple, hosting a variety of events advocating cultural diversity and the arts, and tackling social justice issues since 1987. The center's strong, historically feminist background has paved the way for local artists and musicians like cherished local singer-songwriter Azul Barrientos, host of the Esperanza's monthly Noche Azul series. This intimate café-inspired presentation centers each event on a different theme and musical lineup to explore its cultural impact on the Afro/Latino/Indigenous communities. Performing traditional Mexican songs in the styles of boleros, rancheras, jazz, tango and more, Azul highlights the interconnections of these styles with the referenced theme. This month's Noche Azul honors the life and comedy of Mario Moreno, commonly known as Cantinflas — one of the greatest Latin American comedians in history. Dubbed the "Charlie Chapman of Mexico," Cantinflas was a pioneer in Mexican cinema and an international advocate for oppressed demographics. Azul will customize her wardrobe, musical styles and multimedia presentation to imitate the styles of the beloved comedian and spokesperson as well as reference his historical and cultural importance to all communities.
$7, 4-6pm Sun, Esperanza Peace and Justice Center, 922 San Pedro Ave., (210) 228-0201, esperanzacenter.org.
— KR